Lumia 920 set to arrive in Brazil on February 14th, followed by Lumia 820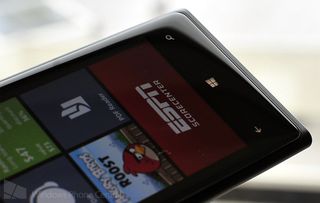 Nokia will be launching the Lumia 920 on February 14th, according to a report over on Gizmodo. The flagship Windows Phone will be available for R$1,999 (approximately $1,000) and in the black version. The pricing may appear to be slightly on the high side, but Nokia will attempt to dampen the blow with a USB portable DC-16 charger (not wireless) bundled with the first customers who pre-order the handset.
The Lumia 920 sports a 4.5-inch display, 1.5GHz dual-core processor, 1GB RAM and 32GB of internal storage among other features. As well as the Lumia 920, Gizmodo has also learned that the Lumia 820 will be heading to Brazil later this month. They're hinting at February 21st and a price tag of between R$1,500 ($750) and R$1,600 ($800).
If you're looking forward to getting one for yourself, be sure to get in quick on the 14th of this month to be with a chance on pocketing the free portable charger.
Source: Gizmodo; thanks everyone who tipped us!
Rich Edmonds is Senior Editor of PC hardware at Windows Central, covering everything related to PC components and NAS. He's been involved in technology for more than a decade and knows a thing or two about the magic inside a PC chassis. You can follow him over on Twitter at @RichEdmonds.
Almost free. Nokia's position is so great right now that thye can charge whatever they want. So proud of living in Brazil =)

I'm so proud too :) ! -sqn

Why are the Brazilian prices so high? This seems to concern all smartphones there. GS3 costed on launch more than Lumia 920 and Nexus 4 is even higher.

Hard to imagine your taxes are any higher than in Scandinavia.

our taxes are too expensive, and we have no return in the application in public. The enterprises too, when the government provides tax breaks, don't return it to all the people, take the difference to they. Apple is a big exemple, when Macbook pro with retina display costs $2799 in USA, in Brazil costs almost U$ 7000 , iPhone costs almost $1500. The corruption is very high too, and the people seems don't care with that.

There are two major factors, first is taxes. The tax burden here is around 35%, as Vinicius Barros said, the government doesn't return the money properly as benefits to the population as we see in countries like Denmark. Also we have something that brazilians and economists use to name as "Brazilian Cost". It's pretty simple, everything is so expensive because we are used to pay more than other countres. Brazilians are passive and complacent enough to not complain.

Exactly, and the people seem to like paying more for show then as an wealth object.... From cars to cellphones is everything expensive...

Afaik, import duties on foreign goods are also very high. Fortunately Nokia still produces in Manaus so hopefully,those models are slightly more affordable.

Why is it so expensive? I don't get it.

Because here in Brazil is full of taxes, corruption ...The profit margin of the companies are absurd, much higher than in other countries. I am ashamed to be Brazilian.

Wellcome to Brazil. Everything is insanely expensive here.

E só ir pra Ciudad del Este no Paraguay, que voçe acha pela metade do preço.
Brazilian prices are too high compared to my country. You can find them starting at even 200 U$ difference.

Here in Brazil we say that when you're poor you have to travel to US to buy clothes and gadgets because it's so cheaper that the travel cost pays off. Last year brazilians spend more than $22bi in North America.

Man!!

I should put up a shop on ebay/amazon for brazillion. Pay me extra shipping and I am willing to ship phones already to Brazil. lol

You should totally do that =P if you can get me a unbranded and unlocked White Lumia 920 ill be very happy indeed.
But if she shipment gets caught by customs i would have to pay the taxes... so lets say u send it over for 600 bucks... I'll pay around 40% which adds up to 840 which is still a great deal less than 1000 dollars :D

When we buy stuff from ebay, we have to pay at least 60% in import duties... it's ridiculous, I know...

If you live in the MG brazilian state you need to pay 60% fedaral dutie and another 20% for the state dutie... So it's a 80% price increase on the ebay listing. The duties apply to the shipping cost too.

Do Brazilian carriers offer mobile phone subsidies like in the US or does everyone have to pay full price for their phones?

Offer, but different from what happens in the US, the phone subsidies is very expensive, sometimes most expensive than the full price of the mobile phone. According the low, the subsidies is just for a only year, we don't have contracts with longer times, and the price of that contracts is expensive too.

Is very funny to watch americans so amazed about high prices in Brazil. Actually when we see those prices, we don't get surprised, because everything in Brazil is at least 70% more expensive than in the USA
Windows Central Newsletter
Thank you for signing up to Windows Central. You will receive a verification email shortly.
There was a problem. Please refresh the page and try again.