Nokia Lumia 925: Ships in two days for Germany Vodafone customers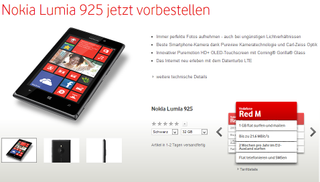 The Nokia Lumia 925 is a nice variant of the Lumia 920. Its aluminum construction allows it to be thinner and lighter, but at the expense of wireless charging. Still, the camera is slightly improved from the Lumia 920 since the Lumia 925 packs 6 lenses versus 5. That allows for sharper images. And if you're in Germany and hoping to get this device your pre-orders ship in the next two days.
A pre-order page is up for the Nokia Lumia 925 on Vodafone Germany. And, according to the site, orders start shipping within the next two days! You better head to our Forums and share your impressions with the device if you're one of those lucky ducks who will be getting the Lumia 925 fairly soon.
Source: Vodafone Germany
Thanks for the tip Husam H!
I'll keep my Lumia 920. Besides it doesn't available here yet

I want one, and I already registered for one.

Perzactly! When does the T-Mo 925 ship?

I think they will start having them in stores end of this month as one of the reps told me about a Nokia lady who had come over

This is what I was thinking it would be. It would be nice to have an announced date by T-Mo though.

I've been waiting for this to show up on Ms. Magenta for months!

Ms Magenta is in love with Mr Google Android. So it will be slow and may disappear as well.

tmobile employees rather sell you a s3 mini instead of nokia/windows phone.
was in the T-punk 1 month ago telling one customer to just get the nokia phone and the employee said - no no no.. windows phone sucks - had them as company phones and noone liked it and she sold them the s3 mini

So wrong that the workers express their opinions in a biased way, influencing people towards the platform of their choosing and not what works best for the customer. What works best for the customer's needs may be iOS, WP8, Android, or Blackberry. How the customer connects with the phone/platform is where they should be guided towards while having all the information about the phones and platforms to make the most informed decision.

What's an s3 mini? Sorry, I sell a lot of 521's and I'm a tmo employee.

http://www.t-mobile.de/business/samsung-galaxy/samsung-galaxy-s3-mini/0,24590,27725-_,00.html

here we go. Well - you obviously do it different in your country:)

Took the words right out my mouth

I'll pass on this one and wait for EOS

I find this more attractive than my 920 and slightly more attractive than the 928 and far more attractive than the eos prototype (who knows how the final will look). With that said, I'm waiting for whatever at&t gets for November

Please, any news about Canadian availability? I have been to many carriers booths today asking about this phone, they all have one answer: no news about it at all! We think it is not coming to Canada!

I've ordered my Lumia 925 Black 32 GB on Friday and hope to receive it as soon as possible! Also you'll get photos and a review about my new Baby ;-)

I wonder if Australia Vodafone will be getting this?

And also if I should waiti for the EOS or get the Lumia 925 -_-

Nokia you are confusing me :(

Don't hold ur breath for Vodafone Australia, remember Telstra got tha 920 even tho Vodafone Global had it exclusively! I don't think Nokia has much faith in Vodafone Australia. I just moved from them to Optus n I couldn't be happier

Me too!!!
I can't decide by now... the 920 is cutting his price, the 925 will sell at full price at least for these early months. I have to wait the Nokia EOS? And in addition here in Italy Htc 8X and the Samsuing Ativ S are sold around 299€....

Great news! Finally Nokia realized that 920 design wasn't working and didn't sell enough. Just look at G3/4 and iPhone numbers. Let's hope it's not too late. Pricing will be the key.

From Nokia forum it looks like T-Mobile launch will be the last in line. Mid- July!

And with only 16GB. Damn you, TMo-Nokia! I'd pay extra for the complete 925 experience.

Pre-ordered mine from O2 in the UK. I think they said it would be delivered on June 13th or 14th but I don't remember for sure.

Its nice and everything but i like my red lumia 920 to much not so sure about eos ether but its not totally official yet see what happens i reckon

Anyone know where you can buy one off contract in UK/EU and at what price? If you order one full price from a carrier, do they have to unlock it for you immediately so you can use it on another carrier?

You are welcome Sam Sabri ;)

Will hipstamatic release alongside this?

I've decided to wait until at least august before thinking about getting the 925. I only got my 920 in November so i really shouldn't be throwing away cash. Ill wait until it goes to around £300

When it is coming in US...??
Windows Central Newsletter
Get the best of Windows Central in in your inbox, every day!
Thank you for signing up to Windows Central. You will receive a verification email shortly.
There was a problem. Please refresh the page and try again.