Lumia 930 available for pre-order in Finland, expected to ship on July 10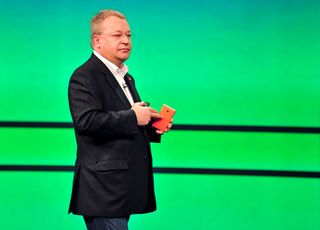 We've already covered some locations across Europe where consumers can pre-order the Lumia 930, but Finnish mobile operator TeliaSonera has the new Windows Phone available for pre-order, priced at €549 with an expected release date of July 10 (July 3 for Ireland). The new Windows Phone from Nokia, which sold its handset division to Microsoft earlier this year, is the new flagship from Microsoft Mobile and is available in a variety colors.
Sonera is only stocking the black, white and green variants, but other sources do have the missing orange in case you're an avid fan. Another local operator, Saunalahti will be selling the same Windows Phone. The Finnish arm of retailer Expansys will be stocking the orange, white, green and black colors too, as well as Verkkokauppa. There are options available, that's for sure.
So, who's looking to pick one up? If so, which color will you be going for?
Source: Sonera, Saunalahti; thanks, Sami and TuanLVT, for the tips!
Windows Central Newsletter
Get the best of Windows Central in your inbox, every day!
Rich Edmonds was formerly a Senior Editor of PC hardware at Windows Central, covering everything related to PC components and NAS. He's been involved in technology for more than a decade and knows a thing or two about the magic inside a PC chassis. You can follow him on Twitter at @RichEdmonds.
Im really happy with my 920 so I don't need an upgrade at the moment. Would go for the black one though. Yes some call it boring. I like to think of it as stylistic conservative.

Saw a few mock up models, the black looks the best actually! Love it when the screen almost blends in to the body if the device...

It's definitely going to be my upgrade as long as EE chooses to stock this phone.

EE in the UK are stocking the 930, confirmed by their customer services. They said they are expecting to offer all colors but can not confirm this. Release expected July...

I've been talking to EE for the last two months and they havent been able to tell me that they are even getting it. they just keep trying to flog me a Lumia 1320.

Announce it for Singapore pleasseeee....

Still can't get over missing the glance feature. It's too bad because otherwise the 930 is pretty close to my ideal WP, but after having got used to my 925 it's hard to think about living without glance again...
Guess I'll wait for the next flagship (as I did with the 920)

Well the Flagship clearly was the 1520 which was released in the same cycle as the 920. The only problem was the screen size :/

Well, to me the 1520 is not a phone, but a phablet, which I personally don't need. Actually, size/weight is my other concern with the 930, and the main reason why I did not buy the 920 at the time. Sure, it's a lot of phone for the size, but still, I prefer the size of my 925. I know everything else on the 930 blows up my phone in pieces, but if I spend 500 euros on a phone I don't want to make many compromises, nor miss features (glance, lightness, slimness) I already had for 0 euros. My ideal phone would be a 935 with the same 5" screen but a slimed-down design put on a diet, and obviously glance support. For that I'd put the 500 euros down right now.

Indeed, would not want to miss Glance after being used to it on the 925. So I'll skip this one until the 935 I guess....

I feel exactly the same! Can't imagine using my 1020 without glance and double tap to wake. Its such a small feature but it makes such a difference in your day to day use of your smartphone that it becomes indispensable. If the 930 had this plus the 1020 (or better) camera it would be my ultimate perfect device! Here's waiting for the 1030 :)

"If the 930 had this plus the 1020 (or better) camera it would be my ultimate perfect device! Here's waiting for the 1030" Exactly my thought. I can't imagine they wouldn't do a **30 generation with 41 mpx or more.

The 930 had double tap to wake.

Yay, nice. Might be picking one up from Saunalahti.

You can also pre-order it from verkkokauppa.com for 548,90€ ;)

Waiting for the 1020 successor which I'm guessing its McLaren

Yea let's hope! Lets hope they don't just slap in a 20mp camera and focus entirely on the 3D touch gesture stuff....

I hope Telstra Australia get it soon!

Does someone knows what happened about the blackberry messenger? I'm from Venezuela and here everybody uses it don't care if they don't have a blackberry cellphone they use it in android or iPhone

Why did this phone take so long to get out to the market its still the Lumia icon.

My guess is that it's because they had to wait for WP8.1

I will never buy phones from Microsoft mobile Oy

Probably not gonna buy at launch, my 920 isnt even 2 years yet, but the usb port is pretty messed up, but if it still hold together ill just struggle with it and hope for 930 to lose some price. One thing for sure, ill get a wireless charger for 930 to conserve the usb port. I can still charge my 920 but cant connect it to pc anymore to easily move files

Use bluetooth in conjunction with remote desktop, that's what I use it is much more convenient imo as you can transfer without being shackled to the PC (granted the Bluetooth range is not that great - about 10 metres or so).

Just buy a new body. Swapping it out is about as easy as it gets. 3 minute process.

Maybe next model after 930.

Happy with my 920 as well but not sure I would bite despite the fact I think 5" is the sweet spot on a phone. I have myself ready for expandable storage. So I wait,

Happy with my 1020 and 720, but will be even more happy with a 930 and a 1520 to join my collection

I see a red door and it had been painted black My next phone will be also again painted black

GOD DAMMIT Nokia! When I wait for the latest one it takes forever and by when is available I find out that new ones are in the making....why Nokia....just why?

Youre an awesome person EVI..dont be hard on youself, its no ones fault for this! Just be patient. If you are in Spain it will be available shortly. :P

Yeah you should take Eduards advice. I am also waiting for this phone since the Icon was anounced.

Will you shut up! god dammit MS fanboys! Nokia is dead! Android FTW

OH well...another troll here....dont feed him

Yeah true...im very sad for this guy it seems like he lost his frikin mind. If you dont like WP go to Android Central. You will be happily welcomed there. LOL

OH that escalated quickly!

LOL guys you all have the same name lmao

Eduard, are you replying to your own comments?

hahahahah this is soo funny!!

I'll get it in January when it's around 300e.

Omg, can't wait for the Lumia 930 in Denmark! Everyone's hoping for the green