Lumia 930 pre-orders available through French retailer with free goodies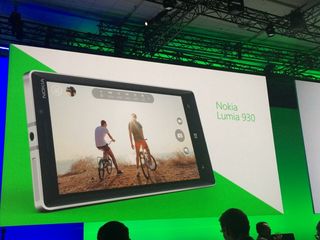 While Nokia is set to launch the Lumia 930 shortly, the pre-orders are still ongoing. If you reside in France and are yet to place an order for the new Windows Phone, retailer Darty has the device listed for €549.90, but there's a free wireless charging plate, speaker and Coloud headphones included in the pre-order deal. It's a superb offer for anyone looking to either move to Windows Phone or upgrade from an older handset.
The Lumia 930 is confirmed to be launching in Ireland early next month, as well as through other retailers across Europe. The only question remains is which color will you be going for?
Source: Darty (opens in new tab); thanks, Aanze, for the tip!
Windows Central Newsletter
Get the best of Windows Central in your inbox, every day!
Rich Edmonds was formerly a Senior Editor of PC hardware at Windows Central, covering everything related to PC components and NAS. He's been involved in technology for more than a decade and knows a thing or two about the magic inside a PC chassis. You can follow him on Twitter at @RichEdmonds.
Good news. Little jealous

Well, it's either the orange, green or white. I need see them in real life and then,decide :D

Yes indeed!!! Hope we get something similar when its released in Australia.

That's a really nice preorder deal. :)

Wish we had it here too. Orange btw

Boulanger has a similar offer and Expansys France too. Only Amazon.fr doesn't. As for me, it seems the phone will only come out in July which means, my pre-order is cancelled. Got tired of waiting for an outdated phone.

Why am I not surprised you were going to say something like that?!! In fact I'm certain you never even placed an order for the 930 LOL!

Your certainties are as good as the ones that said there were WMD in Iraq. Also, I WILL buy this Phone because it's the last Nokia phone for the time being. I'm just not willing to pay full price for an outdated Phone anymore. Simple as that.

I am curious as to why you consider this phone outdated? The lack of SD slot and glance may be a turn off for some but the rest of the hardware seems top notch to me.

Well because the hardware was presented 10/2013 in the 1520. and maybe because there are newer processors available and better screens .. well maybe thats why he sees this "high-end" phone as outdated.. because it simply is not high end anymore..wasnt even back in october

Well, I don't care at all about Glance but given that this phone is being released in the second half of 2014, the specs and the lack of a microSD card slot are enough to make it outdated to me to justify paying 550€. All Android flagships sport 801 chips, have bigger batteries and microSD cardslots. This would be a top of the line phone if it had been released when it was ready: last September. Now? Not so much. Sure, it's still the best you can get on Windows Phone, but I'm hoping that both Sony and LG will step in in the coming months. If the rumours of both preparing flagships for WP comes true, both of their phones are expected to surpass the 930 rather quickly. So there you have it. I'm buying this phone because it's Nokia's last phone. But since it's being so delayed, I've got sick of waiting. The will to throw away 550€ out of sentimental reasons has its limits and I've reached mine. It's exactly the same with the Nokia L2520. It's been delayed so much that I'm ditching it until it becomes widely available and the price drops to around 200€/300€.

It will be more be like 450-499 with goodies.

Outdated? What do you use your phone for that requires the ABSOLUTE newest specs?

Why should I pay 550€ for a phone with last years specs when I can pay the same for phones with much newer hardware? It's a question of value for your money. The more time goes by, the less the price they're asking for the 930 is justified.

You could always buy a preferred spec'd Android phone to your liking. Guess how long that will take to be "outdated".
If this is the phone you want for sentimental reasons, then just buy it now. Tomorrow is not promised. Enjoy that phone.

This thing really is taking a while to come out isn't it, feels like it was announced a while ago.

When it will be available in India

I wish Windows Phones didn't have such a huge bezel. It seriously eats into the screen real estate.

No...not the Android-bezel talk on WP too...Bezels are a necessary evil. Technology has to go somewhere! You can't put 20mp sensors in a phone without bezels. You can't put waterproofing in a phone without bezels. Etc etc etc...

For me, the small bezels phones are unusable. I ALWAYS have accidental touch on the sides of the screen

If you hold your phone in a way that something other than your thumbs are on the screen, you're holding it wrong.

People hold their phones the way they darn well please. Besides, with phones getting bigger and bigger, having the screen without any bezels is step one for tons of accidental touches. Anyway, I don't want bezel-less phones. I want phones with the tech inside that are sturdy built. Not the crap Samsung releases with almost no bezels and the construction quality of a house of cards ;)

Lumia 930 does have quite slim bezel.

I hate that the US isn't getting this phone

You have the icon. That's the US variant of 930.

Are you kidding me? You have it. It's your damn Nokia Icon on Verizon, i guess(pardon me if i got Verizon wrong, not a US resident). Get updated sir/madam!

A lot of us U.S. Windows Phone users are on AT&T and have no intention of switching to Verizon to get an Icon. Of course we have the 1520 which has the same specs as the Icon, but it would be nice if the 930 came to AT&T as well to give us a choice.
As for me, I have the 1020 and am perfectly content with it for now.. And will patiently wait for the fall and the "next-gen" aka Mclaren.

It's alright guys. India doesn't need this phone anytime soon. We're always at the back of the line anyways. :(

What color?? We live in the B&W world here in Brazil. Thanks to Nokia, and now Microsoft, Brazil.

You live in Brazil? Damn it. Enjoying the world cup and carnival? :D

These are the same headphones that Meteor in Ireland was showing on their pre-order page!# Also these guys only ship to France and Luxemburg :(

It's taking sooo long to finally launch it. Still in preorder.. After ~2months

What colour...? O2 in the UK have confirm they are only selling black and green. What happened to orange and white? The colours aren't carrier exclusives so why are they limited?

If it's of interest keep a check on EE as they will possibly have all the colours, no confirmation but possible.

Fcuk that's a good deal. Have to try to order it from France to Finland....probably first have to get french-finnish dictionary

I have and Icon, but wish that Lime Green was available in the states. That color is awesome.

Fail. Way to long to release. 800 snapdragon Old even the 801 is old this days.

Darn I want one of these! Anybody know if this would work in canada if it was unlocked? Thanks

Still waiting for the announcement in Germany...

I can pre-order a 930 for €475 in the Netherlands, and buy all those accessories separate for just under €550. So please don't think that you're getting a great deal by preordering this, especially if you don't need the accessories or don't expect to use them very much.

i'm confused. should i get a 930 or a 1020? i'm inclining to 1020 because i love photography. but it's starting to feel old and i fear msft might release a bettr 41mp smrtphone soon :/
halp!
waiting for asia release as well.

On a previous post on WPcentral, they said that if you buy it before July 30th, you'd get three accessories with it; the wireless charging plate, the new Nokia NFC speaker, and the treasure tag, so what's the point of this deal?

Is in Denmark waiting for Lumia 930 in green!