Lumia 930 shipment news from Poland, Germany and Switzerland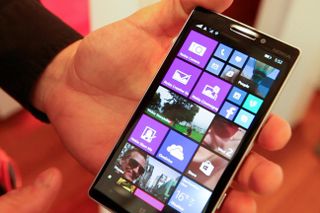 As expected, the release of the Lumia 930 smartphone in Europe this month is quickly moving forward. Today we have a round-up of shipment and pre-order news for the Windows Phone 8.1 device from three countries in that part of the world: Poland, Germany and Switzerland.
In Poland, the official Nokia online story now shows the black version of the Lumia 930 available for pre-order for the price of 2399.00 zł (about $789). The expected shipment date for the phone is July 11, or a week from Friday.
Over in Germany, Deutsche Telekom has posted word that they will sell the Lumia 930, and that it will start shipping sometime at the end of July. There is no price listed yet for the phone.
Finally, a tipster from Switzerland sent over word that he received a text from his wireless carrier, Swisscom, indicating his pre-ordered Lumia 930 will be shipped sometime this week. Again, stay tuned as the Lumia 930 is expected to be available for sale across much of Europe by the end of July.
Update: We have now received word that O2 in Germany now has the Lumia 930 in stock with shipments to be made from one to three days.
Thanks to Grzegorz, Simon, ThePrayer and Shuyin for these tips!
Source: Nokia Poland; Deutsche Telekom (opens in new tab); Swisscom; O2 Germany
O2 Germany delivers it to you in 1-3 days. You can order it now. :)

"In Poland, the official Nokia online story now shows the black version of the Lumia 920 available for pre-order for the price of 2399.00 zł (about $789)." ... you mean 930, right?

they should prize it arround 450 in all european countries

Poland... The richest country in EU... I'll rather make a trip to Germany to buy this phone in normal price.

$789 for a dated flagship? no, thank you very much.

Geek's life in Poland isn't easy and cheap... :(

Have you seen the Swiss Price? 899.- US Dollars. Swisscom are thieves.

Yeah but you earn more. Western Europe = high salary, high price, Poland = low salary, high price - often higher than in Western Europe.

If you go to Digitec then it's only 569.-

T-mobile USA needs the 930 please?

In Slovakia the lowest price 468 € ($639) with availability starting 11.7.


It's only 8 months late...

Yes we know, get over it.

I don't really trust all those websites. I'll keep waiting until Nokia will officialy show me that Lumia 930 is avaliable and not "wkrótce" (soon). I'd like to buy it in a shop but it depends on the cost. I may pay extra 100zł but not 500...

Where the eff is the UK news on this phone???

Microsoft and Nokia sure don't know how to sell a phone.

My friend already holds it in his hands. Got deliverd today. He preordered from Swisscom.

Seriously isn't this device outdated to be regarded as an iphone 6 or galaxy s5 competitor...this device was seriously delayed, by now we should be talking about the release of the next big thing.

What pisses me off is the fact that the LG G3 is already available and it even costs less. Epic FAIL.

Yeah, but it's just another craplastic android device with a shitty skin. There's barely any content that utilizes the screen and won't be for some time.

I'm shocked it's not in UK yet.

Some lucky ones in switzerland already received their device (according to board on pocketpc.ch)

Good to know Deutsche Telekom week have the phone as I need their software to have the dark grey accent colour (since Microsoft refuses to give me an accent colour wheel)

Here in Slovakia, one of my favorite retailer said they will have Lumia 930 available very soon and their price is 479,99€ and the lowest price is 467,59€. :o)

I can't believe that UK is still waiting!! No news at all. That's a shambles!!

I can get a new 1520+micro SD card slot for 369 € . I guess I'll skip the 930 ;). The 8.1 update will improve the 1520 low light camera capability.


You can get the Lumia 930 here in Switzerland for as 'little' as CHF 569 that equals EUR 470 or USD 670 and that even includes a wireless charging stand. Good Deal in my Opinion. Mine should hopefully arrive next week.

Are any of the international 930 phones able to be used with USA's T-Mobile bandwidth?

Come on sparhandy! Bring it to me!!!

Come on big Canadian trio (Bell, Rogers and Telus)... Please add Lumia 930 to your line-up... Pretty please.

oh guys, I am unboxing it now (Switzerland, Orange).

Is that the colour or the carrier?

the carrier. it's available in both orange and black, I chose the latter.

u lucky bastard!!! do a review on youtube, pleeeeease :)

ahhah nice. Im too lazy... do some questions and I'll answer. look the dedicated thread in the forum.

The german carrier only got the white one :(

Any good reason to get a 930? I have a 920 and can't see one. Somehow the Lumia 930 looks old before it's available.

I know but this seems to be all. I really miss something exciting new. Lumia is always about camera. Well, i want a smartphone and not a camera.

well, the only reason to me is the camera! the HW is not that important to me as i have lumia 920 with windows phone 8.1 and it moves amazingly for what i need it too.

I just got my shipment notice from Lefdal here in Norway. It's finally on it's way :)

I got an email today from Expansys Germany asking me to confirm my pre-order for a 930. It asked me to make payment and claimed that the phone would be in stock in four days.

My shop in Geneva has the black 930 to be picked up, but i wait for other colors available sometimes next week. Color tips anyone? :)

Qualcomm 808... Then I take.

hey, any one from Poland. do you know where can i find this phone at a local store? my aunt is traveling over to Poland any time soon, it will be amazing if she can buy me this phone. but i need a local store :(
Windows Central Newsletter
Thank you for signing up to Windows Central. You will receive a verification email shortly.
There was a problem. Please refresh the page and try again.