How to change the keyboard size on the Lumia 950 and 950 XL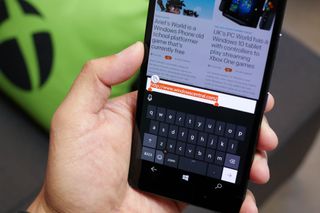 If you feel like the keyboard on the Lumia 950 or 950 XL is too big on the screen, there's a way to make it smaller. The main benefit of making the keyboard smaller is seeing more content on the screen. However, you pay with having smaller keys that might result in more spelling errors. Nevertheless, we'll show you how to change the keyboard size so you can see for yourself which option works best.
Swipe down from the top of the screen and select All settings
Go to Time & language > Keyboard and tap More keyboard settings
Under Keyboard size, you can select Small, Medium, or Large. The default option is Large.
That's it! Here's a comparison of the three sizes on the Lumia 950 running Microsoft Edge:
Are you changing the keyboard size on the Lumia 950 and 950 XL or are you leaving the default option? Sound off in the comments!
News
Want all the latest news on these phones? Hit these topic pages for all that we got.
Microsoft Lumia 950 XL main page
Support and help forums
Need to chat about the Lumia 950 and Lumia 950 XL? Jump into our forums and ask others what they think or get help and advice on your new phone!
Windows Central Newsletter
Get the best of Windows Central in in your inbox, every day!
Is this only for the 950 series?

I don't have the option on my 640...

My 640XL has it... Tomorrow my 950XL arrives... Can't wait!

Hope it's not being shipped. UPS doesn't deliver on Thanksgiving Day...

Exactly. UPS sucks. I had to fight with them to get my phone today. They claimed they were at my house in the morning and I wasn't there and they will try again on Monday! Oh, how pissed I was :) But I got it!! It is awesome. The hardware is close to perfect. Unfortunately OS itself still needs a lot of work.

Yes, same mine 640XL does not have Option so I diappointed with Microsoft then maybe I dump Windows Phone as I get other different phone like Android or IOS because of Microsoft does not allow update or upgrade verison on 640 and 640XL. Please inform to Microsoft, let me know from Microsoft, thank you, smile!

Are you talking about this feature or the actual update?? All windows phone 8.1 devices will get Windows 10 mobile. That includes your Lumia 640 XL other phones like android and ios don't all get updates, like if you bought an android phone last year your more than likely not to get the new marshmallow update

Not on lumia 930 may working for bigger than 5inc screens.

Not on my 930 but as the keyboard in Portrait seems squashed since W10 I have resorted to turning my phone to Landscape as its easier and more accurate to type.

My 1520 has it, so I guess is 5+ only

Maybe requires factory reset?

Weren't they working on a one handed keyboard for larger phones?

It has been in the 1520 for a while, just hold the space bar and move it either to the left or to the right.

That's a seperate feature that is indeed there. On win 10, you can access it by pressing and holding the 123.. key, selecting the gear, then selecting the keyboard layout you want (in this case, off to one-side)

Wasn't there am option in one of the earlier builds to move the keyboard around the screen?? I do remember having seen that vaguely. If it does is it still there?

The one i checked out in the store could do this by tapping and holding the spacebar and dragging it to one side but knowing Microsoft they probably removed that functionality.....

If you long-press the spacebar and slide it, you can make the keyboard smaller and move it to either side...
Works on my 1520, and I just realized you can move it anywhere you want! B-)

I know that the keyboard can be moved around by holding the space bar in the keyboard long enough before you can start dragging it, just like how you would move around a live tile

Yeah.. in earlier builds of WP10 on my 1520 you could make the keyboard small and move it around... it was pretty slick.

well if it is it isn't working for me. I tried holding down the spacebar but nothings happening

Nice, I'll be doing that next week :)

Having just set up a Samsung Galaxy for a colleague having the numbers row at the top of the keyboard would be great and more productive

That is already there..just keep the top row pressed..

What do you mean, I don't know a way of setting numbers to sit on top of the keyboard.

Long press Q, then long press W and you will see.

But that even slower than just pressing &123...!

Bro the way was to press the number keyboard then drag it to the top (numbers)...i miss that

Try pressing the 123 and slide your finger up towards the numbers - select and let go. Thanks to akike comment below.

If you long press Q, you'll see 1. If you do W, you'll see 2 and so on...

2tomtom's way doesn't work for me on my 930. Instead, you can just swipe and hold on top of the &123 button and slide to a number you want to enter and then release your finger ! :)

I forgot about this - used this quite often but somehow forgot! This is so easy, I will remember this from now on, thanks for reminding me :)

move the Mic. icon beside the small keyboard and you have even more space...hmm, maybe in an update they can do that:)

I was just thinking it looks like they're wasting a lot of space next to the microphone icon.

No, it isn't simply wasted. Isn't that space used to display the text suggestions and predictions as well?

I have the 1520 and I went into settings, typed in "keyboard" and changed mine to the smaller keyboard. The option is there.

I actually went back to 8.1 as the keyboard on my 1020 under 10 is slow, the keyboard feels smaller and much less accurate, WordFlow is laggy and suggestions are nowhere near as accurate. Anyone else having this issue? In fact, with the exception of Universal Apps, I'm really not feeling the need to upgrade. Going back to 8.1 after a month on 10 made me realise how decently fast the 1020 is on 8.1. Virtually no waiting for anything other than the camera launch.

I share your experience. Except I'm stuck on 10 with my 1020. And to make matters worse it fails upgrading to newer builds, so I can't go forward either. :-o

Can you not reset with the tool? It was updated this week.

My 1020 decided to stop being recognized by any PCs with any cables. Seems to be a common problem (not related to W10 upgrade). I knew the risk that I couldn't go back, but I didn't expect I wouldn't be able to go forward either! :-o. Who wants my 1020 cheap? Seriously. ;P

Did it happen before you upgraded to W10? Because it happened me on previous builds. I was stuck for months then a change in build and the reset tool re-enabled it. Keep trying with every update, and make sure your computer has the right USB drivers installed for the phone. Sounds more like a driver issue than a hardware problem. I went throught the same thing. A hard reset then then you plug the phone back into the computer making sure you don't have the recovery tool running, and choose the option to skip updates from Windows Update (when you see the installing drivers animation beside the clock in Windows). It will jump straight to the drivers folder of the recovery tool and install the correct drivers. This has worked for two borked 1020 for me, and I had to do it the hard way as I'm a Mac user, so it was trial and error. This works. 100% Finally, if in doubt, double check your USB cable and change ports. Use USB 2.0 if possible.

Hey chill either your pc driver is missing or your mobiles micro usb has been damaged I was insider since the first build andd had used the tool whenever i felt thing were not working

Yeah I am pretty sure it's the phone itself. I've used every cable I could find and tried every PC I have lying around, including ones that have remained static. 7, 8, 10 tried. With and without recovery tool installed. With and without Visual Studio dev kits. USB 2 and 3. No luck. So I'm chill (lol wut).

Try the boot loader. Soft reset and hold volume up button until you see the Nokia logo ontop. Start the tool and hover your mouse over phone not detected, as you plug it in click it. (you may not have to be so precise with the update / renamed tool however had to be on some models with nsrt / lsrt).

This put it into flash mode (lightning bolt and settings icon) for me. I still tried connecting it using the timing methods, didn't find it. For some info, when I connect it, it goes crazy in the device manager, popping up "unrecognized Usb device" then immediately going away. It does this repeatedly without stopping. Leaving the sound on is funny, I get the connected/disconnected boops like crazy.

i'm glad to see they didn't change the keyboard layout... i really like it this way.

In addition to shrinking down the keyboard, they should give the option to fill in the extra space on the edges with more keys that could be useful. Stuff like @, /, Tab, PgUp, PgDn, Number row at the top ETC....

Great for the people who find this useful. For me, the space gained is too miniscule for it to be worth it. Also, a smaller keyboard makes it harder to type lol.

Yeah, that's why I Landscape type on my 930 as the W10 keyboard seems squashed and I'm less accurate at typing.

Why "why cortana" feature is not available for the lumia 930?

When in letter mode, press and hold the number (&123) button in the bottom left corner. Two buttons will fly out. One will shift the keyboard to left, right or centre, via another fly out button menu. Pressing the top cog button will take you to the keyboard settings where you can select small, medium or large. This is the behaviour on my NL 1520 with 10586 installed. I prefer medium size in the centre.
:-)

I wish they shifted the keyboard all the way to the right/left with this, so one-handed typing would be made easier.

Press and hold Spacebar, then swipe right or left...

Cool, I'll remember to forget this when I get a new phone.

Not a huge difference! But, I really dislike how in WhatsApp and Hike, and many other apps, menu and shortcut keys take up so much of the screen! I like it in my bestie's Moto G, so much more can be seen at a time..but again, that's Android! Duh! Can we please get some clear space in windows phone too? Or maybe in windows 10?

They are handy one of the reason i love windows handy menu at the bottom how can you handle it with one hand when you have a menu on the top left corner screen size 5 inch or more than that also it provides one click access instead of two

I tried it. Only saved a line of text. Not worth it to me, but thanks for the tip. I missed that screen when checking out the configuration settings. Anyone know if theres a way to auto hide the nav bar at the bottom. Sometimes it drops off the screen and gives you more readable area. But it doesn't always do that. Must be controlled by the application that is running. I'd like to drop it out of site on the start screen to get more viewing area for the live tiles. Don't you think MSFT would have given us that option? That's probably the main (only) benefit of the screen based nav bar

Swipe up from below maybe?

Thanks. Yes that is the way to get it back if it is hidden. But not how you hide it in the first place. Don't see an option for that

Yeah that would be great. A lot of apps have buttons that get covered up by the nav bar at the bottom, and with no way to manually hide the nav bar, you physically cannot use the app.

I haven't run into that problem yet. That makes it even worse. Come on MSFT. You implemented the onscreen nav bar but left it unfinished. I guess I shouldn't be surprised. :/

I always have my keyboard snapped to the right on my 1520, which automatically makes it small. Great for Wordflow.

I am using the large keyboard on my 1320. I can easily switch to the one handed mode which makes the keyboard smaller. That's a much quicker switch.

Thank you Mark Guim. always helpful tips

I think this a good feature.

OT: Wow, just paired my MS Wedge mobile BT keyboard with my 930 and the keyboard now works excellently on W10! Things like ctrl-shift-arrow to select text, ctrl-arrow to jump over words, ctrl-z to undo etc. all work nicely. On W8.1 it was not this good at all. I wonder if there is way to select the typing language using BT keyboard only. EDIT: Win+spacebar does the trick with the language change!

What do the lines at the top of the spacebar do?

Is there an option to make the keyboard on other phones, say the 635, larger like it was on 8.1? The W10M keyboard is quite squished in comparison. I miss the size of the old keyboard.

Is there any way how to add a row with numbers? An alternative keyboard maybe? Is that possible on WM10?

All I want is a T9 keyboard. I can manage on the swype-like virtual keyboard, but on the built-in dialer numberpad which includes the alpha characters, I'd FLY. They're halfway there.
Windows Central Newsletter
Thank you for signing up to Windows Central. You will receive a verification email shortly.
There was a problem. Please refresh the page and try again.