Microsoft Store slashes Lumia 950 and 950 XL prices, throws in a free display dock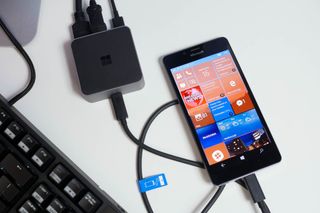 The Microsoft Store in the U.S. has cut the price of the Lumia 950 from $549 to just $399 (opens in new tab), and the Lumia 950 XL from $649 to $449 (opens in new tab). Microsoft is also offering a free display dock with the purchase of either phone.
This is the biggest price cut we have seen so far for these unlocked versions of the high-end Windows 10 Mobile phones in the U.S. The 5.2-inch Lumia 950 is now priced $150 lower than before, and the 5.7-inch Lumia 950 XL gets a $200 discount. The free display dock offer with the purchase of those phones is set to expire on August 14. There's no word on if the price cuts themselves will also end on that date.
Thanks to Jordan for the tip!
Check out our Lumia 950 review
See at Microsoft Store (opens in new tab)
Windows Central Newsletter
Get the best of Windows Central in in your inbox, every day!
Great phones and I highly recommend.

This is a great move by Microsoft. A major OS update coupled with affordable hardware. Here's hoping that the phones get a bit more traction. Wished these were the initial launch prices. Clear the shelves and make room for the Surface Phone :)

May be you just need to go catch a droid fone or 'your'phone.

Everyone does! That's why they're cutting prices to stay relevant in the market. Well well well! Posted via the Windows Central App for Android

Just ordered a new 950XL from eBay for this price, and it came over from Singapore. Really like it so far. Tried a 950 earlier this year, but couldn't hang in there with it.

Would you mind sending me the PM with the name of the seller? Thank you

what do you mean that you couldn't hang in there with the 950? I don't follow

It could be due to the size?

perhaps. From http://www.knowyourmobile.com/mobile-phones/microsoft-lumia-950-xl/23357... "If screen size isn't your deciding factor, then the 950 XL is the technically superior phone. It has a better battery, better RAM, battery CPU and GPU–and is even 0.1mm thinner to boot." I am curious if that is noticable to the user from a performance perspective

There's likely another sale coming at year end, to get rid of inventory and stop production just before Surface Phone is released. Also after Elite X3 and Note 7 come out for comparison. I do love the Lumia Camera. What to do, what to do...

I was having a hard time with it on the older builds. Battery seemed a little too short. That was one of the reasons I came back with the XL. More battery. And to the poster below, I don't really notice the thinness difference, but it does seem faster with picture post-processing.

Thank you is the size a problem at all? how do you carry it with you? My 830 and 640 were kept in back pocket - this seems too large for that.

I've also got an 830, the 950XL is quite a bit larger, but my wife is 5'2", 105 and she carries it in her back pocket all the time. I am 6' and I carry it in my pocket as well, but it is indeed larger.

It's bigger, for sure. It's also a little slick, making one-handing it a little more challenging. A good site that I refer to is http://www.phonearena.com/phones/size You can overlay the two phones and even calibrate the display to show the phones on your display at actual size.

950 is working a treat on latest firmware and (slow) preview build. Gone are the daily restarts.

I'm patiently (kinda) waiting on AT&T to deliver the firmware. I wonder if the Anniversary Update on Mobile has anything to do with them. Hmmm...

Microsoft, iya e! Baba e! Your moda and your REAL fada. Why you make me go waste money for ebay? I repeat am again, your real fada Billy Boy Gates.
Awon oniranu alainikanse gbogbo. Awon eni radarada. Oniyeye somebodies.

Baba ohh, kilonshele to e fi binu. But really the phone is good

Omo y this yanki people de down vote u and emi

Emi calm down at least u buy the phone Omo if i get money i go buy am i de i de use Lumia 640 with Windows 10 installed i love am die

Lmfao, cursing Microsoft in broken English and Yoruba now?!

Great marketing ploy but still no good without advertising.

Except for the constant reboots, I love mine too! Just so everyone knows; I was never complaining, just making a statement. :)

Lol yes Redstone build .5 is giving me constant freezing and reboots.

I was having the same issue after I installed the recent firmware. I have since done a hard reset with the Device recovery app. I have not seen any freezing and random reboots since then. What's more is that Netflix now opens and other apps that were not working are working.

The last update for Netflix fixed the problem of not opening the app.

Mine works fine on 950xl production

I don't have constant freezes and reboots on a LUMIA 650 !!! ;) perfect build for me.

got mine replaced and fell in love with windows all over again

@krys, if after doing a hard reset and even doing device recovery, it is probably your phone. Had the same issue even after doing wdrt, and hard reset. Sd card out, not using backups, it didn't matter. Went to the MS store and swapped it out and haven't had the issue since. I even restored from backup on my current load and no more issues.

No reboots or freezes here on my phone.

I am glad for you! I am actually thinking about taking mine to the local MS store and seeing what they will do for me. I just reset it using the WDRT and it would reboot even on a factory image. I don't get it!

I am glad for you! I am actually thinking about taking mine to the local MS store and seeing what they will do for me. I just reset it using the WDRT and it would reboot even on a factory image. I don't get it!

My 950xl did this for a while. Orlando ms store replaced it and new one works great

@kwambe5, See my reply a few posts up.

You should do it soon. I don't have any reboot issues.

My 950xl has never had a random reboot/restart in the last few months.

Mine is having some reboots after latest firmware update, I have double tap to wake and most of the reboots were produced unlocking the phone.

Mine neither, smooth as silk with the latest build

Mine doesn't reboot unless I do the following specifically. Connect Arc mouse to the phone with Bluetooth, then open Video360. Load a video and then try looking around using the mouse. The phone restarts within a minute.

And battery dries fast on .5

You should never get your battery wet.

That's the only thing they can get wet. BA DUM TSS :P I kid, I kid.

I had constant reboots before red stone, maybe try join the insider and see if that helps

See previous posts on this issue.

sounds like a lovely experience :/

This is actually pretty tempting.

Since these are most likely the last Lumias and the last phones from Microsoft this year, might as well go all in now if you haven't already

Wow, too bad it took then so damn long. I would have ordered from them instead of Amazon just a couple weeks ago.

wow that's a great deal. I got my Lumia's during the by 950 XL get 950 free back in April. love the phone. no complaints.

I did too. And then sold the 950.

That's a heck of a price. Here in Greece , 950 is even cheaper, you can get it for under 290 euros. Damn, so tempted buying one now, with the anniversary update coming this month. And the 950XL at THAT price with FREE dock? It's a steal

meanwhile here in Jordan I was shocked when I asked about the 950XL price a week ago and they said "530" JD which equals " 668 Euros"

Ugghh I really want the XL but it's still around $200 too high for me IMO! Wish they'd take my L830 in a trade in.

Wish j could trade in my 950 for 950xl lol

I think if they started at that price they would have gotten some more traction at launch. I love mine, but at the original starting price, it was hard to recommend to friends.

Was never going to gain any traction as they simply didn't advertise it.
However, I am totally happy with my launch 950xl, anyone considering getting one - jump in now before they are all gone!

No matter what people say about windows phone that is dying or is dead, it is a great OS, smooth and fast and great for productivity. I'm getting mine soon. I swear! Miss windows phone.

Idk if Windows 10 applies #TeamLumia 950 XL

Wonder if you can redeem for display dock if you took advantage of the BOGO back a couple months ago.

I wish! (though for real, if anyone knows of this is possible, I'll be so on it)

Checking Lumia offers app but its down right now

Wondering the same, checked and its down for me as well

The same deal is also available in Canada, except the discount is $150 CAD

The 950XL is now $649.00 (down from $849.00).

Had these phones launched at these prices, with software that was stable, then they would have been much more warmly received, and I suspect Lumia sales would not be in the dramatic tailspin they are today. I guess Microsoft coulnd't do much about the state of Windows 10 Mobile (other than delay the phones 6 months), so maybe it didn't matter how the priced them anyway. It's hard to understand their thinking here. But as others have said, they are now very nice phones. Recommended at these prices.

If you think about the last year, MS could have launched W10 for desktop and kept W8 for mobile. But with W10 largely being about one core and universal apps, you would need your developers and vendors to focus on W10 to build up the app and equipment farm, and you would also need proper equipment to test W10 on the phone. So you stop production on the old and you focus all your players, including the fans, on the new. Unfortunately, the OS isn't ready for mass consumption so you put the software out, but you use your fans as testers, and you don't advertise...until you are ready in late 2017.

This is great news to me. Leaving Sprint since they don't have any Windows phones and was hoping after the release of Redstone there would be some sort of offer. I could find a 950 unlocked on Ebay for $350 but I'll buy from Microsoft any time before Ebay. The dock just sweetens the deal.

exactly, i also got my 950 from BOGO deal in April, my neighbour and i were looking at the prices and wanted a deal, we took advantage, the phone is just better with every update, i even tested AU on Slow ring and it flies, grab it cause you'll have dock also which you can't beat

Re: Sedp23,
Just enough, in plenty of time. (I won't post it twice.)

They might as well give them away free now with $50 Windows Store credit.

Damn it I just bought the 950 xl a couple weeks ago I wish I knew this was going to happen!

If you bought from Microsoft store, they should honor at least the free dock. I bought my 950xl, two weeks later they had bogo offer, went in and they gave me the free 950. It's worth checking into.

Thanks for the info. I'll see what I can do.

My 950xl doesn't reboot, but there are some quirky things. Despite it all, those are damn good prices for the 950s and I hope people take advantage of a heck of a deal.

spread the word on social media bro

Fire sale, fire sale , fire sale (in chanting voice) Posted via the Windows Central App for Android

They will be sold even cheaper soon, anyone who wants one of these should hold out.

No wonder your VISA Declined. You waited too long.

Really kind of a slap in the face to those of us that bought it shortly after release for full price (and with no continuum dock!). It's barely even 8 months later, and the price is essentially ~$300 less. Not to mention all the promises made (IOS/Android bridges, among other things) that were never produced. To top it all off, they have no future interest in lumias, which will most likely leave us twisting in the wind not too long from now. They should, at a minimum, retroactively offered a dock at least to those of us that paid full price.

You got 8 months with the phone, I would say that should count for something. I've been on Sprint hoping they would come out with a CDMA version but Sprint is being Sprint. Maybe next time you shouldn't be "cutting edge".

I bought mine in Feb., full price and no continuum dock, so I've only had it for 6 months. I bought it because of the promises made about bridging apps from other OSs, and thatt maybe some day I could afford to spend $100 on the dock. They've now gone back on most of their promises with the phone, offering it for half price, and giving away free docks to boot. Total ****** move in my opinion. I have stood behind microsoft since win 3 was new, but this is the first time I've actually felt duped by them and it sucks.

Sometimes being blunt is the best way: Get over it. There are MANY phones that see the exact same discounts this far after initial release. In fact, I would say this is common for every phone except iPhones. Duped? No. You just paid the price of the phone to get a lot earlier than people buying it now.

Regardless of what was "promised" this is how it is with any tech/product. Knowing that W10M/WP has a low marketshare and wanting to wait a while to let them work out the kinks in W10M, I had purposefully waited until what I thought would be the best deal (i.e. jumped on the BOGO offer) and now they have an even better one. It sucks, but the longer you wait the more likely a product will become affordable through whatever kind of sale. They are still working on bridging apps from other OSs (excluding android obviously), that hasn't changed. This is the general risk being one of the first to buy ANY product, albeit a little worse with W10M since we have a lower marketshare but again these are the things to think about before purchasing anything. It's totally fine being on the cutting edge if you like that, you just have to be more aware of the risks involved.

Everything you buy goes on sale, you can wait forever to buy but by then you would just wait for the next model right? That's retail... Everyone who buys anything is getting duped.
I bought steaks last week, damn the steaks are on sale this week, I got duped but at least I'm not hungry! :)

Steaks are never cheap :( :(

You were happy with what you got when you got it. Why does recent events change that. If they hadn't lowered the price you wouldn't know the difference and would still be happy. Why does something that has no effect on you change your opinion?

Knowing that the fire sales for last year's model starts around September of the next year, I still got the Note 5 in November of 2015. Now that phone is on a BOGO sale because the Note 7 is coming. Both phones, L950 and Note 5 came out in November 2015. But I'm going to want the Note 7 in November 2016, so the current BOGO sale has no affect on me because I've used the Note 5 for 8+ months and will be moving on to a Note 7 and whatever hot Windows Phone in 3+ months. When you buy early, you pay a premium to be first.

Can't do it, still don't seem that much of an upgrade over my 1520.

how can these "price cuts" end? thats what they cost brand new on ebay, even about 50$ lower than that most of the time

keep dropping the price pleas microsoft! throwing in the free display dock means that those phones are not worth the current price Microsoft is asking for now. display dock costs us around $100. i will get it if the next microsoft flagship camera goes backwards or they take away some good features

Manufacturing cost of the dock is about 10-15$. With shipping, storing etc it will come to maybe 30$.

Dammit, I want a free dock. I paid 500$ for my 950 at launch

My thoughts exactly. Hell, I feel we even deserve a rebate on top of the dock

You don't deserve anything. They offered a product at a price and you agreed to the price.

This is the way of practically all phones today. Yes, even the iPhone. Wait for nearly a year after the phone launches, and the price drops at least 100-200 USD. This is the normal trend. The catch of course is that you have to wait!

I preordered mine and got it on launch day. Then redeemed my dock. How'd you miss out?

I bought mine about a month after launch and they were still offering a free dock and I got mine.

I must have missed the boat, oh well

IT was offered for free at launch. You had to open the lumia offers app.

Yea...make the 950XL VERIZON capable and I'll buy one....

While Verizon did not pursue the 950 and 950 XL as branded devices, it is up to Microsoft to submit its devices to the Verizon Open Development Device Certification program so that users may activate its CDMA-capable unlocked Lumia devices on Verizon's network (https://opennetwork.verizonwireless.com/content/open-development/devices...). Google has been doing this most recently with the latest Nexus devices on each of the Big Four. Why is Microsoft continuing to refuse to do this? Hiding behind the nascence of Windows 10 is BS.

I hope this encourages more people to invest in these great phones. I love my 950 xl and think it's the best phone I have ever owned. The OS keeps getting better with every update.

I also love my 950XL, great phone, OS is coming along nicely!

We picked up a 950XL and a 950 during the last buy-one-get-one-free sale. Plus we received a $150 coupon for sending in a 920. Total cost $500 for two great phones.

Microsoft always does the right thing late.

Is there still a trade in deal?

Yea is there? I would do this tomorrow if I could get another 150 from my 1020 or 925

Oooo, that would make me pull the trigger!

Wow, this is so tempting. I wish that someone would buy my phone for sale already so that I can try a 950.

F-you Microsoft. You shoulda offered free docks to those who stepped up to the plate and supported the platform on launch day 2015.

Why? You bought it. They are offering people free stuff who wouldn't have bought it otherwise.

They did have a free dock offer through lumia offers. No reason to tell Microsoft to f*** off. Posted via the Windows Central App for Android

Actually, the dock came free with the 950XL at launch. That's how I got mine

They offered the free dock on launch day if I recall correctly Edit: now I see other comments lol

Folks in most (maybe all) countries had until end of January to redeem their free dock

this x1000! shaft the people that support you from the beginning...

So it's your position that Microsoft can only offer a deal on their products at launch?

Still happy with my Nokia Lumia 1020, despite Microsoft fliping off all of us when they went back on their promise that "every Windows Phone 8 device will be getting the Windows 10 update".

I have to say I am jealous. I wish I could be satisfied with a phone for so long...It would save me a lot of money!

I believe the statement was everything windows phone that came with 8.1 but I could be mistaken

It was all phones that can run 8.1; i.e. if you could update from 8 to 8.1 you could to 10.

I was satisified until my 1020 died last week. bought a 950, and I knew it was between special offers. I'll try the store to see if they will cough up a dock at least.

you dont need that display dock, cheap continuum/wireless continuum option is available, there is an article about it in windowscentral months ago.

I was trying to find 'if you bought on or after so and so date , you can claim the dock too' :(

They should give the early adopters the dock for free at this point, or highly discounted, like $20 if you can show proof of purchase. Anyhow, wireless perf is good enough might not need it. Example: http://youtu.be/elaTt-J1EsI

The dock came free with Lumia offers app when you purchased your phone.

The point of a free dock is to entice the purchase. Why give free/cheap stuff to people who have already had the phone for awhile?

Just because you were on a GSM carrier or could afford to buy the phone at launch does not make you any better of a customer than anyone buying the phone now. I have wanted the phone from day 1 but didn't have the money and was on Sprint. If you can afford to buy a phone at original prcie, then you should be able to buy a display dock at full price too.

If Canada gets these same prices, then I'm in.

They should've started with that price from day 1. Could've sold more of them.

I definitely agree with this. I bought the 920 within a week or two of it coming out because it was $450 at launch with a free wireless charger.

They are able to lower the price now because Qualcomm and other components vendors charge MS less now. It's hard to believe but it's already 11 months since the launch. Prices do drop like this.

If they had sold them for a penny on day 1 just think of how many they could have sold! (geez some people are so fricken clueless)

Damn, the temptation is strong, I might pull the trigger on this one!

Looks like this deal can't be combined with the 10% edu discount. I'd really like it if WC would check this for us before posting!

Does it require a college email address? Maybe no one writing has access.

I tried it for my school, and even when logged in to the edu store I got the same prices. Looks like it can't be combined, but it would be good if some other people can confirm.

Yeah it doesn't work with the edu discount Posted via the Windows Central App for Android

It was a mistake to launch the phone at such high prices in the first place. L520 was a Best seller because it ahd q niche market to introduce people to WP platform. The L650 should have launch in sub $50 range like the L640 to replace that niche market, especially with the limited ecosystem. Plus the 2 for 1 in the past might have been the best discount really. This is like what happened to XBox1 launching with kinect at a high price. Should have just landed with lower msrp in comparison to iPhone 6 n SG S6

Why does this gods damned windows central app keep crashing every time I try to scroll through these posts????? #FAIL

It happens to me very often with my 950xl. So frustrating to use. Give it a 1-star until they fixed it.

Well I got screwed. Bought it for more new on Amazon yesterday. No dock. So typical.

Did you buy it from Amazon? Couldn't you return it?

Return it for a refund...

Couldn't find for India tho... 950 can be found for around 450usd without dock here. It seem to be out of stock. Posted via the Windows Central App for Android

Lucky champ. All the time having sale in the US MS store. Not once I've heard there're sale down under.

Good luck with the beta test, everyone! Lumia is done, and you WILL be used and tossed out. Here is to eradication of any fanbase created by Nokia! Cheers! Layoffs! Buggy windows 10 and restarts!

Shut up. These phones will continue to get updates, and they're pretty nice devices. Nobody that buys one will be "shut out."

They will be shut out by the complete lack of apps, or at least updated ones. Microsoft barely supports their own OS.

Yeah, the beta test is over. Phone works well now.

I want to know if the 150 trade in still applies..ill be at my ms store in the morning if so.

I hate my 950 XL. I paid $650 for it but I wouldn't have bought it for $450 if I had known had bad the experience was going to be. I would not recommend a Lumia to anyone. I used to recommend Lumias to people all the time, but now I make sure that nobody wastes their money. Microsoft barely even supports their own mobile OS.

What is it that you dislike?

Pretty much everything. Most high-end Android phones beat the Lumia 950 and 950 xl in every category.

Lol not really, they don't even beat midrange Windows phones

Wow. Most people on this site are fanyboys/fangirls. I got a ton of dislikes because I stated my opinion. I think I'll get my Windows news from an unbiased site from now on. Trust me, I used to tell all my friends about how much I loved my 1520 and back then apps were being added all the time, not removed. After a while things started to change. Windows phone market share went from the fastest growing to the fastest shrinking. It was the last straw when I got my 950 XL and I realized that Microsoft was supporting Android and iOS way more than its own OS. They even removed some of the best features of Windows Phone 8.1. My original Microsoft Band worked perfectly with my 1520, but now my Band 1 and 2 don't work most of the time with Windows 10 Mobile. I can't use Cortana or the keyboard for texting either. I can't tell you how much I regret my purchase or the latest Lumia. The only way I would ever purchase a Microsoft phone again is if it ran Android. All the fanyboys disliked my other truthful comments and they are going to dislike this one too.

I am right there with you man 100%. I have been a windows phone/mobile fan for 4 years now, but this is the last straw. I bought the 950 6 months ago, and the phone itself: the os, camera, ui, snappiness, etc are my favorite of any phone, but the software/apps are just not there. I give my opinion here, and get downvoted to hell for speaking the truth. At this point, if you are still full on backing WM, you are delusional.

I will, but I spent a ton of money on my Lumia and got expensive insurance, so I'm gonna use it for at least two years probably. Money doesn't grow on trees.

They have to launch this phones at this price

Totally agree, and even at this price it is a poor value compared to what is on the market from a hardware standpoint. It is a shame.

Microsoft, iya e! Baba e! Your moda and your REAL fada. Why you make me go waste money for ebay? I repeat am again, your real fada Billy Boy Gates.
Awon oniranu alainikanse gbogbo. Awon eni radarada. Oniyeye somebodies.

Masan I just bought my phone from Amazon for around the same price... I wouldn't miss nd having the dock, I guess I still come out cheaper since I didn't pay full price anyway.

My wife's 950 blows through the battery in no time. Any suggestions on how to slow that down?

stop playing candy crush too much? :)

Turn the Data Collection setting (which is named something I don't recall at the moment) down to Basic, if it's not already there. That jumped my Lumia 830's batttery life by like a third.

So I bought the 950Xl and 950 in the last couple months.... Anyway I can re-claim this or something for the dock....?

Too late just switch back to android but will hold on to my 950xl in case things get better with the new is some reason why I am leaving I that right now I can even see what I am typing due to my keyboard covering half of my screen. Get it right this time

meanwhile in Australia... MS Store is selling the L950 for "mere" 679$ with the screen protector and cover included. meh

This is almost tempting Posted via Galaxy Note 4

Don't do it. This phone is bogus af. They're probably doing this because a newer Windows phone is coming anyway.

Or they're doing it because they need to get rid of inventory and there won't be any more Windows mobile devices.

About the price it should have sold for from the start

just pulled the trigger. i will finnaly be back to windows phone .went over to android for a few months and i cant stand it.

I hope to see a sale on the display dock sometime soon!

wonderful!should also promote in China market!

I'll get my Lumia 950 today. It's not from the Microsoft Store but i'ld like to know if there are any possibilites for still getting a Display Dock for free.

In UAE the Lumia 950XL is for around $364 from Microsoft's official store in an online shopping site

You have a email or site to buy this at that price? Also we talking 350 us or dinar? Posted via the Windows Central App for Android

Nice ... I have been waiting for this.....

Emi how va i understand your pain but still i love windows

I'm really tempted by this. I might jump on this.

Right?! Now that someone bought my phone, this is extra tempting.

The equivalent deal isn't on the Microsoft UK site, or...?

Mines going on eBay in the next few days before it's worthless, never really liked it compared to 1520, my daily use. Made one call on it and only use it on WiFi to see how 10 evolves. Freezes,randomly boots, buggy and stutters, build quality fair (just) they simply can't give them away. My local o2 store has sold 11 in a year, 5 returned!! They're now tucked in a corner they say no one even looks at them. Lol

I just purchased spare a battery lcd and nfc chi charge back along with charge port for my 1520 to refurbished it. On amazon total is 132.00 .... not bad... but still want a 950xl....damn you tmobile and your windows hate. Posted via the Windows Central App for Android

In Finland 950 has been 299€ all summer. (not in Microsoft stores) It don't include the display dock, but for one week there was offer to get it with that price with it + one year office 365.

It's like people have never bought electronics before. Electronics depreciate fast. Just cause you paid top dollar at release entitles you to nothing. History would have told you the price would drop, soon. Posted via Note 4/Nexus 7 (2013)/Lumia 1020/ Lumia 2520

That's true, but iPhones are kind of an exception. They hold their value longer.

As an early adopter I feel like l got burned. I paid full price, missed the display dock offer, and W10M was not ready at launch. I sort of knew all this but still hoped against hope. I recently enrolled on the Release Preview ring and the latest build/Anniversary Update runs incredibly well, the battery life is significantly improved. Design aside, with the new pricing and offers people should be pretty satisfied purchasing a 950/XL today so long as they know what comes with the W10M territory and its precarious existence.

I feel all the same as you, being a early adapter of L950

Now, this should have been the launch price and even then it would have been over-priced. They need to go down at least another $100. They don't have the demand to ask these prices. Posted via the Windows Central App for Android

Yeah, I really got burned on the Band 2. Paid full price. And since it has been so unreliable (replaced 4 times so far) I had to get the extend warrantee. Now recently $100. Probably the last time I will pay full price on a product from Microsoft.

Bought the Band 2 last December from Bestbuy online & my dad carried it to Jamaica for me. It has been flawless & no complaints todate.

Way too much considering what one gets. Compare fe to this 399$ device: https://www.zteusa.com/axon7/

This article should be in phone section of wc app

Knock another $50 off the 950 and $100 off the 950XL and they got themselves a deal. Posted via the Windows Central App for Android

I'd do this in a heartbeat to I'm stuck on Verizon with my unlimited plan

I'd do this in a heartbeat to I'm stuck on Verizon with my unlimited plan

This is enticing, but hold on till the rumored surface phone!!!

Witch could be only a rumor.

If those were the prices at launch maybe they would have stood a chance of capturing 4% of the market.

The Lumia 950 has been great on the fast ring. If you're not an insider, I think you're really going to be happy with the anniversary update. Of course, there are more things I would still like to change such as adding actual grabable scroll bars to lists or adding a music control to the notification drawer but the difference in opinion between when I first got the phone and now is night and day. I got my stepdad the 950 XL and got the 950 for free in the BOGO. His eyes lit up when I upgraded him from the Lumia 925 to his new phone. He loves it.

My next phone is definitely Galaxy Note 7. Sorry Microsoft

My use of this ****** note 5 screams don't do it! Walk...nay...run from it. Posted via the Windows Central App for Android

eagarly waiting such aggrasive move in india market? if yes by what time?

When in India , the price slash...?

Hey MS, how about discount the display dock for a change? I paid full price for my 950 at launch and got nothing, yet they are giving them away like crazy now

Thats the price for being first.

Does the display dock also work with Lumia 535?

We have these prices for weeks allready in The Netherlands.

Nuts...doesnt do me any good. Neither of these excellent phones is on Verizon.

Sadly, this is only for the unlocked phone and not the ATT version. Great phone but if you're on ATT you will lose Mobile Hotspot and Visual Voicemail. This has always been the case for the 950XL which has never been an ATT phone. (At least that's the way it was before. Someone comment if this is no longer the case)

I thought the lack of visual voicemail was only on T-Mobile. I am interested in this deal but this would be a dealbreaker for me. Can anyone confirm?

Yeah, I tried a couple years ago to use an unlocked non-ATT phone on ATT. VVM and MHS wouldn't work. The lack of Mobile Hotspot is a deal breaker for me. I recall when I recently talked a sales person at the Microsoft store about using the 950XL she had heard from some customers that there were features that didn't work on ATT. I presume this is the MHS and VVM. Can anyone comment about using a 950XL on ATT recently? I would love to be corrected on this.

I bought the 950xl from Microsoft store at BOGO event back in April. The hotspot on Att definitely works. But you need to call att and give them the IMEI# so they can register your device in their system. I have impression visual voice mail also worked now. I never tried it. Please someone comment on it.

Thanks for the feedback. I would love to get an XL if those features work.

OK, I went through quite an ordeal this weekend. I bought the 950 XL with dock at the Microsoft store. I went to ATT to get the nano SIM and installed. After an hour at the ATT Service center and also 45 min on the phone with a knowledgeable tech support guy we tried everything and could NOT get the Mobile Hotspot to work on ATT. It was actually a Go Phone plan but the tech who supported ATT regular and Go Phone said it wouldn't make any difference. The tech said he tried everything he could. We verified the IMIE was in the system. I really liked the 950 XL. But I have to have Mobile Hotspot so returned to Microsoft store. I really wish ATT had agreed to sell the 950 XL.....

can't wait to see the Black Friday deals!

Might have sold a few if they were this price to begin with. My guess is they're no longer being manufactured and they're selling off remaining inventory while they figure out if anyone will ever make another device.

Returned my splitting band 2, given a $249 credit. Spent it on a black 950XL w/complete. Walked out with a free dock and XL for $299 lol

Microsoft UAE has slashed the prices of Lumia 950 (Aed 1199) and 950XL (Aed 1329) on their official uae website. They are selling the phones via souq.com
These are the cheapest prices you can find anywhere. Best deal ever :)

I took my receipt back to the store and got my $200 back along with a free display dock.

I'm probably being a bit greedy here, but does anyone know if they're still giving an allowance to 920 owners???

Nope, that one ended June 30th, unfortunately. If only we can combine this with that offer.

According to the official MicrosoftStore support line, the 950 Dual SIM version is not discounted! That sucks!

I was really holding out for the Surface phone but this deal was too tempting. Thanks guys as I've jumped at this 950XL deal today & it will arrive to me in Jamaica on Tuesday.

Canada is getting the same deals too!

Waiting for further price drops. Like the 640 down to $29

If someone gets this phone, do you suggest using as IS with updates as you get them or being on the INSIDER program?

insider program, with the track set to Release Preview.

Thanks for the tip...I'm a Verizon user (work pays for my personal use) but we have AT&T four our own use. Might pick this up and check it out...

I can confirm that if you bought it at the store within two weeks, you can go back and get an adjustment on the price and the dock. Much happier now!


Any one with a 950XL on ATT&T know if the visual voicemail issue has been fixed? I remember a while back some people said they were getting it again, but I don't think that was widely confirmed. Thanks!

OK, stupid questions time. I've been on BigRed for years... got tired of the lack of WP suppport at BigRed and have decided to move to AT&T. I've been on Windows Insider since it started for all Microsoft devices (with the exception of Xbox One). I bought the 950 XL from Microsoft (will get here Wednesday), but thinking of getting the 950 for the wife. The 950 I was thinking about getting would be through AT&T due to the monthly payment option (I know locked into 30-months, but I'm OK with that). So my question is; is there any issue getting in on WinInsiders for that 950 and updating as needed/wanted or because it's a "branded" phone will I not be able to do WI? Any help appreciated!

I bought the 950 from AT&T on friday. No problem getting insider builds installed.

Awesome! Thanks SugarBowl06... it's appreciated.

My 950XL is a Great light phone you could armor lite or heavy or pretty but inside it's just damn smart. I have had since day one. I already appreciate the Anniversary Update. And I felt I was exploring the new world along with Microsoft. :) I went in knowing it would and has been rough and isolating. I took pride in the boutiqueness. Defintely not from Wal Mart. If I could have waited the few months I could have saved $200. That's a plus!

Just got mine last night... extremely light, fast, sexy! Updated to current FastRing build... love the eye scanner, double tap to wake. Got a Mozo vertical flip case for it as well. Should have the dock from Microsoft Saturday. Yay! Oh and I give up YEARS of BigRed loyalty tomorrow as I switch to AT&T (a company that supports and encourages WP10 phones).

double tap to wake works for you ? That doesn't work on my new 950.

SB06, checked the 950 today and same thing as you... no double tap love for the 950! :(

SugarBowl06, it works on the 950 XL, I will check out the 950 tomorrow after hitting the AT&T store.
Windows Central Newsletter
Thank you for signing up to Windows Central. You will receive a verification email shortly.
There was a problem. Please refresh the page and try again.