Machinarium wakes up on Windows 8 and RT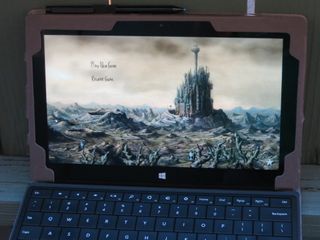 Amanita Design's classic point-and-click adventure game Machinarium arrived on Windows Phone last month. I was so impressed by its beautiful hand-drawn artwork and fascinating world of living robots that I named it one of the best games of March.
Shortly after the phone game popped up, we broke the news that Machinarium would be coming to Windows 8 and RT as well. We didn't have to wait very long, because the game is now available on Windows tablets and PCs. Read on for Windows 8 impressions, plus news of another update for the Windows Phone game.
Saving the robot city
Machinarium is a point-and-click adventure game that stars a little robot named Josef. As the game opens, we see him dropped in a scrap heap outside of a gigantic industrial city. Josef wakes up, repairs himself, and sets off towards the city. Once the player helps him get inside, Josef sets about searching for his childhood robot friend. Along the way he'll help robotic citizens in need as well as working to stop the evil Black Cap Brotherhood from destroying the city.
The story unfolds without any text or dialog. Instead, characters speak in voice bubbles that show little pictures about what they're saying. This sells the idea that everything happens within an alien world. And yet Machinarium's story is surprisingly involving and emotional, thanks to the gorgeous art-style and hand-drawn animation of each character. It feels like an interactive cartoon, just like most of the best adventure games of yesteryear.
Windows 8 impressions
Machinarium was already a gorgeous game on Windows Phone. The Windows 8 version looks even better since larger displays can display a lot more detail. And yet players can still zoom in the camera for a closer look, either with a pinching motion or by right-clicking the mouse.
The original PC game runs in a 1:33 full-screen ratio. That carries over to Windows Phone, in which most of the game shows black borders on the sides of the screen. The Windows 8 version however adds a rusty metallic pattern to the borders, which suits the game well.
Machinarium plays great with touch or a mouse. The shoot-em-up minigame used to unlock the in-game guides is certainly much easier with a mouse though. Adventure game fans owe it to themselves to grab Machinarium and save its robotic world.
Machinarium – Windows 8 and RT – 222 MB – $4.99 – Store Link

(opens in new tab)

Machinarium – Windows Phone 8 – 221 MB – $4.99 – Store Link
Windows Phone update coming soon
Although the Windows Phone version of Machinarium has already received an update to fix a game-breaking crash, a few bugs have survived. Namely the in-game guides that players can unlock sometimes show up as blank images. Thankfully, Amanita has informed us that the next update will fix the guide images. Expect the update to come within the next week or two.
Windows Central Newsletter
Get the best of Windows Central in your inbox, every day!
Paul Acevedo is the Games Editor at Windows Central. A lifelong gamer, he has written about videogames for over 15 years and reviewed over 350 games for our site. Follow him on Twitter @PaulRAcevedo. Don't hate. Appreciate!
I will try. But not until Bing gives me money.

If I did that I'd be waiting 10 years

I'll be honest. I'll try it when universal app purchase will be live so I can enjoy it on my laptop, surface or phone. Lets hope they'll make it a one time purchase when the time comes.

A Lord of the Sith would not wait for something to be given to them. You must plot and you must seize. Just saying. >;P

Heading for the Windows store after I type this...

Good news! I've already played and finished it on Steam, but it's good to see it being more accessible to others.

$4.99 on WP as well according to the Microsoft Store

Ah, looks like they bumped it up slightly.

Yeah, I bought the WP version a while back... don't remember paying that much! I'm not sure I want to shell out another 5 bucks for the Win8 version just yet, although this would look really nice on my Surface 2

Damn i would drop $5 for this on both platforms in a heart beat if it had Xbox. It is so tempting but I just can't do it. #SaveXboxWP

Didn't you just say you'll try it when Bing pays you?

No that's an another person

Agreed. Cheevos=instant buy. Sadly, not the case.

I wish I had a surface...its hard to play on my 1020...

Given the simple use of graphics, they should make the game interoperative between your Win8 machine and Windows Phone. That would be an amazing game feature and likely prompt multiple purchases.

I was waiting for the Surface/8.1 port so I'm happy. Not sure I'd enjoy this game as much on my diminutive Lumia 822 screen.

This was free long ago as a Humble Bundle subscriber. Of course I donated before dl-Ing. Excellent game.

Is this only for windows 8 or windows 8.1? I'm unsure by the articles title

You mean people still haven't received the free 8.1 update?

There's no need to differentiate between 8 and 8.1.

Wow its been years, PC Classic. Welcome Back!

Art style reminds me of Aachi & Ssipak. It's one of the most twisted anime.

Bought without hesitation. Was waiting for this on RT. Played the flash demo on the website and was sold! Great visuals, brilliant artistry.

Hey, you stole my Surface cover!

Good taste! I even reviewed the case a while back.