Make More Space updated for HTC Windows Phone 8 devices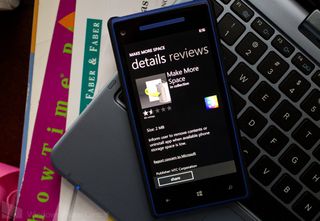 Make More Space is an HTC Windows Phone 8 exclusive that helps HTC owners manager phone storage. The update to version 1.4 gives the app a little more functionality by letting you see a break down of how much space each app or game takes up.
Make More Space will display where your storage is allocated between music/videos, pictures, documents, and apps. You also will see how much free space you have left on your HTC Windows Phone.
To clean up music, video and document files you can jump from Make More Space to your Pictures Hub, Music + Videos Hub or Office to delete them. With applications, if you tap on the apps listing Make More Space will list all your installed apps and the amount of storage each requires.
You can't uninstall apps directly from Make More Storage. You'll still need to go to the app listing and uninstall. Much the way you do with Nokia's Storage Check.
Make More Space is a free app for the HTC Windows Phone 8 devices and you can find it here in the (opens in new tab) HTC Apps section of the Windows Phone Store.
Via: wparea.de (opens in new tab); Thanks, Thomas, for the tip!
George is the Reviews Editor at Windows Central, concentrating on Windows 10 PC and Mobile apps. He's been a supporter of the platform since the days of Windows CE and uses his current Windows 10 Mobile phone daily to keep up with life and enjoy a game during down time.
Why won't Samsung provide us an app like that.. Damn I would need that!!!

We don't need it on our Samsung Ativ S because Microsoft offers in the settings the possibility to see the space used/not used and what used how much...

Well, yeah but I would love to see how much every app takes, not just hoe much they all take.. Deleted whatsapp yesterday, and got 0,5gb free space. Then installed again, and i had that space still.

Why won't Microsoft just fix the issue so that these companies won't have to keep inventing band-aids for their customers?

Because the issue is by design. The SxS folder in Vista/7/8 is the same way. If you are constantly installing and uninstalling apps the folder size will get huge. Windows keeps every version of every DLL every app has ever used as well as installers and uninstallers with lots of hard links all over the place. This eats up space but fixes the "DLL hell" issues of previous OSes.

which is fine when you have 1TB hard drives. not feasable when you are dealing with 8GB and 16GB phones.
it need to be fixed.


Any APP for Naruto Manga readers??

So basically this app is still pretty useless. Looks like I won't be installing it again.

Why can't the storage check work on the Lumia 810? But I'm happy for those HTC owners with this update.

still not worth downloading

HTC has taken this long to make this app finally do this Jesus, what will they think of next. I knew my decision to never buy an HTC ever again was correct. No love for the windows community from them

Unless it can fix the stupid "Other" storage issue...its worthless

Yea the one where I saw in a recent post about hiding or double saving photos you save to you phone from online or screenshots. Smh HTC

Doesn't work for me, shows 0 apps.

give it some time like 20secs...it will show !

Useless app. Tells me app size, which is good...other than that pointless

Now if they add which is one of my apps is draining my batter than I'll be a happy camper

Wow talk about a lacklustre update, a colleague of mine is looking to buy the HTC 8X and i've been trying to tell him not to and to get L920 or L925 instead. So here I am looking for things to convince not to get stung but knowing him he will probably revert back to his 5 (as his tied into a 24 month contract especially for iphones) which he used to adore but now loathes so much that he intentionally leaves it around recent example, he left it on a park bench! lol.

Holey shit! Some HTC news. I'm so happy for them. This confirms that the people who insisted HTC is a better phone are correct. This is a victory, lets celebrate. Truly another amazing app in addition to the many others that HTC has been pumping out. . . Oh wait. . . .

I can't wait to get the Lumia 925. I have the 8X and I like the hardware but their support is dismal. While Nokia stays on top of things and constantly releases both new and updated apps that are actually good and helpful, HTC won't even try to address known problems such as the ever growing "other" folder, which Nokia has also fixed. It's sad, I have nothing against HTC but they simply don't provide the level of support I come to expect from the manufacturer of my phone, and that makes my overall ownership experience feel poor, even if the hardware and OS are good. Something to think about.

I agree completely I am in lust with my 8X!! Just saw there's over 4gb in "other". That's enough to pull the Spiderman or Batman games. I tried with over 2gb free, and nope.. This app does nothing for me. Even under "app storage" it shows 0, goose eggs, nada, nil, zilch!!! HTC help!!

The thing Microsoft need to fix by the next update is the "other" problem I don't care it's in the form of an app or a major overhaul fixing it altogether. The truth is it's the cancer of the OS, right now it's contained in the eco system no one who doesn't own a windows phone knows about it. I feel this wait and see attitude by Microsoft could be costly mistake. Once it becomes general knowledge that Windows Phone 8 has horrible memory problems it will kill the momentum WP8 is finally getting!

why is everyone arguing? it's crystal clear Nokia has the better support and quality handsets. HTC offers great phones, with the access to (almost) all the apps out of the store. why should they do the same?, HTC has a big android section Nokia hasn't. I'm okai without the Nokia-support (8x) I'm also happy for you guys. this fucking jealous fanboy-behavior is killing the wp-community. (sorry for my "English")

+++......+++
I'm totally feeling you on that!! I love the hell out of my 8X, so much so that I sent a L810 back when it was given to me as a replacement. My next device may very well be a Nokia, but this Windows Phone 8X by HTC is just too frickin awesome!! I'm only occasionally jealous about folks with their L9xx devices, but when I see them at the store and then palm my joint. Se fue (Spanish for "it went away").........

If only I could delete "Other Storage".....which is no taking up 3GB of my 7GB. I'm betting it will get up to 50% within a month.

This app just mirrors the info already available in settings. I got, tried, uninstalling.........

It does more than that. Settings doesn't tell you how much each app takes up does it??

The App does not work properly on 8X, shows APPS - 0 MB (even on the screenshot above) and when you click it does not show any applications. Furthermore crashes all the time.

Yup. Calling HTC Corporate Monday

don't get a HTC W8 phone its absolutely garbage yes yes yes i can hear you all now saying spend a little more or you get what you pay for. all i got was an upgrade i don't do anything special with it but it packs in once a day saying the memory is full. Yes I've downloaded all the little apps which shuffle storage around but it still does it, and whats with this OTHER it stores which is nearly 1g. i have to keep uninstalling apps all the time. its coming so close to the point where i have no apps left to delete, then what do i do.......................be warned rubbish. i make no wonder HTC have stopped developing the software side with windows.
Windows Central Newsletter
Get the best of Windows Central in in your inbox, every day!
Thank you for signing up to Windows Central. You will receive a verification email shortly.
There was a problem. Please refresh the page and try again.