The makers of Cut The Rope bring their latest game, King of Thieves, to Windows 10 PC and Mobile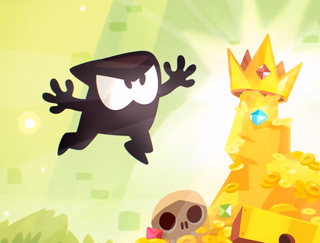 ZeptoLab, the developers behind one of the most popular mobile games of all time, Cut The Rope, have finally brought their latest game, King of Thieves, to the Windows Store for Windows 10 and Windows 10 Mobile users.
Here are the main features of King of Thieves, which was first released for iOS and Android earlier this year:
STEAL SHINY THINGS. Collect gold and gems from other players to become the wealthiest thief in the world!
DEFEND YOUR LOOT. Design your dungeons and watch other thieves getting into your traps. Muhaha!
CLAIM THE THRONE. Compete with other players worldwide, leaving your rivals on the bottom of leaderboards.
GET CRAFTY. Create new outfits for your character. The most nifty thieves should look really cool!
TRAVEL AND EXPLORE. Test your agility through 80 single-mode levels or dive into the underground world of user generated content.
CREATE AND JOIN GUILDS. Find reliable allies to stand against hostile guilds of thieves!
While the game is free to download and play, it does contain in-app purchases.
Download King of Thieves from the Windows Store (opens in new tab)
Will download the game (and play it some) to show support for them supporting us :) Besides, it kinda looks fun.

Unless you actually buy IAP, you're not actually supporting them.

You'd still be supporting them without buying iap :) the download count helps. Tell your friends about it and leave them a good review.

The download count of a free app doesn't give the developer any money unless it is ad-supported and you actually watch the ads. Merely downloading a free game and then doing nothing with it gives them no money.

There are other forms of support than just monetary.

Couldn't agree more! Support doesn't equals money !!

Creating hype is a much better way to support than purchasing IAP and then leave. When you create hype, you're attracting a bunch of potential customers that will probably purchase more together than you'll never purchase on your own.

Oh, yea, we gain 3...and we lose 10....really pouring apps....sigh...

Please, give me a list of those App we lose this week

Its only two apps.. Both of those apps are just a reflection of thier websites.. They can be accessed any time in web, so why need their apps??

ok, child, let me hold your hand while you look over the last 20 posts on this site....I guess you only watch the the things that directly affect you so, again get lost...

you can't even give the list. so stop talking crap.

And it''s raining apps ? Really ? Look over the last week, we lost 2-3 apps easy, never mind the ones that were not published on this site... Not talking crap, do your homework and you will see...teh app gap is just growing...it's nice to get a app here and there but, for what we lose, nah..

And you think that all apps that came to the store were also published here ? The app store is growing and that is a fact. Quit being a negative lilbi**h and spreading negative lies.. I counted 4apps that we gained this week, we lost comedy central (who cares if it was just a webapp) and Evernote announces that it will discontinue some of their apps on ALL platforms.. And the app gap is growing ? Wow you are an a**

Dude shut the **** up and get out of Windows Central

In all honesty, you still didn't provide a list...

It's basically the opposite of what you said.

Drizzling at most, but a good thing anyway.

Hello haters...knock knock...its the era of universal apps...and here's another one...#lumialove

This is likely more the work of Unity than Universal Apps ;)

With which you can make universal apps...

Technically speaking Unity IS a framework for building one kind of universal apps. There's nothing stopping the other developers from developing their games for Windows too using Unity.

Only is left Microsoft to make decent universal apps for its own platform

Office, Mail and Calendar isn't enough to prove that?

I like both Mail, Calendar & Wunderlist --- but Sports, News, Money, Weather all suck balls -- horrible UI. And they're still missing a Health app for tablet / desktop.

We want clash of clans asap. Not these copy cats

how is this a copycat? at least check the game out before commenting?
and seriously, if the world was running short on clean air and water, would you not be thankful for clean water, even if you couldn't obtain clean air?
i mean yes, you need the air more often. but water has it's own importance.
long story short: support good developers that support Windows.

It's not for Windows 10 as the title claims. It's for 8.1, but also compatible with 10.

Actually the Windows 10 one it's designed for Win10. And there's one for Win8.1 as well. You can tell the difference.

We need Cut the rope Magic.

Doesn't work on 950XL.. Just sticking at "catching spiders"

The game plays very good on windows 10 because of win 10 specific api

Clash of clans most recommended game....!!!!!!

Stop crying and play some aoe, which is fat better anyway

Indians the most complaining people on each article...!!!!

That's right. We are perfectionists. :D

Does this game have cloud saves between devices? Cut the Rope 2 is fantastic and I gave up on it, first because I can't sync my progress between my phone and PC and second, I got tired of losing my progress every time I reset my phone.

Weclome to gaming on Windows Phone... Very few games support sync or backup.... If the ICON gets W10m final/RTM with firmware, I will drop out of the preview program for a while, also tired of hard reseting my phone and losing all my settings.

Yep... It sucks. And the same thing happened with Rayman Fiesta Run and Assassin's Creed Pirates. Fantastic games, but keeping losing the progress sucks. But I just checked and this one supports cloud sync!

Yes cloud save is supported...i assume between devices

Yes, it is. I just checked and it synced the progress between my PC and phone.

Has anyone figured out how to overwrite a cloud save? I first started the game on my Lumia. Today I decided to run the game on PC. It looks like it cloud synced my PC save which isn't what I want to load on my phone (level 7 on phone vs level 1 on PC)

They supporred Xbox, now they dont....Oh, well, I wont play it or buy it... Sigh, Microsoft sells off all exclusives besides Xbox and big devs dont use it...

Way to make a developer happy to work on Windows...

They backed down from supporting Xbox live like they did in the past. They dont fully support the platform, I dont fully support them any more. Maybe you dont care about the feature but, a lot of WP users do.

Many?Interesting,well I 'm also sure many WP users don't care about Xbox live because suppose what?, just because you have a windows phone don't mean you have a Xbox(One or 360) and Xbox live is f*cking useless in that case.

If a developer wants to hit the full potential user base of the Windows platform, then they need to support its unique features. It's not our duty to buy games that don't have the features we want. #SaveXboxWP

But for many they have all the features they want because all they want is a game just to play, like I said Xbox live is useless for many WP users.

Speak for your self.... Xbox live support is a major feature if Windows Phone. If you have a Xbox 360 or Xbox one and watch achivements or communications on these systems, you will know what we are talking about. If you dont...then get lost and keep your useless thoughts to yourself, If you dont use the feature or care, why are you even posting in this part of this thread? just to flame ?

Achievements on a mobile game is all well and good, but is it worth the risk of having fewer games on WP (because it is a pain for developers to do)? Also, what about when devs start porting apps and games over to Windows with Islandwood and all that? On iOS the game doesn't have Xbox live integration, so even if they port it over to Windows they would still have to go through all the effort of adding the Xbox live integration. The whole point of Islandwood and the other programs is to make porting apps and games over to Windows as effortless as possible. If devs have to add Live integration to their games just to keep Windows fans happy then they simply won't port over their games. I understand that achievements are important to a lot of people, but for the moment we all have to drop our standards just a little so that we can close the app gap. After the gap is closed we can then focus on the quality of the apps and adding cool features such as Xbox live integration.
Anyway, that's how I look at it ;)

So, you would rather have fewer games but most of those games are with Xbox live instead of a lot of games with a few of them that has Xbox live? The way I see it, that is just supporting the app gap. Personally, I'd rather be grateful that the game is on WP than complain that it doesn't have Xbox live integration. At least we have a game to play.

Exactly. I'd suggest that many devs could be testing the waters with their initial releases, without going to the vast expense of adding xbox live support. If half of us turn our noses up at the games, then the dev simply won't bother making any more. We need to embrace devs who support the platform, not turn our backs on them because they don't have a massive publisher backing them. Our ecosystem is simply too small to be so demanding!

The only reason i won't even look at it!!! Posted via the Windows Central App for Android

I'm on the Xbox team. Most people don't understand what this unique feature means for the platform.
I'm sure the situation market share wise would be different if this potential would be used.

Bring it up with MS and get them to make it easier for indie devs to get xbox certification.

I love their promo cartoon for Cut the Rope, here's hoping they do one for this game too =P

So, is it a universal app?

Fun game! The only downside is that it has crashed the display driver of my SP3 on W10 about 30 times.

I get an app, you get an app too, EVERYBODY GETS APPS.

Cool. Keep em coming. More and more and more.

Looks fun! It crashed a few times seems I'm not the only one. I hope they check that on 8.1

Yup, it releases in February for iOS/Android and they haven't released a new game since then, rather brought one of their iOS games from 2014 to Android if I recall correctly. Posted via the Windows Central App for Android

Yes. It launched a year ago.

Does it have cloud saving?

Somebody a reply to one of the comments above confirmed it does, but haven't tried myself yet

When did the blind fanboys take over this site? It's gotten worse than any other platform easily. That being said, happy to have this game!

Haha you should know how it is already.

As the user base grows, so will the wine list :P.

A great thing to do to close the app gap is to give the official apps already here great reviews:)

Downloaded but not my cup of tea. Looks nice though if you like the Clash of Clans type stuff which just leaves me cold.

This game is so addicting! I've been playing it for hours now!

Not a bad game. Decided to give them 10. Will probably be all I spend in it. Doubt I'll even use all the resources that bought me lol. But I'll support decent stuff coming to the store. Will bring more apps to it.

Where is the download link??

WOW... I've been waiting for this game for so long... All we need now is some love from SuperCell Games aka Clash Of Clans / Hay Day / Boom Beach. It seems we're starting to see some attention from developers...

While I don't disagree, this basically IS Clash of Clans / Boom Beach with different attack-mechanicsm (which is fun for the first 30 minutes, after which the game starts asking for money at every turn: not my thing).

Any us user plz mail me at souravsingh3030@outlook.com I need help to redeem bing reward,Plzz help me just give phone no. A code sent to you & back me.

Whenever in app purchase goes beyond 15 bucks, I stay away from them. Doing don't depend on skills but how much you are willing to spend.

Tip: For me it was stuck at "feeding monsters" so I let the screen time out and lock my phone. When I unlocked my phone the game "came to". Odd bug. Bit other than that works great.
Windows Central Newsletter
Thank you for signing up to Windows Central. You will receive a verification email shortly.
There was a problem. Please refresh the page and try again.