Manuganu, a 3D platform adventure for Windows Phone 8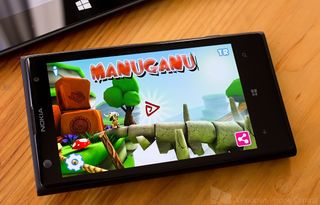 Manuganu is a 3D running/platformer styled game for your Windows Phone 8 device where you have to guide Manuganu across thirty challenging levels of play. You have dangers to jump over, slide under and dodge along the way. You also have to collect blue stones and medallions as you scamper across the platform to improve your scoring.
The 3D graphics helps Manuganu to stand out a little from the pack and while game play isn't nerve racking, Manuganu is challenging enough to keep from getting stale. After playing Manuganu for a while, the game comes across as a quality, casual gaming title for your Windows Phone 8 devices.
The main menu for Manuganu has options to access the game settings that includes sound/music on or off and resetting your game progress, links to Manuganu's Twitter and Facebook pages, access to the About screen, and to jump into the game. Manuganu does have language support for Turkish and English which can be toggled from the main menu (upper right corner) as well.
The game is spread across three gaming environments. Start to Run is a daylight arena, Cold Winter adds snow to the mix, and Night Time turns down the lighting. Each gaming area is progressively unlocked and has ten levels of play that can be replayed to improve your score.
Game play is fairly straight forward. You have to guide Manuganu from the start point to the finish line collection blue stones (looks like blue coins) and medallions along the way. You have to jump, slide and climb your way through the course avoiding various dangers that includes cliffs, spikes, swinging hammers, flames and other items that will mess up your day.
Across the top of the gaming screen you'll find the number of lives you have (displayed in hearts) and your blue stone/medallion goals. Manuganu is controlled by two on-screen button (jump and stop) and an assortment of gestures. For example, swiping down will make Manuganu slide under obstacles. I like the dual control set up in that it eliminates the need for a bunch of control buttons lining up the bottom of the screen. The combination of gestures and buttons helps give Manuganu a cleaner appearance.
Each level has alternate paths to reach the finish line and your final score takes into account how many blue stones and medallions you collect.
The first few levels of Manuganu are almost too easy but will let you get acclimated to the gaming controls without getting too frustrated. The game does pick up speed and can be a rather challenging game.
I see two major downsides to Manuganu. First, the thirty levels can go by fast. Hopefully the developer will add more levels to give the game a little more longevity. Next, there's no trial version to let you try things out before ponying up to pay for the full version. A little surprised that the developer didn't offer a trial version that lets you play the first three levels or so.
Manuganu is an entertaining, challenging platform game for your Windows Phone 8 device. It will appeal to many and if you're interested in picking up Manuganu, it'll cost you $.99.
You can download Manuganu here in the (opens in new tab) Windows Phone Store.
George is the Reviews Editor at Windows Central, concentrating on Windows 10 PC and Mobile apps. He's been a supporter of the platform since the days of Windows CE and uses his current Windows 10 Mobile phone daily to keep up with life and enjoy a game during down time.
Crap just purchased the last dollar in my account on angry birds star wars.

Time to recharge! Downloading now, reminds me of "Little big planet", hope its similar though ! wasted many of hours on it xD

Damn! It could be months until you get another dollar yeah?

Nah just gotta go all the way back to Gamestop XD

Gameplay looks a lot like Rayman Jungle Run, which is good. Unfortunatly I can't play it as my Red 920 was stolen. I'll be looking foward to play it when I get a WP8.1 device sometime next year.

Have you tried finding your 920 via windowsphone.com?

Obviously not... Lol. Probably too late now. I hate losers who do that. I always return the phone... Because I wouldn't want it to happen to me. Karma?

what, you always return the phone after stealing :/
LOL

i think he meas if he founds it on the street

I tried. In the day it was stolen, and for a few days after it. But I was not successful. Last location it tracked was my house. Kind of useless.

No trial, no download. I DO NOT understand this about developers. Why wont you let me try before I buy? Even a freaking phone has 28 days return policy!

Did you not read the news lately? Government shutdown. They furloughed the guys at Microsoft who make trials.

Government isn't Microsoft. Microsoft maybe the government though.

Microsoft spelled backwards and upside down in a mirror is obamacare.

I took the plunge... I appreciate all WP developers.

Nice game but can't buy it because of the OVERHEATING/BATTERY CONSUMPTION ISSUE/BUG!!
After 10-20 mins of playing every kind of game the phone becomes incredibly hot and the batt consumption can reach 20-30% / hour!
Replaced 2 HTC 8x, Fixed 1 HTC 8x and Replaced one L920 but the problem is the same in every device!!
Worst and most buggy OS i ve ever tryed!

Have you turned off background tasks? Mine too was the same on my l720 but the only issue was because I was playing games with WiFi.

Yes i ve tried almost everything i could find on google!
I think this is OS/Firmware bug related that triggers when playing games or running apps after about 10-20 mins!!
OS in not only missing main features but is very UNSTABLE,BUGGY AND POOR QUALITY!!


Stop it troll. If you really are a frustrated consumer, just go to a nokia service center and file a complaint. But you keep spamming that here in comment sections for a long time now. Go away, go troll somewhere else.

GO F** yourself.The only reason i'm spamming is because i need some help/support/opinion from someone with more experience than me on WP.
What do you think,if the device was working perfect without any issues i would spamm in a website full of blind fanboys like this one???

maybe you are just to sensitive so the overheating.. and 20%/hour playing is normal in lots of androids.. Even on iOS its not that rare.

Its not the OS, its you. You are holding it wrong.

Whaaaaaat? My kids play on 2 of my old L920's without any problems like this for HOURS ...

Same problem here. Very annoying.

Never had a problem on my 920

On my 920 I get days where I do absolutey nothing on my phone but have 10% battery left by the time I get off work, and other days where I'm using off and on all day and have 80% battery left by the time I get off work. The battery usage on my phone makes absolutely no sense at all - but I still love it :)

I am a hard user, mostly RSS feeds and photos. I usually had 10-20% of battery at night, but if play something my L920 ger really hot and the battery goes very, very fast.

Played this on my android tablet awhile back, good game! Just wish it was free...

Looks really good. Love the graphics. Thanks George.

Bought...looks good! Wish more games were xbox enabled though :(

I remember when I downloaded this for free on my android tablet... But obviously on WP, you have to buy games, that is what I hate :|

Gameplay is funny, but constant lags is ruining it.

Hmm, I wonder if this will be released on the Surface?

Looks great. I'm going to buy to support the dev even though there is no trial. Hopefully more high quality Android/iOS games will make their way to the platform, especially with the momentum in Europe!

the game freezes on 6 level. Lumia 820
Windows Central Newsletter
Thank you for signing up to Windows Central. You will receive a verification email shortly.
There was a problem. Please refresh the page and try again.