Many Facebook Messenger users on Windows Phone are reporting log-in issues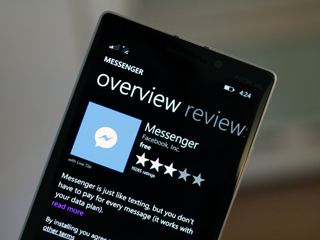 If you have been trying to sign into Facebook Messenger on your Windows Phone device and are getting a "602 error" message instead, you are definitely not alone. A large number of users are getting the same problem across multiple Windows Phones.
The problems began late on Wednesday and it appears to be a global issue, according to comments on our Windows Central forums and also on Twitter. There's no word on what might be causing the "602 error" and the Facebook Messenger app itself has not received an update in a little while. If you are experiencing this problem on your Windows Phone, there is a workaround of sorts; you can go to the m.facebook.com URL in your favorite browser and check out your messages there. In the meantime, we will keep an eye out to see if this log-in problem with the app will be fixed soon.
Thanks to our Windows Central forum members for the tips!
Download Facebook Messenger from the Windows Phone Store (Free)
Windows Central Newsletter
Get the best of Windows Central in your inbox, every day!
Why in the hell would you put a link up to download a program that isn't currently working?

because the app is still working for some people

And it's just a temporary issue.

Well they should update the app regularly.! On ios the fb apps get update every 2weeks.! :/ why not windows phone.! Instagram updated there app just doc fix the little issue.! Instead damn update the app with features .! Seriously no idea why so hate for we users

This issue with developers not updating on WP is a regular issue. Its annoying but hopefully it might change with the release of Win10Mobile... It's wishful thinking ik.

Apart from this problem (Which could be a server side issue) what do they need to update it to do?

It's not the app that quit working, it's the code on the Facebook servers. After fixing the 602, they need to fix ordering by most recent.

1st instagram and now fb.. :/

If only my infraction isn't 85 :(

And don't forget Snapsh*t...

Whatsapp it's also failing. That's why I'm not sure it's just the app but the OS

Hey. Off topic,,, I can't download candy crush,, is anybody else facing this problem?

Funny enough.. I tried to take a dump earlier but couldnt get this one out either. anyone else facing this problem today?

Yes, but I don't think I want to hear the workaround.

That problem also happened to me, a week later after LOTS of attempts it downloaded after about 15 minutes. Keep trying if you really want it. No resets etc work so don't try that. I spoke to customer service of the app and they said its a problem on Microsoft's end which apparently they are aware of and trying to fix, not trying so hard by the looks of things.

Candy Crush won't make network contact either, or at least not to Facebook. Great support from these folks. Remind me to put them on my Christmas list. Sure don't have a problem taking your money.

Just updated to windows 10 mobile and thought that was the problem.

This app is long due for a real update, not just the usual minor bug fixes. Still no calling feature, or ability to send money to a contact. Its functional for the most part, but missing many features available on iOS and android.

Use the Android version using the leaked Project Astoria tools if you don't have a 512 Mb ram device.
Most of it's features work on Windows 10 Mobile. But yeah the update is long overdue. The Facebook app has also not been updated since ages. Seeing the app catalogue of Facebook on Android makes their efforts on Windows look an even bigger joke.

Can't upload photos on the facebook app

I use Facebook Beta. I find it much better and faster.

The browser facebook is 10x better and faster than the facebook and facebook beta apps imo.

No, it's not. The IE browser version of Facebook on Windows phone resembles the crappy Symbian Facebook app from six or seven years ago. It's eye gougingly-awful.

Scroll down and click desktop site

Are you including me. Just as awful and terrible as the "official" WP app. Terrible terrible. IE in general is terrible but for FB just as unbearable

Messenger on my 640 hasn't worked right since the last update. It just loves "Waiting for network"

Same here man... Its so annoying...

Ditto on that. Obnoxious.

I guess facebook are really ignoring the platform... seriously the app is flawed and lacking in every aspect! any hope for a better facebook app for windows 10?

Not working for me hope they fix that early

Isnt there a facebook beta thats being worked on with both ms and facebook

MS created both the normal and the beta FB apps from what I understand.

Same issue facing on instagram. Can't send direct messages on 6 tag say you need to verify your account and nothing happens

Gotta say, this OS is not very social network friendly, or at least, social network developers aren't interested in Windows. Regardless, you have the same result: a smartphone platform with issues about access to popular social networks which doesn't do wonders for sales or keeping users on board.

When windows 10 mobile gets officially out, things will change.

been saying that since 8.1

Funny enough was the Idea of Windows Phone 7 and back than it was very social network friendly because they were build around the user .. unlike these days

Yep! I loved the WP7 OS, limited functionality and all, because what it did do, it did great. The social network hubs were great (and the Music and Video hubs as well). It's mostly gone backwards from that, and social networking on Windows phones has degraded greatly. The Facebook app itself (the one that Microsoft builds) is half baked and still missing key functionality and the same bugs for the last couple years. On a Birthday notification, you still get the same data error message since WP8, and there's no in-line messaging within posts.

Yes the People Hub was killed with the promise of better apps. Apps never materialized.

At the same time develop a good Facebook app with all the features .. Please.. App are really lagging behind for windows phone.. Please do some thing

Plzz i got also got this error msg unable to logi...

and plz update our facebook app also..that is tooo slow...

602 error here as well, although I received an email from FB that I had logged in from a different device. FB Messenger is not connected.

My issue is that I cannot send pictures on Windows Mobile. Wish it would get Feature full version on Windows Mobile release day.

They should better get back the html5 integration

Shittiest app ever. Doesn't send my messages all the time, it's extremely ridiculous how slow it functions, or should I say doesn't function. When someone sends me a message it doesn't show it all the time even when I refresh it and it's lacking a lot of features which I'm not that fussed about. I remember when I got this phone and facebook chat was integrated with texts, that was incredible. Stupid that they removed that feature.

Offtopic# microsoft has started the process of publishing astoria apps to windows store.

Really? Can you please share something on this?

Oh please!! Facebook apps need a make over, like seriously who uses the facebook app, I do use the IM but I tend to deal with the slowness lol don't get me started with instagram beta hahaha!!

mine has always this message connecting network or syncing before i can open the app. Is this a norm or what?

It works on one of my phone but not another. Seems like it is an API issue more than the app. Sending started to go slow and then I switched to one of my other apps then back and it caused the errors. Just a little patience is all it takes...

I can't login to 9gag app from Rudy huyn via FB account few days... Could be this issue with same basis?

Not surprising. I love my Lumia 640 and I'm typing this on it but are the FB apps including Instagram just awful including IE versions of them which already is a terrible browser (compared to Safari and Chrome, not even an opinion). Here I am also wishing it would get better when 10 comes out bur that's wishful thinking. It dies not get better for WP.

I don't use it anyway, uninstalled it a bit after it released because of being unreliable

Just go with the damn windows 10 app or convert the android one...

I think it is an issue with API

Exactly of yall can't give us just convert the ios or android apps and give it to us lol make us wait how many more years for decent stuff. Does MS like to see us nag all the time....!

Was having the problem yesterday but works now.

What live tile? Posted via the Windows Central App for Android

Also don't forget the issue where you cant send pictures when in a chat with someone, when you click the picture button at the bottom and then your most recent pics show up, if you want to choose an older one you have to tap the album button in top right of photo section, then app just crashes. Also you cant find the photo in the photo app and share it that way as messenger doesn't appear in the list of apps. Get your shit sorted!

There is an update right now, out maybe since 2 hours !!

Man, it does not fix my issue. I've been having login issues for over a year now, and the "can't log in right now" error just keeps on popping up, without so much as a hint at making any effort to connect to the internet, let alone log in.

Meh my daily driver is now a work issued iPhone. Works fantastically too. A couple of faults but the facebook app on iPhone is 2000% better and that's not an overexageration. It actually lets you reply to a comment, does filters on photos, doesn't error out every other update, does so much more than a computer with browser even. I compared it to the Android app as well. It is clear that facebooks priorities are with the iPhone. Use my OneDrive, outlook email, outlook contacts and calendar on the iPhone flawlessly. Works really well. Love it, the iPhones come a long way from what it was. Dare I say it, the iPhone is my new weapon of choice, next up gonna get a lil macbook air and start learning Swift to make apps, if only for my own benefit :)