Master the most widely used scripting language for only $49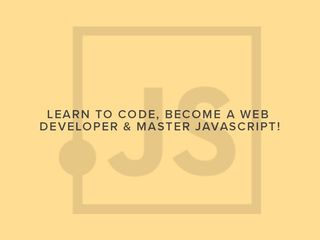 When it comes to securing a lucrative programming job, JavaScript is a must-know skill — it is the most widely-used client-side scripting language. Learning all there is to know about JavaScript can take a long time, and the courses required don't come cheap.
Get the complete JavaScript coding bundle for only $59!
What you need is a no-pressure training scenario that starts with the absolute basics of JavaScript and takes you all the way up to an expert level of comprehension. Wouldn't it be great if this type of course didn't cost an arm and a leg?
Right now, Windows Central Digital Offers has a great deal on the new 2017 Complete Java Bundle. Where you'd normally pay $989, you'll now only pay $49 — that's 95% off the regular price.
There are 354 lessons and nearly 60 hours of content contained in the seven courses included in this bundle:
Fundamentals of Java Programming
Intermediate & Advanced Java Programming
Introduction to Java Programming for Online Learners
Java for Mobile Developers
Java Interview Guide: 200+ Interview Questions and Answers
The Java Programming Language Course 2017
Java from Beginner to Expert
You'll start with learning the fundamentals, then move on to more advanced and specific topics like mobile, and there's also a course to help you prepare for your first job interview as a prospective Java programmer. These course remains open to you for your lifetime, so you can tackle it when you find time to fit it into your schedule.
Start down the path of a new career by learning the most popular scripting language
If a career in programming has been in your sights, you need to have JavaScript in your repertoire of skills. At only $59 for this entire bundle, there's no better time to get started. Don't wait too long; this deal doesn't last forever.
Windows Central Newsletter
Get the best of Windows Central in your inbox, every day!