May's Xbox Games with Gold lineup led by Star Wars and Lara Croft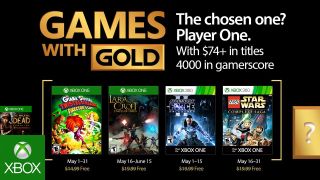 May's free Xbox Games with Gold lineup has been revealed, and there's plenty to like — especially if you're partial to Star Wars or Tomb Raider. All told, May will offer more than $74 worth of games and 4000 gamerscore.
If you're playing on Xbox One, you can look forward to picking up Giana Sisters: Twister Dreams — Director's Cut for the whole month of May. Meanwhile, Lara Croft and the Temple of Osiris will go free from May 16 through June 15.
On the Xbox 360 side of things, you can get your hands on Star Wars: The Force Unleashed II from May 1 through May 15. Starting on May 16, you can then grab Lego Star Wars: The Complete Saga through May 31. As usual, you'll be able to play the free Xbox 360 titles on your Xbox One via backward compatibility.
If you're an Xbox Live Gold subscriber, you can look forward to grabbing these games starting at the beginning of the month. For now, April's final games, The Walking Dead: Season 2 and Assassin's Creed Revelations, are still up for grabs.
Windows Central Newsletter
Get the best of Windows Central in your inbox, every day!
Dan Thorp-Lancaster is the former Editor-in-Chief of Windows Central. He began working with Windows Central, Android Central, and iMore as a news writer in 2014 and is obsessed with tech of all sorts. You can follow Dan on Twitter @DthorpL and Instagram @heyitsdtl.
Have Lara Croft and Force Awakens already been done?

The first Force Unleashed was, this is the second. And the Lara Croft was also the previous one, Guardian of Light or something I think it was called.

Yes and No. Yes, both series have been a game with gold but not these games. Lara Croft and the Guardian of Light was in 2014
Star Wars Force Unleashed I was in 2017

Cheers, just checked the list. Oddly though, I am sure I have Osiris.

Great. Out of 4, I already own 3.

Force Unleashed was good but not nearly as good as the first one. Much weaker story. @DJCBS, I own one of these too, like I owned TFU but look at it this way, at least now you won't have to put the disc in to play it on the Xbox One.

LOL Thing is...I don't own discs for any of them anyway. I got them all digitally :P

They should have started the Star Wars games on May 4th.

Probably but I'm sure they did the star wars games they could because of may the fourth. I foresee the other star wars games going on sale with deals with gold that week.

I bought both 360 games in the winter sale last year. Bad luck.

Newbie here and trying to understand Games with Gold program - when you pick up a game during the promotion, are you only able to play it during those special dates, or do you own the game forever...?

You own them forever, but can only play them if you have a gold subscription, I believe.

For Xbox 360 (incl. backcompat) games, you own them forever with a license exactly as if you simply bought it.
For Xbox One games, you own a lifetime gold-linked license. Basically you can play them whenever you have a Gold subscription. If you stop your subscription, the license doesn't let you play them anymore, but you can play all again whenever you renew your subscripition. Pausing your subscriptiong doesn't make you lose your previous games, their licenses are just paused until you have Gold again.

Thanks for clearing things up guys.

Force unleashed for the time was a great game with awesome graphics and physics. Loved it. And I was never a Star Wars fun. Anyhow, I got everything, again... Except the particular Lego is a dif from the one I got. Not that sure. Fingers crossed.

How does Osiris stack up against the 2 games since the reboot? I played through both of those and really enjoyed them, but haven't played the older Xbox tomb raider games.

The older tomb raider games were rubbish!

Ignore @MicrosoftWinPho - he clearly doesn't know what he's talking about. You can't really compare them to the reboot games... Guardian of Light and Temple of Osiris are different to all of the Lara Croft games. They both use an an isometric perspective and feel a bit more arcadey than either the older or newer games. They have a lot of puzzle elements and co-op (either AI or human) is a key part of it. I've only played Guardian of Light and I really enjoyed it. I've wanted to play Osiris since it came out... but it has a lot of negative reviews on steam (for being buggy mainly) so I never picked it up.