HP announces the company's first 2-in-1 portable PC with USB-C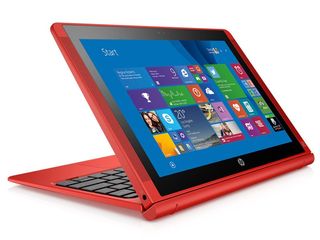 The HP Pavilion x2 is a detachable PC that can not only function as a tablet, but also as a laptop too. That's not the highlight of the company's new product however, as HP opted to include a USB-C port, offering support to a variety of new peripherals.
The Pavilion x2 is a fairly thin tablet with a detachable keyboard dock, which enables the device to be used in a variety of positions. Utilizing a magnetic hinge, there's no longer the requirement to master the art of safe detachment using plastic clips and other contraptions. Simply lift out and you're golden.
While HP has chosen to support USB-C (you'll be charging the tablet hybrid using this new port), the company hasn't placed all the eggs in a single basket. You will also find USB 2.0 ports for external products you need to connect. It's positive to see support quickly adopted though.
So, what about specifications? HP has included a 10-inch IPS display (1280x800), Intel Atom CPU, Windows 8.1, 64GB on-board storage (with microSD expansion), 2GB of RAM, and a battery life of up to 10 hours. As well as the USB ports, HP has also included micro HDMI for those times when you need the larger screen.
The HP Pavilion x2 (opens in new tab) is expected to be made available on July 21 in the US at HP and Best Buy, starting at $299.99.
Source: HP (opens in new tab)
Rich Edmonds is Senior Editor of PC hardware at Windows Central, covering everything related to PC components and NAS. He's been involved in technology for more than a decade and knows a thing or two about the magic inside a PC chassis. You can follow him over on Twitter at @RichEdmonds.
Stylus yes. But i think there is no active digitizer built in

Then I assume that you mean a "fake finger" stylus,
which is like calling a horse an "automobile".

Being sold 8 days before WX with W8.1, that's odd.

Sweet price, does it support stylus ?

Good price. It should also have optional 4GB memory.

I'm assuming they went with USB 2 to cut down on battery drain for a mobile device? Just guessing. Especially since it has USB C as the proper USB connection.

Very interested, I just need to see the build quality.

Maybe you haven't been here in a while, but if I'm not mistaken, WC posted a video of this product a while ago.

HP Website (using the link WC provided) says prices start at $499.00

I see 299. Posted via the Windows Central App for Android

Yup, so do I now...weird! Going back to the cached version on my browser definitely shows $499.00...

It's a pity that it doesn't have a 16:9 aspect ratio screen but I suppose you can't have everything. I would be happy if this supported InstantGo/Connected Standby full time and not just for a few hours like the Surface 3. And it looks good in red. I'm assuming that it support Display Port 1.2 over that shiny new USB 3.1 C connector?

Wait, you would *prefer* 16:9? I find that way too extreme for tablet (and even notebook) use. Most Android and small Windows tablets are 16:10 (like this device) and even that is too narrow for my tastes. I think Microsoft and Apple are on the right track with their 3:2 and 4:3 tablet screens. I also wish more Windows laptops were available with 16:10 displays like the MacBook Pros. But I guess everone's choices are different.

I do, I use my tablet for a lot of media and like to watch videos on it so having a screen the same aspect as the media gives me a better experience. The Surface 3 though has a higher resolution so I think I could get used to that. :)

I agree... 3:2 and 4:3 are perfect aspect ratio's. 16:9 is a little too narrow vertically. I love the 3:2 ratio on my SP3 compared to previous models with 16:9

1440/4k screen resolutions arent 16:9 thats why

Wow. I'm definitely interested. Posted via the Windows Central App for Android

That is a very tempting price.

Anyone try using an atom tablet w/ 2gb ram with windows 8.1? Just really curious as to how it performs basic day to day tasks

Perfectly fine. It's tight with the 2GB if you install iTunes and Chrome, but ok. The hard drive is now the new bottleneck in these things

2 applications everybody can do without. So yes, perfectly fine.

I really wish some company would release a balls to the wall no compromise 8ish inch tablet. That's what I'm waiting to buy.
Edit: Windows version. Hopefully with the release of windows 10 it will happen.

I actually bought a Thinkpad 8 recently because it is the only 8" Windows tablet with a truly good high DPI screen (1920 x1200). They're very hard to find (I had to buy through an eBay retailer), as Lenovo basically cancelled the product just a few months after release. Of course, there is no pen support. I might have been a customer for Microsoft's cancelled Surface Mini, had it been released as an Intel device.

I thought of buying that tablet. But I don't remember now but something just erked me about it. If there's a surface mini with a strong CPU id probably buy it.

HP just answered your prayers, check story here on wc on the HP Pro Tablet 608...

Yes sir! Lets just hope it performs well under reviews.

Good price. I wouldn't buy one though, don't like the design

"1280x800" Oh.. My... Why even bother?

seems pretty on par with the Surface 3. with a good price to match. it may be worth considering, especially since MS has taken the effort to help OEMs like HP to really push the design further along.

Compare to this, the Surface 3 has a higher screen resolution, twice the storage (64 GB minimum), and a quality digitizer. I guess the old saying is true: you get what you paid for.

I have no problem with these portable pc's but i use vmware a lot and i fear that if i use these low clock pc's i may not able to run vmware effectively

The storage is 32 GB for the base model.

wow great specs for the price, the fact it has USB C surprised me. Looks like a good 2in1 for the girlfriend who needs it for her case management job (always on the go). it has the basic atom Z3736F SoC but that runs pretty well on Windows 8.1 so I expect it should run just fine with Windows 10 smaller footprint.

Come on Microsoft please play your N-Trig card more often. Simple plan, sell the hardware at cost that works in the laptop and sell a pen that works with it at a higher cost. That way people can pay to play or just leave it alone....
Windows Central Newsletter
Thank you for signing up to Windows Central. You will receive a verification email shortly.
There was a problem. Please refresh the page and try again.