MetroPCS to launch Lumia 640 on June 22 for $39 after instant rebate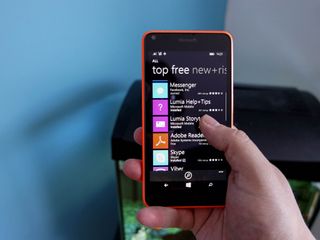 June is the month for those yearning for a Lumia 640. T-Mobile just launched theirs (with purchases at Walmart) and now MetroPCS is getting in on the action as well.
An employee at a MetroPCS store has shared with Windows Central images from their inventory computer. The photos, posted below, reveal details about the Microsoft Lumia 640's impending launch including price.
MetroPCS stores are ready to receive shipments starting tomorrow, June 18. But stores won't officially begin selling them until Monday, June 22. (Some stores may sell them early though once stock arrives.)
Pricing of the Lumia 640 is set at $129, the same price as offered by Cricket. However, MetroPCS is offering a $90 instant rebate knocking the price down to just $39. MetroPCS, like Cricket, does not have annual contracts, but they do require activation of an account to purchase the phone and that applies in this case too.
MetroPCS was planning on releasing the Lumia 640 back in May. However, some delays prevented that from happening.
About the Lumia 640
The Lumia 640 features a 5-inch 1280 x 720 (HD) display and includes Glance Screen. The entry-level phone also includes an 8 MP rear camera and a 1 MP front-facing camera along with proximity and ambient sensors. The Lumia 640 is considered a direct replacement for the Lumia 635. Other core features include:
Qualcomm Snapdragon 400, 1.2 GHz quad-core processor
5-inch HD (1280x720) IPS LCD, 294 PPI, Glance screen, Corning Gorilla Glass 3, Sunlight readability enhancements
1GB RAM
8 GB internal mass memory + up to 128 GB Micro SD & 30GB free OneDrive cloud storage
Windows Phone 8.1 Update 2
Thanks to our source, who wishes to remain anonymous
Daniel Rubino is the Editor-in-chief of Windows Central, head reviewer, podcast co-host, and analyst. He has been here covering Microsoft since 2007 when this site was called WMExperts (and later Windows Phone Central). His interests include Windows, Microsoft Surface, laptops, next-gen computing, and for some reason, watches. Before all this tech stuff, he worked on a Ph.D. in linguistics and ran the projectors at movie theaters, which has done absolutely nothing for his career.
Right? Wondering if this one will work on AT&T...

It's the T-Mobile variant

You'll have to get it unlocked. MetroPCS unlocks after 3 months of service. $120 plus $30 for the phone $150 total.

Will att get the 640 or just the XL

In their press release, they did say they were getting both. So, 'yes'. However, no new information has come out about it, so it is unclear if that is still happening. Since everyone has the 640, they may position the XL as the lead and sell the 640 quietly on the side.

They own Cricket, so they already sorta-kinda have it.

True and that might be how they meant it, hard to know for sure.

I hope ATT actually gets it. They rarely update their Cricket phones and the Cricket versions have certain OS features disabled. I like Cricket for their plans and coverage, but I don't like what they do to their branded phones and won't buy a phone from them if I can help it.

Ha suck it cricket and att

What means after instant rebate? (Pardon my lack of knowledge)

That's the price you pay at the store. No mail in rebates unless you order online.

Oh I see thanks for sharing the info

It means you get an instant discount.

Just a fancy way to say "on sale" or "discount" when you activate an account.

basically means you have to buy it at a MetroPCS store for that price if you don't already have service you'll have to sign up for service then and there.

I was about to say the same thing. I would jump to MetroPCS if it had the same coverage as my current carrier. Good price to get people over to windows phone.

Good thing that they don't let these carriers bring out their own variants of the Lumia 640. Hopefully they can bring the same flagship phones to all the carriers.

That's a fantastic deal but does it cost to make an account?

With the lowest plan being $40 (2GB of 4G LTE) for the 640, your looking at $79 plus tax with the first month of service paid.

You forgot to mention the activation fee.

No activation fee for new subscribers. So if your starting off with new # its $79 plus tax (assuming you want the lowest plan). If you already have service though it'll be as low as $54 plus tax (that's including $15 for activation.

One more question sir. I have service already with MetroPCS so if I buy the phone and won't get the discount? correct? (?)

MetroPCS has a 90 day upgrade wait period. You don't have to pay full price, if your last upgrade was more than 90 days.

Awesome, I want to have it as a secondary device (I'm currently using unlocked AT&T Nokia Lumia 1520) Thanks

The main-in-rebate form on MetroPCS indicates that the rebate is $30 and requires the account to be active for at least 12 weeks.

I will be buying this just for the 1 year Office 365 subscription alone. Wow $40, I hate that MetroPCS charges a $15 fee when you buy in-store, but I also hate rebates that take 6 month if you buy online.

I purchased this phone today at walmart and I did not recieve the free year of office,

http://www.microsoft.com/en/mobile/phone/lumia640-lte/ Buy a new Lumia 640 LTE and a 12 month Office 365 Personal subscription is included. Excited? We'll tell you more soon… Maybe you will recieve a subscription code in the near future, it's clearly stated on their website.

I bought two Lumia 640's today and I didn't get Office 365 Persona Subscription either. And I don't even see it on the website.

You have to download the office 365 gift app http://www.windowsphone.com/en-us/store/app/office-365-gift/d70c2064-b5b...

Which walmart did you buy it from

Well $40 minimum first month bill for new customers, and in the store you pay $39 out the door (instant rebate) if you have service then its just $39 for the phone and $15 upgrade fee to upgrade the phone you don't have to pay your bill again. So new customers $79 plus tax on the phone and existing customers 54

You're correct. If this was $99, I was considering going back to android and getting the LG Stylo G which looks like a great phone for the money. I have a Lumia 925 but the battery life is poor, this will hold me over until a flagship Windows 10 device is available.

Shouldn't this work on T-Mobile then? Why would anyone buy the $129 version?

MetroPCS phones need to be unlock to work on T-Mobile, but T-Mobile phones don't have to be unlock to work on MetroPCS. You have to wait 90 days before you can request an unlock code. Same with Cricket/AT&T.

Aww you do know that T-Mobile is metropcs, they bought them a year ago...same phone.

i might get, then unlocked to use with att.....spare phone.

AT&T uses different LTE frequency this is only 2,4,12

ah, ok...Hmm, wonder if those r used in philippines?
is this quad frequency gsm?

Uugh. This or the XL.. decisions.. Posted via the Windows Central App for Android

You're still not getting out of the store with a 640 for $40.

It is a white battery cover! T-Mobile variant.

Jesus if they can sell it for $39 they can sell all the 640's for that price. Microsoft you are killing yourself with this variable pricing. Stop training customers to wait for a sale!

MetroPCS sells their devices highly discounted with the intent that you will keep service with them long enough to make that money back and more (they lose money on each phone sale).

Microsoft sells the phones to the carriers, then the carriers sell the phone to the public. Microsoft is not setting the prices. About sales, some people will wait for a sale no matter what so I don't see the harm in that. People that are buying these types of phones can't or don't want to spend a lot of money on a smartphone. I am for one very thankful that we have these types of devices from Microsoft at these very affordable prices.

The carrier is probably taking a loss on those in order to shift stock & attract new customers.

Hi guys, Do we have more info about the specs and what frequency is or not available. Not talking about screen size etc.. I know it pretty much by heart, but which version of the 640 are we talking about ? Is this version different than the European version ? I would be interested in using it in France, so would like info about frequencys

This is the T-Mobile variant so you can find the specs already on the T-Mobile website.
http://www.t-mobile.com/cell-phones/microsoft-lumia-640.html

So it won't work really well if I understand well. Thank you ed92hg for the link ;)

Before you buy look at the Metro PCS phone update history. Two phones, 521 and 635 have not been updated to denim.
Windows Central Newsletter
Thank you for signing up to Windows Central. You will receive a verification email shortly.
There was a problem. Please refresh the page and try again.