Microsoft acquires mobile business intelligence company Datazen Software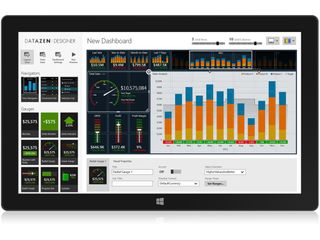 Microsoft has acquired Datazen Software, a Toronto-based company that has released business intelligence apps for Windows 8.1, Windows Phone, iOS and Android devices. Financial terms of the deal were not disclosed.
This deal could be important for Microsoft as it tries to expand its current "mobile first, cloud first" strategy to the business and enterprise world. The company stated:
In their own post on their acquisition, Datazen CEO Miljan Braticevic said:
There's no word yet on if Datazen plans to shut down its iOS or Android apps now that it has been acquired by Microsoft, but that seems unlikely since Microsoft has been quite busy launching apps like Office and Outlook, among others, for both platforms. Recently, Microsoft signed a deal with Samsung to have a number of Microsoft apps pre-loaded on the Galaxy S6 and S6 edge smartphones.
Source: Microsoft (opens in new tab), Datazen
Windows Central Newsletter
Get the best of Windows Central in in your inbox, every day!
My phone froze when I opened this article. First time since 2013. Had to soft reset

No I dont need that :) I have PD with latest update. Anyway, its not freezing anymore after reset. It might have been caused by something else I guess

So does this means Microsoft just got bigger again?

Keep focusing on Cloud Microsoft, you've got a headstart on this one!

Related to that, and not covered by Windows Central I believe, Microsoft also acquired Revolution Analytics last week.

Wow, I didn't see that release. Thanks for the info. These are nice pickups.

They have always shown us they were serious about software and most recently improving their software offerings on mobile, but I really want them to get serious about mobile hardware. That big ass Nokia purchase has bared little fruit for us who want a device AND services. #build

Agreed. Nadella doesn't seem to be to interested in mobile hardware, which is frustrating. All parts of the business should get proper attention across the board.

Microsoft's Power BI analytics software is really well executed. A fast, simple and robust solution to make loads of data interactive and easy to view. Kind of like a huge potential for enterprises...i can see comscore and co. using these in the future to display their data more intuitively

Me too. Microsoft will be very powerful if they acquire here. They integrate with Cortana,bing,Skype etc.

I'm not familiar with the company. Sounds like a good deal nonetheless.

If they don't it would be stupid not too. I wsih they do.

What if Nokia doesn't wanna sell to Microsoft?

Nokia isn't anti-Microsoft like some others are. They've sold to Microsoft before. They'll do it again, as long as they make enough money to make it worth their while.

Microsoft Google and Amazon are eating every company around

Many of these companies get built with the intention to get bought out by one of the big guys. They get a nice payday for (relatively) short term effort.

Yeah, I just need a good idea for something to develop that would be a short term, low cost investment that I can turn around and sell for a few hundred million within a couple of years. That'd be great.

Where is the download link? Lol

Microsoft is acquiring the world!!!!
Windows Central Newsletter
Thank you for signing up to Windows Central. You will receive a verification email shortly.
There was a problem. Please refresh the page and try again.