Microsoft adds more Guided Workouts to Band, promises Microsoft Health web app soon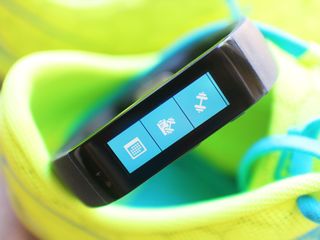 Microsoft is pushing out a significant update today for those lucky enough to have a Microsoft Band fitness tracker. Today's update follows up on last week's firmware and software fixes.
The update is bringing new Guided Workouts to the already extensive selection available through the Microsoft Health app. The feature enables users to select a workout, which then downloads to the Microsoft Band, giving feedback and cues on specific exercise regimens (see our tutorial).
Additionally, Microsoft notes that the web app for Microsoft Health is still under development, with more details to be revealed in the coming weeks. Presumably, the web version of Microsoft Health will give Microsoft Band users a way to see – and share – their data online. Currently, Band owners are 100% reliant on the smartphone app for iOS, Android, or Windows Phone.
Perhaps even more exciting, Microsoft notes that this is just the beginning:
In terms of Guided Workouts, Microsoft mentions that with today's update it brings the number to more than 100 choices, including the addition of workouts from "best-selling fitness author Mark Rippetoe".
It is not clear if today's update is software (Microsoft Health) or firmware (Microsoft Band), although Microsoft did note that the update is available today. We'll keep an eye out.
Press Release
Microsoft Health & Microsoft Band Content Update
Starting January 15, users of Microsoft Health and Microsoft Band will receive their first major content update: an influx of new Guided Workouts to help meet their New Year's fitness goals, which include workouts from best-selling fitness author Mark Rippetoe ("Starting Strength").
The new workouts and plans expand the portfolio of Guided Workouts, which are the set of more than 100 workouts that can be downloaded to your Microsoft Band for coaching right on your wrist. The updates round out the portfolio with strength training workouts of all levels, timeframes and difficulties, ranging from routines for beginners just starting out with the New Year, up to experienced enthusiasts who need something new and fresh to kick start their year of fitness.
"Fitness bands have a natural appeal to enthusiast-level consumers, who can walk into a workout and have their plans set. However, our data shows that some of the most popular Guided Workouts on the Microsoft Band are for beginners, which told us that we needed to add a broad range of workouts at a variety of intensities. The Microsoft Band is the only fitness band that provides this level of personalized fitness coaching right to your wrist. We are extremely excited to partner with Mark Rippetoe and to add even more Guided Workouts to the Microsoft Band, straight from his best-selling book, Starting Strength, to help people kick off their New Year's fitness resolutions the right way." – Matt Barlow, General Manager, New Devices Marketing, Microsoft
This update adds 12 new workouts, as well as four new workout plans that range between two and three weeks each. For intermediate and advanced fitness users, some workouts also add common exercise equipment, such as kettlebells, dumbbells, plyometric boxes and jump rope. Like all Guided Workouts, each workout is scalable for a variety of levels, as users can tailor their weights, rest periods and schedules as needed.
These new workouts are now available via the Microsoft Health App: Mark Rippetoe's Starting Strength Workout Plans (Phase 1, Phase 2A, Phase 2B), New Year's Resolution Dumbbell Plan, 12 Minutes of Hurt, Block Run Fun, Bodyweight Conditioning, Interval Running Plus, Jump Start Your Fitness, New Year's Resolution Bodyweight Blast, Quick Dumbbell Workout, Simple Lower Body Strength, Simple Total Body Strength, Simple Upper Body Strength, Tabata Kettlebell Swings and Tabata Alternating Kettlebell Swings & Box Jumps .
The update was released today, and follows up last week's update that included general performance improvements. For more information, visit Microsoft Health (opens in new tab) and Microsoft Band online (opens in new tab).
Windows Central Newsletter
Get the best of Windows Central in in your inbox, every day!
Daniel Rubino is the Editor-in-chief of Windows Central, head reviewer, podcast co-host, and analyst. He has been covering Microsoft since 2007 when this site was called WMExperts (and later Windows Phone Central). His interests include Windows, laptops, next-gen computing, and for some reason, watches. Before all this tech stuff, he worked on a Ph.D. in linguistics, watched people sleep (for medical purposes!), and ran the projectors at movie theaters because it was fun.
Cool. Waiting more so for more features but good to see they're trying to cover all bases

The thing I'm waiting for is integration with HealthVault....

I believe they had that with the Health and Fitness application and then they removed it. I forgot the reasoning behind that move. Personally, I liked that integration feature to HealthVault and wouldn't mind seeing it reintegrated with Windows 10. Maybe we'll have better luck with the Band 2 lol.

Same here - wish I can have the Vault as one place to see my fitness history as well as medical history

I know this may be off topic, and it may already have been answered, but any idea when the band is going to make it to other countries, especially the UK?

No idea. Still not even available online in the US, so presumably they have to ramp it up here first.

Never. You can hardly even get it in the US

I had to wait 2 hour before opening of the store for mine

There has been a surplus at Penn Square Mall in Oklahoma City since the day they launched the band.

Either that is not true or the employees have lied to me twice as I've been in Penn Square to ask. The second time I was there, I put in a pre-order and later received a store credit as they cancled my pre-order due to lack of product.

Given there's no timeline for a UK release, I would take the plunge and find a way to get one sent to you via a friend or anyone travelling there. I bought one when I was in NYC last month and everyone in the UK is amazed by the tech, integration and Starbucks card too!!! Don't wait for a UK release, buy one now - you wont regret it

Ok, thanks for the advice everyone, my brother should be going to New York later this year so I will get him to pick one up for me!!!! Thanks again....

http://www.bigapplebuddy.com/microsoft-band-international-shipping/. You can get one send to you from this website, I already asked for a quote and the price together with postage and their service was around £190 which is around £50-70 less than on ebay!

Great stuff! If you have any problems setting up in the UK then send me a PM - more than happy to help.

Just go to the US for a holiday and order one, thats what i did :) Prob one of the few Aussies with a Mcirosoft Band :D

Very easy to setup for the UK. I bought one from eBay. Unfortunately I paid a lot but its worth every penny. Lots of potential for developers too

This means the Band will soon be released elsewhere, because of this tremendous support.

Somewhat off topic, but is anyone else having problems with PCs throwing an error that the Band is not functioning correctly when connected? The error is a pop-up in notifications from the tray saying a USB device connected is not workingcorrectly. I have reinstalled the app, restarted the Band. Nothing has worked. It charges, but won't connect to the PC.

I haven't had that issue. You may want to try using a different USB cable. I had that problem with a Xbox One controller; it would charge from the PC, but wouldn't connect. I switched to a different USB cable and resolved the problem.

I have this problem, it's the connector on the band that needs cleanup, even after that you must try a lot, I can tell sweat is causing this :(

So what do you mean by clean up. I regret not having ordered another cable when I ordered the Band online 1st day. It charges fine, and as long as I get updated OTA and connects to the phone, no real issue. Just annoyihng if connected to the PC

Take a swab to clean the band, the borders of the connector. Even if it looks clean, keep trying to connect. Looks freak but works for me.

Is there a need to connect to a PC other than charging - I.e. There's no PC app yet...?

Exactly my thought. I don't know if I get an error on the computer or not. I plug it in and go about my business. Never look at the screen cause the screen saver is on.

If you got the error you would know as even though I set not to show, it pops up continually. No need, but someday perhaps there will be an accompanying app. Just curious.

Yep. Same here. I have cleaned the connectors (Both cord and on the Band) with no relief. Tried numerous USB ports on different computers - no relief. No idea what's going on but, as another poster indicates, the Band app really doesn't do much at this point.

I think you can ignore the issue as long as you can access your MS band. It's the same issue with any USB stick thast you put in your PC then error will come out that USB is not conneted properly or is not working properly, where infact you can read whats inside.

They need a timeline for fixing the bluetooth audio problems that are caused by the Band. I returned mine because of them, but if they fix it before my Fitbit Surge backorder ships, I'd happily go back.

This may just be an isolated issue for you. I don't have those issues. I can connect to a BT speaker and play music while connected to the Band. My phone connects to my suv and car via BT and remains connected to my Band, and I can still respond to texts via Cortana in the vehicles.

It's probably the audio stuttering problem that's being reported by quite a few users. Definitely not an isolated case. Fixing this is the top request on the unofficial uservoice page. http://microstrap.uservoice.com/forums/274305-microstrap-suggestions/sug...

This might just be something isolated to you or your phone. I have the Lumia 928, and have no issues with bluetooth audio. I use my band and a bluetooth headset all day without issues.

Nope, it's actually pretty widespread.

I wonder how long will it take to have the ability to track your own, custom workout routine; a feature that Health and Fitness allowed before an "update" removed it. if and when this will happen I will probably buy one.

Those wanting the Band in other countries need to wait while us fat boys in USA work out all the bugs. The Band doesn't give you a percentage of your battery level yet. Although, you can go into Watch Mode. That extra step is nonsense. Also, connecting with MyFitnessPal is spotty. We are saving you from frustration.

Perhaps someone in the know can chime in, but Microsoft's approach to these health apps is beyond frustrating. We now (or soon will) have three different apps: (1) healthvault (2) health & fitness and (3) microsoft health. The purpose for each is less than clear and they don't talk to each other, and in some cases, duplicate features. What is their goal here? The approach Microsoft is taking is very confusing. Removing intergration between healthvault and health & fitness did not help.

I am not in the know but I can try to help. Health Vault is to store basic medical data that can be shared with medical professionals. Microsoft Health is supposed to connect to Health Vault. Microsoft Health is their new Health platform. Hopefully we find more about it soon. My guess is that Microsoft Health is the consumer version that will have more bells and whistles. Health and fitness is the currently the odd one out to me. I wonder if they are going to connect it to Microsoft Health.

Awesome...
Health and Fitness from Microsoft should have blood glucose tracking and reporting added...

Had mine since Christmas and I'm in the UK. Got the old man to ship it from Cupertino. Heart skipped a beat when I tried to download the health app and it said it wasn't available for my phone. I had to change the region to usa to download it. App is still there when I change back to UK though. Pain in the arse having to change regions again to update. Not sure why the app is locked to usa, obvious peeps are gonna ship to other countries. Definitely more comfortable wearing screen down though, although recommend a screen protector. Loving Cortana integration and notifications. Brilliant tracking my runs, love it really. Just gutted I've got a few scratches on the screen. Cant even get accessories in uk, could do with an extra charger...

Had my band just before Christmas off ebay (UK), and also would have loved an extra charging cable... but it is a great bit of kit, just waiting for the web app then I will be happier.

Has anyone seen the update yet? I check for updates and see nothing on my phone. I am located in CA.

Daniel would have provided a link to the MS Health app for updating. I assume it will be available sometime today. still 5.5 hs here EST. MS' wording reads "starting Jan 15...". That could mean over the next couple days too I guess.

Here in Utah and no update for the App, however I have all the new workouts mentioned. I think it was a back-end update to the database not to the App itself. See if you have them already!

No, I haven't seen it still. Apparently it wasn't made available Thursday. I checked for app updates and opened the app and forced a sync to see if that would do it. No update anywhere.

I guess it is just a backend update as the workouts are in the app.

Daniel, it'd be great to get an article from you about your opinions on the sleep mode on the Band. You mentioned your experience as a sleep tech and it would be interesting to hear your thoughts after a few months. Thanks.

I would like to hear about that too.

I can't find one. So I ended up picking up a Fitbit Charge HR. Once the Microsoft Band 2 comes out, I will certainly be moving to that. Just got tired of waiting and waiting and trying to find it in store. I think its already a great device and I can't wait til version 2 comes out.

So I did not get an update on my phone to the App, however I have the workouts Starting Strength Workout Plans (Phase 1, Phase 2A, Phase 2B) in the Guided Workout find a workout section. Looks to me like it was a back-end upgrade and not an App upgrade.

So... in other words, here's another small piece of all the things we said the Band and app would do but don't - yet.

Btw I saw some bands at the store in Las Vegas last week.

I was lucky to get mine through a connection in the USA. Thanks to Clara my mother-in-law. So far I am the only one in Nova Scotia with one... I am getting a lot of questions about it... Namely get this... Is that the new App$e watch? Lol.... And also is that a FitBit?

Interesting looking forward to getting this update. Not seeing it yet

new workouts showing in my app

I'd like full sync and features with iOS, on par with Windows Phone please, thanks Microsoft. Most likely getting a Gen 2 version, if it's slimmer and a little less 'under-house-arrest looking'.
Windows Central Newsletter
Thank you for signing up to Windows Central. You will receive a verification email shortly.
There was a problem. Please refresh the page and try again.