Microsoft announces the new affordable Bang mini speaker by Coloud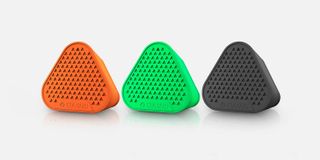 As well as announcing the new Lumia 530, Microsoft also unveiled a new Bang mini speaker joining the Coloud family of audio accessories. The portable, compact speaker is a rechargeable sound station that produces sound at an affordable price point – just €19 to be exact. An added bonus of this speaker is the choice of colors to match Lumia Windows Phones.
Unlike other portable speakers offered by Microsoft, the Bang mini – being an affordable option – connects to Windows Phones (or other devices) via the 3.5mm headphone jack. As noted above, it's rechargeable, lasting up to 8 hours on a single charge. Keep an eye out for the product to be made available in the next couple of weeks.
Perfect for enjoying some tunes through MixRadio this summer. Who's looking to pick one up?
Source: Microsoft
Rich Edmonds is Senior Editor of PC hardware at Windows Central, covering everything related to PC components and NAS. He's been involved in technology for more than a decade and knows a thing or two about the magic inside a PC chassis. You can follow him over on Twitter at @RichEdmonds.
No one knows yet you have to wait mate

Other than availability, the other problem is colour. Where is yellow? Does it mean that future Lumias won't have yellow anymore?

Yeah ! It will be there tomorrow on the first boat from China,get up early and go to the dock n•6and wait,so you will be the first to get it.

Even I'm waiting for it so cheap just 1500 bucks

I sure would like to visit India some day

Yeah you definitely should.

I did. It was a lot of fun but non-local commodities like phones and TVs were not especially cheap... I was disappointed after I bought a $2000 custom suit for $300... Thought I'd snag some tablets and phones and stuff really cheap and didn't get to.

I would love to have one of these, problem again is availability.

I believe coloud has free shipping

I would try that option. But I would still need to pay taxes at high rates, I think? If I can have at least 2, I'll take them to my stores. :D

Poor guy,full of problems!

Coloud is solid for availability; I've bought headphones from them online no problem. It's the Nokia accessories that were never available anywhere.

Same question... Does it offer any advantage over similarly prized Bluetooth portable speakers on Amazon with really good ratings and better battery life apart from the brand name?

Whatever happened to the Bluetooth one that was announced with the 630? That one looked great.

yeah, the MD-12.....been trying to find one/waiting ever since :(

This is awesome at soooo cheap price

At the price of not a wireless one though

Well I don't mind it is wireless or not but it would have been better if it had wireless connectivity

That's an original design.

Make it available at WalMart and it will be seem by the masses. Not just the Microsoft store and Amazon

When it will come to Indonesia? And make it available at Lazada.co.id

I believe it wont come to indonesia

In semarang store, coloud have been sold in all varian, even nokia's speaker. I dont know about your city.

I love these accessories but the issue is availability! -_-

But want to listn first snd then buy the stuff.

Will wait for this to launch in INDAI. A trendy and good mini portable speakers.

INDAI???
lol
Is that new country???

I know this is off topic, but I would love to see the Lumia 930 release Stateside on ALL carriers! I know that won't happen, but one can wish.

Strange to produce a non Bluetooth speaker in this day and age, and it looks like a garlic crusher.

True, I bought a "waterproof" Bluetooth speaker for 8 dollars sounds good for the size. Battery life is awful, but I leave I connected. Oh and it has a microphone too.

I agree! Why without bluetooth? I'm not going to buy a portable speaker without the portable bluetooth function.

what about the speakers which have been on the nokia site ..announced with the 930 and still have the tittle coming soon...i want that..any news on that?

Nokia site sucks the flip case for the Lumia 1520 says coming soon and I have the phone ever since November.

I guess it will come to Australia. Planning to get one.

Any idea on what the sound quality is like?

I'm going to Bing that Bang.

And these mini speakers combined with the future sale of MixRadio?

Nah...I still like my Bluetooth JAM...$35 and lasts just as long with rechargeable battery. Awesome sound.

I love coloud but I hate kernel earphones...

Need an affordable decent Bluetooth portable speaker that don't sound like a tin can. Jam is ok but having one that can do speakerphone can't cost that much more and still have decent sound. Cheapest descent sounding one is about 80 bucks. I'm just to cheap and picky I guess.

Shame it doesn't drive power from the phone through the headphones jack, but I'm guessing its a bit better than your most basic of speakers.
Do the colours conform with past Lumia phones or is it only the recent scheme?

Please do a comparison between this and the MD-12

When will this be in India?

It would be great to have, but I don't think they will be bringed out before the end of the summer :(
Windows Central Newsletter
Get the best of Windows Central in in your inbox, every day!
Thank you for signing up to Windows Central. You will receive a verification email shortly.
There was a problem. Please refresh the page and try again.