Latest Windows 10 build bundles mysterious Bio Enrollment app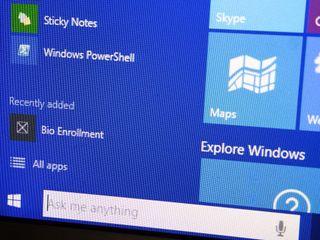 Project Spartan was a large part of the update that began hitting Windows Insiders last night, but an unknown app quietly snuck its way onto updated systems - Bio Enrollment.
Bio Enrollment is an app that can't be opened and there's little information available from Microsoft as to what it's supposed to do. When attempting to fire up the app, which can be found in the "recently installed" app list of the Start menu, an error is thrown.
While there's little to go on, the app could be a pre-cursor to Windows Hello, which would allow users to sign into the OS with their face, iris or fingerprints.
We'll hopefully have more details to share on what this app will do soon.
Rich Edmonds is Senior Editor of PC hardware at Windows Central, covering everything related to PC components and NAS. He's been involved in technology for more than a decade and knows a thing or two about the magic inside a PC chassis. You can follow him over on Twitter at @RichEdmonds.
So excited for Windows Hello!

I want hello for my SP3, but it sounds like it won't work, unless they have options for the non-IR cameras.

I want it on my SP3 as well, but alas: They seem to insist upon IR as required to ensure it works under all lighting conditions.

Yeah, it'd be nice if they gave us the option. And I thought Apple was the company without options...

Yeah! would definitely be for Windows Hello.

Fingerprint reader? Face reader? Hmm...

I been wondering this myself....too bad my laptop can not use it if it is for the "Hello" feature :(

Hmmm...U have taken photo of screen using ur mobile

If by mobile you mean a Samsung NX3000 mirrorless camera... This is what it looks like when you take a close up of a computer monitor. Unless you have a fancy 4k one, which we do not.

Screenshot / PrintScreen? Doesn't matter to me, but a wee bit curious.

IMO close up picture looks better than screenshot, it gives the feel it's "on screen" and real, and close up pics just play along with tech/gadget news :).

Can't get cortana to work on this current build

Swap regions and languages. It will work after enabling location.

I'm on USA region and language. Somehow I can't even do search.

I'm pretty sure she left me... ;( All my settings are set USA... she is simply not available...

I hope they give a water down version of Windows Hello to all laptops with old hardware as long as they have a camera inbuilt or webcam attached. Maybe warn users that it may not be as secure, could be spoofed and give these users ability to double lock with Hello + 4digit PIN instead of regular password. Even better, with always active Cortana, let her recognize voice on all mic enabled hardware. They need this to widely be popular. 90% users with old hardware won't overnight buy new ones. But they will be hailing Microsoft if they get Hello.

I think they claimed it'd work on 480p cameras

That's the minimum resolution, but it also currently requires the camera to see in IR so Windows Hello works even in complete darkness.

It's for security purposes when using the face recognition. Otherwise, a picture of you would sign you in.

Anyone knows how big is the 10049 build update? It's taking forever to download.

Mine was stuck on 99% for a bit. It's been installing for quite awhile too. It's a long process.

Mine did 2 houres for installation and download

Yes it was longest installation of the builds so far. When installing it was "stuck" at 4% for more than 10 mins, was getting a bit worried

... And it will take more than forever to install.

mine was pretty fast. About 30 mins.

Waiting for windows 10 for phone

The Mail, People, and Calendar apps are again not working with this new build. Probably, I need to do the same thing as with last build; the PowerShell commands thing.

Was going to try that again. But can't bring up cortana and powershell.

If you open it at exactly 12am, it will show a text bar. If you type in the name of a person, a hateful girl will appear to the person and send its soul to hell.

Windows Central - change your page layout please. :)

Saw that this morning (I started downloading the new update before I went to bed last night), cant run but, still interesting..

What does bio enrollment mean? You can't be serious. :-)

Can I have that lockscreen image? It looks amazing. I need 3200x1800 minimum. Thanks :)

It's already included with the preview builds.

Retinal scan login support.

Ah, gives a whole new meaning to.. Apple "retina display".

The last time I updated windows 10 (this computer rarely gets used) the start menu made a live tile section mandatory. I even removed ALL the live tiles (I just want 1 and only 1 column, but it forces 4) and it wouldn't vanish. They originally promised they were going to let use ditch metro if we wanted. Did this ever get fixed back to the way it was in the first build?

Can't get the Mail apps to download in the new version,even after the powershell route. Project Spartan is great though circling and sending articles is fantastic

http://1drv.ms/1F5EnzO In the app folder you can see some subfolders called "face" "fingerprint" "iris".. It must be Windows Hello
See the screenshot
Windows Central Newsletter
Get the best of Windows Central in in your inbox, every day!
Thank you for signing up to Windows Central. You will receive a verification email shortly.
There was a problem. Please refresh the page and try again.