Microsoft debuts new Xbox controller designs and stereo headset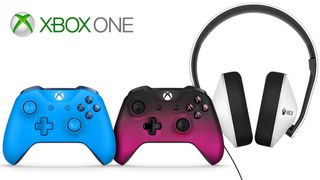 Microsoft has outed a slate of new Xbox accessories due out this fall, including new controller designs and colors (opens in new tab), along with a new stereo headset.
The new controller designs include a new blue color along with what's been labeled as a "Dawn Shadow Special Edition" controller. The more interesting of the two is the Dawn Shadow design, which features a magenta color that gradually fades into black. Both controllers are based on the new controller design that shipped with the Xbox One S, featuring Bluetooth and textured grips. Microsoft says that it is also updated the standard black Xbox Wireless Controller to sport these new features as well.
The best Xbox One controllers you can buy
If you're in the market for a new headset, Microsoft has you covered there as well. Alongside the new controllers, Microsoft is also launched the Xbox Stereo Headset - Special Edition this fall. The headset comes in white, and features a prominent Xbox logo on its left side just above the mic.
As for availability, the Dawn Shadow Special Edition controller will make its debut on October 4 for $70, while the blue option will land on September 27 for $65. Meanwhile, the updated black controller will hit stores starting in September for $60. Finally, the Xbox Stereo Headset - Special Edition is set to arrive in "late October" for $65.
Windows Central Newsletter
Get the best of Windows Central in your inbox, every day!
Dan Thorp-Lancaster is the former Editor-in-Chief of Windows Central. He began working with Windows Central, Android Central, and iMore as a news writer in 2014 and is obsessed with tech of all sorts. You can follow Dan on Twitter @DthorpL and Instagram @heyitsdtl.
That Dawn Shadow controller reminds me of Windows Central

Maybe its their design :-). Still looks very nice.

I want the white headphones

MS is really flooding the market with their gaming gear. The best part is that these controllers work with the PC including my recently built scorpioVR PC.

Hi Akira, I do build my owe PC's and help with builds for friends and family. Whats a scorpioVR PC​?

Disagree with the author. Love the blue one! (Yes I know I am probably in the minority and I know it's about the gradient). Although having already 4 controllers (including the Elite) I don't think I can find a way to justify the purchase.

I love the blue one!! But I agree, with very few games supporting local multiplayer anymore, I can't even justify a second controller lol

A headset? For a company that doesn't want to do hardware they sure release a lot of stuff. Releasing phones on the other hand appears to be a very difficult task...

They know a lot of people enjoy using the Xbox One, they can create things and know it will sell well. Microsoft also knows people are enjoying phones from other companies (Apple/Samsung), so they essentially have one shot at that, and it has to be just right. Consumer or business, the rumored Surface phone has to be top-notch. Just my 2 cents

This appears to be the same headset already available, just a different color.

Anyone can build a headset on their own backyard. It doesn't cost much to develop and sell, and they know it will sell (that's not a very open release, they target specific publics to make it worth. Besides, Microsoft peripherals are known for their quality) so it's not risky at all. Creating phones that don't sell well in a VERY competitive market can be a major drawback and, for example, made Nokia lose billions of their net work enough to sell their mobile division to another company. 15 years ago Nokia was a dominant cellphone player just like Samsung and Apple are now. One shot off and they plunged from the pinnacle to the pit. Microsoft won't be another Nokia selling budget phones for a paper-thin profit margin. Don't even consider it a possibility

If I could get the elite in that blue color I'd be a well pleased man.

Here's a thought: how about a (gasp) wireless headset....... Posted via the Windows Central App for Android

YES! I loved my wireless headset for the 360. Why haven't they released the XB1 equivalent yet?? It's probably not configured for this but since the new controllers have BT it'd be nice to be able to use any BT headset with a mic.

Why not release a onesie instead? Those controller designs could just be added to Lab Designer and the stereo headphones is just a recolor of the existing ones.

Well I'd rather havethem release these, remember that us outside the US can't get Lab controllers.

Can we get a Bluetooth headset

Xbox does not support Bluetooth. Do you mean wireless?

I thought the Xbox one s has Bluetooth

No, just the controller so it can be paired to other devices.

I love the blue one. In fact, both are nice, but tbh I'd still like to have the buttons correctly color coded.

You could probably buy replacement buttons and swap them yourself. Of course it would void the warranty.

Yeah, I guess. But it's the kind of thing I'd rather pay for instead of doing it myself. I wouldn't enjoy tinkering with it. Now that you mention it, one of my 360 controllers has a button that misfires, is it easy to replace them? I *would* do it to fix a controller, I gues.

Those 2 colors are the windows central colors

That Dawn controller is hot.

<sigh> I don't want to ever need a controller. I wanted badly to just keep the controller that came with the Xbox One sitting in a drawer, never to see the light of day. Then Microsoft RUINED all that by gutting the Kinect and giving us this ridiculously designed dashboard with miniscule icons and the requirement to use the stupid controller.

By "blue" do you mean Nokia's cyan? Still miss that color option on phones.

These are nice accesories, but what I'm hoping for is a media controller with a microphone for control of Cortana. I don't lament the loss of gesture control in the least but with it gone I'd like to ditch the Kinect from the top of my TV and control the TV with voice with a remote. C'mon Microsoft, Comcast can do it! They need to redesign the media remote anyway. The existing one is too tiny. Make a white one to match the One S and add the mic and I'll stop adding this suggestion to the Feedback hub.

The remote it's cute tho =P

That dawn shadow controller will be mine... when it arrives to my country :(

I had a blue Xbox 360 controller that I got early on, and I loved it (I even got the matching batery pack, and isues it until the rubber literally wore off the left stick). This reminds me of that. However, I won't be buying it because I'm sick of forking over money to Microsoft for bad parts and short warranties. I've been sold 5 bad controllers already.

So the main take away of this article is finally a black one s controller? Sweet!

That Dawn Shadow is incredible. Buying.