Microsoft delays Surface RT shipments to November 2nd for some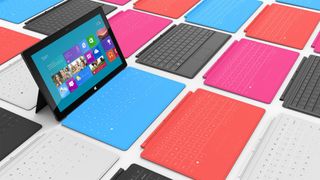 Update: Microsoft has since said the emails were sent in error.
Not sure as to the why but Microsoft has sent out email notifications to customers in Canada and the United Kingdom informing them that their pre-ordered Surface RT tablet won't be available until November 2nd.
The email's read along the lines of,
We saw that Microsoft had pushed back the shipping dates for all three Surface RT options for any new orders. The mystery here is that these email notifications are being received by customers who pre-ordered their Surface on day one. Some of which were placed during the first hour.
Speculation on the "why" ranges from delays with U.K. and Canadian Customs to Microsoft holding inventory to insure brick/mortar stores have plenty of stock for the launch date. We'll reach out to Microsoft and see if we can get any clarification on things.
Thanks, everyone, for the tip!
Windows Central Newsletter
Get the best of Windows Central in in your inbox, every day!
George is the Reviews Editor at Windows Central, concentrating on Windows 10 PC and Mobile apps. He's been a supporter of the platform since the days of Windows CE and uses his current Windows 10 Mobile phone daily to keep up with life and enjoy a game during down time.
One theory is that Customs for both the UK and Canada are holding them for a week. No idea why Canada would do this though/

Canadian customs does some weird shit sometimes. :-P

Hey guys, so are we expected to see a Double-Pane Windows tablet for us that live further up north where it's colder? Just wondering...

Haha at first I was "wtf?" as I've never heard it called "double-pane" - I thought it was called double-glazing everywhere :P It's good for warmer countries too as it just slows heat transfer down (helps with noise too)

Ha ha, I've never herd it being called double-glazing before...

I got that email yesterday and I pre-ordered within 5 minutes of go-live time. Sucks but then it's just 5 days. As long as I have my Surface and SmartGlass by Halo 4 day I will be happy.

IKR!! I'm soooo excited for halo 4 and I love the whole XBOX revamped thing with smart glass(surface) and Xbox music/video! And I want the HTC 8x but I might end up waiting for the surface phone...

I feel exactly the same way towards everything you just said... Weird.

They are probably shifting stock to satisfy U.S orders.

Highly doubtful, some people here stated they received delay notices as well

I do hope that it is not that they are shifting stock to satisfy U.S orders because they could fall foul of international trade rules. They committed at order time to a delivery date - the words were "Pre-order now for delivery by 26/10/2012" and I am still expecting it on that date. Legally as they have advertised it in Europe they will have to delivery against what they have committed.

So in Europe nothing ever goes wrong. SMH.

Things do go wrong in Europe but companies have to give a reason why things have happened! There are very clear advertising and sale of goods laws in Europe and all companies have to comply with them - if the don't they get fined. Microsoft has fallen foul of these laws in the past as well.

What does advertising a product has to do with delayed shipping? Microsoft does not advertise shipping times on TV. When you buy a product from anywhere, even on Amazon, sometimes shipping gets delayed there's nothing the European Union can do about that. Just stop this ridiculousness.

Got the same email and I ordered after the link was leaked on TechCrunch and then posted here. Oh well, its only a week delay, still means I'll get one. I'm sure my wife can keep me occupied for that week.

can someone tell me how surface isn't even mentioned on MS own MSN website under the tech/science news section? is their own website another cnet or engadget who bashes MS products? evertime i visit that section on MSN,there's always mention of the iphone or ipad

I'm slightly depressed about this, as it was due to arrive right before I have to go abroad for my job for a couple of days. I was looking forward to having something to do in the hotel in the evenings! Lame TV instead... (///_T)

Why don't you call them, explain your situation and see if you can pick one up from the store on the 26th

That's actually not a bad idea - +1.

My is worst situation
I am going to India will back in 1or 2 month
I have no idea when it will available what it gona cost me and special wp8 HTC 8x if I buy it form India do it will work on t-mo
Ples any one can't tell me some info about it

Has anyone tried using the findmyorder.com website in the email? Tried the order number and credit card entries and got turned away by both.

I have tried and had the same issues. I then went back to the "Microsoft Live" account I used to order the device and found everything there. Seems Microsoft can't even get their ordering system working correctly on this one. Maybe we all talk to Microsoft Store wherever we are in the World on Monday to see what is happening about our orders. (UK Store number is 0800 026 0329)

Got the same email, but only the accessories I ordered seem affected, the Surface itself still says 26/10 for arrival day. Its the 64gb version I ordered ... Maybe its only the 32 affected?

Exactly the same here. I ordered the 64gb version and so far that looks ok, but received delay notifications for the power, keyboard & HDMI cable

I hope its because it's way more popular than they expected and have to hold some back for stores. That would be a GREAT problem. :-)

http://www.theverge.com/2012/10/20/3529462/surface-pre-orders-sold-out-d... Seems like the emails were sent out in error, and that original dates will be honored.

I hope this info is true but still no new w-mail from Microsoft to confirm me that this is an error in Canada...


Don't think waiting for a surface phone is such a good idea since its probably still 4 to 6 months away. Besides its very unlikely that it will be as good as the lumia 920, or whatever lumia is out in 4 to 6 months time

Actually @surface on twitter just tweeted this was an error


Lucky me. I used a Saudi credit card to order mine from MS store which I didn't think it would work because I tried doing it on Apple but they don't deliver to these forwarding shipping agents (i.e. Aramex) but MS have already withdrawn my total preorder amount. Hope everything goes smoothly :)

No they didn't delay
update your article with the recent Surface tweet

Lol not me I am getting mine on launch day
Windows Central Newsletter
Thank you for signing up to Windows Central. You will receive a verification email shortly.
There was a problem. Please refresh the page and try again.