Microsoft developer shows how to turn an iOS app into a Windows 10 app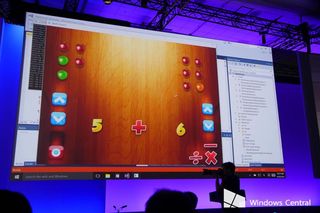 Microsoft announced plans to help iOS developers convert their apps to Windows 10 versions some time ago. Now a Microsoft developer has posted up how those developers can get started on those project using a number of tools, including the Project Islandwood applications that were released as open source software earlier this year.
The developer, John Kenn, states:
Most of the blog post is very technical in nature, but it shows that Microsoft is still very serious about making it easier for iOS developers to bring their creations over to Windows 10.
Source: Microsoft (opens in new tab)
Trouble is it's relatively basic at the moment. Many frameworks are not supported along with StoryBoards. So the project has a way to go before lots of apps will think about using this tool. This is a good foundation, but don't expect to see a mass transfer of apps tomorrow as the conversion effort is still high.

And it will always be. You know, Microsoft cannot make porting iOS apps to Windows 10 easier than porting of Windows 8 apps to Windows 10. And even that is not trivial at all and requires a lot of work. Islandwood will always take at least 2x of that...

Storyboards are supported: http://blogs.windows.com/buildingapps/2015/11/18/windows-bridge-for-ios-...

I won't be surprised if this one also gets cancelled as Project Astoria. Coming Soon

Unlike islandwood, Astoria is/was an emulator

Just to play the devil's advocate, they would always find a reason to abandon it.

I guess that means you'll be surprised then

This comment is so dumb it hurts.

Show how to bring apple app store to windows store pls ;)

And why is that Posted via the Windows Central App for Android

Because Posted via the Windows Central App for Android

I don't think I need to explain this.

Oh, common. Didn't you see the video of Microsoft and Apple workers hugging each other? We are on The Verge (pun fully intended) of giant tech companies giving one another a helping hand, animosity a thing of the past, shared goals, mutually beneficial partnerships, blah blah blah.

lol. Some people are too naive. Like this guy who I responded to. Well, here's to his wishful thinking!

Are you sharing your bong, because my tramadol isn't getting me that messed up! Lol

Lol.. Pass it to me when you're done.. :P

How bout, show how to make Apple employees walk to Microsoft Store next Christmas? Haha talking about laying down.

next year if they do Apple will have invented the "walk to your neighbor"

Wow you really missed the point of that clip =)

This is one of the Best comments I've seen thus far! Haha

Deez nuts haha (joking). Posted via the Windows Central App for Android

It might happen when Microsoft buy Apple

"when Microsoft buy Apple"? More like when Apple buy Microsoft. Posted via the Windows Central App for Android

Just need to fix the store so you can actually download the apps reliably....

Boy, ain't THAT the truth. I still have apps the will NOT update in Windows 10 Mobile. Seriously BROKEN.

Make sure you are not installing your apps in the SD card. That's where the problem is

Now it will be windows i store heheh

Bring clash of clans please

Supercell should really consider these porting tools. They had previously said that they would consider coming to WP if its market share increases.

Mkt shre wont increase by magic... Devs need to understand that bringing apps to WP will make the mkt share increase.. If devs dont bring their apps to WP- no one would buy/switch to WP for having no apps in store..

It's not like they want the market share to increase, but would port CoC if it does. As long as it is not necessary to support more platforms, no one in their right mind would want the additional complexity for little to no gain.

Then someone should tell them that Windows phone market share has been increased to 3.14% according to netmarketshare.com

Make the apps universal and "bam" instant market share.

I sent them email a week ago regarding Windows platform and Ive got instant auto-reply which wad totally offtopic. -.-

Stopped playing that a long time ago. I still check in once in a while, but they made it increasingly impossible to play for mid level people. I was at level 68 and 1400 trophies, within a week I went to 2500 trophies. What was happening was that I was being attacked over and over by people level 100+. They would attack, see that I had no gold/elixir to take, so they would abandon the attack. I would get 30+ trophies, and a few minutes later get attacked again by someone else with a much higer level. I was attacked 32 times in one day until someone attacked activating the shield. The more trophies I would get, the higher the level that would attack. When I was attacked by someone level 142, and ended up taking a few hundred gold/elixir, I gave up and started focusing on Boom Beach. They make COC good for low level people and for the higher level people, but for mid-level people they make it impossible to play.

But bring bing to bing bing too.

The only apps i want to be better is insta, whatsapp and twitter..

Both are going universal. Twitter is already on the PC, they will probably release it on Mobile now that W10M is out. Instagram is coming.

Yep bt twitter i think brought its app to pc before official release.. Why not the same for mobile

Because Mobile is not officially released, some companies are like that, they would rather wait for the official thing instead of getting a bunch of bad rating and coments from phones that only have a preview.

Hope they bring.. The current twitter app sucks

The first devices with win10 are out there. We have an RTM version on our phones too. So the preview phase can be considered over. It is time to deploy those apps if they have any :)

Only thing I want from WhatsApp is to remove 5mb limit for txt document that backs up chat history via email. I have history since March 2014, but WA doesn't save that much

Those douchebags will never bring it to WP.. The CEO is a jerk

@Eas195:
He nailed Evan Spiegel?
(Ugly pictures in my head now.)

Actually sometime back they anounced on twitter that they plan on making snapchat app for windows phones and also rudy hyun twitted that it is comming in 2016 :)

Yea, even if MS made it so that SnapChat only has to push one button to make the conversion happen and submitted to the Windows App Store, they probably won't do it. It's that thing where where you screw over another guy and tell it's not personal and it's just business, except with SnapChat it's the opposite. All personal. He mad at a company.

Actually Rudy Huyn hinted its coming in 2016. Check his twitter.

I dont know and I dont know why Wcentral didnt talked about it. Maybe not to give false hopes.

There was already, then snapchat pulled it down.

He's talking about an official app.

No, he hinted that he wasn't going to try to talk to SnapChat until "maybe next year." Why do people take things so out of context?

That's all well and good. The only thing that's lacking though are vast majority of games. That, and tweaks to current apps like WA, twitter and insta. But anyway a good start.

So what you're saying is, is that you can't see a way that this tool could be used to port games? (news flash...its already been done...)

I think he's saying he hopes they start porting more games.

Games, Banking tools, Apps for fitness devices like Jawbones, Native support for smartbulbs like Philips Hue. There is a lot missing from the store. A real shame.

They don't need games to gain marketshare. Kids are concerned with games and they are so image concious that they will only consider iphone because that is what their friends have. Microsoft needs to worry about adults. Adults want the social media apps, bank apps, and apps that control household devices and possibly their connected cars. You get those things in the store and you can get the enterprise and adult consumer market to consider windows phones.

Market and Trading apps need to come to the Windows Store asap. I had to buy an Android phone just to keep track of my Scottrade account on the go.

We should demand adequately developed web apps; for most uses, they'd get the job done 95% of the time and reduce the need for app stores.

+925. I would give anything for forex platform. Considering buying android as second phone just for this.

In the end, developers still have no incentive to develop on the windows platform. Second, what good is a port if it is a crappy port and a port that does not follow he Windows Design Guidelines. It is a nice try, but ultimately, I see this going nowhere. Microsoft has a chicken and egg problem, they cannot have a mobile platform without apps, and they do not have a big enough platform to attract developers to create applications for the mobile platform. Finally, this did not work for OS/2 so well, why will it work now?

What windows design guideline? W10 now follows the same design that android and ios has.. 'HAMBURGER'

Your first point isn't 100%. A smaller market is a lot easier to be seen in. It might not be an incentive for larger companies, but start ups would do well. Also, Universal apps is not just a mobile platform now, so don't forget that.

It's still yet to be proven that Windows 10 desktop/laptop users ever use, or even launch, Modern apps outside of the core Microsoft applications like Mail, Calendar, etc. Xbox users? I can't think of a single instance why anybody on an Xbox would use any third party Modern app like a browser, or Uber or Yelp or Instagram, when most folks have their iPhones or Androids nearby; probably the Netflix app or other streaming media service, but outside of that....?

So your first statement is hyperbolic and stupid, but I'll humor it. There are multiple apps that are certainly used by PC users. I myself use quite a few outside of the MS ones like Cozy, Netflix, and Enpass. I don't know why you bring up Xbox users, no one else did, but you're forgetting that apps on Xbox are very widely used. Pandora, Amazon, Netflix, the list goes on. Plus, there's no reason why a person wouldn't use their Xbox for things like ordering pizza (already done by users on the 360) You're thinking in an incredibly closed minded fashion, or are purposfully being obtuse.

Wow, an OS/2 reference, that ages you (and me :) )

I remember the ads, never saw one in the wild. And neither did many others I guess =P

I actually ran OS/2 on a dual-boot machine. Had to have DOS and Windows to be productive, but OS/2 had the best solitaire game at the time. ;)

That's the whole point of Universal Apps, they can develop for the hundreds of millions of users that will have Windows 10 on their PC and create a version for mobile with just a few tweaks. Many Windows PC and Mobile users would be thankful to have some ported apps from iOS and would likely pay for them, even if they don't follow Windows Design Guidelines.

There is incentive. The market share is low, but there's still 50,000,000+ people using WP/W10M. That's 50,000,000 potential customers.

Given how easy they have made it, maybe this really will fix the app gap. Devs may not care about windows phone at all but they should care about windows 10. And like Satya said, that's how they will get apps for windows phone.

Very cool. I hope this takes off

Grab taxi, snapchat and here maps for beginning would be good. Edit: Start to get sick of that lack of apps what all my friends using. Im the last frontier of wm on my friendhood, ill wait for spring and then decide. Got a 20y history with windows, maby it's time to chance finally.really.

I wonder if a 'blackmart' for windows will appear, if apps are missing and this is open source. Dangerous for devs if not watched closely.

Keep an eye on XDA... (bing it), if a hack was to come up, it would show up there... I am sure if it can be opened up, there will be a way, or a script with some tools installed to convert a iOS file to a WP file...then side load it... Only thing with a true black mart is banking type apps I would not want to use and that is one thing I am really missing :(

This isn't the same as Project Astoria where Android apps could be side-loaded. iOS apps have to be recompiled from the base source code. Getting the iOS file is one thing, but you need the original source code to convert it to Windows 10. Whereas Project Astoria was a worry for many developers because of the possibility of side-loading, this one isn't because there is no side-loading and it keeps all the power with the original developer.

I've sent this link to a couple of devs, already. I hope others will do the same. When I write companies or developers, many say that I'm the only one they've ever heard from so they think there is no demand.

Never mind if i clearly say there is no demand. I myself have experienced this for last 3 years. Jump as early as possible to some other platform before you get brainwashed by another set of windows central articles quoting the return of windows

Or maybe let him make up his own mind on what he likes? Having a personal preference doesn't make one brainwashed. Don't be so rude.

Dude, we get it. Move on if you're over it...you just appear to be crazy now.

Yeah. call it crazy now. Probably experience is the best medicine at times.

Or maybe, gasp, what some people like and care about in a phone is different from you. Seriously, what is it with people lately who leave Windows Phone and dog the people for whom it still works? I love the part where you try to go all wise and sage-like with "experience is the best medicine", clearly the experience of others differs from yours.

You need meds other than "experience" for your brand of"crazy" /S

Exactly what needs to be done. After the ShiftWear article last week, I contacted them about they're apps for the shoes. They wrote back to say they'll be supporting windows and they're going to be updating the website to let others know.

Nothing worked till now and nothing looks like it will work for windows OS. By windows phone fanboy till yesterday

So you'll stop spamming now? Please.

A troll that doesn't burn the trees that cause bushfires?

It's not "yesterday" anymore so why are you still trolling here today"?!

Last time I heard islandwood is a year or two from being remotely useable

Last time was one year ago?

So its free, easy and (essentially) inexpensive to do - what's the harm in developers either releasing new games/apps across all three or at least taking already popular (read: high revenue) apps and just converting them to see how the market (current users and new users) react? If I was someone with a hit app I would do it out of sheer curiosity and quickly to avoid oversaturation that is big on iOS and Android.

People have actually developed a lot of crap about WP in their minds.. When you talk to them about it they laugh and say the OS sucks or its useless.. Those goons judge WP before even trying the OS..

You've got that wrong. Developers don't care whether or not an OS "sucks," they just want to make money. If they check out the current monetization of Windows apps and find out that developers aren't making any money, they won't bother.

What's next ? will Microsoft hire 10,000 employees to sit and port all apps from ios to windows phone ? Then there will be another news on 10000 layoffs by Microsoft soon as well as writing of the acquisition of all ios apps ?

They have to keep a few so the apps stay updated

There's a valid point in it.

Are u mad??do u think it will happen...microsoft will never think about it because of copyrights(use ur common sense man)

Use your common sense and tell me why in the world would some company or app developer sit and port the app to an OS with 3 % market share

It was done for OSX, so yeah. iOS still a paltry 13%.

Your reasoning is flawed because you keep thinking in terms of mobile and only mobile. Universal apps are universal apps are universal apps. It's desktop, Xbox, Windows Phone, Hololens and whatever other platform Microsoft decides to being to the table. Windows 10 is at 9% market share currently after four months and growing, the audience for universal apps is already growing at an excellent place.

I don't want to be negative, but the Windows store for phone has more support from devs than the desktop. Developers don't seem to be biting even when considering benefits of universal apps. Maybe it's due to the desktop browsers providing good enough or a better experience. For example, I pinned Facebook using IE (Edge cant do this) and the Facebook App to the task bar of my parents' computer. They like the IE shortcut because the app takes 15 sec to start and load content while IE opens up in 3 sec. Even worst, there's no ad blocking in the app.

I both agree and disagree. I know a lot of people still use the browser for things but I also think this is going to shift as time goes by. There are already websites that have lost revenue because more and more people are going through apps instead of visiting directly. Apps on the desktop are growing on me because they are easy to find, I don't have fifty different things that try to install when getting a new program (almost every single piece of freeware comes with extra junk these days or tries to install and set Chrome as my browser), and 2-in-1 computers are growing and thus the need for apps that are more touch-friendly. We aren't there yet, but I definitely believe that it's going to grow because we now have a generation of people who are growing up with idea of pulling their programs from a centralized store in whatever OS they happen to be using.

Until desktop users stop using their browsers and switch to apps, things are going to be rough.

The real-world use of universal apps is just starting. Windows 10 on phones isn't even a month old. Support for universal apps will come and is already starting.

WP, Surface, PC and Xbox make up the lions share..

So, in your analysis...ANY company that has already developed apps for Windows is doing bad business? My bank (USAA) is dumb? MyFitnessPal is lacking common sense? Just because you're butt hurt for some reason, doesn't mean that others who like this platform or support this platform lack common sense. Oh, the apps I mentioned above were made from scratch, so they're even dumber than those who will port them, right?

Really hope English is like your 3rd or 4th language.

You're still trolling here?!! Didn't you say you already left Windows phone yesterday?!!

What about MS itself porting over to Windows 10 M the IOS apps they have bought like the sunrise calendar etc?

Wasn't the plan to incorporate elements from Sunrise and Acompli into Outlook mail and calender?

It was. Acompli is going to be discontinued, if it isnt already, for outlook. :) Sunrise might be the same story. I wonder what Wonderlist is going to do...

For a second, I thought you were being off-topic and declaring that the Waze app was updated! :) Now I see that you are hoping that Google will see the light and use this to port an updated version from the iOS app. Unfortunately, I'm not optimistic that Google will do this.

Every little helps. But I am happy with the apps availability in windows just make them all as functional as iOS. Sent a Windows phone to my aunt, and she is upset for not being to do video calling in viber and her prayer apps after giving alarm never stops , it has to stopped manually. Seeing her upset, I am kind of embarrassed. I like and will be using windows phone but will not recommend or give as gift to anyone. Windows has still app problem, please do as much as possible make them fully functional

How upset was she that you're embarassed?

Don't forget that one app across mobile(phone and tablet), pc, and Xbox. All those included = hella lot.;-)

Pushing Islandwood should be somewhere near the top of their list. Everyone panicked when they put Astoria on hold but technically they really only need one or the other to make significant strides in closing the app gap, asost companies mobile offerings include Android AND iOS apps. If they can make it as painless as possible for iOS devs to create Windows apps and really get the word out that things have changed for the better it could be a game changer. I'm going to use my girl's Macbook to try it out soon and the fact that MS is still saying Islandwood out loud has me a little excited to give it a go.

I wish people would understand that universal Apps on windows 10 are apps on Xbox, PC, Tablet and phone. With the uptake of windows 10 on desktop it can only be a matter of time, I know diehard Mac users who are impressed with windows 10, not sure if the have just forgotten to take their meds but I have only heard positive things about windows 10.

Project ???? , hopefully this should bring home the bacon.

Hey devs, Port any iOS app for demonstration. ;)

That's what I call good news

If this happens windows will rule the world

so when can I sideload iOS apps to Windows Phone ? I think this would be almost the holy grail for people who desire apps but, love Windows Phone

You can't.This is a tool to port an iOS app to a native Windows app.

Windows 10 mobile will not be successful at all. No matter how satisfied the few are with the beta apps, half baked apps, tragic games and websites if you do not have the top apps and games on your phone its just a pretty device in your pocket. People want a choice of apps and games that they prefer and whatever said apps/games they want is a personally choice and windows 10 will never offer what the masses want.

BTW, with Astoria officially canned can Microsoft get rid of code in win 10 mobile Edge that makes every place with android app, prompt me to download their app?

Maybe they should have Edge prompt to send the developer a link to the Islandwood Project. :)

Maybe the key to getting these apps isn't via selling devs on Windows Phone- maybe it's through Windows 10. More than 110 million devices are running W10 right now, and most of those are computers, many of which have touchscreens. Maybe you sell developers on those 110 million people with an added incentive from Microsoft to make the app universal (increased promotion on the Windows Store, minimum payouts, etc.)

Still waiting for the good apps that Android and ios has

Yes we think of windows 10 Mobile and windows 10 but frankly this is only for now...the devices we are using now will look like a cassette player in a surprisingly short time. Universal apps independent of what device I have in my hand is visionary and adds up a lot more than apples separated vision (remember pdas and phones). Win 10 only just started (5months!!!) ...early version on xbox ...and not out on phones except insider program and new phones (and that only weeks). MS are doing cool....it's a big deal that will take time.

I think if CoC, Instagram (Official), and Snapchat comes to W10M, there will be a large adoption of W10M.

I agree. I think CoC and Instagram have a good shot. Snapchat doesnt I dont think... =/

MS could offer Money to those devs.

ShapChat wouldn't do it...even for money.

C'mon people make it happen, close that gap!

I'm not a huge app guy. I don't need but want Snapchat just cuz I'm jealous of my friends. But apps aren't a selling point for me. I love Windows Phone and will always stick with it. So even if all this fails, I will stay with Windows Phone.

Microsoft's Windows 10 is a success. it has got 10 percent market share very quickly. Folks all Desktop, Laptop, Ultrabooks, and Tablets that run Windows 10 have an Apps store. Windows 10 is not like Windows smartphones which have a low market share. Developers would be nuts to ignor the fact that Windows will be hundreds of Millions of devices giving Developers hundreds of millions of chances to sell their apps and make some money. The nice thing for a developer is that a developer can make "ONE" App called a Universal app and it will run on most Windows 10 computer devices those developers who have made apps for apple should get involved in porting their apps to Windows 10 devices and make some extra money

Astoria was cancelled because was an risk to Microsoft since even I'm a Lumia 830 could get installed Android lollipop thanks to Astoria that is why cancelled, were too risky to Microsoft if people thanks to the Astoria project made by the same Microsoft get an Lumia do the process and get Android installed and forget windows 10 that is why was cancelled unlike IOS and islandwood that is not possible install IOS because are closed OS and not under license Gpl like Android besides that IOS isn't compatible with the internals components of the Lumia phones

Here the link http://www.windowsnews.in/2015/09/how-to-run-android-502-in-lumia-830-ha...

the only way APP GAP can finish is by getting GOOGLE Apps on Universal Windows Platform!

There is no such thing as "only". That's what YOU want. If this were true, then Windows would just shut the doors because Google has shown ZERO indication that they would ever support Windows mobile/universal. They want Windows on mobile to fail.