Microsoft Edge beta for Android updated with ability to sync favorites with the new Edge on PC
If you're testing the new Microsoft Edge on PC and want to sync your favorites to the mobile app, you can finally do that.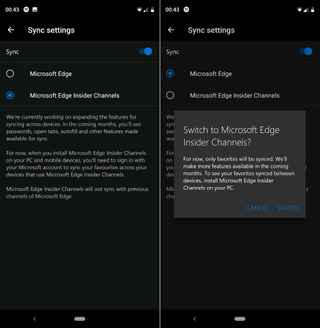 Beta testers of the Microsoft Edge app on Android (opens in new tab) can now choose to sync their favorites with the new Chromium-powered version of Edge on desktop. Right now, the new Chromium version of Edge has only been able to sync favorites across PCs, but now Insiders can sync those same favorites to the mobile app too.
By default, the mobile version of Edge will continue to sync with the old UWP version of Edge on desktop, but you can switch to the "insider channels" which will enable sync with the new Chromium Edge instead. However, doing this will mean the mobile app can no longer sync things like passwords, as that sync functionality is not supported by the new desktop Edge browser just yet.
Once enabled, your favorites on mobile will be placed into a "mobile favorites" folder that can be viewed on desktop, and all your favorites made on desktop are viewable on the mobile app too. Microsoft says that things like tab syncing will be coming soon as well, which should make picking up browsing activities across devices super easy.
The new Microsoft Edge on PC has launched in preview to much appraise, with the new browser being a huge improvement over the old UWP version of Edge. You can try it out now in canary and development channels, with beta and stable releases coming later this year.
Thanks for the tip, Thomas Jordan!
Windows Central Newsletter
Get the best of Windows Central in in your inbox, every day!
Zac Bowden is a Senior Editor at Windows Central. Bringing you exclusive coverage into the world of Windows on PCs, tablets, phones, and more. Also an avid collector of rare Microsoft prototype devices! Keep in touch on Twitter: @zacbowden.
Neither did I, you have to click on your account under "Accounts". Works flawlessly.

Thanks for the info. It was not intuitive.

I'm on Android Edge beta (42.0.22.3367) and even tapping my account under Settings > Accounts still doesn't display the menu in the screenshot. So how do you get it?

I'm not seeing it either. I'm thinking (though I'm on Edge Beta for Android) I haven't got the latest update, which is curious. My Edge Beta Android is 42.0.22.3367 (Updated Mar 29, 2019). That's got to be older than the update duscussed in this article. Of course, I'm on Edge Chromium on my LapTop (and it's working great). Anybody have any ideas how I can fix this?

Nothing showing up on mine either. I even went and got 42.0.22.3368 from APKMirror. Perhaps it's region locked at the moment?

I'll start using Edge on Android only after Microsoft remove the lower navigation bar. I don't need one bar at the top and one at the bottom. Please give me more content space!

I'd rather they remove the top navigation bar, my hand is at the bottom of the screen, not the top.

They should just add an option that allows you to choose..... Simple enough..

Why bother with new Edge Zac? Just go straight to Chrome before Nadella kills off new Edge. Saves time and grief.

I agree. It is hard to believe Microsoft is committed to Edge. Now they are even asking us if we want classic edge features in new edge? Really? They think stripping edge of features that make it edge will make people use it more?

So far, Nadella only killed Ballmer's projects (as a lead programmer who can stuff a game engine's source code in my brain, some of Ballmer's projects e.g. WinPhone, made no logical sense tbh. WCOS make sense. Chromium Edge make sense). It's just a rendering engine... Edge (+services) is still (in) Edge.
Why bother with Chrome, if
1) they both runs the same,
2) they both use the same extension,
3) you can have 1 lesser background service,
4) no more bloats like Doctor Link or Google's own adBlock,
5) no need to waste time to go fetch the installer,
6) no need to waste disk space to install duplicate functionality, For dev and enterprises, they run the same, which is a good thing.
For Edge team, no more cat-and-mouse game, which is a good thing too. Plus... why bother with Google?
They've killed so many services and products too. Why bother with Sony?
They've killed so many products too. Why bother with Apple?
Sure, Mac and iOS are still around, but supports do get drop.
Mac for OEM / enthusiast is dead. Some beloved iOS line is gone. Apple doesn't have IOT, AI, servers, undersea cables and other infras.
Future? The only 2 products Apple has is Mac (niche) and iOS and things are slowing down. There's no way OEMs can stuff an iOS in their fridge, car, cashier, vending machine, drone, surveillance, water meter, etc. There's no driver update in iOS, OEMs will have to wait in line, asking Apple to cook'em special ROMs to support their HW and what if HW component supplier went bankrupt or new batch come in with different specs? 4 more ROMs?

Hey guys can you help me? I can not sync to work between Edge on Android and PC (normal one, not that chromium thing :P) I did everythin but Edge on Android is not syncing favourites whatever I do 😭

Question is, when you send a page to PC, will it now send it to the new Edge? Hopefully.

This must be A/B testing, because I don't see it even on the latest Beta build.

But why Windows Central is using my motion or light sensor.
https://1drv.ms/u/s!Ai72nmlZu0kBiLwO0vqSY2oCffEHSw
Windows Central Newsletter
Thank you for signing up to Windows Central. You will receive a verification email shortly.
There was a problem. Please refresh the page and try again.