Goodbye, Windows RT as Microsoft halts production of the Surface 2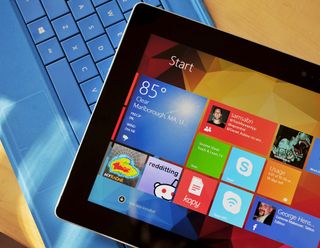 The Surface Pro 3 is arguably doing well. In fact, Microsoft posted $1.1 billion in revenue from their Surface line, which is a 24% increase over the previous quarter. Although that number by comparison is not staggering, it does demonstrate that the Surface, as a product line, has some interest.
Windows RT and the Surface 2, though, are not fairing so well. Microsoft today confirmed with Business Insider that the laptop-esque device is no longer being manufactured, although you can still pick one up from Microsoft Stores and retailers while supplies last.
Murmurings of such a cancellation started back in October when ZDNet's Mary Jo Foley reported that Microsoft was finished with ARM-based Surface tablets.
The news follows last week's presentation by Microsoft on Windows 10 and the future of that OS. Although the operating system was briefly discussed for phone, when it came to RT devices it had to wait until the press Q&A. During that time, Microsoft did confirm that current RT devices would see some type of update, but not necessarily Windows 10.
In other words, this sounds like 'Windows Phone 7.8' all over.
Never took off
Windows RT has had nothing but a rocky start since it launched. Announced with the first Surface Series – Surface Pro and Surface RT – the hybrid device created confusion amongst consumers, and the branding was always poor. The problem arises from the OS looking like Windows 8, including the Desktop, but being unable to run proper x86 or x64 applications like a "real" PC.
Although it was cheaper compared to Windows 8 PCs, soon after Microsoft released 'Windows 8.1 with Bing' for OEMs, and prices fell through the floor. By making "real" Windows cheaper, Microsoft essentially cannibalized their Windows RT message.
Fast forward to late 2014, and HP was selling an admirable 11-inch laptop for less than $200 with the HP Stream 11. By comparison, the Surface 2 started at $449 but goes up to over $600 with 64 GB of storage and AT&T LTE. Granted, the Surface 2 is a better-built machine – and one of my personal favorites – but it never quite resonated with consumers.
Once OEMs like Asus and Dell began pulling support for Windows RT, including HTC, who cancelled theirs even before launching, the Windows RT market was very lonely. Only Nokia's Lumia 2520 tablet came to market recently, and although it was admirable, it still was an odd duckling. Microsoft cancelled the Surface Mini and even Nokia's plans for an 8-inch tablet reportedly fizzled.
One Message, One OS
Although Windows RT and the Surface 2 had its fans, finally putting them out to pasture is the right thing to do. Microsoft's message of "one OS" is undercut by the Windows RT framework and has held back adoption.
Starting with Windows 10, devices with 8-inch displays and larger will see full Windows with the traditional Desktop. Those devices with smaller displays, including phones, phablets and tiny tablets, will not (although current Intel Atom based devices can all upgrade to full Windows 10).
It is a shame to see another Microsoft product line fade away as a failed experiment, but Microsoft appears to be setting the right course for success with Windows 10. With a clean slate and a less confusing message, Microsoft still can right this ship.
Source: Business Insider
Daniel Rubino is the Executive Editor of Windows Central, head reviewer, podcast co-host, and analyst. He has been covering Microsoft here since 2007, back when this site was called WMExperts (and later Windows Phone Central). His interests include Windows, Microsoft Surface, laptops, next-gen computing, and arguing with people on the internet.
But seriously though... Windows RT CAN survive and even be well received! https://windows.uservoice.com/forums/265757-windows-feature-suggestions/... This could be essential for the "Surface phone", that could serve as a full PC while docked to an external monitor, KB and mouse, so that battery life while idling isn't an issue.

Still trying to figure out where the idea that RT got significantly better battery life than x86 Windows came from :/ the only difference was an ARM cpu vs ivy bridge/haswell, and Broadwell Core-M and Atom have both closed that avenue of "advantage" for Windows. The only advantage of RT really is a Chrome-OS like protection from viruses, but that's not nearly enough of an advantage to warrant any kind of real support.

iirc one of the point of RT was to force Intel's hand to make energy competitive products

txDrum: Are you telling me that RT gives users the same battery life as full Windows? I hope you aren't being serious... Are you sure that if you held two Intel based PCs with identical hardware, one with full Windows and one with RT, they would have comparable battery life?? EDIT: Also, why do I have two downvotes in my previous comment? :D WTH?

I just want to say thanks to you, anonymous upvoters <3 :) people usually take this stuff for granted...

I'd hardly state 'Chrome-os' seeing as the Acorn Electron, all those years ago, was virus proof

I can't believe they were still making it.. That's the big surprise... Really❗

Oh, and forgot to add,,,, SMDH.

Please write full words. Your typing is irritating.

FU.. Is that better❓
.........
If not then maybe you should learn to ignore users who make irritating comments... Regardless, don't bother me with your emotional female BS..... I'm not here to cater to your D-A$$...... SMDHID.

Wow....you had my vote with the FU until I read more of your comments and saw how truly rude and immature you are. No need for it. Posted via Surface Pro 3 or Note 3

I can't believe you're still talking

Can't believe, your moms still sending you breast milk in the mail.

Yes but it's milk from your mom's breasts. What little dribbles are left after your weaning.

Hope you like cheese in a can...

DMC missed the sarcasm...

Or did you miss his sarcasm❓❓❓ lol.

This is really bad decision .. If MS can't give upgrade to Windows10 then who can give, then why they released product, then why they are selling still. We can raise our voice here... https://windows.uservoice.com/forums/265757-windows-feature-suggestions/suggestions/7012012-build-an-upgrade-for-windows-rt Who got SurfaceRT/2 those are truly real believers and followers of MS, coz they went against to market and bought those products.


Doesn't matter really. I build all my applications in Silverlight

You mean Silverlight which never actually ran on Surface RT line?

It does but also runs on all other Windows devices.

WinRT is still alive and well and will be the primary dev platform for Windows 10. Windows RT on the other hand is being discontinued.

Of course, it isn't what I was referring to.

Then how is it relevant? If anything building apps in Silverlight is going to be deprecated, but how is that related to the Surface RT line?

Because its the opposite or Runtime applications in which I dont build in whereas RT apps run better on Surface RT or other RT based windows devices.

Well technically RT apps run just the same on x86/x64 as they do on RT devices, there's no difference. Windows RT just refers to the fact that it *only* runs RT apps. Unfortunately Silverlight apps have an uncertain future on Windows 10; time will tell if they continue to run or be available as a build platform in the phone version of W10.

Well if they didcontinue it, they better make a simple option to convert over to Runtime. Silverlight honestly makes me mad sometimes because it can do certain things like change default font family or use the NavigateUri function for the HyperlinkButton. Kinda lame...

Awful product Surface RT. Best news ever. Now that I have a Dell Venue 8 Pro I'm about to put my Surface RT up for sale on Ebay.

How's it awful, I've had mine for a year and use it every day

Good for you mate, but my experience is it's SLOW and SLOW. It's SLOW to boot up.
It's SLOW to shutdown.
It's SLOW to update.
its SLOW to surf the web. And compared to my DELL Venue 8 Pro it's SLOW.
Just my experiences.

Odd. My Surface RT (1) is fast and I use it everyday. I really like it but I do get that it confused a lot of people out there.

I guess we have different ideas of fast.

Sooooo, you're admitting to begin one of the suckers..... Lol.

Yeah, I think that initial confusion is largely to blame for poor Windows 8 adoption.. People just got confused & left both win 8 & RT

Ok, I love my Surface RT, but you have to admit that the thing is not fast. Webpages take forever to load and I can only open a few tabs at a time without making the browser freeze and sometimes crash.

Finally Someone with some morals. Thanks for admitting this.

The Dell is in the same generation as the Surface 2. And the Surface 2 is anything but slow.

The original RT sports a Tegra 3, same as was used in the original Nexus 7. That chipset is 'really old' in processor years. MS still supports the original RT which is still a decent machine for it's original purpose. Comparing it to far more powerful Intel atom tablets, the original RT stands no chance at all. Those atom tablets are seriously speedy machines!

it wasnt awful, just misunderstood. handled one myself for a month, it was a fine piece of hardware and software, it was just expectations and the full Windows tablets that soon appeared,

Sadly the choice with going with an ill powered processor is what most people saw I think they should've used snapdragon from the beginning

The NVIDIA tegras are very powerful in the arm world.

Tegra 3 was not the best choice at the time the original RT came out. Yes Tegra 4 and subsequent nvidia chips are very powerful ARM chips but the RT came late to the party with a weak chip.

Definitely not awful. Certainly not a gaming rig, but I've never had any issues at all. It's relatively fast and streams videos like a champ. Perfect for propping up against a treadmill and watching Netflix while I run.

What do you mean awful? i have had mine since the beginning and use it everyday and still love it. Your very free with words. One mans meat is another mans poison.

I respectfully disagree. As an alternative to competing offering in other ecosystems I loved mine. Of course, I later bought a Surface 3 Pro which was even more awesome. Still, terrible marketing/strategy notwithstanding, it was a fun productive lil tablet. As for the article, I'm surprised they didn't stop manufacturing them months and months ago. Basically with introduction of Surface 3 in order to deplete stock and focus on its successor.

I love my Surface RT and the Surface 2 made it even better. I use it daily. The original RT is a little slow now, but sstill very functional. The Surface2 is great.

Surface RT passed on in family and still great for videos, music, surfing the web etc. And has free Office 2013. Really solid quality too. I bought the Surface 2 LTE and Surface Pro 3, both brilliant, top quality devices. Long live RT.

Just sold my Surface RT for $100 cash to a co-worker.
Winning!

Good idea! Sure you'll get a lot for a now discontinued device!

Surface RT was indeed a bit slow, but the Surface 2 was a fantastic device. Still using and loving it.

I'll buy one for $50 take it or fuck it.

Yeah...I saw this one coming. RT was very efficient...but a waste of time. Unifying and focusing on one OS across multiple devices just makes sense.

Windows rt kind of lives on in the form of tablet mode for devices with screen sizes smaller than 8"

The writing was on the wall for a very long time, I did mention in the forums long time back that RT would go Windows 7.8 way.

The sarcasm is strong with this one :)

I hope they make a board like Surface 2 bit with the new Intel atom CPUs. Some great cameras would be cool too.

a surface 3 (non-pro) running on an atom sounds interesting

I'd prefer an AMD powered Surface.

So you can use it as a heater during cold nights?

If it ran their arm chip I doubt it would be as bad

Not me, my Desktop is AMD and some Windows app won't even download much less play.
Every Desktop and Tablet from now on is gonna be running Intel Chips.

Must be your OS or drivers have issues. I.e. it's not the CPU. My AMD desktop has zero issues with any software.

I'm fairly sure its not because of the AMD processor. I've built a ton of rigs both AMD and Intel and I've never seen nor heard of this problem.

+1. Despite the heat concerns, I definitely wouldn't mind a spec'd-down version of the Surface Pro 3 if it means cost savings.

Since Beema is as fast as i3U and Kaveri is as fast as i5/i7U, with better iGPUs, I'd love AMD to make a Surface. It would also have the same battery life and heat dissipation, since it's in the same TPD range. And since it would be AMD, yeah, the Surface would probably be a bit cheaper.

I still really like mine. I feel like if MS would have had a better strategy, including no desktop and a better name, it could've been something.

I agree with you but the name surface is really good in my opinión

i agree. I had the Surface RT and 2 and really enjoyed usung them. They did more or less everyting i needed a tablet and laptop for at home and for the advridge Joe user it was a perfect device. I now have a pro 3 and im even more impressed by the product but its sad to see RT go as it was a good mobile OS. It will be intresting to see what the OEM's come up with now RT is being dropped.

How does a Surface RT tablet do more than a comparable Android tablet.

It has a desktop-class browser, which is fantastic, but it's lacking in apps.

When I bought mine, it ran full Office and Android didn't. Can't say that anymore thouigh. But I still love it because it does everything my Surface Pro 2 does, in tablet mode, and lasts for hours. Good for things like reading Neowin!

If you don't use a lot of apps(which I don't) it is far better than any android tablet i have used including a Nexus 9 The Surface RT was slow but with the right setting it was quicker than android and with the same settings on my Surface 2 it was way quicker than anything that android could do. For anyone with a RT just look at the Surface 2 thread for the right settings on your RT device. I have a Pro 3 now and can't see any need for another computer let alone another tablet.

RT's failure has everything to do with lack of apps, this far into Windows 8 and the available apps are pretty pathetic. Sure there are some good games and apps but it's worse than Windows Phone overall. Now with Windows 10 it would be perfect scenario for RT since they can finally dump the desktop and remove the supposed confusion. It's unfortunate, my Surface RT is a great device, I have an SP3 as well but my RT is my goto device which I use much more as a consumption device. I'll be keeping my eyes out for some reduced pricing for Surface RT or 2 and will pick up another for backup.

Love my Surface 2, just let down by Microsoft support. Lack of firmware updates, micro SD card takes a lot of power in connected standby. Lack of apps is the killer, the same as killer for windows phone. We will have to see what they do, but if we don't get Windows 10 mobile, I will be disappointed. Although if IE with flash is not included, I will need to stay on 8.1.

I'm surprised that of all the criticism Windows 8 gets, that apps isn't the main one. Hardly anyone wrote Metro Apps. That app store is really barren, which surprised me.

Excuse me?! RT has a full desktop browser with flash. Just use IE for Facebook, Instagram, flash games etc as on a normal PC, something which you cannot do on an iPad or Android tablet. That's like saying you'd prefer to run apps instead of using the browser on your desktop PC.

You can't use Instagram in a browser; similar to other recent mobile apps and services, it's limited to an app on a device. When you go to instagram.com, the page prompts one to download the app for iOS or Android. I could see Facebook moving that way too.

Like WP, its all about the apps. If the Windows store takes off and gets a lot of new modern apps, they could bring back RT and it would probably be a huge hit.

I agree, I think that all Windows 10 needed was to be able to provide a good mouse and keyboard experience while still providing the win 8.1 experience for tablets (minus having to go into desktop to change some settings... that def needed fixing) However I think they went too far the other direction and are taking away the tablet experience those of us have become used to. And if that's what they insist on they need to think a little harder about the UI. Example: Settings flying in from the right edge made sense if you had to swipe in from the left edge to show them. However now that you have to click the top left hamburger, shouldn't the settings fly in from the top?

Daniel, right or wrong, your one statment does sum up this fiasco... "this sounds like 'Windows Phone 7.8' all over."

why? still using windows 7.8 which rocks. much better and more stable than 8/8.1

It's similar in the way that 7.8, like Surface 2, will not receive any more updates.

Lol, have you even used 8/8.1? I have an L800 and an L930 right here and the 800 is waaay slower, lacking in features and even buggy at times...

If you really like 7.8 I would recommend switching to IOS. Less laggy but lacks features. I would never switch back to 7.8 or 8.0. The fact that the Windows phone team introduced something useless (to most people) like kids corner before the basic ability to close apps without spamming the back button still pisses me off to no end. I've been asking for that feature ever since 7.5 came out, and it took them until 8.1 to implement that.

Wasn't kids corner launched after the little x to close apps which came in gdr3? Unless you mean the swipe down thing which was introduced alongside kids corner not after.

My bad, the x to close apps was 8.0 gdr3, but I think kids corner was there from the launch of 8.0. I remember Joe talking about it at a big event.

Ok you're right about kids corner. My mistake. Confusing it with apps corner.

Kids corner was launched with windows phone 8.0 the little x didn't come til WP 8 gdr3

That feature was available in 8.0 GDR3 dude.

If Surface RT and Surface 2 came with Snapdragon SoC and not the Tegra SoC, then these would probably get Windows 10 for mobile.

Yup, and I'm now going to expect to see the "WP" treated similarly in the next few years.

What "next few years". Before the end of this year, "WP" will be gone. There will only be Windows 10 for different devices.

More dissatisfied customers for Microsoft!

Still had a longer life than my original iPad

As a Surface RT and Surface 2 owner, I am extremely satisfied.

This does not make your RT suddenly stop working does it??

And all of us who bought a Surface RT tablet are burned yet once again. It is getting to be a repeating pattern.

Please, which other tablet device is still getting updates 3 years after release? People should stop whining, expecting their tech to live forever just because its made by Microsoft.

Completely and totally untrue.

iPad 2: 2011 Most recent patch: 8.1.3 (releasd today)

RT will also continue getting patches for a long time as well. Its just not going to continue getting all of the latest features.

My point was more about a tablet getting updates after 3 years.

Not really, Microsoft said early on that the original Surface RT will be supported for 4 years or April 2017.
http://www.computerworld.com/article/2493401/tablets/microsoft-promises-...

Not really. You will get an OS update with some of Windows 10 elements, you can still run Store apps. I am not sure how you are getting "burned" per se? I'm not aware of anything in Windows 10/apps that will make the Surface useless in the near future.

Hope that update comes for Lumia2520 too, and not just the Surface.

Daniel, do you think that what MS means for "some Windows 10 features" is Windows 10 without the desktop? Surface RT and Surface Pro has similar power and memory has Windows Phone devices.

This is what I'm thinking. The "desktop" is only really useful for Office. But with the new Office Touch coming for 10, that won't be needed. They're making full windows 10 available for existing tablets that are "too small". Why not make the Small tablet version (phones-7") available for the RT based existing tablets.

Windows 10 is optimized for Qualcomm chips. Windows 10 is not optimized for any other ARM flavor. Qualcomm Snapdragon is the only chip that WP8.x supports, which is part of what's hurting adoption by other OEMs. If Windows on ARM was really as versitile as they claimed during WindowsRT launch, they'd support more variants of the architecture.

Getting burned because we can't get a newer ARM device like Surface 3. Remove the desktop with Windows 10, add Office Touch and quality modern apps and it is a great device. MS kept it this long then get so close to making it that much better and drop it.

There's a possibility that you won't be able to run win10 store apps on win RT unless they upgrade RT to be able to, which we don't know yet, and I highly doubt if. If not, in a year when supposedly more devs will build apps for win10, there's a huge chance they won't run on RT and that's being burnt, especially if you're like my bro who literally bought 2 Surface 2's last month.

Wow there's a lot of speculation in your comment, no wonder you're getting burnt.

Yep, I'm pretty disappointed. This RT version of 7.8 better include a lot of the 10 features or ill be quite irritated.

Once again, as a Surface RT owner I don't feel burned, shafted, screwed or any other iteration. I don't even consider the Surface RT a failure. It was a first gen device and a lot has been learnt since it's inception. It got other OEM Windows device makers off of their asses to create their own Windows tablet devices, expanding availablity and improving on first build quality. As such I don't see it as a failure at all. Hell, 30 years from now, I'll put my original Surface RT on eBay and make a bundle from collectors of old technology.

Once again, just because you don't feel slighted doesn't mean others can't. Feeling burned is a perfectly valid response when the device you purchased only a few months ago is being abandoned by its creator.

It isnt being abandoned. XP has been abandoned. Its just not getting all the features in the next update.

So you bought a 2 year old tablet two months ago and now you complain because there are new tablets. Enough said.

Saying that it's "being abandoned by its creator" is a lot of FUD because it will still get updated with more features within this year and after that, patches will still continue in the next few years.

Really I bought a Surface RT as a stop gap until the Surface Pro. And then I kept it when the Surface Pro's battery life was so anemic. The shocking thing though I found was how useful my SurfaceRT was. I took it on a business trip and was able to download a PDF, edit it in word and then copy it to a USB stick and run to the business service center and print off an updated flyer on the conference show room floor. You couldn't do that with an ipad. I was also able to use a USB 4g stick and connect to our Remote Workplace website and use Remote Desktop to move a file on my hard drive to the drop box. I've also used it for copying photos off of memory cards through a hub as well as a number of tasks that just weren't possible with my old Android tablet. I expected to keep it for a couple months, play with it then chuck it but it's *still* in my backpack kickin' it.

And once you get the new Touch Office apps you'll be dancing in that showroom lol Great examples of scenarios with your Surface btw :) these are the things Microsoft needs to advertise when Windows 10 comes out

Well, I don't care much for Windows 10. I love my Surface 2 with Windows 8.1

Yeah, what did RT stand for anyway? I hate random acronyms that don't mean anything. Like the article said, bad branding. On top of that it was obviously a "me too" product, and I hate those, too! Seems like MS is on the right path now with those recent revelations.

It stood for RunTime, reference to the fact that it only ran WinRT apps from the store.

I really wanted the surface LTE version, just didnt want the $600 pricetag

I got it...and have never regretted it. Fantastic device. LTE was a bonus.

They should replace the Surface 2 with an Atom based Surface Pro Posted via the Windows Central App for Android

I think this is a smart move going forward, but rough when looking backwards. I have some great hopes for Windows 10.

Can someone tell me the difference between the Surface line and the Surface Pro line? Is it just the obvious different in which Windows they run or what? Thanks!

Performance. RT to me is like a bigger phone. Pro line however is far more capable and just as powerful as many PC's.

As detailed in the article, Windows RT cannot run x86 or x64 desktop applications like a traditional PC.

Yeah, I read the article again and notcied that, don't know how I managed to miss it. Thanks anyway!

Surface and Surface 2 Ron on an ARM processor, while Surface Pro, 2, and 3 run on intel x86/64 processors. Surface\2 does not have the ability to run typical x86 applications even thought it has a desktop.

ARM based devices are generally more power efficient. My Lumia 2520 has very impressive battery life compared to my Surface 2 pro. Of course SP2 has a lot more horse power, but for the tasks I do with the 2520 is powerful enough.

This is understandable. As long as they give RT users a nice update.

I think they get the Windows 10 version that will run on phones but they will keep the desktop. No way Microsoft sends an update to users that completely removes the desktop, that is just screaming for bad reputation. Many users on their Surface go to the desktop to use things like file explorer and control panel and such.

I really liked the Surface RT. I had one for a while. Its a really nice device. I only ended up selling it because I needed monies quick. But I definitely enjoyed it. And if a Surface 2 comes at me for a good price, I'd definitely pick it up. But it makes sense for the RT OS to be axed. With standard x86 performing so well with battery life and stability. (Except for Dell. <edited by site> my Venue 8 has amazing build quality but STILL drops Wifi signal)

Another failed Ballmer strategy.

I am sure you don't understand the job of a CEO, if he does everything, why are presidents and developers and everyone around hired? stop being so clueless... if you say Ballmer was bad CEO, you only wish you had the billions he made MS get over years. but yeah are you the ones that would blame ballmer when Clippers lose too? because why we need coaches and players, Ballmer should do everything and he is and was the only one taking decisions /s again understand, there was a Windows President, do you think he got hired and paid to do nothing? no. he was the responsible and the hardware managers for why and how these surface didn't sell better, anyway if you see SP3 had a good quarter... so maybe you should understand and stop tryping fail comments bringing up the CEO who is not even CEO anymore. oh and yeah Nadella is not the reason SP3 had good quarter... just saying. and he is not the reason Windows 10 is shaping up this way, that's Terry Myerson job.

And so what? On a philosophical note, this is how civilization evolves - it is those who actually have guts to fail that end up winning. The rest are left criticizing from their keyboards...

Yikes... time to sell my 2520?

It is still a great device. In fact I just recently bought a new 2520 for 200€ to be my secondary tablet. No other tablet comes near with that price point really! Still hope there will be some level of support from Microsoft.

I still don't understand why it cant just get upgraded to full win10. Win10 will support arm devices right?

LOL. But yes! Would be nice.

Only W10 for phones and tablets smaller than 7" will support ARM. Do you really want an OS tailored for small screens in a 10" device like the Surface 2 or the Lumia 2520? It's like having Windows Phone on a laptop... Don't think it makes sense.

I wouldn't mind the option at all, its not like windows has trouble scaling to different screen sizes. Its not like win rt isn't basically a weird gimp version of WP anyway.

That's what I thought as well...

RT was not exactly the modern equivalent of Windows ME but it shared some of its DNA. But, for a few years to come, it'll make a great gift for re-gifters.

Actually Win RT's is the grandkid of Win NT. Windows NT which became Windows 2000, Windows XP and so on was designed to run on multiple CPUs. It was developed on the MIPS processor then ported to Intel, Alpha, and PowerPC. I used Win NT 4 on a DEC Alpha workstation. It had MS Office, Visual BASIC and a few other desktop apps. Microsoft also released the Microsoft Back Office (Exchange, SQL Server, etc.). Lack of Windows apps pretty much killed the non-Intel versions of Win NT and now it appears Microsoft's second attempt of having a non-Intel version of Windows is dying. I don't know what "RT" is suppose to mean but while some say "NT" stood for "New Technology" another story is "NT" was added to Windows to form "WNT" which is a one letter transformation of VMS, the OS developed by Dave Cutler at DEC and later led WNT development for Microsoft. Written on a Surface 2

The "NT" came from the code name for what became Windows NT (the "N10 project", which ran on Intel's N10 CPU, aka i860).

Mike, OK, that is a new story to me but I found a reference on-line that backs your statement. My company worked a large project that used the i860 processor and I was a Win NT beta tester but I never connected the two. I just inserted my Win NT Server 3.5 disk which has bits for Alpha, I365, and MIPS. I guess the i860 version never made it outside of MS. Wikipedia states Intel replaced the i860 with an ARM based implementation called XScale making Windows on ARM (RT) a direct descendant of the original Win NT. I guess it will only live on in Windows Phones but I read an article today suggesting Microsoft should switch its phones to Intel so it could be docked to a larger monitor and used as a PC-like device.

Actually, my comment wasn't meant to be that deep. My corollary was about its limited lifespan and limited value. But thanks for the stroll down memory lane. :)

It's only because people compared it to a PC not the iPad, which was the valid comparison. Eww, it doesn't run x86. No, really? Neither does an iPad - try running PhotoShop on it. I'm bitter because we love them here. I use the RT version WAY more frequently than my pro. And battery life! Well, hopefully 10 will include a replacement mode...

No doubt that is the better comparison, but it looked too much like full Windows. It was more confusion than anything and poor marketing. iPad does not get confused with OS X, so Apple's message is more consumer friendly. In fact, the big joke was the iPad was just a big iPhone, so the analogy was already set. Microsoft had the opposite with the Surface and Surface 2, which looked just like the PC versions. Microsoft sowed their own fate, here.

If they'd had a better app store and a lower price point, Surface 2 might have had a shot. If they had a fire sale now I'd actually consider it.

The fire sale has already come and gone. They had them down to $299 all through the Christmas season.

I agree 100% and love my Surface RT for doing Windows Desktop things (like Remote Desktop natively) I even loved having a command line. The problem really was that Surface RT was for WinRT apps. And the app ecosystem is still struggling to catch on. So it would be like an ipad without any ipad apps which isn't a great comparison either.

I always felt this was a red herring, for the clueless and dishonest iOS and Android fanbois. "WAHHH, it won't run x86 apps!" No shit, Sherlock. Neither will your Galaxy Tab, nor will iPads run Mac apps. What's the problem again? I love my Surface 2. It still is the best form factor out there with the Type Cover (I gave up trying to replicate the form and sold my Dell Venue Pro 8. I was tired of squinting too.) and not running x86 apps isn't a big deal for me. It's light and does 90% of what I need to do on a daily basis. When I travel, I take my Surface and leave the laptop at home. I've never regretted it. I don't buy the confusion angle. If you paid attention in the slightest, this distinction was clear.

I don't think it's a good policy to choose to follow the majority with the criticism against those who support the vision of the company with their money buying something as the Surface. I have two, an original Surface and a Surface 2. Love them. Now what Microsoft is telling me is that I made a mistake buying them. Now, I get the difficulties regarding software implementations, but that's all I will give you. People didn´t understand Windows RT? Are people really that stupid? "It runs Windows 8 Modern apps, but not desktop apps". Simple enough. The problem is that Microsoft themselves sabotaged RT as a part of their strategy, change of direction, whatever. But they could well have done something to have a live Windows 10 in ARM devices. Which they actually are! (?) Couldn't they, as they promised, use a common version for smartphones and tablets in the ARM Surfaces??? I'm really disappointed at this.

After this rant I have to ask: I'd anyone considering that the

How is Microsoft telling you that you made a mistake buying a Surface RT? Based on what you wrote, I assume you didnt expect ARM to last forever, did you? RT was an experiment and it led to better things. So it goes away---big deal. Many of you expect every single product to be the One-to-beat-all-Others. If that were the case, new and improved would happen so infrequently you'd all be complaining about the lag in advancement. Ironically, there will always be something new and there will always be complainers. Everyone loves their tech until new tech comes out and then they bitch the old tech is being abandoned.

I think the problem is they could offer to upgrade the surface to the version of windows for tablets below 8 inches, but they aren't. It would still be more of an iPad like device just with all the benefits of win10.

This. They always abandon the people who are loyal and support their new initiatives, while they reward the people who avoided Windows 8 by giving them Windows 10 for free... I spent my money on Windows 8 licenses for my old PCs. Apparently I should've acted like one of the crazy Windows 7 holdouts and I would've eventually gotten my upgrade for free.

Some people are seriously cheap. You'll be getting the upgrade free as well. Think about why you upgraded in the first place. Just last week I paid and upgraded my daughters laptop to W8 because she needs to run Autodesk on it for school, knowing that a few months from now I could update it for free. Frankly, I have no problem with that. Looking forward to W10.

It's not even about my money. It's the fact that they're rewarding everyone who complained about Windows 8 and refused to spend their money with Microsoft. But instead of throwing a bone to the people who stood by Microsoft and supported their (albeit, now failed) effort to bring Windows to ARM tablets by actually spending hundreds or thousands of dollars with them, they said nothing for months and now they're not even delivering a Windows 10 upgrade at any price. The sad part is that a huge portion of the work will be done anyway to make it work on Phone, but they still give us loyalists the finger by remaining coy every time they were asked, and now simply refusing to make an update to 10 available for RT tablets. It's just wrong. You don't screw over the people who supported you through it all, both the good and the bad, that way.

We are on Windows 8 and we are definitely getting Windows 10 for free. Those on Windows 7 are as much Microsoft users as we are. Please be glad that Microsoft is being generous by giving them the free upgrade just as we are. The outcome of that largesse is that the user base of Windows 10 will be much bigger than if only those on 8/8.1 will get it for free. The resulting benefit to all of us is that there will be greater interest from OEMs and developers therefore more and better devices and apps.

Feeling rather entitled today, aren't you? Microsoft owes you nothing. Your purchased a device that does what you wanted it to do. Microsoft has no obligation to forever support that device until the end of time. Technology changes, it moves forward.

Once again... I was a Microsoft Beta tester. They should find a way to make.right by the Surface RT people.

We don't know what we're getting, so they just might be.

No regrets. Have a S2 and 2520. They will continue to be useful until we decide to retire them. Nothing to see here.

That's the spirit! Just recently got a new 2520 and it is amazing for the 200€ I paid for it. It's the device I'll carry when travelling and I can keep SP2Pro at home. It will be the photo album to show pictures to relatives (excellent screen) or I can just Miracast everything onto big screen. Netflix etc work just fine. IE does what I expect it to do. Office should work just fine too with the MS Wedge mobile keyboard. There are even very good games for my kid to play with. However, I have to say that the Windows Central app needs to improve though! =)

I don't think this is a problem to the majority of Surface customers. Those on RT will be overdue or about to swap out RT for a Pro model, and get all the same apps as they had before, with all the added benefits. Microsoft may have suffered somewhat in the process, but SP3 wouldn't have been what it is without the experiment. Also to all of you not understandning (corporate) culture in the US: A failure can be a merit.

Not really. I have both a Surface Pro 3 and a Surface 2. I use the Pro for work and the Surface 2 for the more typical tablet use case. The Surface 2 does everything a tablet is supposed to do and then plus some.

You don't count.. you have both. I'm talking about those who might have been there since the start; people like me, who went to another country just to get my hands on one. I'm very happy with my SP3 now, as I haven't lost anything I had before!

If developers continue to develop apps for the Windows Store, wouldn't the Original Surface and Surface 2 be able to access the newer apps? I hope this is the case. This would be different from the Windows Phone 7.8 situation.

"If developers continue to develop apps for the Windows Store, wouldn't the Original Surface and Surface 2 be able to access the newer apps?"

That is what is expected.

Time will tell if the new W10-style universal apps will run on whatever RT devices get as an update. I would think app compatibly should be the minimum for a good customer experience.

Anyone want to buy my collectors item surface RT?

Surface Mini appears to be one of the worst fiascos ever for Microsoft. A supposedly ready to ship product that rottens before ever hitting any shelve. Still the right decision NOT to market that product, but the whole story around it is unheard-of.

Why ship another device that was more than likely doomed to failure. Seems like they needed Windows 10 to complete the package.

From what I've learned, the market analysis part is prior to the production part in every new product development. Anyway, I'm optimistic Satya will save us from such embarrassments in the future...

I bet the surface mini will come soon but with Intel Inside so it can full w10.

A bit disappointed but I guess it was time to move on. Intel seems to be getting their shit together in regards to processing power, battery life, etc. Should be an interesting few months to see what is in store.

They aren't manufacturing it anymore because they'll probably be releasing a new one...still ARM but will probably run the same OS as Windows Phone 10.

well then why can't they let us update to that version of Windows 10 for ARM?

My guess is that they're axing Win32 on ARM. So if you got Windows 10 for ARM it wouldn't have the desktop anymore. I would rather have Win10 Store app support with Win 8.1 + Win32/Desktop than Win10 without the desktop.

There isn't anything saying the RTs wont be updated, this is just that they aren't making the 2 anymore.
My guess will be the new device will have the three same Windows Key, Back and Search "buttons" on the bezel like the windows phones. Also it'll probably have the digitizer like the pro 3. But what will set it apart is its gonna run the Phones version of win10

Toldja tabs were a waste of money and useless

Yay! I love you so much Microsoft... Got my surface2 right before the price drop and now this...

Shit happens. I bought my original Xbox two months before the Xbox 360 launch. Whoa is me...not. Skipped XBox 360, had many enjoyable years with my original and now own a shiny new Xbox One.

Silly response. The Xbox upgrade path and future was quite clear. Before the win 10 event there was no indication from MS that the RT line was dead. In fact, the buzz was more about it being unified along with the other win 10 products as MS was still claiming to support the OS. Also, your rebuttal ignores the nature off apps/xbox games. Xbox games are will work for that system as they are complete units that don't require support. The Surface RT apps are at risk of slowly falling off. If Netflix decides to make backend changes I doubt that they will update the RT app.

When I bought my xBox I wasnt aware of the 360 coming. Like I said, that's my fault for not researching properly, not Microsofts. At what point does a company need to give notice that a product will no longer be sold? 1 year before they stop production? Get real. Besides, Surface RT will still be supported, it just wont be sold anymore.

Time to get rid of my Surface RT first generation and upgrade to a Surface Pro 2.

SP2 pro is a good investment. Much better than the SP3 imho. Battery life will not be that great as with RT, but then there is the power if you need it.

Go straight to SP3. Skip the SP2. It was a huge improvement over the SP1 but it's nothing compared to the SP3.

If I had SP3 money, I would.

Just save a little longer. I promise you the SP3 is far superior to the SP2. I have the SP1, the SP2, and the SP3, and the SP3 is my goto device now.

RT was a panic move by Microsoft to try and catch up with iPad sales. Had they waited a year or so for the low power Intel Atom processors, they would have avoided this ebarrassment.

It worked decently in one respect which is that it created a market for people who NEEDED WinRT Store applications. The VLC on WinRT Kickstarter was pretty much the result of people buying a SurfaceRT and wanting to play MKVs. Every single sale of a SurfaceRT was directly tied to demand increasing by 1 person for Store Apps. Every sale of Windows 8.1 didn't necessarily mean they would want a metro app. Thankfully Windows 10 will fix this since they can run on the desktop and it's free. So the stimulus isn't as needed as it once was.

In a way, we can also argue that the RT move forced intel to accelerate atom advancement. Once they realized that MS was willing to support ARM, it was obvious they had to step up their game. Overall, RT might not have been 'revolutionary' in the conventional sense, but it surely was not a 'failure'. Lessons were learned and a lot of derivative products developed.

For my kids, it was the best windows experience from me to them. I was finally able to kill those damn viruses and bloat wares my kids brings in from installing minecraft craps, They found out quick desktop nonsense are not going to happen, they actually did work on office etc. (Couple of em are high schoolars and 1 in 3rd grade) I was very proud of those RT thingys.

It's a real pity. If we consider that Windows 10 tablet

Too Bad I really likes my surface RT. I think that Microsoft failed in transmit to the people the concept of the Surface tablet and the Surface PC.

But will it stop working...

That's the real question right? I wonder why people make it look like all the existing RT machines will suddenly stop working. For me, as soon as I can afford it, I'm getting either a surface 2 or 2520 before they vanish completely, just for nostalgic reasons, like my PS1 , PS2 etc. :-)

I just hope they will release a "surface 3" not a ARM but a low price 10.6 16:9 aspect ratio... the pro3 is to expensive...

I'd assume you mean with lesser everything, right?

I agree, but tbh a Surface Pro 4 or OEM tablet at the high end that offers 16:9 AR would do me. If such device had enough GPU, it would allow me to add Steam gaming to what i can already do on my Surface 2.. the caveats though are 16:9 AR and enough GPU to make it worthwhile.

Here's the big question: Will they drop arm support for phones going forward? They should--Atom is ready for phones.

Yes, and apparently more powerful that the equivalent ARM chips I think

I don't think they are, but finding data isn't easy. We know Intel was ahead against the 800, but maybe the 810 beats cherry trail. Also, one of them has built in radios, so there's that.

Zune HD, HTC HD7, Lumia 810, Surface RT, and Surface 2. Products I've purchased and watched them EOL within a year. Next, you'll report on how they're abandoning the Band. I think maybe I should sell my services. Give me money, I'll go out and buy products, and you'll know exactly what products not to bet on in the long run.

You bought a SurfaceRT within the last 6 months?

Band is still alive? Oh yeah, I think they updated it once. There are still sensors in it that they haven't turned on yet. I kinda wonder if they ever will.

But all these devices still work fine right? I also have each one you mentioned (except the Surface 2 which I'll probably get soon) and others Zune 30, Zune 80 and a whole bunch of windows phones. These are all very solid devices. I still use my Zune HDs every single day, and the Zune desktop client is alive, still syncs with updated artist info etc.

This is garbage. RT most definitely has a place in the market. I don't hear iPad users griping about not being able to run OSX applications. It's nothing more than a pathetic failure of the marketing team to overcome the detracting view that RT was somehow inferior because of the lack of x86 functionality. Also, all of you are no better than the shill review sites that immediately shat on this device for the lack of x86 support. Your immediate shunning of the OS and your incessant complaining helped spread the nonsensical view of "half of an OS." I love my Nokia 2520 and have no need for x86. The battery life and performance are bar none the best out there. Really hard to see an Internet of Things with an OS that doesn't support ARM.

Yeah, but Apple made it more clear. I know, you kniw, everyone here knows, that it can't run desktop programs. Some people saw Windows and got mad when it wouldn't play their normal programs.

The marketing team was too busy making ads about people dancing.

I don't think it's a good policy to choose to follow the majority with the criticism against those who support the vision of the company with their money buying something as the Surface. I have two, an original Surface and a Surface 2. Love them. Now what Microsoft is telling me is that I made a mistake buying them. Now, I get the difficulties regarding software implementations, but that's all I will give you. People didn´t understand Windows RT? Are people really that stupid? "It runs Windows 8 Modern apps, but not desktop apps". Simple enough. The problem is that Microsoft themselves sabotaged RT as a part of their strategy, change of direction, whatever. But they could well have done something to have a live Windows 10 in ARM devices. Which they actually are! (?) Couldn't they, as they promised, use a common version for smartphones and tablets in the ARM Surfaces??? I'm really disappointed at this.

It was coming. I have a 3 and a 2. I actually use my 2 everyday. It is an awesome device. Way better than my old asus transformer android. I am ok with it being left behind on the sotfware side. I just hope that I will be able to stream xbox games to it. Unlikely, but I wish for it anyways.

It never had any reason to exist, and so it died. Intel has both a performance and battery life advantage over ARM, so... ...In my opinion, MS should be done with ARM altogether, and go x86 from here on out. Their next high-end phone should have Intel inside and be a pocketable PC with a phone. I know that's not the plan, but it's what I would do. I'd lay down $1,500 for a phone that was actually a PC (or a PC that's actually a phone -- whichever way!). Windows Phone is a total flop, so they should do something really radical to regain interest in the platform. Rather than releasing all this low end stuff, go all-in at the high end. A PC in your pocket would probably garner better margins than anything Apple is making and would serve as yet another brand-new form factor that MS' OEM's could emulate and innovate around.

Inform yourself. The fastest mobile SoCs are all ARM.

I think core M (Broadwell-Y) meets or excedes anything ARM.

And also exceeds their power use (under load) with its idle power use.

You're wanting a super expensive phone (pocket pc) that you will likely carry around all the time (and is more likely to get dropped/damaged), and it can get computer viruses? I don't see too many people jumping on that bandwagon. There's just not as much need for x86 programs on a device under 7-8". There's also not as much money in the average consumer's pocket, when buying a phone. A lot of people want an "affordable" phone, even if that means via subsidized contracts or long-term payment plans.

I wonder how MS will decide on the breakoff point for "current" tablets under 8" getting full Win10 VS future sub 8" tablets only getting a subset of the OS. Will there be a way of breaking through that detection and installing a full copy on the upcoming tablets. I don't need one, as I have a SP3 and Lumia 1520, but tempted to pick up an Atom 7" tablet now just to have a 'kick around' machine, that will still be fully supported.

Windows RT is dead, long live Windows for ARM!

Its the same thing.....wtf man.

Wrong. "Windows RT" was just a name. Windows compiled for ARM is still alive and well.

But it still is One OS Daniel. It's windows on ARM like you you know windows phone.... A merger of RT and the windows phone OS was what was needed.

Windows 10 tablet with screen <8" will not run desktop = what is the added value of "full Windows"? When I can read reviews of full Windows tablets usually it is that legacy apps run but very slow so better do not use it. Again what is the added value of legacy apps on a tablet??? Windows RT was a perfect solution for tablet mode devices. It was just market wrongly (in a misleading way).

Which raises the question, why push x86 onto 7" tablets where ARM might be better suited if it can't run Win32 Desktop apps anyway.

X86 apps on tablets are overrated. Also x86 apps are generally poor optimized or optimized for Core i7 or at least i5 so nobody can expect them to perform well on Atom. Windows (x86) games are also generally meant for use with high end graphics cards. I prefer not having them than having a bad experience or at least not supported by the developers. Netbooks never took off because of this, what is different now?

Eventually, desktop apps won't exist anymore. Nobody is making desktop apps the old way. You feel me?

Really? You think the next release of AutoCAD, Exchange Server, SharePoint or QuickBooks will be in the Store?

Desktop apps would always be available, even MS knows that, hence W10! They are just trying to ensure they stay relevant in both consumer and enterprise markets. I can't imagine advanced CAD layout tools with touch interface. It just doesn't work. These are very dense work spaces that need the precision of a mouse and a full blown keyboard for data entry... in short a real desktop. W10 is still the best plan MS has, the only OS that gives you the best of both worlds. I'm getting me a Surface Pro 3 or 4 for sure!

i dont get it. AT ALL. When you upgrade the RT to a W10 RT, and with the anticipated growth of apps due to universal apps in W10, RT is awesome. I love my surface 2 and it is the device I use most. I could use more apps, of course, but that issue would resolve itself in the future I think. It's a shame.

so, what happens now? ive had the RT then upgraded to the 2. will ms still offer support? when will they become unusable? i love my surface 2.

Yes Microsoft will support it until 2017. No, they won't suddenly stop working. Love my Surface 2 too, does everything I want in a tablet and more. I have my desktop for desktop things.

Ah well. My 2520 becomes a overpriced smartglass remote.

At least with its 8000mAh battery and efficient power saving it will be hanging around when others fade + it charges Super fast. =D

Nice. This will make the price of the Nokia 2520 plum and I'll finally buy one just for collection sake (yeah, I'm not spending over 200€ on anything that's just for collection, unless that something actually values up...like Lego).

Given that most of the enhancements to Windows 10 are desktop focused, in many ways this matters little to RT which runs WinRT apps fine. I'm assuming Microsoft will update the WinRT runtime in 8.1 to keep the universal apps universal and so RT will have plenty of life along with other 8.1 hold outs.

Woo hoo!!!! I am so glad to see RT go as it created a nightmare for us in IT. Blame it on departments who didn't do proper research but nothing is worse than going to an event for hundreds and the presenters bringing "Surfaces" and thinking they had Windows 8.1 and expecting to run Windows programs. So much time and money wasted...if only they would have spoken to us in IT first, we would have advised them to buy a "real" Windows Tablet. The Dell Venue 8 Pro was cheaper and well built and ran full Windows and there were a host of other Windows Tablets before Windows 8.1 with Bing that were also cheaper than RT tablets. Unless you were trying to avoid viruses in Windows, RT didn't make much sense as "real" Windows did everything RT did and so much more. Why be limited when you can be almost unlimited. Anyone that worried about Windows viruses so much so that they see RT as a positive may need to asses their computer habits. Less confusion. Man I am happy. Just last week I was advising a client to buy a Windows tablet and 2 out of 3 of her own research selections were RT tablets that cost more than the $150 Asus tablet (2GB Ram, 32GB HDD) that ran real Windows. I told her to avoid RT at all costs! She is so happy to have a real Windows Tablet and that is how it should be. A consumer should ask for a Windows tablet and get a Windows tablet that can run the same programs that they run on their desktop and laptop, no confusion, no regrets, no questions asked. Lastly, I am not taking away anything from RT or bashing RT device owners. Your device has hopefully met your needs and will continue to do so until your next purchase and it will then hopefully serve someone else well.

RT never made ANY sense. Not surprised at this news.

This is sad.. So tell me again why Surface RT/2 couldn't be updated to the same Windows 10 that coming for small devices and phones? It's the same ARM SoCs running in phones... This is a WP7.8 all over again..steups

Similar in how they wont receive updates, but supposedly W10 apps (from the app store) should be able to run on RT, so not exactly the same as the 7.8 situation.

That's the million dollar question

oh, we're all getting burned, Look MS had a great Idea with the surface it just lacked the apps but as you're always quick to point out. the app gap is closing. If this is true then why discontinue the surface rt line of devices. is it because MS cant mark up the price to get paid like apples ipad? I Thought they were trying to get MS services in peoples hands. Whats next? they'll discontinue the 2520. Honestly the only problem with all of these devices is they never ship with decent memory. And why is it that MS isnt making desktop computers? whats that about. I think they should create a Xbox Desk Top Computer/Console That can run Windows 10 and Xbox games! What cha think about that? I also think they should still make RT and sell it like they used to sell windows. only dont develop their own devices for it but they shouldn't stop every other oem from ceeating devices just because they arnt making any money. What about the affordable tablets to go along with affordable smart phones. they phuckin up, IJS!!!

Sadness. I still use my Surface 2 frequently to take notes or show presentations and documents at work. Anything that the Surface can't do (like run Visual Studio) is easily solved by remoting in to my desktop. Whatever form the Windows 10 update takes will be welcome here.

Getting a Surface RT/2 rarely crossed my mind as I already knew I wanted a stylus with my Tablet. Don't know how I would have felt if they had included a stylus and I had bought it. Then again I bought a Zune HD after Microsoft discontinued them. Was only a disssappointment 3 years afterwards with all the Microsoft changes to the Zune Marketplace.

My Surface RT died last week. It got a blue screen of death while I was watching a movie. Then it restarted and I tried to reset it to factory setting. After 2%, it said reset failed and there was nothing I could do but to turn it off. It never came back again. I have tried all the press and hold button combinations to no avail. I am sure it is bricked. I hate the UEFI thing and miss the old PCs that have reliable BIOS; they never brick and you can always insert a CD to boot it up.

One factor was the naming which was very wrong from the very beginning

I think the new MS has a handle on naming now. Let's see what they call "Spartan".

EBay is gonna explode with owners dumping their Surface 2 devices.. I'll snap one up on the cheap. Universal apps will be compatible.. Surface 2 will rally on just fine..

I'm expecting to see a Surface 2 with LTE for cheap

So, you're saying the limited run of Surface RT tablets could be worth a few quid down the road? Gotcha.

Hopefully Microsoft will make a cheaper version of Surface Pro to compete with tablet market or is Surface now considered a laptop with Microsoft having no plans to make a tablet?

Finally. Predicted this would happen once I saw that the app store for Pro version was not linked. Who wants to buy the same app twice? Additionally, developers do not want to support a fourth ecosystem.

Not to mention the developer madness that it brought when testing was a pain. It seemed that we were forced to downgrade an entire app for the shake of rt.

I love my surface and it does everything I need it to. Do I want a pro? Of course I do but until I can afford one my first Gen RT handles all of my day to day issues.

A friend just got a Surface 2, and I had to break it to her that she couldn't run Publisher on it. Brilliant device, but could not defeat the heavy weight of expectations with the name "Windows" attached.

So sad. I love my Surface 2.

Windows RT was a 1990's era Microsoft Blunder. They created a product and released it without any explanation of the benefits it would provide consumers. The fact that the majority of tech bloggers fail to explain the real world benefits of Windows RT proves my point.

Nobody realizes, that's why the tech media loves Nadella: he's running Microsoft into the ground. That's exactly what they've wanted to see happen for twenty years.

Make a cheap X86 Surface. Under $300 is a start

So what M$ is saying is that I should of just got a chromebook instead of the surface 2...

Your Surface 2 will still be infinitely more useful than any chromebook

Well said. I'm tired of explaining these things over and over. In a way, MS is sometimes too awesome for their own good. RT is still a work of art IMHO, it simply blows away any other ARM based OS. But people still consider it a failure. I guess this is what you get for trying to satisfy the 'masses' :-(

So it means the end of ARM tablets. A new battle begins, x86 versus ARM (for real this time). Intel has more experience than Qualcomm for instance, but ARM has much more players (Intel x AMD wasn't even a thing the last few years). It may be interesting.

Yes you've expressed it perfectly. Obviously MS is pitching it's future with Intel once again in the tablet space through the Atom, and I wouldn't be surprised if coming WPs run on some atom variants instead of ARM. Somehow MS and Intel are going together again as there's really no motivation to stick with ARM any longer.. this is gonna be one interesting battle!

Let them do what they want. But if they want me to upgrade away from my orig surface they need to make a newer surface that's the same dark color. I really dislike all this light silver stuff for anything. Including tv's.

Good deal. I just sold mine yesterday.

I don't think this 'whole 8' and larger get full Windows 10 and 7" and less get... something else' thing is a good idea. Full Windows 8.1 seems to be working fine on tablets of all size and I think it's a mistake to mess that up, Microsoft. If the only difference between the HP Steam 7 and the HP Stream 8 is one inch of display real estate I don't think that constitutes they get two different looking operating systems.

Isn't Apple coming out with an RT like iPad soon? Will be funny to watch that take off just as MS kills the RT. Use my RT daily. Mail, calendar, webapps, etc. Perfect courtroom tool for a lawyer.

You mean an iPad Pro ? The ipad is already like the RT

I have the original Surface RT and still use it all the time. I have a Dell Venue Pro as well and I still find myself reaching for my RT for most tasks. I have never understood the hate for this device. I knew exactly what I was getting when I bought it, and don't attempt to do anything that it wasn't designed to do.
Despite the news, I don't intend to stop using it any time soon. It's been a solid device for me.

I have a Surface RT and Surface Pro 3, and I too still use the Surface RT often. I totally agree, the hate is just totally unfounded.

I'd be happy if they simply add the Notification Center and a few UI tweaks here and there to better match Win 10.

surface 2 is a great hardware, i agree. Microsoft cancelling its production is not a shame at all considering that win RT had no future and no support from partners. What i believe microsoft should do is to introduce an entry level surface running full windows 10, targetting students at around $399 and keep the more expensive surface for businesses and tech savvy people who need powerful specs on their devices

I so agree with that, that's why I got my surface 2 cause of the price.. I love the Surface 3 but can't afford that an tuition right now..

I still use my surface rt daily as well. It is so useful and I love using it as a practical device. Like a few has stated, I can print from it, use a use mouse or keyboard, usb drive. When on vacation in Mexico, I downloaded the pics off our camera via. Usb. I don't use office often, but When I di, it works wonders. My only hope for win 10 is a straight tablet mode. If they have to cut out the desktop mode, I think I woukd be happy with that. It can get slow sometimes, but I did a few tweeks and was good to go. Time will tell.

I'd be surprised - and have to wonder what msft are drinking - if windows 10 doesn't have a proper, straight, finger friendly tablet mode. That would be bonkers!

& while apple is strengthening their iso/osx(on their arm code) integration Microsoft well be playing catchup

Intel chips are still way more powerful than ARM chips for 'real' tasks. Talk of heavy simulations, video editing and general productivity. There's a reason why the traditional PC/Mac has not moved to the ARM architecture. It simply is not yet mature enough for it and was not originally intended to be an 'unlimited general purpose' microprocessor, unlike x86 chips which were based on that design philosophy from the beginning. Factors like 'mobile', 'power efficiency' were not the most critical parameters when x86 was evolving, while they have always been important for ARM. And there is always the possibility that by trying to make ARM silicon more powerful, it approaches x86 chips in power efficiency, at which point it loses its only real edge over x86 chips. MS is still leading the way with this one OS thing, Apple has not even started IMHO as OSX and iOS are still very different platforms. Try putting the full OSX on any ARM chipset today and see how well that performs compared to say an i5.

I don't see any Atom running any heavy simulation, video editing or gaming anytime soon. x86 should stay on desktops. I have a work laptop with i7 and besides being heavy as hell It does run as hot too.

Good. RT never really had a place in the windows stable - the windows 10 universal model makes so much more sense. And as Intel pulls their collective fingers out, and start innovating in the mobile space, the win 10 approach will really party of. All RT did is fragment a weak ecosystem, unnecessarily. The way msft are going forward really shows promise and innovation. Of course, the developers need to jump on board...

Windows RT and WinRT are not one in the same. Surface RT/Surface 2 used Windows RT which is ARM based. WinRT is the application model used for Modern apps: It works on Windows RT and Windows 8.x devices. So RT in the context you're using is ambiguous.

You know what I'm referring to. Lol.

Use your little grey cells please

Too bad...for $199 I was willing to try Windows on a tablet...not gonna bet hundreds more on a full blown version...

Get any cheap atom tablet, like the Dell venue 8 pro. You get the absolute best of both worlds.

I guess RT's code will survive in some parts of W10 for phones and phablets. Intel's impressive comeback with the atom line essentially made ARM based alternatives pointless, I'll take my DV8P or Asus vivotab note 8 any day over any RT machine. The Intel atoms are just more powerful than the ARM chips IMHO.

WinRT is the new application model for ARM (formally) and x86; a.k.a. Modern apps. Introduced with the Surface devices back in 2012.

nooooooooo I luv my Surface 2 RT.. eventually I'll probably save up and go for a Surface 3

Yeah if the SP3 is reduced to around $600 by next holiday season and I can trade in my S2 for $300 then I'll get one! Lol.

It wasn't that RT was bad, it was more that the X86 chips increased in efficiency and battery life at a much more rapid rate, making the ARM compromises on a tablet to be needless.

Well said. The atom has come a really long way in power efficiency while maintaining pretty decent performance that there is simply no need for windows on ARM any longer.

I actually thought this had already happened as here in Australia places stopped selling the surface 2's around the start of January, maybe they sold out sooner. They were phenomenally cheap though which was pretty awesome.

Maybe they will make a new surface but it won't be rt

Why, do those run Windows apps now?

No they run all the other apps.

Wow, Daniel. This article is something I would totally expect from Engadget or The Verge, but seeing it here is really disappointing. Of course Windows RT isn't going to exist after Windows 10 is released, neither is Windows Phone. As for the Surface RT not getting the desktop in the Windows 10 update, why would it? Remember that it was only included in Windows RT, because the Modern (Metro) version of Office wasn't available. Since it will be available when Windows 10 is, the Surface RT has no need for the desktop, which was the plan for Windows RT all along.

This would be the logical way to handle it.

I've had my Surface RT since day ONE and I'm still very happy with it, Yes it's a bit slow but it is more than fine for what I use it for. Hell it was even my only computer for a 6 week holiday and it did everything I needed, and still does. That being said I am looking forward to replacing it one day soon with a new Windows 10 Tablet/Hybrid, I'm just not sure if it will be 7" 8" or 10" as it will be a companion device for me (My main computer is a 17" Asus ROG gaming laptop)

I had a SP2 and SP3 and tested both against my RT for loading web pages and video and you know what...there was no diffrence for what I use RT for. IMOP it's not slower.

NOOOOOOO!!!!!!! It offered a safe computing platform, free from x86 based attack code. Sorry to see it go.

+SurfaceRT
+M8
+SurfacePro

Thats very unfortunate for Microsoft. The fastest ARM SoCs comparing well against Broadwell and surpassing Atoms by quite some margin. And this is despite using much older technology. As the technology gap is narrowing the best SoCs apparently are not available for Windows anymore if Microsoft continues this route.

I bought my new Surface 2 back on black Friday. $299 and picked up the type cover 2 for $60. Love it so far but knew the RT risks going in. Really hope we get a decent update later this year. Or maybe MS will have some good trade in deals towards the SP3. Just not ready to fork over $1000 for a tablet that can run full Windows right now.

If my first gen surface RT can come out of this with Windows 10 update for phones, ( which I think would run pretty good surface RT hardware) working USB port (so I can use usb storage and wireless xbox 360 controller) and touch office that works with touch cover, access to the Windows 10 store, I'll be a happy camper.

This is what MicroShaft does time and time again. Screw their supporters. It's why I no longer buy digital media from them. And why cant the RT machines run the same OS as the phone?

Wouldn't be able to do desktop, which I rely on for my Surface RT for example

I would be willing to give up desktop if the Surface 2 could run Windows 10 for phone or some variation of it with the new universal and touch apps.

I bought a surface 2 with type cover 2 for $300 on Craigslist lady month. Keeping it for the included Office. Still a great consumption device

Welp... I sold my Surface 2 a few months ago for $250 including the Type cover 2, and now I'm glad I did!

so what now? what do i get if i want a thin & light +10" windows tablet that lasts 14h without built in heating system? all i want is a big touchscreen with a browser, social crap and media capabilities, why would i need x86 for that? i hope they have a replacement in mind

Hopefully it will continue on their Lumia line still ARM and more of a big windows phone with access to more apps. Maybe even thinner sleeker and lighter with more colors, and 8.X inches.

The price drop on eBay was confusing until I saw this. How sad, ):

Love my RT more than my 2520, but....where do I go to "exchange" them for upgradable tablets? If I had been a WP7 user, I'd be furious. I'll be looking to see who starts the class action lawsuit first. Did I mention my Zune? Shame on me!

I have a hard time believing Microsoft is seriously not going to update their own devices to Windows 10. It may not be the desktop version that all new 10" devices will have, but there is absolutely no reason they can't get the 8" and under version with no desktop, etc. That extra screen size is of no hassle from a technology standpoint. Especially considering the Surface and Surface 2 had relative low resolutions. I mean these guys are talking about Windows 10 being on everything, even small IoT devices. So why in the hell would they randomly leave tue Surface line out when it clearly has more power than devices like the 520 and IoT devices. Just seems completely illogical.

Yea it really doesnt make any sense, that whole point wasnt even mentioned in the article at all either.

RT = no concern over viruses

I wonder how many Windows RT tablets were sold. My family has 6 of them.

I liked RT because you couldn't run desktop Windows malware on it.

RT was the dumbest idea in the history of technology. I really don't know what they were thinking SMH

Also the death of RT kills a cool project of mine: iPal The idea was I would reverse-engineer iOS's USB Sync protocol and from that make a Windows RT iTunes client. It would support USB syncing, music management, and everything iTunes does, even sharing the design of iTunes. But now that Windows RT is dead, theres not going to be another Windows product that runs on ARM and has a USB port. :(

I have lumia 2025 and it's sad news for me, i was expecting to stop it anyway :(

Do you people seriously expect these devices to be supported forever? This is taking whining to a whole new level, pathetic isn't the word.

the funny thing is now that i have surface pro 3.. i still see myself using more of modern apps than desktop apps. i just do not see myself squinting to read or do work. WinRT is still capable for microsoft services like xbox music, videos, soon to be Office, and manyother supported apps. i dont understand the hate. Surface 2 will still make it for another 5-6 years. laptop/tablets have a life cycle of 8-10 months.

People can talk all day about confusion and compatibility, I myself was a big fan of the Surface and what Windows RT provided but I can admit that it was a stop gap measure at the very least. It did its job, heck I was using it for work quite spectacularly on a regular basis very successfully. Say whatever you want, it had its place and if you got em, enjoy em! They will still work at the end of the day...

Love my Surface 2 but saw this coming

I would actually like to see the product continue in some form as I think it could become quite useful. Imagine having a version of Windows on ARM that runs on your phone or small tablet and then when you plug in a keyboard and big screen you get full desktop mode, but this is disabled when just running on your primary screen. It doesn't look like this will happen on Windows 10. It will be annoying if this will only happen on Atom based phones. If Windows RT is dead, then I hope that the new Windows 10 for phones and small tablets will at least have a lot of this functionality moving forward and it will then allow it to be installed on bigger devices. Who cares if it doesn't run Win32 apps, as long as it runs Universal Apps just fine and that during the submission process of an app that it compiles for both platforms automatically. Now that full touch and universal app of Office is coming, this is most of the productivity that many people would need. Things like full Photoshop will never run well on an Atom or ARM processor anyway, at least not for a long time in the future.

Can't wait for W10 on my Lumia 1520;)

Microsoft is abandoning another product, yippee. I like my original Surface RT. I also liked my Samsung Focus and my Lumia 900. My Nokia Lumia 920 is getting old, can't wait to get my next soon to be abandoned Microsoft product . Yes, I know the Lumia 920 is still supported but Nokia is no longer making Smartphones so it's sorta abandoned.

Dunno why all these websites are saying its dead, all Microsoft said is they are planning a update for RT devices, nothing more. To me it would make sense to update all RT devices to windows phone 10 since all the phones are using arm anyway. I'm not giving up on my surface 2 yet until Microsoft actually announces what they are doing. The other thing Microsoft said is there adding some features to RT that are in windows 10 so to me that means a stripped down version of windows 10 pretty much exactly like windows 8 RT. Listen to the last windows weekly ppl, Mary Jo and Paul t have no idea what's happening with RT and they were the ones that originally asked the question at the win10 event.

I'm a little confused, isn't that the WinRT and the upcoming W10 for ARM essentially the same?

Good thing I didn't buy one when it came out. Always had a feeling in the gut that RT was going to fail.

What I really want is a device that's think and light like the Surface 2 but fully powered like a real laptop, once Microsoft figures that out they'll have the best solution. oh wait, they already did with the Surface Pro 3. nm

I still like the RT's. Don't need legacy apps on a tablet. I'm very curious though what the next Surface 4(?) will be.

I don't get it. why not retain arm support for tablets as a hedge? intel may be tops for now but arm could easily dominate again in future. win 10 will have to support arm anyway for phones as there are hardly any intel phones. chromebooks support both arm and intel, why wouldn't ms do the same?

This is really bad decision .. If MS can't give upgrade to Windows10 then who can give, then why they released product, then why they are selling still. Last month i bought Surface2 still it's on the way to India, MS killed the feature of Surface2 before holding it with my hands >If they kill RT then which OS MS has to compete in tablet market >We didn't see any multitasking features in W10 on Phones and Tabs. We can raise our voice here... https://windows.uservoice.com/forums/265757-windows-feature-suggestions/suggestions/7012012-build-an-upgrade-for-windows-rt Who got SurfaceRT/2 those truly real believers and followers of MS, coz they went against to market and bought those products.


Fail.. My poor surface 2 :(

Wonder if they are really quiting Windows RT, or they ceased Surface production in favor of a Lumia 2530 (or other Lumia), and will leave the name "Surface" to productivity. Lumia 2520 and Surface were competitors, and I don't think that was good for business. Anyway, I can dream.

An ARM tablet with the Lumia branding would make more sense and be less confusing.

Well, this is an opportunity to find one for a good price before the are gone. Have original RT64GB, but upgrade to Surface 2 or lumia 2520 seems a good move.

Can Surface RT Device update to Windows 10?or not?

No. Microsoft will give RT its own update with "Some" features of Windows 10. This happened to WP7 users when WP8 was announces. Microsoft made some visual changes, then dumped the OS, and the developers stopped making apps for it.

Will my Surface RT still update to Windows 10?

Lumia 2520 one of the best products ever. Windows RT more efficient on disk space and avoids viruses, endless updtates and maintenance. This is why Android ARM tablets are eating Microsoft lunch on consumer tablets. Consumers are not coming back to Microsoft Intel Tablets

Anyone saw Sam Sabri in the first picture? Anyone? :(

Goodbye Windows CE, I mean RT... I was always scared that RT would go the way of CE, I bought a Vadem Clio back in the day. So will MS give me a trade in for my Surface 2? Maybe, Please?

What a waste. MS should consider selling RT to chinese dvd car player manufacturers to replace aging Win CE currently being used in most double din touch screen systems. Android car players on paper sounds promising but in reality suffers from incompatible apps due to screen resolution & not being written specifically for car player devices. Android dvd car players also suffer from frequent crashes & needs to be rebooted or restarting of app.

Daniel said: "Windows RT and the Surface 2, though, are not fairing so well." Actually, what they are doing is not faring so well. Sorry to be pedantic.

Anyone want to by a Surface 2 (32G) with 64G sd card with backlit keyboard? $375. I have just about had my fill of MS.

It's good that RT is going away. That's more resources that can be devoted to bringing together Windows 10 and pushing forward operating system and device convergence. RT wasn't a failed experiment, it was simply a step forward for Microsoft, that until then had no consumption-oriented operating system to compete with iOS or Android. That said, perhaps they never should have released RT to begin with and should have focused all of their efforts on Windows 8. But perhaps RT was part of the learning process. Windows 8 was the first step towards operating system convergence. The Surface was the first quality device to show-off the potential of device convergence. And now we have Windows 10, which is taking convergence far beyond what the "refrigerators and toasters" crowd have ever considered, at least publicly. Oh, and how is the Surface, a device that is just a few years old, a device that is completely changing the way we compute, and is now a $4 billion+ revenue business "not staggering"? A little perspective please.

I've enjoyed my RT. It was too expensive, but I was willing to be a guinea pig. I wanted Office on a tablet and that's what I got. What I didn't get was Office on a laptop - and all the other stuff a laptop could do that an RT could not. But that was a trade off I was willing to experiment with. I haven't found that perfect device yet, and for all its shortcomings the RT pretty much performed s promised. RIP ​ ​ ​

I think is it good for surface or surface2 using windows 10 phone version rather then PC version?

Love my Surface (1) still use it almost daily for what it was, a walled OS which had decent performance. Not going to cry over it though as in the I geuss nearly 2 years I have had it the eco system has moved on somewhat.

Microsoft needs to fix the Surface line-up. Now, there's only the Pro 3 and Hub, both high end devices. How about: - Surface mini: runs W10 (phone and tablet edition), 7 inches - Surface 4: runs normal W10, 10 inches - Surface Pro 4: runs W10 Pro, 12 inches

This is BS! I have 200 Salespeople out in the field with RT tablets! Not ONE of them has ever gotten a virus, toolbar, spyware, java, realplayer or any other crap installed. Now we have to buy them x86 devices and deal with virii again ? I've had a whole year of NO problems!! AAAAGH

I thought Windows RT was being merged with WP into one OS so that something like this wouldn't happen.

Awesome! Enough with using the bastardized ARM in Tablets. Intel's top Atom CPU is what it should have come with along with just the standard Windows 8.1 + Office ome and Student. That way, it would be better accepted. To handle the malware problem, simply follow Android's approach; show a warning message to users on their attempt to iunstall an exe application, giving them the option to enable/disable installation of exe applications. Clearly mention to the user that if they choose to take the power of legacy desktop applications into their own hands, they are responsible for any damage those legacy applications may 'cause to their device. Done. This will be a very helpful way of getting a Windows RT-like security in the OS (an additional layer of security). However by being optional, power users (like I) will never be frustrated with the OS restrictions, the same reason we use Android or Jailbroken iOS.

I purchased the original Surface RT simply because the Pro lacked battery life, was too heavy/bulky and ran hot. At the time it was my intention to acquire a Pro when the second generation arrived. The second gen arrived and whilst the Pro 2 was significantly improved, i considered my actual usage of the tablet and realised i used it for Browsing, Social Media, News, Some entertainment consumption and occasional music and games when travelling on a plane. I would also use it to do work once i had reached my destination. When weighing up the Surface 2 or the Surface 2 Pro, i realised that i wouldnt really gain anything by sacrificing battery life and portability by opting for the Surface 2 Pro. So i then had a tough choice between the Surface 2 and the Lumia 2520. If the store i visited had the 2520 keyboard been in stock when i went to purchase, i would have opted for the Lumia with its vastly superior screen. However, i plumped for the Surface 2 and Type 2 cover and its been a stellar device. I can fly to meetings in European cities and back again same day on one charge and without taking my charger with me, then still have plenty of juice when i get home. My usage over the last year and a bit has still not changed. In fact when the Surface Pro 3 came out, i considered buying it as i was attracted the idea of i7 power... but as i am not doing any photoshop or video editing on my tablet and as the tablet isnt my main work device, the only benefit in getting a hugely powerful new tablet was going to be its ability to run games (Steam). Looking at the benchmarks and some videos online, it was clear that the Pro 3 doesnt have sufficient GPU grunt to play games at what i consider decent frame rates with decent settings (decent in the eyes of a hardcore PC gamer). On top of this, i much prefer having a 16:9 or 16:10 screen as i use the tablet a lot for consumption of netflix and other streaming services and having the wrong AR screen for the content gives horrible black bars like it does on an ipad. Of course im interested in Surface Pro 4, especially if it has sufficient GPU to play at decent framerates. But the lack of a 16:9 screen would make it kinda unsuitable for me for gaming and for watching Netflix etc. I dont feel burned or angry at Microsoft about WIndows RT and the Surface tablets based on it. The devices have both been excellent and i have had great and productive usage from them. They have done everything that i purchased them for and done it better than i could have experienced with ipad or android. They will still be used for some time to come and i will be interested in Surface 4 or maybe OEM devices that offer 16:9 screen devices. The only thing that really bugged me was the lack of silverlight, this alone made access to some UK Streaming services impossible and consequently made my entertainment experience less enjoyable than it could have been. The key thing for me is that MS has finally figured out how to join up all these great ideas and their strategy with Windows 10 looks to be the right one. I've been working in ICT for over 20 years and over that time had a love/hate relationship with their software, especially in IE/Netscape years (remember that ActiveX nonsense?). However i am definitely viewing Microsoft positively now, they are doing things the right way and from a tech perspective.. I dont ever recall being as excited about Microsoft software (and devices) as i am right now. In comparison, I look at Android/ChromeOS, OSX/iOS and they look like childs toys from last decade compared to Microsoft's joined up experience across all devices. I just hope Microsoft has learned how to do effective marketing so they can execute Windows 10 and customers can realise its full potential.

Well after finding this article 2 years later, I am typing on my RT base VIVOTAB RT LTE. Not a lot of apps, but the browser, office apps and what apps I do have work great. Battery life is amazing and I can do pretty well EVERYTHING I would want to in small form computing still with my RT based device. I have a 500 gb drive that I can connect and have lots of space, I can edit video and photos on this and everthing. Works great. All was doom and gloom with people ditching their devices for no good reason.
Windows Central Newsletter
Get the best of Windows Central in in your inbox, every day!
Thank you for signing up to Windows Central. You will receive a verification email shortly.
There was a problem. Please refresh the page and try again.