Microsoft has $50,000 and a Super Bowl 50 trip to give for its Imagine Bowl contest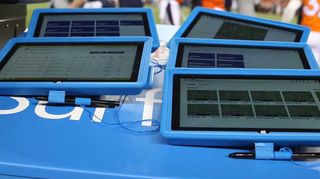 Microsoft is teaming up once again with the National Football League, this time with a special contest called the Imagine Bowl. It offers US residents who are 18 years of age or older a chance to submit their ideas on how to improve the NFL via technology.
Microsoft says:
Entries must be submitted by December 1. The contest rules state they can be either a "3,000 word maximum Vision Proposal that covers what the vision is, who it impacts, and how it evolves the game of football" or it can be a three-minute video "that sells your idea/vision to the judging team". There's also the option of doing both a written and video proposal, with up to three supporting documents.
Microsoft and the NFL are in the middle of a multi-year agreement that offers football teams a chance to access custom Surface tablets that can be used on the sidelines during games. Fans can also keep up with the league with special NFL apps made for Windows 10 and the Xbox One console.
Source: Microsoft
I am totally doing this! I would tell you what I am writing but I want to win! ;)

Hmmm... interesting! Might try it myself.

Yeah its crazy that their US sporting event contest is only open to US users.

But we are interested too, you know...

Oh, so it's not about football then? I mean "real" football. The game you play with your... feet. ;-)

You got that backwards... the rest of the world is wrong lol.

I'm in the US and that has always confused me why it was called football when you almost never used your feet. Wait, maybe that's it. The name is based on the fact that you don't normally contact the ball with your feet. Either way, football and fütball are usually pronounced different in the places I lived in Europe so it's different. Right?

Its original name was gridiron football, with football referring to a series of sports played on foot as opposed to horse back. It's just people have dropped the gridiron and now refer to it simply as football.

Still called gridiron or 'american football' outside US... never just 'football'

Well people outside the US are confused! It's just football. While what they call 'football' is actually 'soccer'.

I head it is called football, because the ball is a foot long....

I agree, soccer is great. Soccer held the football spot until America came along and made a better football. Its ok though, if you are not in America you can watch the football 2.0 games for much less than it costs Americans to watch them.

Uh, Gridiron is just a slower, padded, less interesting version of Rugby

The bad thing is the only thing I have seen in the news about Microsoft was when news crews reported being angry with the new communication system, which was supposed to be made by Motorola. Problem is the reporter kept zooming in on all the equipment that was bright and blue and said Surface all over it as if it was the Microsoft's Surface was the problem. Last I knew the Surface isn't an NFL headset but the reporter sure tried to make it look that way.

I need to start brainstorming and get the creative engine churning. I want to go to the SuperBowl and get $50,000.

I just want the dam high end phones

I am so ready too win a trip to super bowl 50

I would love to see a moving projector of some kind that is mounted on the camera cables above the field that projects the 1st down line onto the field for the people that are actually at the game to see it more clearly. (Like on T.V.) Especially when you seat in the nosebleeds!

I challenge Microsoft to develop a program that will validate, if you will, the officiating process. This program must introduce a way to track bodies in motion, track hits, and asses if the official called the right ruling on the field. Eliminate the naked eye or ise it to double check. Call it what you will but officiating must become verifiable thru the use of technology. Interpretation of the rules is way off base now.

Unbelievably - the Microsoft Contest site for this Imagine Bowl (www.imaginebowl.com) is not working, and the entry deadline is midnight tonight. When you click Enter, it just refreshes the Main Contest page, and never lets you submit an entry! You've got to be kidding, Microsoft! Bad job!
Windows Central Newsletter
Thank you for signing up to Windows Central. You will receive a verification email shortly.
There was a problem. Please refresh the page and try again.