Microsoft Health available for Windows Phone to sync your Microsoft Band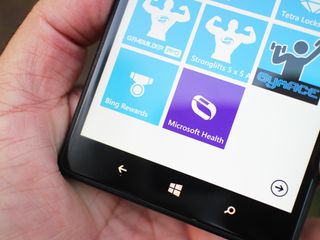 We just saw the official Microsoft Band sync app for Mac, which gave us our first look at Microsoft's fitness tracker. Now we're seeing a new Microsoft Health app on Windows Phone, Android and iOS. These apps allow you to personalize your Microsoft Band and offer fitness tracking thanks to the wearable.
Here's the app description for Microsoft Health:
The Microsoft Health app gives us some insight into features we can expect from the Microsoft Band. Look forward to 24-hour heart rate monitoring, automated activity tracking and more. It also sounds like you might be able to take Cortana notes and set reminders using the Band.
At this point we can't imagine an official announcement from Microsoft is far off. Anyone else looking forward to the Microsoft Band?
Thanks for the tips everyone!
Get the Windows Central Newsletter
All the latest news, reviews, and guides for Windows and Xbox diehards.
Must be US only. Or not compatibel with Lumia 930.

Did you expect it to be different. Or 920

Installed on my 920 in U.S. Must be a region thing.

It's US only. Available on my 920 and my 930 after changing region.

It's Microsoft. Of course it's US only.

Yeah that's how I've been feeling about them lately too..


Correct. US only so far. You cant change weight type or put in your official postal code if your outside the US. Either they arent targeting other countries yet, or the other countries app will go live soon. Im guessing by this app and its funcionality they are more than likely only planning a US release for this year.

They never are. We still don't have Surface and Cortana in Brasil.

Couldn't put in my official postal code IN the US either. It seemed to be confused by the leading zero or something.

Works for me on my 920 in Canada with US region but don't connect over VPN. It doesn't like it.

do all the features work for you in canada? I am thinking of buying one. do you have to have to use a VPN or american IP address to use it??

Don't know about all features as I don't have a Band yet but may order one online and pickup nect time I go to the States.

May be US only but it still wont work with any of my Verizon phones.

Also surprised people are not complaining about the Hamburger button like they did for OneDrive...

There bad charlie for leaking this

Microsoft can have my money! Screw Apple's overpriced watch! Edit - the smart band could be announced later today, where I am (in the United Kingdom), according to TheZuneLune on a Windows Central forum: http://forums.windowscentral.com/showthread.php?t=320060

It's not just their watch almost everything Apple is over priced

Screw apple's overpriced everything.

Too right. I wouldn't want to pay $299 for a watch which REQUIRES iPhone 5 or above! And in the UK for a proper iPhone charger from Apple, you're looking to spend around £35-£40, and that's a hell of a lot for one cable!

Magic 8 Ball says: "Chanes are you'll be pre-ordering my first wearable soon!" Definitely looking forward to this! :D

Don't let your 8 ball boss you like that. Tell it to get it's own first wearable.

How does it compare to sensorcore

I wondered why id even consider this, then I remembered how often I have my phone next to me and not in my pocket counting steps, etc... The heart rate monitor is a nice addition, too. Curious what it will cost.

I hope it has a silent alarm like fitbit does

I try to just get 10000 steps goal everyday. Accurate steps count is not necessary. It does not count steps because of jerks in car or bus(like S5). So its pretty cool. Heart rates accuracy needs tested.

Can I use this app even without the Band? Like, just for counting steps, measuring distance, time, etc.

Hope it comes in a great price

$199 :) http://www.theverge.com/2014/10/29/7118533/microsoft-health-band-hub-for...

Has a download link but not available to download yet??

I installed the app on my L1520 (AT&T) and set up my profile. But the fun is over when it tells you to pair it with your Microsoft Band. I guess now it's waiting for release :)

Not available in Australia

Or The Netherlands. Canada perhaps?

Not in Canada as of right now.

I'm in Mexico right now and could download it. But I am from the US

Not available to the rest of the world. As usual US only

Hek, cortana interest, contest, apps, all for "US only"

I got it in Canada on Telus, region set to US on my 1520

do all the features work for you in canada? I am thinking of buying one. do you have to have to use a VPN or american IP address to use it?

How did you get one in Canada? Looking at getting one.

I see a Misfit vs Fitbit vs MS band vs Jawbone comparison post coming...

I hope so, after MS announces I will be buying one of them

$199 sweet! It's official.

Get it before they pull it.

More $$$ I'll be forking out but u gotta be in it to win it :wink:

Does it check your blood pressure or tell you when you in love?

Only when you are in love with Cortana... Then it displays a big, red "WEIRD" on the screen

It also provides notifications sync.....nice!!!

Hey Sam, is a giveaway planned? Please...

The biggest problem is that compare to the more mainstream smart watches, this looks so ugly. I'm so disappointed. I can only hope this will be an initial device, fitband for now and a full smartwatch later that is gorgeous looking.

I think the band form factor looks better than any smartwatch out there, and the color screen seems better than any current band out there.

I disagree... I like the modern, streamlined and elongated screen far more than a big old round face I've had all my life.. I'll be using a regular (expensive) watch in any case, so it'll look really stupid with two round watchfaces on each wrist. REALLY stupid.

Buy a Cartier Tank and you will have a elongated watch... Btw it was created in 1917.

Yeah, its kind of bland. At least they should have color option for this. I'm also bit disappointed that it wasn't square screen similar to patent filing we saw before, with detachable bands which is almost a smartwatch form factor. Maybe smartwatch is a fad right now but alot of smartwatches is being release and Apple Watch might make the smartwatch mainstream, you know Apple. I hope Microsoft have something more on their sleeve.

Not what I was hoping for. I hope they'll have an actual smart watch with Windows.

Well... You can install Windows 95 on Android smartwatches...lol

Wow this app is so well designed <3

I can't wait, app is already installed and waiting for the band.

Can anyone other than apple actively track cycling?! I'll buy this anyway, but c'mon...

The upcoming Fitbit Surge has GPS in it.

Crap! I really wanna support MS in this... But I need to track cycling. I'm surprised by the lack of support. It's so common now

If you use the health and fitness app, you can track cycling.

I use an app called Cycle Master that's pretty good tracking my route. Try it out.

Here's to hoping it can also sync up with Xbox Fitness profiles.

Hope it syncs with health & fitness app and the health vault app

Installed on my 1020 and now awaiting my band.... Bet an announcement is forthcoming.

The notification is a plus as I thought this would only be a fitness/wellness band. The orientation is awkward with the time display. I want to see more of how this works. If priced competitively, I might consider.

Not if you keep the screen on the inside of your wrist which is how I think they meant it to be worn.

Kinda getting the 'is that it' feeling...

Same, but lets wait for more info, and a price. MS 'Excels' with software (see what I did there?)

Oh dear, yet another region (U.S.) only app.....believe it or not at the other side of the pacific and Atlantic there is land and civilization......hint.....g l o b a l............Microsoft, readjust your telescopes please....

Without the device even announced it really doesn't matter if they prematurely posted the app in the US only. Wait until everything is official, then we will know how it will roll out.

I just installed on my 930, but I do have my region set to US.

Wow! Innovative and catchy name. Typical

Well watch wasn't that much better either..

Gonna sit tight and wait for the actual announcements and reviews.. I despise the whole smartwatch fad, so i'm sorta glad that this isn't a smartwatch....I'll take the fitband like wrist wearable any day.. these types of devices actually have a genuine purpose..anyways.. i'm straying..lol.. I'll wait to see the device when its lauched. Fingers, toes, legs and eyes crossed that Microsoft prices this thing properly...

Does this mean that the band is going to be made available like...tomorrow? There is no way that releasing the app on this many platforms is a mistake. But they wouldn't release the app long before the hardware companion, right?

Does that mean you know more than you are allowed to tell Sam? :)

Well let me put it that way. There was plenty of coverage in the media over the last few days, then it got more quiet over the last two days or so. If they announce next week, this "leak" will certainly help to raise awareness again.

Note that the time of the watch is 10:00 on the 30th of the month...so maybe tomorrow release?
(I know tomorrow isn't Tuesday though)

The next Tuesday the 10 is in Janurary...

The next Tuesday that's also a 30th is December, which will be a gigantic miss in the states if it's after Christmas.

Why would it have to be a Tuesday? It's not a CD. :P

Because the watch says 10am, Tuesday, the 30th?

Wow. This thing may release soon.

I'm torn. I have used exclusively Fitbit products, including their Aria Scale, and I really like having a single app that can access both bits of information.

Could not find it searching in the store, but could via the QR code in this article, installed on my Lumia 920 with US settings...now the waiting for this gadget begins! :-D

So I guess you wont need a snapdragon 800 to activate Cortana handsfree if you have the band.

do you even need the band if you have a Lumia 1520?

why? the 1520 already has a pedometer. wouldn't that be redundant?

Yes, my 1520's screen is not large enough, so a second monitor (like my PC) is great :)

I'm sure the app on IOS and Android will run better and be more supported

"Take notes and set reminders with your voice using Cortana personal assistant." Cortana support confirmed! Whoop whoop! So much for needing a Snapdragon 800. :)

Also seems to be an Accessory App, meaning (if allowed by the user) the app will be allowed to push notifications to the band. I hope this is a fitness first, smartwatch second type device. While not the most style band, still looks better than the Apple Watch, and is seemingly beating it to market. I'm just hoping it's waterproof, otherwise it's useless to me as a swimmer. Also hope it's affordable, not paying >$150.

Microsoft Band is a terrible name. Yeah I said it in the other article too but it's so bad it's worth repeating.

Apple watch isn't any better. I am mot a fan of Band either, but it isn't that bad.

If its priced less than $100 and does everything listed in the description yes

Probably more like $200-$250.

I thought I might be able to use this app and try it out, but it doesn't let you set it up without a Band paired? Using an Icon without Cyan but with 8.1.1.

Well, the app would have a hard time tracking your vitals, so I guess there isn't a lot to try out

True, but wanted to check the UI. :)

Assuming it falls back to old BT standard and doesn't require LE

I think you'll need Cyan. I believe (I could be wrong) that's where bluetooth LE support was added and I think this needs that.

I can't download on my ATIV S Neo 8.0 on sprint. Says not available. Is this 8.1 only? My region is US.

Been waiting for this for soooooo long!

What a let down!!! No watch. Usless to someone who does not give a crap about working out. I'm sure joggers and cyclists will like it, but I think I just hit the end of my rope with Microsoft. I guess that only leaves a Galaxy S5 and Moto 360 as my only hope.

You need to learn to read.

Be more productive with email previews and calendar alerts at a glance. Take notes and set reminders with your voice using Cortana personal assistant. Personalize your Microsoft Band and get new features as they roll out.

It's not just a fitness band.

Thanks for the attempt........Is it the shape of a Watch? You need to learn to use your eyes. You would have noticed I said a Moto 360 as the go to. So it should stand out I do not like the Fitbit shape. I would like a Watch face not a rectangle.. It also has to be paired with Microsoft Health........again more a Fitbit then a Watch. As I am sure you are aware a fitbit does text, email, alerts ect, but is mainly a Fitness Strap.

I was heading in that route. I had an S4 mini and was planning on getting the Neo. I even went to check it out at Best Buy. But 4 days later, my phone restarted out of normal use, couple that with the lag and I just gave up on it. The watch is nice though and smaller than I had imagined.

Why are they doing this? At least make it more than a fitness tracker. Ugh.

Does this work with the L520? /Yes I know it says 512mb supported

Soooo Icon owners are sol? No Cyan no sensor core. Can't blame Verizon. I think Microsoft should replace our Icons with M8's. I dont believe its Verizon's fault. I blame Microsoft.

It says this app is not available for your device! I have Lumia 1520

Mine says the same for my neo on sprint

Odd that it's not a universal app.

Not too odd. I imagine they expect the more usage will come from phones first so they probably pushed the app out with just the phone profile and we will probably see Windows desktop support in a few days.

Come on Microsoft uk lets have it

Why does this app exist? Why not update Health + Fitness. Now Microsoft has two health apps. Good job!

Woah now this app looks pretty awesome. Lets see when this watch is available outside the US *typical microsoft*. PS: Just a quick headsup to the onedrive team, THIS is how an app is designed.

This also has the hamburger button!!

is there a Windows 8.1 sync app for this ?

Yep; but its limited to displaying band status, checking for updates for the band, and syncing data to the cloud at this time (it does not display real time info/stats like the phone app): http://www.microsoft.com/en-us/download/details.aspx?id=44579

crap with this android hamburger button...he destroy the nice modernUI look and feel https://windowsphone.uservoice.com/forums/101801-feature-suggestions/suggestions/6623043-stick-to-modern-don-t-copy-android

Absolutely love the band! However, I am curious how I get right around the same calorie burn stats on both the band display AND in the app (for the day by day history) on a day when I do no workouts vs. a day when I might burn anywhere from 550-800 calories doing a workout. That doesn't make much sense... My understanding is that the calorie burn displayed in the app and on the band is supposed to encompass both the regular calorie burn + calorie burn from any exercise or run tracking you might do, but it doesn't seem to do this. I have the same daily routine, but on days I workout, I expect my calorie burn to be WAY higher than on days I don't workout, especially since my daily routine is always the same. Anyone else experiencing this?

Now all i need is to be able to buy one

I travel a lot and my GPS microsfot band doesnt work in other countries why is that

I have 3 lumia 640 and a Surface Pro 3. Since the last Windows 10 update, all my bands can not be found with Microsoft Health, even if the are paired with blutooth. What happend?