Microsoft to hold Windows 10 and Xbox gaming press event Feb. 25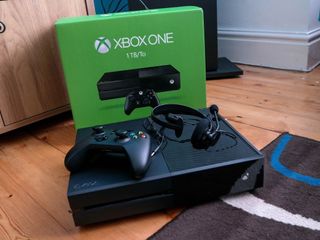 Microsoft has some big plans for gaming on both the Xbox One and Windows 10 in 2016, and it wants to let the media learn more about on February 25. That's when the company will be holding a press event to offer hands-on times with upcoming games for both platforms and share some news about their plans.
The press event will be held in San Francisco, about three weeks before the 2016 Game Developers Conference is also held in that same city. According to the invite, Microsoft will give the assembled press "the chance to hear from Head of Xbox Phil Spencer and get hands-on with the best games and platform experiences launching this spring on Xbox and Windows 10."
That means we could get hands on time with games like the long-awaited Xbox One exclusive Quantum Break, along with the upcoming Windows 10 versions of Killer Instinct and Gears of War: Ultimate Edition. It's also possible that Microsoft has some surprises up its sleeve for the event.
Windows Central has been invited to the Feb. 25 press event and we will have first-hand coverage of Microsoft's announcements, along with hands-on time with the games that will be available to play. The embargo lifts on March 1st.
Update: Event Stories
Windows Central Newsletter
Get the best of Windows Central in in your inbox, every day!
Bonus Surprise! We're rolling out Windows 10 Mobile...(finally)

Its the thought that counts, but NO side shows my guess!

better be mouse and keyboard support on the xbox

360 Media center extender ported to the 1?

Since Media center is dead, my guess would be no.

Not exactly a large demographic waiting for that. Just three very vocal people who have difficulty letting things go. ;-)

Well considering tv app is really gimped compared to what fuji update added to wmc they have a long way

Maybe new Xbox mini or universal apps on Xbox one finally?

Those would be my two guesses. If not xbox mini, some variation of the hardware at least. And universal apps seems very reasonable.

Those two must come at the same time. An XBox mini to take on Apple TV (with millions of apps) must at least have access to the MS app store. If not, it will fail like WP

I'm guessing hardware announcements will be saved for E3 and universal apps will be saved for Build... we can all dream though.

Oh cool! I'm excited!
The surprise announcement i'd be most excited for would be universal W10 apps finally being brought over to the xbox. That, or something so awesome I can't imagine it yet haha.

I dream of a release date for the Windows store on Xbox One


What app do you want to run on the Xbox?

There are media streaming apps on the windows store that are not on the one yet. NBC sports and CBS sports are just 2 examples of apps I'd like to have on the One.

There's numerous games in the store I would love to run. Not to mention much better YouTube and video clients.

I'd like a torrent app and some emulator apps

Wile their at it add mega & we'll be able to pirate movies/tv on the fly

I am hoping for the announcement of Forza Horizon 3. It's only a matter of time until it happens.

I want it to be in Japan, can you imagine driving along that countryside? It would be cool as hell, and with the physics from Forza 6 drifting on the togue on a rainy day would be impressive Posted via the Windows Central App for Android

Japan would be awesome. Driving through the Sakura in the fall, by the seaside, and by old temples? It would be amazing. I'd love it.

Please let it be the DVR software!

L929+ but has to be on par with wmc fuji's advanced settings eg. be able to manually manage channel list

Hmm... wonder what could be announced
A cheaper XB1 slim with a die shrink and no ODD could be a good seller
Would love to hear more about MS getting into real PC gaming rather than silly little angry birds and other such games... I want it to be the next Steam!
More info on DX12 enabled games coming and performance improvements?
Minecraft 2? lol

Yes 100%, Gears 4 will be on the Windows 10 PC Store, & I'm sure most if not all future first party AAA Xbox games will make it to PC. It's the best way to play games as the Xbox one is completely under powered for dx12 games.

I hope they don't announce any dates to save themselves some bad press. God knows they can't deliver on time if their lives depended on it.

Maybe they could announce new games for backwards compatibility for this month instead of announcing something for the end of next month.

This wasn't really an announcement. Just a press invite that other sites covered, so we covered it too.

Re-release of the original 'Duke' controller for original Xbox.

John pay paul to go... eastx east eastx #streamteam Posted via the Windows Central App for Android

Surely this has something to do with launching the universal apps on Xbox!? I also think they need to show off an Xbox Mini with a simplified UI AKA Windows 10 but for big screens. Win10 could be perfect for TV manufacturers to build in and an Xbox Mini would be the perfect product to launch it with so MS doesn't lose ground to Apple

Plus a couple of games for this Christmas would be sweet too; I am taking Forza Horizon 3 for granted cos I can't see Crackdown 3 launching til Feb 2017 at the earliest

I wish they would give us a date (this year) for titanfall 2. I was hoping they would do a 2 year cycle.

MS show come out with a new Xbox One with the name "Xbox One VR" and charge 400$ for it then should lower the price of the current Xbox and removing the CD drive. (who uses the Blu-ray drive when you have streaming media). "The Xbox One VR" should have the necessary hardware that allow you to plug in the Oculus Rift into it

Looking forward to it, thank you. They will probably have cross play games (Windows 10/Xbox One) Fable and Gigantic. Maybe some new ones to be announced.

Looking forward to it. Had forgotten all about Gears on Windows 10. The one game I'd miss wthout an Xbone.

Xbox one will be universally compatible with windows 10 apps. CALLING IT.

I hope the event can be watched online via stream.

Halo/Gears/Forza/Killer Instinct on the Windows 10 PC Store, can't wait https://www.facebook.com/groups/gearsofwarpc/

Was wondering for keyboard and mice functionality. Also someone please add me to the xbox preview program. Gamer tag A1l2e3x4pwns. Thanks!

Console gaming is far and far away for me, just curious what next gen could bring up to the table.

I believe MS will announce some VR headset for XONE, because they probably know that PSVR release date and price will be announced at GDC 2016.

Was this cancelled? I can't find anything about it.

The event is going on today. The whole thing is covered by NDA. We can't discuss it until March 1st.

Thanks for telling us. I was starting to think I was loosing my mind.
Windows Central Newsletter
Thank you for signing up to Windows Central. You will receive a verification email shortly.
There was a problem. Please refresh the page and try again.