Microsoft is holding Windows Insider events in London and Manchester on December 2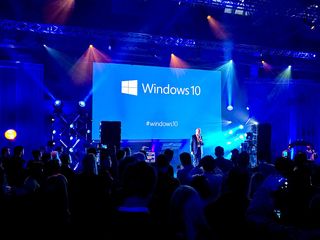 Microsoft has sent out an email to Windows Insiders, informing them events are being held on December 2 in London and Manchester. The company wants to thank the Insiders for all they have done in shaping Windows 10 and Windows 10 Mobile over the past months by letting them be some of the first to get their hands on the newest devices.
At the event, Microsoft will be displaying both the Lumia 950 and Lumia 950 XL, along with live demos of Continuum for Phones and more. In addition, if you want to purchase either of those phones, you'll be able to do so at the event. To sweeten the pot, Microsoft will be including a Display Dock with purchases from the event as well.
If you got an email, you'll want to respond quickly as space for the event is limited.
Windows Central Newsletter
Get the best of Windows Central in in your inbox, every day!
Jared started off writing about mobile phones back when BlackBerry ruled the market, and Windows Mobile was kinda cool. Now, with a family, mortgage and other responsibilities he has no choice but to look for the best deals, and he's here to share them with you.
Not fair!!! I'm I'm Canada but got an invite. Won't claim it so other insiders can go

I'm in Canada and got it, too. Probably too much for airfare

Hi,
I am keen to go to the London event. Didn't get the invite. Anyone with invite who won't be able to make it. Please let me know.

Same here. Was hoping London, Ontario at first. LOL..

Signed up for the Soho event. Thought it was a bit ironic that the other London event is held at an O2 store and O2 aren't even going to stock the 950XL!

I asked someone in O2 and they said they would be getting the phone buy they can't tell me when, you should just go with O2 via Carphone Warehouse, that's what I do because Carphone Warehouse is meant to get all the phones 950's and the 550!!! And they always reward you for being loyal like Money off your tariff or they give you gifts like Xbox or PS4's....

already ordered to get dec 3rd. i was also told the 950 would get the display dock. i have the conversation saved as proof so will demand one after getting the phone :)

Lol yeah I agree with you Melon, they decide who gets what, like I'm surprised when they had the fitbit offer when you purchased the 930, it was available for everyone except in O2!!!! I tried to get one for my dad, but no luck!!!! Although if you have a record of it they might allow you, because some so stick to their word especially if you complain or ask to speak to the manager and tell them how loyal you have been to them!!!

can only try lol. the guy on chat from ms was convinced the 950 was going to be included. he actually pulled that line out when i was thinking of cancelling and getting from CPW. i guess you dont need to worry FizzySignal? didnt you win one?

I just had a web chat with Microsoft Store (UK) and they told me that the Lumia 950 that i've pre-ordered will not be eligible for a free Display Dock. Only the 950XL.... but as and others have indicated there are instances where people have been told otherwise....

Is it WM 10 launching ? Coz subject line says so. " Your exclusive invitation to the Lumia Windows 10 launch event"

Well...which OS is on the phone?

Signed up for the ironic O2 location. I'll be asking about the XL for sure!

I got a call from microsoft store telling me to pick up my unlocked Lumia 950 tomorrow!

Got an invite... only problem is that I've gotta be 18 or over -.- utter bs.

Gutted mate. Don't you have an older brother or a mate with an older brother that vaguely resembles you lol

Important to note. An invite doesn't guarantee you a place. You'll find out on November 25.

Received my invite but phone already ordered, so not going. Posted via the Windows Central App for Android

Should I go to see a phone I want but can't get as stupid three aren't going to stock it! May have to Argos it. I love my unlimited internet

Just order unlocked?? I'll always stick with three, but will never buy a phone on contract ever again!! Phones on contract are a complete con!

more so for lower priced phones like this! an iphone oddly comes close either way you go about it. and o2 now give you a break down anyway i think you save the most money when using these new mobile operators that piggy back on the main networks. i.e. tesco mobile use o2 and a lot cheaper rates + buying phone out right makes it a much better deal :)

When you come to the end of your contract, instead of upgrading ask for a reduction off your monthly bill as you are then no longer paying for the cost of the original handset you got with your contract.
Then, buy a 950 unlocked.

Yeah this is what I did since I'm getting the 950 XL off contract, O2 have some thing called refresh so you can upgrade your phone at any time as long as you pay off your phone cost, mine is paid off now so I'm just paying the contract, I don't think in getting a lot for the money, but I don't use minutes, texts or internet to over what I have, maybe that will change with the new phone!!!!

I asked three to stock it as I told them the virtues of continuum and they were quite impressed.

They? You mean that single person you spoke to?

Amazing UK have a good price and a finance option available too.

i'm with you on this on, I've been pestering Three to give me a definitive yes or no on wether they will be stocking them with no luck. looks like i'll have to go sim free and buy an unlocked handset.

Just registered my interest to go to Manchester. Looking forward to it.

250 Swedish Insiders was also invited to a pre-launch December 2nd in Stockholm.

Awh, am an Insider in Manchester, but didn't get the email :(

Lucky you Quantum!!!!! This is the Windows Central Community at its Best!!!! :p

Finally found you FizzySignal! You are one lucky bastard for winning 2 prizes recently!

Signed up for Soho, pre ordered the phone anyway but will be cool to meet people and have a gander at the phone before I get it! :)

Applied for the Manchester event so we'll see.

Insider as well in london but no email :-( got my band 2 today though :-)

Lol I'm on the Isle of Wight, got an invite somehow!

When in Doncaster? I'd like to go to one of these events. No invite though.

It's not a tour of the British Isles unfortunately. It's just in Manchester, Tottenham Court Road and Soho

Got an email today applied for the soho event as I expect the o2 store will be pretty packed

Will David Brent be there? XD

Same here in Sweden hosted at Tele2 in Stockholm

The clowns are getting ready!!! http://media.fyre.co/1THrLSk6SWUdcPCrlb5n_Windows-Phone-7-Parade-Celebrating-Platform-s-RTM-Video-Available-2.jpg

Received an invite also even though I'm in Singapore !

Same even is held in Milan (same day!). I refused the invite :P Looks like Europe is receiving some love, since we are the only continent that buys Microsoft mobile products :)

You might get the dock for 'free', but Microsoft Store's selling prices are higher than anywhere else.

Let's convince them to price match with CPWH

I spoke to a lady in the usa earlier who works for MS Global customer advocacy team. She was shocked when I said CPW pricing how much lower than MS. Microsoft have totally fked my Lumia 950XL and band 2 orders up. They've been utterly shambolic thus far I'm sorry to say.

I'm from Sweden and got the invitaition, to the Swedish launch that is. Can't go though.

EE 950 preorder seems to be live... https://www.windowscentral.com/e?link=https2F2Fclick%2Fcam...

Posting here because I saw the link after registering for the event, also had links for other networks / stores / sites

Black only. Good as long as you don't want the white version!

I just wrote a massive complaint email to the EE CEO about the rollout of the new Lumia's, lack of information from their incompetent staff, long shipping dates, lack of availability of the XL and the fact that the specifications of the 950 are wrong. If I'm lucky he will say sorry and send me a free XL lol, a boy can dream right?

EE are awful, I've been there and emailed their Ceo complaining. I refuse to use their services.

That price is steep. I'm currently on EE but never again will I pay them £45pm, I got burnt with the 920. Plus, I want the XL, hoping that I get accepted for the O2 event and then hoping for some form of raffle at the event :-)

Just received witht he choice of London or Manchester and will probably not be able to make it......but will try.....even though I'm sticking with the lovely 930 on W10 for now!!

Is there a cost for the Registration or just your flight and hotel? I probably won't be going, so someone can have my invite.

I've just got one and signed up for the Manchester one, even though I already have a white one on pre order from MS as it will be interesting to see how these things go

They also holding it in Milan. :P

Hi guys, could anyone please consider forwarding your invitation to me in case you are not going? Do not want to seem needy or rude, but I have not received invitation myself and by a huge coincidance I am going to be in London from 1st of December and I would really like to attend the launch event. Thank you for the consideration :)

Got an invite, can't get time to go :(

You'll also get one year of office 365 for free

Really, official link please as I haven not seen this offered on my email????

The link just takes me to the WP home page now as I've already applied but it definitely said it on the registration page for me too.

Got email and signed up for o2 Soho event. Hopefully I get in as I really want to see the 950xl. I haven't pre-ordered the device as I'm not sure the dock is available outside of a direct MS store purchase. Anyone confirm if dock available to non Ms store purchases?

Not sure whether if i want to go or not as I've already pre ordered the 950xl Posted via the Windows Central App for Android

It's not just a 950 event, it's a Windows 10 event. Should be interesting.

Applied for the o2 store event. Fingers crossed I've never been to anything like that before would be cool.

I'm in Australia and got an invite. I'll have to pass on this one.

I'm thinking about the 950XL but am undecided. I received the invite today and I'll be working 5 minutes around the corner from the Manchester location that day. I'm definitely going!!!

I got the invite, and I wanna go.. but I live in the Philippines. So..yeah. -,-

Hi Nukesheart1520. Any chance I can use your invite? Didn't get one and I'll love go.

i don't mind giving it to anybody..can I? How?

Anything happening in Finland? If not it seems that Microsoft has forgot about the roots of Lumia...

I just got an invite and have signed up to the Manchester event.... I've already pre-ordered a 950 and have been told by MS store web chat that the 950 does not qualify for a free Display Dock, so i'm a bit disappointed that unless i buy another 950 at the event i wont be able to get a free dock. As an insider program member, Microsoft should just give a redemption code to those that have pre-order a 950 or 950XL regardless...

Applied for the O2 venue. Regretting not doing the Soho venue
Windows Central Newsletter
Thank you for signing up to Windows Central. You will receive a verification email shortly.
There was a problem. Please refresh the page and try again.