Microsoft HoloLens coming to 6 new markets this November with pre-orders now live
You can now order the Microsoft HoloLens in the UK, France, Germany, and three other countries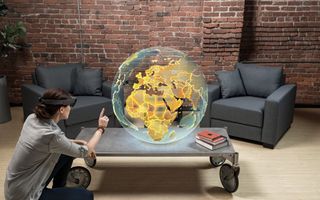 For those outside the United States, it's been a long and hard wait if you've been interested in buying a HoloLens. Back in March, Microsoft began shipping HoloLens development kits exclusively in the US and Canada, leaving nearly everyone else out in the cold, until today that is. Microsoft has announced in a new blog post that HoloLens will be coming to 6 new countries this November, and pre-orders for those countries are now live.
Now that HoloLens is rolling out in more countries, developers all across the world can start developing apps for the holographic platform. This HoloLens rollout will see the product arrive in the following countries:
Australia
France
Germany
Ireland
New Zealand
United Kingdom
Microsoft said in an official blog post:
HoloLens will be available in these new markets starting late November, with pre-orders going live today. Pre-orders are taking place exclusively through the Microsoft Store too. It's super exciting to see HoloLens arrive in more countries, as it means holographic computing is now more readily available worldwide. We can't wait to see what new developers come up with.
Pre-order at Microsoft Store (opens in new tab)
Windows Central Newsletter
Get the best of Windows Central in in your inbox, every day!
Zac Bowden is a Senior Editor at Windows Central. Bringing you exclusive coverage into the world of Windows on PCs, tablets, phones, and more. Also an avid collector of rare Microsoft prototype devices! Keep in touch on Twitter: @zacbowden.
Indians really needs to be in the game...we are not in small numbers who likes msft

So the answer to the initial question is: No.

Satya Nadella - Indian.
Indian market - Least priority.
How nice. In any case, people have started hating him for ruining W10M.

No correlation at all. HoloLens head Alex Kipman is Brazilian - no signal of a release in Brazil either.

Always something to complain about. I'm sure that you'll eventually be able to get it via eBay.

Which part of Europe is India in?

Either you are terrible in Geography or you have an even more terrible sense of humour.

They are obviously targetting countries with richer economies. The hololens is still very expensive. Why would they target India?

oh yeah? India and China as one of more faster growing economies where ppl dont mind to spend additional money on such high tech stuff. no wonder apple is looking to penetrate these markets since a long time

Yet apple still refer to india as a junk market. Sure india is one of the faster growing economies but only for a specific price range definitely not for things like holo lens

I... must... resist... the... urge...

I'm resisting quite easily. Why? Because Hololens confuses me. Firstly, it seems to be a form of VR that isn't as immersive as current headsets like the Occulus etc. (I know it is for different purposes, but from a tech perspective it seems like a kind of VR light). Then they want to charge a staggering £2719 for one! This is not very realistic. Once the price has come down to current headset levels, I might have a temptation that I will have to resist. As it is, no temptation at all.

1) This is not a consumer device, this is for developers and businesses with deep pockets who are interested in changing work flows down the road. 2) Mixed reality head sets have huge potential over VR head sets, ignore the tech media (who blindly follow VR ignoring it's many downsides), MR does not suffer from the physical affects like headaches or nausea that VR can induce, furthermore it does not shut you off from the world and most importantly it can collaborate with full computers from AutoCAD models being viewed in real time off the screen, virtual monitors for computers, repair instructions overlay on real life machines, real time translation displays etc. PC/console VR is very limited in scope beyond games and mobile VR is a novelty, MR devices are the next real big thing. (All the in show future engineers in the new HBO Westworld TV show use MR glasses in their work which is a neat touch)

Thanks for a good explanation, but I don't think I'll really get it until I can see it. I'm still not convinced this will be the best choice and at the prices even VR headsets go for experimentation isn't practical. If they can get a consumer version down to competitive prices then that will be interesting, but if it gets swallowed by the new 'enterprise first, last and always' strategy (as it is currently positioned) it may never reach the shelves. Here's hoping we can charm MS into letting us in one day. I want to try this if I can. And to those who down voted me for being (and not unreasonably) a bit confused by this odd thingie, thanks for discouraging my curiosity. You should be ashamed.

Heck it is not a form of VR!

It really isn't actual reality, it really is virtual. Don't get those two confused.

It's not VR at all. It's AR.

Heh, funny. Perhaps if it includes a 3D printer? :)~

Be interesting to see where this is at in a year or 2, so much amazing potential.

Must be a Microsoft trademark: leaving everyone else in the cold. This is going to be the same succes as Cortana ...... it fails.....

It's a developer device being manufactured in small quantities. I mean, 6 countries on an expansion is pretty huge.

Unfortunately the same cannot be said of Cortana, a consumer service. The expansion is so slow mostly everyone forgot about it already in my country.

Why don't you just use it? It has been region unlocked for months.

Who cares? Even when it is unlocked... that doesn't mean it works well.

Really? What doesn't work? And since it is globally available, what was that about rollout?

Microsoft will tell you that ...

Yeah, really huge. Huge to me sounds more like 200.

Dude, giive it up. You obviously don't know what you're talking about.

Or, you don't know what I am talking about .... Dude...

Feel free to elaborate then. Provide examples of a bigger expansion for a one of a kind development product that is in any way similar.

Why would I provide you with anything? I simply say that 6 is not much.

Very well then, thank you for your unintelligent reply.

ZzzZzz. Okay, I tell you what, create a product then release it to each and every single country. Use your own money. When/if it fails come back here and tell me how much money you've lost. I'm sure you get my point.

I love Cortana here in Australia, very reliable in my experience

I'm. from a small country called Western Sahara, i like how the woman in the photo is pointing to my homeland :)

Hahaha cyber hi-five to you man

Turn your volume up - she's saying "you're not getting it either!" ;-)

India hasn't got Xbox one S.HoloLens will get in to India by 2020.Thanks to that satkela.

Still 15 million dollars?

Those looking for an alternative browser for all windows family 10, until hololens: BlueSky Browser https://www.windowscentral.com/e?link=https2F%2Fclick.linksynergy.co...

Pre-ordered as soon as I found out.
Windows Central Newsletter
Thank you for signing up to Windows Central. You will receive a verification email shortly.
There was a problem. Please refresh the page and try again.