Microsoft says Start menu and lock screen improvements coming in Windows RT update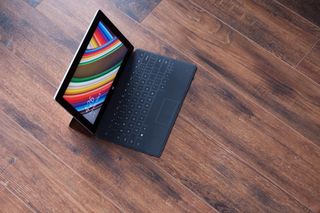 Microsoft has finally confirmed that the next update for Windows RT, which will be released in September, "will improve the Start menu and lock screen". The information comes from Microsoft's official Windows 10 FAQ in a recent update.
Windows RT, which was only installed on a few devices, including Microsoft's Surface RT and Surface 2 tablets, won't be getting the full update to Windows 10. A recent report, still unconfirmed by Microsoft, claims that the Start menu that will be part of the Windows RT update will be based on the DirectUI version that was included in early Windows 10 Technical Preview builds.
Source: Microsoft (opens in new tab)
Windows Central Newsletter
Get the best of Windows Central in your inbox, every day!
Is Edge going to improve anytime soon? :-\

Since the update edge has been more stable for me.

So... about that Windows RT Start menu... ?

Wonder what improvements were needed for the lock screen. Maybe they'll just add that new windows 10 illuminated wallpaper.

If thats all its not even worth the bandwith it consumes.

As long as we don't lose the full office that came with it!

Or desktop. Need that for file transfer and an easy way to FTP with file explorer.

What about Cortana? And Edge? And snap-assisted desktop?

I actually prefer metro IE over edge for touch. Mostly just the interface though.

No thanks. I'll keep my tablet as is with a proper tablet experience, I don't see anything in Windows 10 that will improve my RT as a full touch device.

I would just like reassurance that RT users can access and use ARM-compatible apps from the Windows 10 Store, but I guess that won't happen.

Or all the WP apps that would work just fine as the RT is basically just a huge-screen Windows Phone without a phone anyway.

Old news, saw this 2 days ago....

Yeah, this was mentioned even further back than that.

And what abt the start menu and Cortana can't be started error on W10?

This has nothing to do with RT. Choose the right forum for these posts.

No. Please don't. I prefer the win8 start screen with the classy "Start". Much better than full start screen in win10. I also love charm/swipe/gestures on my RT. Please don't change it. I just hate win10 tablet mode.

Some new W10 features like Snap Assist would be nice for RT.
But the start menu makes absolutely no sense here.

Would like it to get Xbox streaming. Not too concerned about much else. Edge and Cortana would be nice.

I hadn't thought of that. It would be a great stream device. So bearing that in mind, OF COURSE MS won't let us do it.

While I don't dislike the new Start Screen on my desktops, X86 devices, if that is the big change in RT, keep it. About the only thing I would really like to see on my Lumia 2520 is the Modern/Universal Office apps. I figure that's not happening.

The update is pointless if they don't include universal app support. They should give the option to install W10 Mobile for users that want universal apps. Here's a Uservoice suggestion I created a while ago, vote if you agree. https://windows.uservoice.com/forums/265757-windows-feature-suggestions/...

no universal and new apps = no future usablitlty for windows rt ms mangaged to run android apps on winodws 10 mobile why cant they make windows 10 apps run on windows rt?

Or WP apps to run on RT. Hell it even uses ARM!

yes. that's what im talking about windows 10 universal apps, made for windows 10 mobile windows 10 mobile only apps, would be fine too

Allegedly, Cortana may well be there.. At least according to Jay Bennett.. ;)

In window 10 pro 64 bit first of all it takes too long to open, in groove music app there is cracking sound, after it goes to sleep then it takes 2-3 min to show window till it show blank screen.. It is irritating when it takes too long to open and I have some urgent work .

This article is about Windows RT not Windows 10 Pro.

Will update reset privacy settings to slurp all like with W10 update?

Leave my Surface 2 as it is. I find W10 a bit off meh.

I really wish Microsoft would explain why RT tablets can't just be upgraded to Win 10. 10 can run on ARM processors so what makes tablets like the Surface 2 so different?

Intel don't want competition in the Windows tablet market

Intel has nothing to do with that decision. Microsoft is listening to users who mostly want to be able to run x86 apps on their windows tablets.

We deserve more features in the upcoming update for RT, please sign this petition !!!! http://answers.microsoft.com/en-us/surface/forum/surfwinrt-surfusing/petition-more-windows-10-features-in-the-upcoming/f0a73988-2022-4297-82ce-eb49d2873db0?tm=1439080687128

That's a good thing, it sucks as a touch browser compared to Modern IE.

To late for me my touch screen is cracked.

Until MS proves that 10 will truly have good app support for a great touch experience I'm not buying another tablet from them. Yes I know an intel tab would support all x86 apps but that's not good enough for me to shell out more cash for a touch device. My poor surface 2

Dead is dead people. When you paid several hundred dollars for your new Kin (I bought the 2520 Nokia Kin model myself) we didn't realize that we were buying into an evolutionary dead end. Oh, actually since I bought mine just a few months ago, I did know. Those of us on this big ARM device are going to get some smattering of Windows 10 stuff as an update to mollify us, which Microsoft should damn well realize that in the internet age no one is mollified and that the internet is powered by Sturm und Drang. So good luck with that Microsoft. and so I would like to take us out on the closing refrain from Bertold Brecht's Matrosen Tango.... "Ah, the sea is blue, so blue,
And all the world goes on its way.
But when your day is over,
There is no other day Ah, the sea is blue, so blue,
You don't have that long to stay.
Ah, the sea is blue, so blue,
Ah, the sea is blue, so blue,
The sea is blue."

Can, we not accept this update, but continue with security updates?