Microsoft improves pen support in Windows 10's Remote Desktop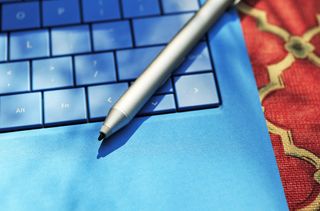 Using a pen on a touchscreen Windows 10 PC should be as good of an experience with a remote connection as it is when using a mouse, a keyboard or a finger. That's what Microsoft has in mind with the improvements it is making to the Remote Desktop software when connecting from a Windows 10 client to a system that's also running the new OS.
Microsoft says:
Microsoft adds that the the Remote Desktop client can detect if a user is pressing harder on a touchscreen with a pen which will allow some apps to change the thickness of the line. It can also detect the angle of the pen or if it is being used in an inverted position. These features are already available in the current Windows 10 preview versions for Windows Insiders to test out.
Source: Microsoft
Man, those penis drawings are getting really weird lately guys.

Your penis looks like That?

Do all PC's involved need to be running Pro?

Only the host (the one you are connecting TO) requires the pro version.

Coolio. Saves me a few hundred quid. Also, how does scaling and resolution translate? Does the host change its resolution to the remote device's native? Or does it kind of zoom out, so you can pinch to zoom and whatnot? Is it also possible to wake the host over the internet?

You need to wake the host in the usual way by enabling WoL and sending the magic packet - So you'll need a connection into your home/work network first of all, to then send the packet. Routers with VPN build in can handle this usually, but there are a range of ways you can do it. I never had much look with WoWL (Wake on Lan using Wireless) but wired is easy to setup and works well.

Most Wireless adapters (receivers) don't support the magic packet. I have yet to come across one that does...

How about fixing pen support in Windows 10 first? :D At least on my surface 3, after using the pen for a bit, each touch with a finger is treated as a right click until you restart. Annoying as f..

Not experiencing that, but I wish it functioned the same way. Assume we need a firmware update around the 29th?

Have read about many others experiencing it, as well.. Using the pen a lot these days for studying and sometines it takes an hour, just now it happened after 2 minutes of using the pen.

What's going on with remote desktop? Will it become a universal app in W10?

Pretty sure it's already a Windows 8.1 Universal app - There's the mstsc.exe original still there too

The remote desktop client is currently available in just about any version of Windows, IOS, and Android. Or do you mean something else?

I would love to get all in one touch desktop with internal blu ray drive, 1080p screen, wifi, Bluetooth 4.0, multiple USB 3.0, HDMI out, vga and dvi out, camera, native stylus pen support, some sort of Kinect support.

*Penis* be looking like hammerhead LOL

So I should be able to use my Surface Pro 3 as a drawing talked tablet connected to my main desktop PC?

If your desktop PC is running Windows 10 Pro and above you can RDP to it and then use the pen yeah.
Note though that when you RDP onto the desktop, you won't be able to also use the desktops Mouse and Keyboard, it will lock the desktop On client operating systems (Like Windows 10 Pro) I don't think there's a console session you can connect to and then shadow your main account - Pretty sure that's just on server SKU's Only ever used the Console session via the original RemoteDesktopConnection Win+R then type "mstsc /console" and run. It's my assumption that this version doesn't support pen and you need to use the Modern UI app instead for pen support

An interesting announcement. It doesn't sound very useful. What is the idea to support pen during a remote desktop session? Apparantly there is a demand, otherwise this feature wouldn't be added. I think it would have been better if they improved pen support as a first class input method. Currently the use of one of the pen's most powerful feature, the handwriting is underrepresented in the windows operating system. I was expecting a more immersive an advanced input of the pen and handwrting by enabling handwriting in textfield elements. Not as now where the pen input panel acts as an intermediary, boxed in, input method, but the input method is part of that texttield (which means you can actualy write in the text fields of search and adressbars or handwrite on a floating overlay on the desktop or startscreen for "speeddial" handwriting symbols for quick OS navigation. That would make a lot of sense going forward from the evolution of windows 2005 tablet edition, windows, 7 and windows 8.x. And with the pen back front and center in the surface devices makes it even more logical to evolve in windows 10.
Windows Central Newsletter
Thank you for signing up to Windows Central. You will receive a verification email shortly.
There was a problem. Please refresh the page and try again.