Microsoft increases OneDrive file size limit to 10 GB and adds more features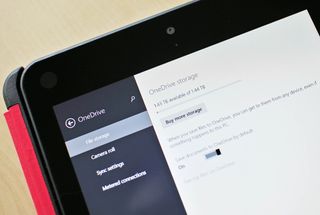 Microsoft has now officially announced it has increased the file size limit on its OneDrive cloud storage service from 2 GB to 10 GB. The file size increase was noted by some OneDrive users a couple of weeks ago but today Microsoft confirmed the boost.
In addition, Microsoft is rolling out some more OneDrive improvements for PC and Mac users, increasing the number of files that can be uploaded or downloaded at one time. Microsoft said, "In internal tests, this parallel syncing netted an approximately threefold increase in syncing speed."
Windows 7 and 8 owners will also see another new feature in the next few weeks that will allow them to share files without having to go to the OneDrive.com site. Microsoft says, "By simply right-clicking the item or items you'd like to share, you'll see a 'Share a OneDrive link' option that will create a sharing link and add it to your Clipboard. From there, you can paste it directly into an email, IM, or other message." This feature will apparently be added for Windows 8.1 and Mac users at some point in the future.
Finally, Microsoft stated, "We're pleased to announce that today we're releasing the ability for you to drag folders directly into OneDrive.com from browsers where folder dragging/dropping is supported (specifically Google Chrome)." What do you think of these additions and improvements?
Source: OneDrive blog
Windows Central Newsletter
Get the best of Windows Central in in your inbox, every day!
Awesome changes. Especially the ability to get a link to share by right clicking and not having to go via the browser.

That is the best one for me, I give out sharing links quite often and this will make things so much easier.

Absolutelly. I'm marketing the hell of OneDrive by sharing my professional files on it and not on Google's Drive!

Btw. this way of link sharing already works in Metro-style OneDrive app :)

Glad to hear it! The service keeps getting better and better.

It does, but how about synchronization of files and folders shared by others to the recipient's OneDrive folder? Live Mesh did it YEARS ago.

This is the co-owner feature that was mentioned as 'coming soon' on this site months ago, but nobody seems to dare mention it since!

I see the co-owner option, but it doesn't seem to do much. My wife is a bit annoyed, 'cuz the "Family" (room) shared folder shows up in the room of my one drive, but she always has to go hunting for it. Boo.

This and OneDrive will be complete

At last! Drag a whole folder , that will make life easier

This changes everything. UPLOAD ALL THE FOLDERS

Young insanity wolf: Upload all of Wikipedia to Onedrive.

Keep them coming. Also... Can we get a WP app update? Mine has a fee sporadic errors.

Good, now I can finally sync my ISO files

I was going to write the same :)

Maybe you should just buy some more OD storage?

I use OneDrive (personal and business) these are great tweaks to an already nearly awesome service! That share file improvement will be very handy. One thing though, speed improvements are definitely needed in Australia, our nearest DC is in Singapore and that's not great for us.

Yes performance in Australia is terrible. Unable to steam video taken in my phone. Makes it rather useless for sharing content between devices..

Has anyone seen system instability after the update 1? All my larger apps are crashing now, phone freezes almost twice a day, and now, the store is showing a blank screen when any app is set on updating!
Never expected this from windows phone. All the speed of the OS is lost...

Nope, not after cyan update. Only one problem, it takes long for my 1520 to adjust my screen when I go from the dark into the light or back.

Drag and drop support for entire folders! Love it!
Now we still need to be able to collaborate on folders like Dropbox has! Please add that, as it's the last threshold for me to switch to Onedrive completely. Oh that, and like Dropbox also has: file versions support and rollback (on filetypes other than Microsoft Office)

Onedrive is the best cloud service out there

No way. Without shared folders it's an also ran. This is a basic, core feature, and it's inexplicably missing.

What are you talking about? I'm sharing folders.

Yes, yes, yes you can share folders.

Next step: Music Locker folder...

I hope next they will add the ability to create a shared folder like they said they'd do 6 months ago that would allow us to collaborate on projects with other people and all have access to the same folder directly from Windows Explorer.

When will they implement the concept of shared ownership? I want to be able to sync shared content to my desktop. COME ON!!!

Yes, this is one thing Google Drive has on OneDrive that'd be nice.

I miss that from Google Drive.

I thought it's already there. I've shared my folders with my cousin and he can see it on is Mac. I remember seeing shared folders or was it on browser not sure. Need to check again.

Big"yes" in folder support.

I am still waiting for folder co-owning. :(

Same here...
The changes are nice to see... But co-owning would improve the service way beyond anything...

Yeah I mean how do they even want to compete against Dropbox & Co. if they do not offer this super important feature?

I'm still waiting for Advanced Rules for outlook.com that were announced back in May.

Chrome rules, drag & drop?

No. Chrome sucks in more then one way.

Meaning add that functionality into IE??? Think that would make sense. Or does it already exist?

Yes for ability to drag folders directly into OneDrive.com

Can't wait for these changes to Onedrive for Business.

Well, not a bad change. But taking into consideration that Google offers unlimited file size and that they have been working on the max file size limit increase for over a year now it leaves me midly impressed. Not sure whether it's still a technical barrier that they would need to overcome or whether that has just been done in order to prevent some power users from uploading tons of ISOs or whatever.

Hope they keep these long awaited improvements coming. Better late than never is nice but its also good to be first sometimes..

Microsoft is on a roll. Keep it up MS!

I actually drop my dropbox folder inside the OneDrive folder. It works great

Microsoft, be careful, not that the Governmentz of the world will accuse you of leveraging your control of the operating system market to promote OneDrive, and to destroy the competitionz. Thread carefully: Give Linux also the posibility to share links without logging into OneDrive.Com."Cheeky" Why are Emoticons not showing here?

Is the 10GB upload limit now possible via IE or we still need to install the OneDrive client?

yeah, 10 gb limit it's web and desktop, not just desktop, now both share the same limit.

This will negate the small file size limit MSFT impose in Outlook. Today's a good day.

Awesome! Especially the context-menu options for sharing. Now add the same for OneDrive *Business*.
•
Also add the sharing options to the File Explorer ribbon in a OneDrive tab.
•
I'd also like Microsoft to make a universal OneDrive app for both OneDrive Personal *and* OneDrive Business (vs. the existing two separate apps.)

Yes! OneDrive for business blows (when compared to this). Tons of limitations with Pro, very disappointing.

Not bad. But I'm still waiting for the feature to sync content who is shared with me..

Nice, BUT we need offline syncing off shared Files/Folders. Best option is to split the Storage the users use through them. But this will be very important to compete with Dropbox

Whattt? 144 TB? John Callaham is surely richman @.@

1.44 TB, not 144 TB. Most likely he has an Office 365 subscription which includes 1TB of OneDrive storage on top of what you already have. I have 1.23 TB myself. 1 TB from Office 365 + 200 GB (for two years) for Surface Pro 2 purchase + ~30 GB that I already had.

This still does nothing for my 25 gig files.

Practically speaking I'm sure 10GB will be fine. But honestly its not THAT big of an increase. Google Drive has a 5TB limit. And as others have said, we need syncing of shared folders.

Not sure any of you out there but my ICON keeps freezing up and some of my apps won't load or they will kick me out, this really sucks if you ask me, to get my pictures save from the camera roll to one drive can take about an hour, I try powering off the phone and nothing, not to mention that we have not get new update this really sucks, this memory update is nothing i will prefer the upgrade in a heart beat, with the new iPhone coming and after a very bad experience with the Lumia phones (928 & icon) I'm actually thinking on just change to apple

That's a sucky experience. I have an Icon and mine was trying to freeze up at one point too for awhile. But I stuck it out and now it's really enjoyable. I wouldn't trade this for an iAnything. I just wish it had an expandable memory card slot for extra storage on the phone.

This is great news I've wanted to upload my music but am prevented by size restrictions

Co-owners wanted... Hard to shared files with the wife's PC at the moment.

I put dropbox on onedrive.

Finally, a share link contextual selection, dropbox has had that 'forever'.

This is probably my most favorite online service. Now, just need music locker for unmatched music. Yey!

"ability for you to drag folders directly into OneDrive.com from browsers where folder dragging/dropping is supported (specifically Google Chrome)." Why chrome ???

Because IE doesn't support it, once they do, IE will add it as well, and other browsers. they said it in the comment section of the blog from OneDrive team

Thats really sad!! Would've been better if it were IE first & then other browsers... But as long as it is available for all, its good.

Previously when onedrive was not integrated with OS, it was working fine, however after integration....it takes hell lot of time to sync. Rather, dropbox and google drive works fine and user friendly too. Is there anything, I must do to make onedrive, userfriendly and fast sync ? I use win 8.1....

amazing Microsoft....Thank you!

I think hat this is all cool, and bla bla bla, but what I really missing is for microsoft to pick up the bigger picture when it comes to families. The service does not require to be free, but what as a family father needs is the ability to: Have a family microsoft account, that will allow me to purchase games, songs and sync&share purchased items with the rest of the family devices. I do not mind paying extra for this feature. But see no sense in bying the same app multiple times, or the same song multiple times. There is a hack to work around this, but i is stupid to hack, just alow for it in a way that make sense. Have a single one drive storage for this family account,so that I can buy storage for it, and allocate to my family members. Embed the family account in XBOX, windows phone, calenders, and so forth, giving the small family tools to plan and share content. Combine this with the family safety features, already exists, and I think tht Microsoft can gain a spot as the MVP for families. give parents control and ability to share resources in the family, will make parents pick windows platform. Kids growing on that platform, most likely will want to continue using this platform when they get bigger.

I totally agree. They've done some things, but its sorta half assed. This could be a really good differentiation for them. I would have another Xbox One if not for the limitations, I need to essentially share gold on two. It shouldn't make more sense to get a ps4 than another Xbox One.

SkyDrive gets sued, becomes OneDrive and kicks ass.. Can we consider Onepy, Oneing, and other stuff among these?

Fantastic. I use OneDrive every single day as a chemical engineering student

10gb .. That would take me a year to upload with the crap speeds on uk lol

SkyDrive was waaaaaay better! U truely miss those days.
Windows Central Newsletter
Thank you for signing up to Windows Central. You will receive a verification email shortly.
There was a problem. Please refresh the page and try again.