Microsoft introduces Social Challenges and Leaderboards for the Band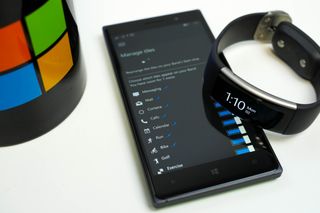 Microsoft has finally announced Social Challenges and Leaderboards for the Band, a new way to keep you motivated to push forward. This will allow you to compete against friends, and challenges can be created for steps, calories burned, longest run and plenty of other measurements. You can create a group of friends to challenge, and then let the competition begin.
From Microsoft's announcement:
If not all of your friends have a Microsoft Band or Band 2, they can still compete using the Microsoft Health app on their phones.
The new Social Challenges and Leaderboards are not expected to roll out to all users until later in the week.
Going by the supplied screenshots we presume these new features will come in the form of an app update for Microsoft Health. We'll keep you posted.
Windows Central Newsletter
Get the best of Windows Central in in your inbox, every day!
Jared started off writing about mobile phones back when BlackBerry ruled the market, and Windows Mobile was kinda cool. Now, with a family, mortgage and other responsibilities he has no choice but to look for the best deals, and he's here to share them with you.
So this will be an update to the Health app I'm guessing?

Yeah, seems it. We'll post when that rolls out.

Hey Daniel, been thinking of getting a Band 2 buuuut how useful/productive would/could it be for an IT guy, in your opinion?

I think Band 2 is the best all-around device for fitness and notifications/interaction with phone.

Gotcha. I'd really like to own one but I can't find enough reasons to excuse the purchase. Not until I hit the gym again, at least.

Agree with Daniel that it is the best all-around device. Have tried several, this is the one I want to work/stick with. But there's a reason I say want to work/stick: Band 2s break. A lot. I don't do anything crazy with mine, and it's been replaced twice since November. If you look at the Band 2 forums, some people are on their 4th/5th. Build design is really poor. If you weren't working out with it, maybe this is less of an issue, but still.

Quote: "Band 2s break. A lot. I don't do anything crazy with mine, and it's been replaced twice since November." Wow I was about to pull the trigger on getting one however I came across your comment and honestly its the same thing I went through with the Jawbone. I am active with it and play a lot of basketball. Are your returns due to poor craftsmanship or youve actually taken a couple of bangs and falls? @Corozza

Died without a scratch on them. Like I said, go to the Band 2 forums, TONS of people having problems.

I love mine but I can't recommend it. A crack just appeared an inch from the right side of the display. I have only had it for 4 months. It looks practically new otherwise. :(

And I'm in the other boat. Use it for various exercise activities and mine has held up fine.

I am with you on this one. They just stop and won't charge thank goodness I got it through bestbuy and can do a same day exchange in most instances.

I'm about to be on my second Band 2. The band (rubber part) got a tear in it. :( The First one got a bug after one of the updates. However I still love that thing. The Notifications is cool because you can reply to text messages. Microsoft Health on the web allows you to build custom workouts and snyc them to your band. I subbed to the Spartan race workouts and just build them as close as I can in the browser and then sync them to my phone. Once on the band they work flawlessly. I like it for an alarm because it buzzes me versus a loud alarm that would wake my 11 month son up.

Is it still worth getting a Band 2 if you're stuck on WP8.1, though? I worry Microsoft will leave us hanging again like they did with Surface RT.

Absolutely. I'm on 8.1.1 and my Band 2 works perfectly

Mine was stolen... This comment was posted on Windows Central for Windows 10 UWP.

Honestly, the health parts of it are what I use the least. I do my cardio on a treadmill or stationary bike, so the run app is not super useful... generally, I just turn on a generic workout, so it tracks my heart rate and guesstimates calorie burn. Far more useful to me are the notifications on my wrist, the sleep tracking, step-counting, etc. So even if you're not going to the gym, it seems pretty good to me. :)

Sure but I don't need a 200 euro step/notification tracking device. :P I'd get one right now if it was for half the price. Other than that, it's a waste of money, when it comes to me, of course and not in general.

I recently had the band break. This is a known issue and it was replaced, but I am leery about it's durability.

Hope they bring Health app to more regions with that update. Health app is not available in my region but Band is!!!

Wow these are changes I asked for in my feedback. I guess I will update my band to a Band 2 now =)

Sweetness! To bad for Bandsider lol - Sent From Mars

Was thinking the same thing. I'll probably use both for a little while to compare how the challenges and other social components evolve.

Yeah, I've been holding off on Bandsider for this very reason.

I think it sucks that Microsoft has kind of put off this feature that has been requested since the launching days of the original Band and RIGHT when an indie developer invests in filling that need, Microsoft steps in.

That is kinda messed up... but if that's what drives them, maybe we need to have someone threaten to steal their shine on the wallet/HCE so we can finally have rewards, gift cards and NFC payment in our wallet.

Well, I'm sure both Bandsider and MS have been working on this for quite a while. There is probably room for a third party solution though, if Bandsider does a good job.

How do we go about doing this? Posted from Windows Central for Windows 10

Now all they need to do is either release a companion scale or integrate data from other scales (Aria, Withings) and they'll have added everything that was missing from when I switched from fitbit.

Yeah, I'd like the Aria thing myself.

grabbed a refurb on newegg for under $60 shipped. works great, but i hate having to manually enter my weight. sure, entering it manually takes 3 seconds, but it would be nice if the bmi got imported as well.

My co-worker told me about Aria this week. If be excited to buy one if they could integrate with Health or Healthvault.

I wish Withings could connect to both HealthVault and Health. In fact, I believe Withings used to connect with HealthVault, but they took it down. Maybe that means something more is in the works. . . or not! HealthVault is an aging service.

I wonder if it will have notifications... For instance if somebody passes you in steps taken for the day or something like that.

That would be awesome. Something for them to consider in phase 2 of this new feature

I can't wait until MS releases a new insider build that fixes Band connectivity.

I'm with you there cannon. I gave up on insider builds for that reason and rolled back to official release, now everything works again.

I second that! Then I will go back to W10M. On 8.1, the Band has no connectivity issues.

I'm running WM10 Build 10586.164 with everything working, before with the Insider Builds Cortana & notifications were horrid

I had to do a hard reset for a few reasons and elected to restore as new phone. Now my band 2 works perfectly on my 950 dual sim with Redstone/fast ring!

I tried that with my 950XL and it worked great for a few days then all the same connectivity problems eventually came back

Do you have English (US) selected as your language?

Would be nice for an option to use just the health app and not facebook friends, not everyone's friends would be on facebook.

Exactly. Like me. So a feature I can never use...

I was thinking about Xbox friends too, but how about People links are cloud backed up and I can just merge gamertags with my real friends?

Can't express how happy I am with the team behind Microsoft vans. You can tell they hired some real talent that matches whatever new ppl they hired for Groove. I may be unhappy with the Lumia 950 and windows 10 on mobile but Microsoft other offerings keep me as a customer

Hi Dan
Do you think now its much better than Fitbit? Because last time I asked you about your Fitbit you told me that it has challenge and leaderboard
Actually I am enjoying my band 2

"between you and your Facebook friends " Some of us don't Facebook.... so why can't we just do this in-app....

Was really hoping they'd integrate Xbox friends and achievements into the Band, then it could tie into my Gamertag and such. Maybe on the Band 3 when it hopefully runs Windows 10 IoT...

Something tells me that a fitness app isn't going to be hugely successful among gamers. (I jest...sort of)

Haha, yeah, I suppose. I just want another way to get Gamerscore and achievements. :)

And I just bought the Bandsider app this morning which subsequently won't install... Although I was more interested in the mapping functionality but I guess that means having Run mode and GPS on for walking.

That sucks if you have to use Facebook. Would prefer through an Xbox or Microsoft account. I don't like sharing data with Facebook.

Do you think they're going to sneak in at night and snatch your virginity. FB doesnt care about you; just your data. And you're not losing any money, years off your life, or cool-points by sharing your demographic data with them

They do sell it to advertisers though. And some people just are private by nature, and don't want to share data with Facebook.

This is great news! I'm excited to use this feature. The fact that the band was missing this feature was the main reason my friend didn't want to switch to the Band.
Now I hope that Microsoft addresses the Band as a music player without the phone!

What if I have no friends using the Band? Can I compete against people from all around the world matching similar criteria as mine?

now to find some imaginery friends to race against :-(

Will be glad to add you to my friends list motiviation really helps in the exercise area.

Great news! I am really glad MS is rolling this stuff out! Stay innovative!

Social is the only reason I use my fitbit. This was a smart move on MS's part, and every company trying to compete in the fitness wearables market should consider that a baseline feature.
Windows Central Newsletter
Thank you for signing up to Windows Central. You will receive a verification email shortly.
There was a problem. Please refresh the page and try again.