Microsoft just took a big step for developing Windows 10 apps
Windows 10 app development just got a major boost with the release of Project Reunion 0.5.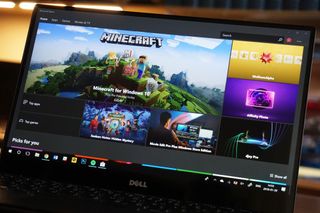 (Image credit: Matt Brown | Windows Central)
What you need to know
Microsoft released Project Reunion 0.5 today.
Project Reunion 0.5 makes it easier for developers to build desktop apps for Windows 10.
Developers can use Project Reunion with a .NET 5 app and utilize WinUI 3 and WebView2 to create apps.
Microsoft released Project Reunion 0.5 today, which is a major milestone in the advancement of app development for Windows 10. Version 0.5 is the first production-ready release of Project Reunion, as well as the first complete release of Project Reunion that includes WinUI 3.
What all this means in layman's terms is that developers have more options for making apps for Windows 10. Project Reunion has been in preview for some time, and version 0.5 is the first production release with things stable enough for production apps.
Apps built with Project Reunion can utilize modern Windows features and technologies as well as Win32 features. Developers can then adopt technologies over time since the features are now decoupled from the Windows 10 operating system.
Previously, developers would sometimes have to wait up to two years to implement certain features. That was because developers would often wait until people had updated to a new version of Windows to use a new feature. Microsoft explains why this change is so significant in its announcement blog post:
The GitHub page for Project Reunion 0.5 highlights several key features that are now stabilized for use in production apps that were previously in preview:
Ability to create desktop apps with WinUI, including .NET 5 for Win32 apps
Chromium-based WebView2 control
Custom titlebar support
ARM64 Support
SwapChainPanel
For developers of Windows apps, this is a major shift that should make it easier to make more modern apps that can quickly add new features. For general users, it means that the best Windows 10 apps could get even better and that more modern apps are likely on the way.
News Writer and apps editor
Sean Endicott brings nearly a decade of experience covering Microsoft and Windows news to Windows Central. He joined our team in 2017 as an app reviewer and now heads up our day-to-day news coverage. If you have a news tip or an app to review, hit him up at sean.endicott@futurenet.com (opens in new tab).
It is just 10 years too late. But even like that better ever than never.

Windows 10 is not even six years old, so it would have been weird to have this 10 years ago.

This is the approach they should've taken with Windows 8... which was in development 10 years ago. The reason there needs to be a "reunion" (the name of this project) now is because there was a divergence before that could've been avoided.

Shame Microsoft hasn't got a few apps as example of what is possible with this release. Maybe at Build...

Too bad Windows is a legacy OS and no new apps are being developed for it.

except it's not, apps are still being developed for it lol

Not new ones, though. Aside from games and compilers, is there a single new program of importance for Windows that wasn't there 10 years ago? I guess Zoom is one. But that's all I can think of, unless you count rebranded products as "new."

What is something of importance on any other platform that windows can't run?

Why have you attached your identity to IT platforms? Is there not enough character there to sustain it alone?

Currently it looks like a re-packed UWP. New apps are still sandboxed (MSIX-packaged).

That's incorrect. MSIX is a packaging and distribution method and has nothing to do with sandboxing. Current WinUI3 apps are NOT sandboxed. In fact, this release doesn't even support UWP, only packaged desktop apps. They run under full trust and can access any Win32 API, something you can't do with UWP.
They will be removing the packaging restriction soon.

Derpity, thanks for your comment. I thought so after reading the following in the "What is MSIX?" article on the Microsoft site: "Apps that are packaged using MSIX run in a lightweight app container. The MSIX app process and its child processes run inside the container and are isolated using file system and registry virtualization. ... Other apps do not have access to the virtual registry or virtual file system of an MSIX app."

Yes, that's correct, but the container and sandbox are two separate things. For example, Microsoft Office runs in an AppV container (a technology that later evolved into MSIX). All that means is that it gets its own copy of the registry that it reads and writes from and a "virtual file system" to store temporary files in, to facilitate clean installs and uninstalls. The idea was to prevent "winrot" - once you uninstall, every trace of it is now supposedly gone instead of leaving behind files. With MSIX, the key consideration is that other apps can't access temporary files generated by the packaged app. This is separate from the sandbox which is a process level container that controls which resources the *app* is allowed to access based on a restrictive permissions system. The sandbox also significantly reduces the APIs one can use to a subset.

Wow! Thanks for the clarification!

I appreciate when knowledge sharing, / clarification and exchanges are not in battle and negative forms. I truly enjoyed these exchanges plus binged some of the details. Well done

The issue with developing Windows apps isn't the difficulty, it is the lack of users. It doesn't matter how easy it is to develop if no one is going to pay any attention to the platform. First, Microsoft needs to build new platforms that people want to use. They haven't been able to do that.

I can't completely agree on this. In general yes, but one notable thing that you miss is that the old software won't transition to newer technologies unless there is an easy way to do it, and transitioning of old software may significantly help in the case of Windows and adoption of new technologies.

What does this even mean? new platforms people want to use?
Windows Central Newsletter
Thank you for signing up to Windows Central. You will receive a verification email shortly.
There was a problem. Please refresh the page and try again.