Microsoft Launcher now lets you adjust theme transparency
Microsoft Launcher is adding a little more theme customization to the mix with its latest update.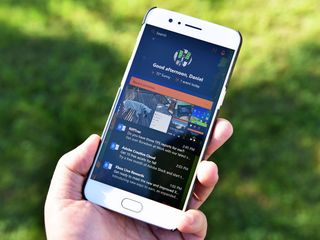 (Image credit: Daniel-Rubino/Windows Central)
Microsoft Launcher for Android only just recently shed its preview tag, but Microsoft is now working on adding a little more customization to the experience. The latest Microsoft Launcher update to head out to beta testers includes a new transparency slider for themes, allowing you to dial in the opacity and blur to your liking. Prior to the slider, transparency could only be toggled on or off with a static look.
While the transparency slider is the only big new feature included, this update does pack in the requisite bug fixes and performance improvements. Here's a look at all of what's new, as detailed in the release notes:
Bunch of Crash & Bug fix per 4.1 feedback
Performance improvements on Memory & smoothness
Add slider for theme transparency
We found Microsoft Launcher to be a pretty solid experience in our hands-on time with the launcher, but it does have some room for improvement and added customization options are a step in the right direction. Currently, this update is being tested as version 4.2 with beta users, but it should roll out to everyone before too long. If you'd like to try the slider out ahead of time, anyone can opt in to be a beta tester on Google Play (opens in new tab).
See at Google Play (opens in new tab)
Dan Thorp-Lancaster is the Editor in Chief for Windows Central. He began working with Windows Central as a news writer in 2014 and is obsessed with tech of all sorts. You can follow Dan on Twitter @DthorpL and Instagram @heyitsdtl. Got a hot tip? Send it to daniel.thorp-lancaster@futurenet.com.
I love it! Support for my facv icon pack - Holee...finally won me over... to permanently switch from yandex launcher! Support vertical naviagation between pages is a brillant idea. I love the extent to which it's customizable. I was able to do a minimalistic set up - home page with nothing but a great wallpaper and a time widget. I can just swipe to bring all the information, widgets and app icons, and the notifications from different sides! Any plans to do cortana integration?

Can I ask a silly question... Been many years since I went Android. Looking like a Htc u11 plus is the one. Does the Microsoft launcher replace Htc sense?

It just replaces your launcher - the homescreen and all apps list part. HTC Sense, Samsung's Touchwiz and such go beyond the launcher with skinned dialers, custom contact apps, and other custom versions of core functions of the phone. Each also allow various levels of customization depending on what the OEM decided to allow.

Right, thanks. May have to give it a look. Once I decide what phone to get. My 950xl seems to be unhappy at the decision, as it has been a real poor internet experience in the last few weeks. It is like it knows that we are splitting up.

I am at the same point (making a decision on a new, non Windows phone), and my 950XL is giving me the business as well. Poor connectivity and frequent crashes. If I wake up in the middle of the night, and it's upright on the nightstand with the screen shining on me, I know something.

You got a device in mind? For me, the v30 is the best looking. The Htc u11 plus has the battery I need, and the one I will go for.

You're not the only one who thinks inanimate objects may have life.
https://www.technologyreview.com/s/421187/why-japanese-love-robots-and-a...

Last question, and another silly one, but is landscape typing available on Android?

Shame the aspect ratio is moving to 18:9 though. May be better on a 16:9.

I have been using squarehome 2 the paid version, it's about as close to a windows phone as you can get and includes live tiles.

Launcher 10 is much better than Square Home 2, imo.

Launcher 10 would be a lot better if it let you change the icon pack to white ones instead of the miss match of coloured ones it provides

Do launchers impact on performance?

Just started using this again and really like it (it's come a very long way since the early days). My only complaint is it doesn't support scrolling wallpapers across screens. I hope they address that at some point, as that's a borderline deal breaker for me, as I'm a big wallpaper collector.

This is a nice tweak. I really wish they would allow more accent colors. For example, I would like the blue available in the light theme to be available in the dark theme, but there's just like 4 preselected options.

Really like the Microsoft Launcher 👍 Only hope they'll make it more customisable so it looks like a W10M home screen... Yes, I know other launchers can do that but I really like the feature set this one has right now.

They are moving away from modern design. We have yet to see what Fluent Design looks like on the home screen. It would make sense to be just like this launcher.

Microsoft Launcher needs the Windows 10 Jump Lists in the app list for the letters on the left edge.

The "jump list" already exists in the quick access index on the right edge of the app drawer. It's actually faster than how it's implemented on Windows, and better matches the expected Android user experience.

You can suggest it through the launchers feedback

I have amazing idea! Could you imagine live tiles for notifications from Windows 10? Than they could make even their own phone after some time, reight? What could go wrong! :D

Lol. That's a great idea! Maybe they can change their minds and reboot the thing every other year as well.

That's nice, because it is just ugly now, not to mention how it looks when you decide to put your outlook agenda on one of those. Despite being MS-minded, and despite the rather positive comments i read on this launcher, to me it has been typically underwhelming. The overall design is nothing special, the special part, the cards don't integrate with the design. But then the functionality. I dared pressing the microfone, it decided to download my language pack, after which i had 0% recognition, not one word was correct. Maybe it could pick up something like i am crazy in Dutch, didn't try that, but with anything remotely functional it was a yuge fail, the YUGEST. I really don't get it why it so hard to make anything finished, functional and polished for MS. Now i'm using evi, just a guy in a shed, and it is way better. And one last thing, the persons app, mymy. Not finished you say? Wouldn't that be the first thing to put in a MS launcher, with a styled agenda/outlook even caller etc. Sorry, again terribly underwhelming, but well, getting used to it:)

I upgraded but I don't have the aft adjustment sliders 😐

I refuse to use the Microsoft Launcher because it has the infuriating problem that when you scroll to the top of the app list, the app list will automatically close. This annoys the **** out of me, and makes it unusable. FIX IT!

Mine still does not give notification badges. Anyone having same issue?

Restart your phone? My settings had a comment in red saying I wouldn't receive notifications unless I restarted my phone.

Started to make friendship with it, but it feels a bit slow... Sure, WP/WM was a treat even mid and low-level devices. Occasional error messages are displayed for a longer time than pleasing...

How do I "opt in" to be a beta tester for this? I'm not finding and option on Google Play, or in the Microsoft Launcher settings.
Windows Central Newsletter
Get the best of Windows Central in in your inbox, every day!
Thank you for signing up to Windows Central. You will receive a verification email shortly.
There was a problem. Please refresh the page and try again.