Microsoft lists Windows 10 October 2020 Update known issues
Fortunately, the list is pretty small.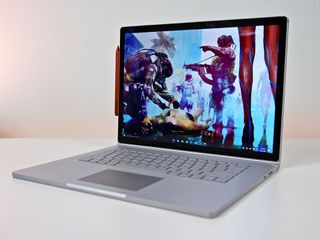 (Image credit: Daniel Rubino / Windows Central)
What you need to know
Microsoft released a list of known issues with the Windows 10 October 2020 Update.
The list is rather small, only coming in at three items as of the update's launch.
The October 2020 Update became available to the public today, launching with a measured rollout.
The Windows 10 October 2020 Update officially launched to the public today, and Microsoft followed it up with a look at the known issues still hanging around (opens in new tab). Fortunately, the list is pretty small compared to previous updates, only coming in at three items as of the launch. (Of course, our own list of the most common October 2020 Update problems — and fixes — is ... longer.) Here's a look at what to look out for.
The issues still being investigated mostly relate to devices with Conexant or Synaptics audio drivers, which could receive errors or outright crash to a blue screen. There's also a general warning for issues when using Microsoft IME for Japanese or Chinese languages. From Microsoft:
Devices with affected Conexant or Synaptics audio drivers might receive a stop error with a blue screen.
Devices with affected Conexant ISST audio drivers might receive an error or have issues with Windows 10, version 2004.
Users of the Microsoft IME for Japanese or Chinese languages might have issues.
A fourth issue, which relates to installing incorrectly formatted third-party drivers, has been resolved.
Microsoft notes that it has put a compatibility hold on Windows 10 devices with the affected Conexant or Synaptics audio drivers for the first two issues. If you have a device with these drivers, the Windows 10 October 2020 Update won't be offered to you until the driver has been updated.
Microsoft is releasing the Windows 10 October 2020 Update as a measured rollout, similar to how it has handled major updates in the past. Devices that are known to have no issues with the update will get it first, and Microsoft will ramp up the pace over time. As it continues, we could see more known issues added to the list, but the October 2020 Update seems to be off to a smoother start than some previous updates, judging by the small list of launch issues.
Check out our detailed Windows 10 October 2020 Update review for all the specifics.
Dan Thorp-Lancaster is the former Editor-in-Chief of Windows Central. He began working with Windows Central, Android Central, and iMore as a news writer in 2014 and is obsessed with tech of all sorts. You can follow Dan on Twitter @DthorpL and Instagram @heyitsdtl.
Funny. Last week I just couldn't stand anymore that all that Windows Update would tell me is that I am all up-to-date with my 1909. So I downloaded the Update Assistant to see what it has got to say. First run took about an hour or so when at 80% installed it would simply hit complete lock-up and black screen. I was a bit worried because Windows updates usually don't happen flawlessly nowadays even without having the system crashed during a "don't shut down your computer now" moment. Luckily everything was fired up fine after the restart. Then at second run it got as far as 93% and then finally it said that I am not ready. Because I have Connexant audio driver and it is not compatible.
First of all, if Windows Update is smart enough for whatever reason not to offer me the upgrade, why is the Update Assistant taking more than an hour at 93% to find out the same.
Second, funnily enough, I don't have Connexant audio driver. I don't have Connexant anything. So I am still waiting for Microsoft either lifting the burden for me, or my desktop PC to burn down, so that maybe my next set of hardware will be eligible. Probably by then all new features of 20H1 and 20H2 will have been removed because of some telemetry showing that the functionalitis are not being used enough.

Did you really need to post this in the comments of two articles?

Sorry to have bothered you! Actually it was 3, but the fact you did not find them all is the reason let alone I had to. The comment applied to all 3 articles published in the same hour, none of them showing any sign of life in the comment section with 0 comments more than an hour after being released. I was expecting at least 1 comment from you asking whether they really needed to publish all three articles about the same thing to know where to post this, but instead I had to find out the hard way which article you are not reading.

If you wanna update to 2004, just after its finished downloading, disconnect to the internet. Den it will not show you any errors. I been doing it, mostly with the ISO way, but its possible with the upgrade assistant. And these computers didnt have issues. But not saying it could happen to others.

Thanks, I will give it a go next time.

I'm running 20H2 on my primary machine via a SATA III SSD just fine. I tried updating my BIOS to support booting from an NVMe drive and it's been blue screening on start up every time I update it from 20H1 to 20H2 due to a memory issue. So I can either run 20H2 via SATA or 20H1 via NVMe… not ideal.

IIRC it is relates to some setting in your BIOS/UEFI. It didn't happen for me, but I remember reading about this before buying an NVMe drive myself a few months ago.

Yeah THAT'S NICE but I'll wait two weeks anyway.

If it might pose problem update won't even notify you of new update anyway.

For 2004 users who has been updating every every month for security updates should be getting less than 400mb update for this feature update. It just installs like normal cumulative update.

Quality wise, 2009 and 2004 are basically beta version.
I simply defer feature updates for a year in Settings app to avoid the troubles

Hope this gets resolved. Wiki notes, On July 26, 2017, Synaptics completed its acquisition of Conexant Systems, LLC. In fact www.conexant.com takes you to www.synaptics.com. So we are really looking at Synaptics to update the drivers. Searching at Synaptics for Audio Drivers has the latest entries in 2016. Not promising.
Windows Central Newsletter
Thank you for signing up to Windows Central. You will receive a verification email shortly.
There was a problem. Please refresh the page and try again.