Microsoft Lumia 650 first impressions: Metal makes a difference
Microsoft has yet another new mid-ranger, and at first glance, that's not bad.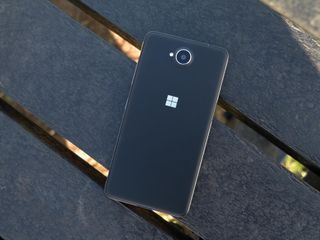 Almost exactly a year after the Lumia 640 was first announced, what you'd consider its direct successor has made its not-so-grand appearance. Announced with little more than a quiet press release the Lumia 650 was revealed and put on sale within a few days of each other.
And both before Mobile World Congress, the annual event in Barcelona, Spain, and the setting for a double 640 launch 12 months ago with Stephen Elop taking the stage. A lot has happened since then.
Windows 10 Mobile is officially a thing, and while it's still not officially been announced for existing devices as I write this, the Lumia 650 is now the fourth new phone to go on sale running Microsoft's latest attack on the smartphone space.
What we have here is a fresh retail unit picked up from the Carphone Warehouse in the UK for £139.99 plus a £20 top up on O2 pay-as-you-go. Before boarding the plane to Barcelona, I've had just enough time to crack open the box and take a quick first look, so read on for some first impressions.
The specs
Swipe to scroll horizontally
Category
Specification
Operating System
Windows 10 Mobile
Display
5-inches
HD (1280x720) AMOLED, ClearBlack
Rear Camera
8MP
f/2.2 aperture
720p Video Recording
Front Camera
5MP
Still image capture
Video call
Video recording
Processors
Qualcomm Snapdragon 212
Quad-core
1.3GHz

Memory & Storage
RAM: 1GB
Internal storage: 16GB (expandable up to 200GB)
Network
GSM Bands: 850 MHz, 900 MHz, 1800 MHz, 1900 MHz
LTE Bands: Band 1, Band 3, Band 7, Band 8, Band 20
Wi-Fi: IEE 802.11 b/g/n

Sensors
Accelerometer
Ambient light sensor
Proximity sensor
Location
A-GLONASS
A-GPS
Cellular
Wi-Fi network positioning
Dimensions
6.9 x 142 x 70.9 mm
Ports
Micro-USB
Battery
2000 mAh
Other
NFC
Bluetooth 4.1
The hardware
Image 1 of 2
I'm going to get this out of the way right now: This is how Microsoft should have designed the Lumia 950 and 950 XL. Despite its budget nature, the Lumia 650 has a look and feel to it that defies its price tag. All it took was a hint of metal. The back is still plastic and removable, but that svelte metal frame makes such a difference. This is the nicest feeling out of box Lumia since Microsoft started putting its own name on them.
I have the black version here which means a black front and a matte rear panel. The only breaks on the back are a slight hump for the camera and an embossed Microsoft logo. Traditionally I steer clear of the black versions of cheaper Lumia phones because they look horribly cheap. Not in this case. The black-gunmetal-black approach looks fantastic.
This phone is almost unnaturally light as well. The battery in the back may 'only' be 2000mAh, but it's crazy light. Almost like there's nothing at all inside.
Round the front is a 720p AMOLED display at 5-inches, and it looks great. Zero issues with quality so far, colors look beautiful; blacks are black, and text is sharp enough. It's not the highest pixel density you'll find on a 5-inch phone, but if anyone tells you that this display looks anything other than good, they're probably lying. Microsoft doesn't seem to struggle to put a good display on a phone, and it continues it seems with the Lumia 650.
The software
Image 1 of 2
Ultimately, even before getting to a full review, this is what will make or break the Lumia 650. Even without diving too deep into the hardware, it's pretty sound. Some may have questions about the choice of processor, but performance will be addressed in the course of a full review once I've had time actually to use the phone.
So, what's the software like out of the box? The first thing to note is that there's an OS update that'll need to be installed before going any further. Sadly, this means that you're then left waiting for Windows 10 Mobile to go through the motions, which is still far too slow in 2016. It doesn't take nearly as long to update an Android phone, so please, Microsoft, can we have this addressed?
There's also the now customary Store update that needs to be installed on it, and all the other app updates will behave. But, once you're through all that, it doesn't start off too badly. In the first 12 hours or so I haven't had a single random crash, reboot or rage inducing moment (not counting the lifetime it felt like it took to install the update.) The only slight concern I have is with the stock camera app, which completely freaked out while trying to take a picture of my kid while he was moving about a bit. Hopefully a glitch, but we'll see.
I don't want to sound surprised, but given the experience I had with the Lumia 550, I am. But, this isn't a review, and I haven't used the phone for any length of time. Only time will tell, but it was mostly a much-improved experience out of the box with this one.
Wrapping up
So, that's about it for now. I'll be putting the Lumia 650 to work over the coming week or so, including a trip to Mobile World Congress, to really get a feel for it before putting pen to paper on our full review. First impressions are pretty good, though. It doesn't cost a lot, looks great, feels great in the hand and so far no major software snafus. I haven't had chance to test the camera yet since it's mostly been dark since I laid hands on it, but hopefully I'll be able to get a quick sample gallery up in the coming days.
The biggest takeaway for me is how much of a difference the subtle change in design language makes to the overall feel of the phone. The Lumia 830 had a similar approach, but honestly, I think I prefer how the 650 looks and feels. And I love the Lumia 830.
Stay tuned for much more Lumia 650 coverage in the coming weeks, including a video walkthrough.
Windows Central Newsletter
Get the best of Windows Central in in your inbox, every day!
Managing Editor - Tech, Reviews
Richard Devine is a Managing Editor at Windows Central with over a decade of experience. A former Project Manager and long-term tech addict, he joined Mobile Nations in 2011 and has been found on Android Central and iMore as well as Windows Central. Currently, you'll find him steering the site's coverage of all manner of PC hardware and reviews. Find him on Mastodon at mstdn.social/@richdevine
Gorgeous phone. I'll get the white model when it launch in Brazil

Its an amazing looking phone! Wow. But. But. But.
I own Lumia 830, Lumia 720.
Two of the best looking Lumians. :D
So maybe I'll wait for something else. But I will definitely suggest this phone to my sister. (after the review of course.)

I'm wondering if this model will be a good upgrade from a 920. So far the 920 is still holding up well against most of the budget level devices. I like that the 650 has 16GB of storage unlike a lot of the other models that only have 8GB. According to Phone Arena, there are still some areas where the 920 beats the 650. If the 650 had OIS I might've been able to get some 920 users to upgrade. For them storage and camera quality are the top priorities, and not having a large screen would be a plus.

Hi Shryx86, let me tell you, once you buy a 9 series Lumia, its very hard to come down, in your case i would highly recommend you get a lumia 930, it is an older phone but on points that matter, it leaves the 650 for dead. it has a 2.2 quad core against 1.3 quad, it has 2 gb ram, has a 20mp cam with dual LED, it has a 1080x1920 screen resolution so that's 1080p vs 720p, it has plastic and metal, very solid metal, and it has 4G LTE, so thus far the 650 is nowhere. the 650 is more like a 640 lumia upgrade. it has everthything the 640 lacks but battery suffers. i have a 640xl and my lumia 925, funny is how things are better in the older phone.

I loved my red Lumia 920 but the 930 is a noticeable step up. My ideal phone would be a 5" 920 though with the latest specs.....won't happen but that design with the colours is unique.

the last proper lumia 9 series was the 930 in terms of build quality

I upgraded from 920 to 950 and don't regret it for a second. Seriously, the build quality and "cheap feel" issue is overblown, the stock plastic rear is fine. The only real drawbacks the 950 has is lack of double-tap to wake and super-sensitive touch. In every other aspect it's the best Lumia yet. So if you're coming from an older 9xx series model, I wouldn't consider anything else (except perhaps the 950 XL if you can handle the larger size and the wonky side button layout).

I wholeheartedly agree. Coming from a 925 which was a very good phone , the 950 is much better with win10 IMHO. Even without the metal edge the 925 had, the 950 is much more premium where it counts. In my opinion the 950 series are by far the best Lumia's I have used yet.

I have the 950 XL, and I agree. It's the best Lumia yet, and I don't mind the polycarb back. However, the 950 line is too much phone for my mom. She likes the 920 for its height.

Any phone supporting SD400, Will eventually struggle with the full release of W10M, as you will know how demanding it is.

And you're talking cobblers. The 550 and 650 are both running SD200 chipsets and cope fine with W10M. Help, it even runs on the old 520.

I had the Lumia 930 until the 950 XL came out. I'm not looking for another phone, but I would like to upgrade my mom's 920. I will not give her my 930 because it doesn't have the radios for AT&T LTE. I was fine with it, but I want to give her a full featured device.

if it's for mum then that 650 doesn't seem half bad. randomly, how many lumias have you had? me: 620, 625, 640xl, 925, 930. Currently trying to hold out till the 950XL upgrade comes or when windows 10mobile finally rolls out completely

I've had the 920, 1520, 930, and 950 XL. Overall the 650 does seem nice, but I know there are some specs that she won't go for. The larger screen and taller device are 2 things she doesn't want. The 650's camera seems lower quality (on paper). I'll wait for official reviews before making a decision. An 850 might be the right fit for her if it happens.

interesting device history, the 930 is a hard one to leave i swear. that 850 better have good specs

I left 930 because of unusually poor battery especially for the browsing time ! No glance or double tap to wake up are two other factors, but it's screen and build quality is awesome. If somebody can handle large screen nothing comes close to lumia 1520!

The 1520 was too big for me, and the corners didn't fit well in any of my pockets. I returned it and got the 930. All the specs of the 1520 in a more manageable size.

The 830 is a good upgrade from 920. My wife has 830, I have 920. I also have 640, which is nice on Win10M 107 but lower camera and no button is not upgrade for 920.

The 830 is a sidegrade compared to the 920. No real improvement in terms of CPU or GPU speed, display, or camera, plus a downgrade in terms of built-in storage (though there's microSD support to compensate). The only thing of note you'd gain is support for some newer technologies like Motion Data or Miracast.

650 seems to have some upgrades over 920 (BT, LTE), CPU is about the same and GPU is weaker, camera is likely worse, screen should be about the same and IIRC 650 does not have HAAC mics. It also lacks the dedicated buttons if that is important to you.

It just seems like the 650 is barely better in only a few areas compared to the 920. That says a lot about a phone that came out 3 years ago. I guess I'll just wait for a Lumia 850 and hope it's a good successor that isn't huge.

Lumia 730 is also one amongst the best lumias..

730, 830 and 830 are such amazing phones.

The 730 looks good, but on paper it looks like a step down in camera quality. I understand mexapixels aren't everything, but it would be a tough sell for a parent that doesn't believe that. The 730 only has 8GB internal memory. I would want a minimum of 16GB, but 32GB is preferred. Expandable memory only helps so much when there are some apps that can't be migrated to the microSD card.

This dudes hands are pale.

It looks amazing but it has a 212 processor which makes 550 and 650 same in terms of performance..!!

I liked "at first glance" ;) it's funny coz it doesn't have glance

If you look at the 6series, they have always tried to make one stand out, like look at the spec of the l625 its only let down is 512mbrm, it may be dual core but the 2 krait seem quicker than the quad core.

Finally a white with matching white bezel in the front!

If it doesn't have that Continuum-thingy to boost the price, I may have a closer look at it

I believe continuum is exclusive to high end devices. Since this device has 1GB of RAM I highly doubt it would be able to handle powering a desktop Windows experience.

And, because of the processor.

Hmm. In which regions will this be released? And when?

Idk, let me find out for you.

Does it Support USB OTG? Please confirm someone.

Windows 10 Mobile itself supports OTG, I don't think it is dependent on hardware like Continuum features.

Windows 10 doesn't support otg at the moment. At least not on 535, and 720. Old devices. I know. Waiting for the official launch for my 830.

It does, but requires a new firmware to work.

U mean to say that..old windows 8.1 phones support OTG...?

Older phones, released with 8.1, cannot support OTG even once they've upgraded to W10. It requires new hardware that the 950 series possesses, I don't know about the 550 or 650.

Phones with chipsets that support USB OTG, like the Snapdragon 400, should support it, but phones like Lumia 630 need the new firmware to utilize this function, as all Lumias, except the new ones from Microsoft run the older firmware for Windows Phone 8.1. Microsoft will probably update the firmware for older Lumias when W10M get's released for this devices.

So its a budget phone that looks and feels more premium than their actual premium phones?

I agree.. seriously, Microsoft? How hard would it have been to put a sliver of metal into a €699 phone when you could do it in a lower-end phone? This is what's so maddening about Microsoft; being a fan who's ready to splurge and only get mediocre design.

You have to "thanks" Nokia for 950 design.
Until 650 all designs were re-cycled classic Lumia: cheap looking, bulky, plastic with massive bezel.
The only exceptions were 925, 830 and partly 950 (which I own).
I am so glad that Nokia is no more.

What about the Icon / 930? The 950 and 950 XL is more from old Nokia's budget designs. If they didn't sell the d&s decision to MS, their next flagship would have been far more inspiring than what MS released... Posted via the Windows Central App for Android

Nokia designs are the ones microsoft has been feeding on for quite sometime. The uni-body design language of nokia phones is actually so much more aesthetic than the microsoft flagships....compare the 1520 to 950xl for instance, or the lumia 925 to microsoft 540,640. Nokia did what they did best.

Lumia 800, Lumia 900, Lumia 820, Lumia 920 (which won awards for design), Lumia 720, Lumia 520, Lumia 525, Lumia 730, Lumia 1520, Lumia 930 were also exceptions..

Note: I haven't seen a Lumia x10 series phone personally..so haven't included those..

Those were WP7 devices...

How does it matter if we are talking about the design of the phone?

The buttons and camera trim (plus logo) are metal on the XL. But I do think it looks a bit worse. Really hoping mozo releases a carbon fiber back for the XL.

Any info on the SAR value of the Phone?

No doubt well within limits determined by people who know to be safe.. Not that anyone has been able to prove that any risks actually exist. And many have tried..

Does it have rich capture?

And what about the Living Images? (thanks to Apple I don't know anymore the right name :()

Living images is the right Lumia name, not sure about Apple's name for it :)

Live Photo or something..

Does it have the dynamic flash in Rich Capture? I haven't seen the review of 550.

I expect nothing less. I'm still interested in this, for me it's a buy criteria.

I'll get one for my brother. Just love the white version.

Before the metal-bashers complain. Understand that it doesn't matter if the polycarbonate or whatever material you like is technically better. The feel and look of the device matter a lot, and metal does that beautifully.

I know right!
+830.
Oh yeah. My black Lumia 830 looks sexy.

I'd be interested to hear reviews of it's performance. I read a review a couple of days ago that agreed it was great looking, decent battery life and very light with an ok camera but that the processor was not up to the job and ruined the phone. I'll wait for a few more reviews.

My only real nitpicks is that it uses microusb-b and that it's 720p.

Its entirely possible that the lower end processor is less demanding and hence it is more battery efficient. Though someone should test this.

Of course, that is just an opinion, just like the people who do not like metal. I prefer phones with a quality leather...as my Mozo case.

Look is completely subjective and I think polycarbonate feels better than metal. I definitely preferred the feel of my Lumia 900 compared to my 925, plus it was more durable.

Unless you're like me, and find the light-colored band a hideous thing. Or, if you have held the HTC One (M8) and hate how slippery it is.

Right now I'm using the 640 and loving it. After reading this review of the 650, I don't feel the need of upgrading just yet. Not many new features to entice me, including the smaller battery compared to the 640.

I know. But not just the look is better. Things like memory and camera, they matter alot too. So its definitely an upgrade. But well, it depends on the user. If he has some cash, then why not? XD

Isn't the camera a downgrade though? According the 650 specs page it's not backside illuminated nor 1080p. And the zoom is cut in half too. I could be wrong but it seems like the 640 would take better pictures?

With the specs being so similar, O don't feel the need to upgrade from my 640. If the 650 had wifi ac I would upgrade in a heart beat.

Especially considering I just bought yet another Lumia 640 today for $29.88 at Walmart.com for free in-store pickup. Best Buy selling them today for $29.99. Considering the price, and the fact that I can Insider the 640 to the same OS, I think for today the 640 is a better deal for the "functionality." If you want a more attractive phone, then spend the money on the 650. I'm going to use a case regardless, so that part isn't going to hinder me one bit.

You say the build quality defies the price tag, but I disagree. The price tag happened because of the build quality. As a result, you get few extras (now wireless charging or OIS), and you get bottom-of-the-barrel silicon, along with bare-minimum cameras, IMO. The build materials drag the price up to $200. Without them, you have a phone BARELY different from the Lumia 640 that just got an article stating Best Buy has it for $30.

And how much did the 640 cost a year ago when it launched? The one I bought from Microsoft cost more than I paid for this 650.

I paid $89 for the 640 at Target when it was first released.. Purchased two.

I paid $99 when it's launched at Walmart.:-D Posted via the Windows Central App for Android

It was released for 159€ in Germany. So if you've paid more, you definitely paid too much ;) Posted via the Windows Central App for Android

Wow, no wireless charging? This needs to be a standard feature across all of their devices. The components are pretty cheap these days. Microsoft needs to make a phone that will convince my mom to upgrade from her 920. Good camera with OIS, ample built in storage, Qi built in, and a 4.7-5" 720P screen is all it would take. If the 650 had OIS and wireless charging I think she would've upgraded. Oh well. I'll keep looking.

I'd pull the trigger on the 950/XL. It's got virtually everything besides software enabled(?) things such as double tap to wake and super sensitive touch. But the way everyone is hinging on the "Surface phone", I have an ominous feeling it's gearing up to disappoint. I think this is the last great hardware we're going to see for awhile. Hope I'm wrong.

Try the 930. I loved my 920 but now I've had my 930 for a good time there is no way I'd go back to the 920 - though a new 920 with new specs and a 5" screen would be perfect

Glad to hear it. Something actually making marketing sense! If the 650 lacks Continuum (which still strikes me as odd for a Microsoft "business-oriented" phone) then maybe there ought to be a slightly more expensive 650 XL that has it.

I wouldn't mind seeing a 650XL with a Qualcomm 612 processor, 2GB RAM, 16GB storage, and USB-C for Continuum, and a 13MP Pureview camera with a dedicated camera button. Of course, still needs to have the design of the 650, but go bigger on the battery. Wait... No, that's not budget at all, is it. Well, still, give me all that for $300 and I'll consider it. ;)

Even at non-XL size that price would be great with those specs, but our wishes make too much sense to become reality.

Someone here said no wireless charging. That's not good. I take back what I said about it making sense.

It needs Samsung's fast wireless charging. It's impractical to charge bigger batteries with WC when USB-C charging is so much faster. (when the hardware allows it.)

I realize that improvements cost money and they're trying to keep it a mid-range phone. Just the ordinary wireless charging that I've had since my 920 would be more than fine here. MS should totally own this feature, they've been doing it long enough. It's beautiful on my 950 XL. But that would make too much sense.

No. Not this. 2k mah battery is the 920s size. Plus it's using usb-b. I meant the flagship 950 XL, and maybe the 950. Because USB-C and Qualcomm's fast charging outpaces wireless charging by a large margin.

Sure, if fast-charging makes cost sense and you can still call it a mid-range phone after including it, then by all means. Either way though, wireless charging is a spectacular convenience. As a feature, I have no idea why, after all these years, Microsoft hasn't taken de facto ownership of it. When I see another company come out with some "new" version of it, I think to myself, Microsoft had that years ago! It's just another textbook marketing oddity from MS that leaves you scratching your head. If monetary success was a goal, surely they would go about it differently. So the question is, what has been the goal?

I like the 950xl build honestly. I have the white one and its perfect for me. I think they could have chosen a darker better look black cover for the 950xl.

Guess that is why they have black.

My (old) 920 is running very nicely on Win 10 Insider so my question is whether it would be worth my while to move to this 650?

I wouldn't. Hold out for something better later this year or pick up the 640 for $30 if you really need a new phone.

I personally jumped on the 950XL since the battery in my 920 was failing. For $200, this phone doesn't sound too bad. Though I would still buy an XL if possible.

they couod have the same back plate added to 640.

Different dimensions. The 650 plate won't fit a 640, but yeah, I'd love to see them make a back plate for the 640 that looks like that. That would be sweet. I might even let the phone go naked for that, or at least get a "clear" case.

Windows Central still hasn't reported on the new HP Elite x3 yet. That phone looks awesome!!

Allegedly they're still vetting out that leak

Agreed! Sorry I just figured you guys would've posted something about it by now. Thanks.

Its very official now. Very high end enterprise stuff that will be available for cosumers probab;ly through the MS store network. 5.94 inches.

Very nice, though I would have preferred symmetrical bezels. And are those front facing speakers?

Not front facing speakers but yes one front facing speaker on the bottom

Looking forward to buying one of these for $30 on Black Friday to play with

I have the 550 and I can honestly say I've never had any problems with this phone since I bought it and it just need more power, but no problems at this point.

Shoulda held out on the 950 purchase. Truly regret it. I mean it's a decent phone and gets the job done. But between the 650 and the HP elite whatever, my 950 is so meh. Def my least fav windows phone of them all

How is your 950 meh compared to the 650? It beats it in almost every way.

In everything except price and looks, which is all I care about in this lull between now and Panos phone

The entire back is replaceable...and it's a flagship tier phone...

Mhmm. But it also costs at least $300 more than the 650. I was perfectly content with the 640xl and should have waited. No matter how many responses you guys leave, its not gonna stop me from regretting purchasing this phone

I only commented because you can do something about both: Replace the entire back with something you like, or sell the phone on eBay. Apparently the prices for seeling are really solid. I'm not fanboying over the 950. The camera back drives me nuts with the thicker silver trim.

Ahh I see your point. Well thanks. May actually go through with that. Looks like $400 on ebay

Just get a mozo back plate and should be one the looking Lumia's out there. I dont understand why MS didn't give people an option of a mozo back plate when the 950's came out. Holy crap Edge on w10m sucks. I had to go to my PC to edit my post after waitng 10 minutes and hitting the edit button on my phone about 30 times.

I think different people inside MS are designing phone and are not communicating? Otherwise i don't understand the differences between the materials used for 650 / 950(xl)

probably trying diffrent designs to see what sells more .. and what people seem to like in general. And what types of people like a specific type of design. .

Too bad that if the metal gets scratches or a dent it's not replaceable, that's the one reason I like full polycarbonate lumias... Also with the 650 if you want a white one but you don't like the white front, you can get the black model and just add a white back cover, and bam 650 white model with a black front!

Will this phone work with the Band?

Yes, of course. This supports Bluetooth 4.1 as far as I know. 4.0 at least.

W10M is officially still pre-beta quality (Nadella RTM)

Waiting for the review of the 650's camera, FF speakers and the 212's performance.

The February 19 clearance of the 640 at Microsoft stores Best Buy (Thirty!!!) reminds me of my age. When I was in college 40 years ago, the university bought an IBM computer that filled a large room and cost more than the total annual faculty salary budget. That IBM computer was underpowered compared with the Lumia 640. If someone had said "someday every 8th grader will have a better computer in their pocket..."

It's odd to think about, isn't it? I'm sure the same thing will happen in 30-40 years to us too.

I honestly think I might prefer this to my Lumia 830 too and I think my Lumia 830 is a gorgeous phone. The Lumia 830 is just more premium (Qi, 10MP PureView with OIS, faster Wi-Fi, slightly better GPU, bigger battery, slight narrower and shorter, camera button) but this phone seems like a great package. Front facing speaker, super thin and light, AMOLED, it all seems pretty good.

Nice phone, today my mozo flip qi charging case for my Lumia 950 xl is arrived and the metal frame makes the looks amazing.. Lumia 950 xl is great when you take the preview release update from insider because Belgium did not received the official updates from microsoft and standing still on 10.0.10586.29 .

I love my Mizo cover, but that "metal" edge wears quick. Mine leads a very steady life, but it has started to wear in a corner, and has cracked near the power button. I still intend to get the red one eventually though.

Nice but i have really a big dilemma. should i buy a 640 or lumia 550 or yet again 650!! Would love the 640 XL Dual Sim for the specs yet would love the newer lumias with the possibility of continuum!!

I have the 640 XL Dual sim LTE. It's a fantastic all-rounder, tough, workhorse. I dropped it twice already and each time when I pick it up and noticed no scratches or cracks, I thanked my lucky stars that I did not have an expensive S6 or 6S in my hands. Don't let the lack of metal put you off - for me it's the reliable, can-do workhorse that also dispelled any need for a tablet. This is the ideal situation to be in - one device that does what a phone and small tablet can do. I slipped in a 64 GB micro-SD for extra memory and a second SIM for data. The LTE hotspot capability is just what the doctor ordered.

650 and 550 don't have continuum.

Am i missing something or Windows Central is yet to give us a Lumia 950 XL review...
!?..

Yes and no surface 3 either

It's unfortunately not going to happen. :/

Midranger with a S212 and 1GB or RAM? Come, stop deluding people.

1GB might suffice, but I agree that 2xx-series is hardly mid-range, heck even 4xx is on the very lower end of mid-range.

Great design just the chipset that let's it down.

Thissmart phone design and build has gotton good comments so far but the Windows 10 Mobile OS it uses has not gotten as good reviews by some MS Lumia 650 testors. I have faith in Microsoft's programmers to get Windows 10 Mobile stable and have some new features in fact a new Windows 10 Mobile insiders build is available for folks to try that shows improvements to the Windows 10 mobile OS. The greatcase uses for Continuing the existance of Windows 10 Mobile smart phones are 1= They are the best smart phne to use with Computers of Various types that run the Full Windows 10 Desktop PC/Laptop/Tablet Operationg system. 2= Windows 10 mobile smart phones have a unique operating system diffrrent than Andriod and Apple iphones have.

Generally I'm loving W10 on my 930 and SP3 but I think the 930 needs a firmware update so that double-tap works 100% rather than the current 10%. But, I agree W10 FTW.

So all it takes is to put a thin metal band for people to like it. Go figure.

"subtle change in design language Yes, design matters - go figure! ​"

640 and 73x are able to record 1080p30Hz videos... Also it comes with les-power battery. The only improvement is the internal storage. No, metal case does not make a difference and does not justify the price. Bad Microsoft Mobile, bad!

I know we are not supposed to expect a new phone from Microsoft in this MWC... but my cortanasense is tingling..something extraordinary may happen..

I loved the square design of the 830. That's what I really miss about the new phones. I think the rounded corners look unsophisticated. The square corners looked elegant.

Dang, I wouldn't mind trading my 640 for this one. It doesn't make sense that they manage to make a low-end device look more premium than the high-end offerings, though. I hope that this lack of coordination will become history now that Panos is in charge of it all.

Does it have Qi wireless charging? I thought I saw it in the promo video

My 1020 is in mint condition so not upgrading in near future. Besides i can't find a camera phone nearly worthy of replacing it.

Got a metal open faced case for my ativ s

I say Meh-tal... The only REAL Metal makes you bleed out your ears and melts your eyeballs! @_@

To replace or not replace my 830 is the question???? Surface phone is lurking, but my 830's speakers are shot. This may be a good holdover until the Surface phone happens.

Nice, and astonishing why MS did not go with the a similar design on the 950/XL. No, I don't think 950/XL look bad at all, and I know many people like them. But this design does look somewhat nicer in pics, and probably appeals to a lot more people. Don't tell me MS went with the 950/XL design because of MOZO or "to give space to other OEMs"? :P Hopefully the back cover doesn't come partly off as easy as it did on the 830.

Metal only makes a difference if you are a mentally slave moron zombie to be honest.

I feel like, as the article says, that Microsoft should've made the 950s in this premium 650 design and the current 950 design on the Lumia 650. It's as if Microsoft made a mistake and mixed up the two designs

This is a decent looking phone. Stuck on grabbing a pair of these or 640's for my parents on Cricket. Paying full price for Cricket models and not joining Insider gets baked in VVM which I'm sure they'd like more than using an app. The 650 will be far less hassle all around, at added up front cost. WWWCSD?

People seem to love the 830 design but I can't understand why. Looks terrible, awkward to hold, just all around unpleasant. My new 950xl does look a lot better in person (which is good since my Mozo cover still hasn't shown up), but the 650 does look great. A good direction to head.

looks terrible..seriously!!!!!!!!!!

Yeah. I hate it. The rough finish metal ring with sharp corners doesn't work for me, visually and functionally. Glad mine is gone.

looks terrible..seriously!!!!!!

When you drop the phone with metal body on the ground, you'll know what's the differrent

I don't like metal on phones. I prefer polycarbonate.

"I got my head checked
By a jumbo jet
It wasn't easy
But nothing is
No"

Personally, I really like Lumia 650's design. simple, but very eye pleasing. I wonder, how difficult it was to make this design to those flagships Lumias 950 and 950XL? Also, I really wish Microsoft had put in a larger battery, say at least with par toLumia 640's 2500mah. I can live with Snapdragon 212, but that 2000 mah is a total turn off for me.

It would have been really nice if Richard Devine had taken this Lumia 650 to MWC Barcelona in his bag. This way, he could have spent a lot more time with it while also getting to know this device much more in depth. And we would have got a detailed review after his comeback.But now, it seems like it is going to take at least 2 more weeks until Richard is able to publish his full review on it.

If they'd just added Qi Charging to this I would have been all over it. Seem to have been waiting for a Qi/Amoled/Glance combo since forever (my 820). Although they're not selling Lumia's in NZ anymore (at all) so there goes that idea anyway :/

Check out this (kinda sweet) video review of Lumia 650 by a child https://www.youtube.com/watch?v=6_trIX3J3Hw

This phone appears under-powered if it's their only mid-range offering but if it's not the only mid-ranger then that contradicts what Nadella said about shrinking their range to one phone in each of three market segments. I was expecting 550, 750 and 950, with the 750 supporting Continuum as it seems to make more sense for business than consumers

Lumia 830 looks much better. Fabula design far more appealing than their cheap creaky plastic design language

I will grab one of these this summer when it hits $59 maybe by then the software will be better.

Is there wireless charging?

Where do files transferred via bluetooth get hidden inside the lumia 640 running windows 10 X.107? Transferred pictures and I cannot see them. .... Posted via the Windows Central App for Android

I'm hoping you'll stick to your word and actually give us a review Rich, unlike some people we're still waiting on *cough*950XL*cough*

Snapdragon 2xx and 1 GB of RAM ? Oh boy, paid 250$ for Snapdragon 810 with 3 GB DDR4 RAM device Posted via the Windows Central App for Android

I like how they are really pushing this device to business customers. It would be nice to see Microsoft push into this area a little bit more, as it is I think they are severely limiting an area that could be pretty large if they tried. Posted via the Windows Central App for Android

I care for the design.However, there's one thing I don't understand why downgrade the 650 to 720p(video) when the Lumia 640 had 1080p? Such things look simple, but in some way, may lead people buying the 640 instead of this phone.Microsoft should pay attention to the Camera department of midrange phones.Am not seeing any progress.The 640 uses 1/4" sensor I thought the 650 would come with something like 1/3.6" with OIS but
it is still the same sensor.Microsoft should not forget android midrange competitors,therefore, they must strive to give their phones the best in this area. Posted via the Windows Central App for Android

a lot of people love metal frame but i am tired of it. i used 930 for one and a half year. metal looks boring to me now. i love the clean and simple design of 950xl which i am currently using more.

I feel MS must repackage 950 & 950XL in a metal case like 650. Did MS compromise on CPU and removed some sensors? I feel dejected as MS included 16 gigs instead of 8 gigs. Currently using Lumia 730.

Looks like they are copying Alcatel OneTouch design language. Wish this had snapdragon 617.

I still love my Lumia 830, it has everything i need and a beast of a camera (megapixels aren't everything) and a pretty premium design. I won't go to the 650 but it's interesting and i like the design. I'll hold on to my 830 until i think i really need an upgrade.

Another Awesome mobike by Microsoft... Loooking coooool Posted via the Windows Central App for Android

Bought many lumias so far who knows might consider this one too, so far used 630 635 640 ...820 822 920 925 928 929 . .1520....to me the most favorite is 1520, then 920, then 925 , then 640,
Windows Central Newsletter
Thank you for signing up to Windows Central. You will receive a verification email shortly.
There was a problem. Please refresh the page and try again.