Microsoft Lumia 650 first impressions: Metal makes a difference
Microsoft has yet another new mid-ranger, and at first glance, that's not bad.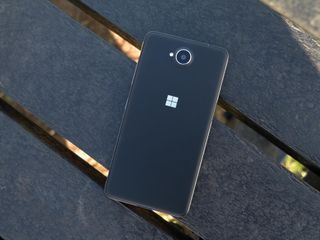 Almost exactly a year after the Lumia 640 was first announced, what you'd consider its direct successor has made its not-so-grand appearance. Announced with little more than a quiet press release the Lumia 650 was revealed and put on sale within a few days of each other.
And both before Mobile World Congress, the annual event in Barcelona, Spain, and the setting for a double 640 launch 12 months ago with Stephen Elop taking the stage. A lot has happened since then.
Windows 10 Mobile is officially a thing, and while it's still not officially been announced for existing devices as I write this, the Lumia 650 is now the fourth new phone to go on sale running Microsoft's latest attack on the smartphone space.
What we have here is a fresh retail unit picked up from the Carphone Warehouse in the UK for £139.99 plus a £20 top up on O2 pay-as-you-go. Before boarding the plane to Barcelona, I've had just enough time to crack open the box and take a quick first look, so read on for some first impressions.
The specs
Category
Specification
Operating System
Windows 10 Mobile
Display
5-inches
HD (1280x720) AMOLED, ClearBlack
Rear Camera
8MP
f/2.2 aperture
720p Video Recording
Front Camera
5MP
Still image capture
Video call
Video recording
Processors
Qualcomm Snapdragon 212
Quad-core
1.3GHz

Memory & Storage
RAM: 1GB
Internal storage: 16GB (expandable up to 200GB)
Network
GSM Bands: 850 MHz, 900 MHz, 1800 MHz, 1900 MHz
LTE Bands: Band 1, Band 3, Band 7, Band 8, Band 20
Wi-Fi: IEE 802.11 b/g/n

Sensors
Accelerometer
Ambient light sensor
Proximity sensor
Location
A-GLONASS
A-GPS
Cellular
Wi-Fi network positioning
Dimensions
6.9 x 142 x 70.9 mm
Ports
Micro-USB
Battery
2000 mAh
Other
NFC
Bluetooth 4.1
The hardware
Image 1 of 2
I'm going to get this out of the way right now: This is how Microsoft should have designed the Lumia 950 and 950 XL. Despite its budget nature, the Lumia 650 has a look and feel to it that defies its price tag. All it took was a hint of metal. The back is still plastic and removable, but that svelte metal frame makes such a difference. This is the nicest feeling out of box Lumia since Microsoft started putting its own name on them.
I have the black version here which means a black front and a matte rear panel. The only breaks on the back are a slight hump for the camera and an embossed Microsoft logo. Traditionally I steer clear of the black versions of cheaper Lumia phones because they look horribly cheap. Not in this case. The black-gunmetal-black approach looks fantastic.
This phone is almost unnaturally light as well. The battery in the back may 'only' be 2000mAh, but it's crazy light. Almost like there's nothing at all inside.
Round the front is a 720p AMOLED display at 5-inches, and it looks great. Zero issues with quality so far, colors look beautiful; blacks are black, and text is sharp enough. It's not the highest pixel density you'll find on a 5-inch phone, but if anyone tells you that this display looks anything other than good, they're probably lying. Microsoft doesn't seem to struggle to put a good display on a phone, and it continues it seems with the Lumia 650.
The software
Image 1 of 2
Ultimately, even before getting to a full review, this is what will make or break the Lumia 650. Even without diving too deep into the hardware, it's pretty sound. Some may have questions about the choice of processor, but performance will be addressed in the course of a full review once I've had time actually to use the phone.
So, what's the software like out of the box? The first thing to note is that there's an OS update that'll need to be installed before going any further. Sadly, this means that you're then left waiting for Windows 10 Mobile to go through the motions, which is still far too slow in 2016. It doesn't take nearly as long to update an Android phone, so please, Microsoft, can we have this addressed?
There's also the now customary Store update that needs to be installed on it, and all the other app updates will behave. But, once you're through all that, it doesn't start off too badly. In the first 12 hours or so I haven't had a single random crash, reboot or rage inducing moment (not counting the lifetime it felt like it took to install the update.) The only slight concern I have is with the stock camera app, which completely freaked out while trying to take a picture of my kid while he was moving about a bit. Hopefully a glitch, but we'll see.
I don't want to sound surprised, but given the experience I had with the Lumia 550, I am. But, this isn't a review, and I haven't used the phone for any length of time. Only time will tell, but it was mostly a much-improved experience out of the box with this one.
Wrapping up
So, that's about it for now. I'll be putting the Lumia 650 to work over the coming week or so, including a trip to Mobile World Congress, to really get a feel for it before putting pen to paper on our full review. First impressions are pretty good, though. It doesn't cost a lot, looks great, feels great in the hand and so far no major software snafus. I haven't had chance to test the camera yet since it's mostly been dark since I laid hands on it, but hopefully I'll be able to get a quick sample gallery up in the coming days.
The biggest takeaway for me is how much of a difference the subtle change in design language makes to the overall feel of the phone. The Lumia 830 had a similar approach, but honestly, I think I prefer how the 650 looks and feels. And I love the Lumia 830.
Stay tuned for much more Lumia 650 coverage in the coming weeks, including a video walkthrough.
Richard Devine is an Editor at Windows Central. A former Project Manager and long-term tech addict, he joined Mobile Nations in 2011 and has been found on Android Central and iMore as well as Windows Central. Currently you'll find him covering all manner of PC hardware and gaming, and you can follow him on Twitter and Instagram.