Microsoft's Lumia 650 strikes a pose in leaked official render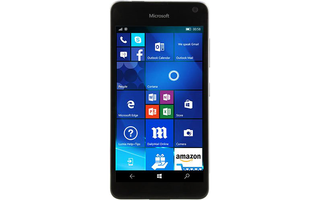 The Lumia 650 is rumored to be the last Lumia smartphone Microsoft will release before handing the division over to the Surface group. The handset was previously shown off in a bunch of high-quality renders, but now serial leaker @evleaks has published what looks to be an official press shot.
It looks to be a solid-looking smartphone with an appealing design. A recent UK retailer listing all but confirmed the specifications that would be sported by this more affordable Lumia smartphone.
Weighs 150g
5-inch display (720 x 1280 pixels, ~294 ppi pixel density)
8GB internal storage (expandable up to 128GB)
1GB RAM
Quad-core 1.1GHz processor
Wi-Fi, Bluetooth 4.1 with A2DP, Micro USB, GPS
8MP main shooter
Li-Ion 2000mAh battery
We'll be waiting for Microsoft to make the company's official announcement later this month.
Source: @evleaks; Thanks to everyone who tipped us!
Rich Edmonds is Senior Editor of PC hardware at Windows Central, covering everything related to PC components and NAS. He's been involved in technology for more than a decade and knows a thing or two about the magic inside a PC chassis. You can follow him over on Twitter at @RichEdmonds.
Looks nice. 2000mah battery seems small.

Yup, as compared to 640 and 640XL..
...
And i was expecting 6xx processor, 2GB ram and 16gb internal storage, USB C and Iris Scanner.. :p

Lol.. I think Windows Hello will be on Flagships only

And a plasma rifle in the 40 watt range, eh?

Just what you see pal! (nice Terminator reference)

Honestly this seems like somewhat of a downgrade from the 640 in terms of specs... only things that this could possibly have better would be the glass screen and overall build quality, but we don't know anything about that for sure yet. Meh.

Wow a snapdragon 210 so much worse than the 400. They're on par.

And that's not an upgrade ¬¬

Point is that the 650 has nothing (that we know of) to make me want to spend more on it, when I could get a 640 instead. As you say they are on par, so I'll buy the cheaper one. But that's just my opinion.

Its 212 touch better than 400, on power use performance on 4g & apps use, the SD400 WILL STRUGGLE the.more W10 starts to bring more into play. CPU BOSS.

I believe so ...maybe the processors are same in terms of performance but battery is huge downgrade. Got several 640 at $30 each few days ago...awesome phone at price ...battery is just killer Posted via the Windows Central App for Android

From Where did you get 640s for just $30?? Posted via the Windows Central App for Android

shelf-clearing sale at Walmart. Probably sold out of all 640s by now so they can sell the inferior 650 soon. :(

Walmart ran a sale last week, and BestBuy matches prices.

Apparently it speaks G Mail.

Cannot understand why microsoft is limiting internal storage to 8gb. apps moved to sd card might cause issue like scaning sd card now an then to fix broken links...for a phone at this price 15k should atleast have 16gb internal storage....

Lol yeah if you cheap out on microsd yes just like hdmi(though id never suggest to pay the price monster usually wants) it is all about quality

Lol don't tell me you buy expensive HDMI cables? The salespeople probably see you coming with their oxygen free cables haha

I used to sell audio gear back in the day and you wouldn't believe the markup that's on Monster products. That's why i'll never pay anywhere close to retail for them. However, depending on uses oxygen free copper is a better choice. Car audio power cable runs for instance...

Oh god this stupid problem with scan SD every time you turn on the phone. Hopefully I always skip that and everything works fine. Scanning makes apps not working.

Will this phone have an XL version?

"Serial leaker"... Is that a new term? Anyhow, good specs for a budget phone, I guess.

These specs are not so different from its lower sibling the 640 what's new in this device is it just the design. And the 8gb is becoming stereotyped

In fact, the 640 has better specs:). And better battery...

It's not a new thing. The 535 has better specs than the 550 too :D

Maybe becoz 535 is Windows 8.1 then the 550 is Windows 10

The 535 does not have better specs than the 550. The 535 has a worse processor (SD200 vs SD210), lower screen resolution (qHD vs HD), smaller battery (1800mah vs 2100mah), no sunlight polariser, no HD video recording, no Full HD playback. The 550 is a far better device all around, the only downgrade is the front facing camera resolution.

Are the purported Surface phones going to be all aluminum like the Surface Book? That'd be so kickass.

Then you'd get shocked while charging it... Well I love the way microsoft phones are being built.

actually the Surfaces are Magnesium-made.
but let's hope the Surface Phone is made of some premium materials. :)

Polycarbonate is best - maybe an aluminium trim would be acceptable - but who actually wants an all metal phone?

The guys who bought HTC One M8

There are benefits to an all-metal device, I just prefer the greater benefits of a polycarbonate back. I also like metal frames.
I actually like all-metal devices too but I can't stand glass backs. They're fragile, dirty, slippery, and they don't have any benefits over metal or polycarbonate.

Panos delivered great looking devices so far, so the new flagship will look great and most likely ditch the polycarbonate

The Surface devices are not made of aluminum. They are made of a magnesium alloy that is stronger, a better heat conduct, and more resistant to day-to-day wear.

Correct. Microsoft calls it Vapor-Mag or something.

I can't remember if VaporMag is what they call the alloy itself or if that was just a color. I guess I could look it up haha.

I get so bored with seeing new phones pop up at the moment, at least from the front every single phone looks almost identical and that look is not exciting at all, I know there's not really much you can do on the front because essentially its just the screen and some bezel but I really wish someone could do something different for once, I've got no idea what but just something to stand out from the crowd.

The problem is, how many times can you re-invent the wheel? By definition and form factor, it can be pretty restricted, or you could go down the gimmicky curved screens road etc.

You're asking someone to do something different with something that wouldn't work if it was different lol Samsung "edged" theirs, LG curved theirs, the next thing is possibly round or orbed maybe?

I agree mbrdev. When the BB Passport was launched its square form was mocked universally. But when I saw it in store I was really impressed on look and feel. Saying that I didn't buy as, among other things, it wouldn't fit most pockets... but at least it was different.

@mbrsev I kind of agree with you on this one. One thing that comes to my mind is how the older phones like MotoRazr used to have a reflective edge around the screen, where the glass is only over the display and not the whole front. Also may be, show some kind of wires or chipset showing in the bezels like on Motorola A1210 phones (it looks awesome!). Also, the capacitive keys add recognition to Windows Mobiles as well. Plus, illumination of buttons could be separate, and the home key could light up individually to indicate notifications - like on symbian Nokia phones. They used to feel alive when the light pulsed

That's a great idea that a lot of people suggested on Feedback app. I think Huaway had an RGB LED on capacitive keys that could change with your accent color. They could do something like their wireless charge that the side edges blinks, I mean, it could be the edge of the phone that changes with different accent colors, and could give pulses for notifications.

The Sony Ericsson Xperia X1 running Windows Mobile 6.1 Professionnal Edition had that (RGB LED changing colors while charging, different colors for notifications, 4 differents and independent LED). It was pretty cool ! :D

Or the bezels could have that killer metallic finish like on v3 Motorola phones. It was a brilliant finish

Hasn't the X1 got a gorilla glass rear? I bet it's black underneath the glass. The 650 just looks dull and uninspiring along with a so so chip set. Save your money and grab a 640xl. Still looks staid, but what a device when running win10m! Got 4 x 640's, 2 of each design, on our drivers love them, and they use droid for personal use!

Yep. Like real Flag Ship.

Totally agree all new phones, even OEM's, all look the same. And it's a design I dislike. I loved the curved glass on the 920 as it was subtle but made it look like content was magically floating. I read that the Samsung Edge was a surprise top seller - no surprise to me as the screen does look distinctive and elegant. I prefer polycarbonate to the metal finish though. But yes, something different please. A distinctive design that is far away.from the current old Samsung look. Nokia was distinctive with the design and colours and at the time WP hit 15% in some markets and was second to Android in some. Since these new designs appeared WP market share has plummeted and I would say there is a connection. I'm sticking with my 930 until they impress me design and spec wise. Actually, a thinner, lighter 5" 920 with glance, double tap to wake/sleep, wireless charging and hard keys that also act as notifications would be perfect.......personal taste I know......but I can wish!

I don't think the new designs are the reason the market share has plummeted. More likely related to the fact there were hardly any phones to buy, and the people already using iOS and Android don't want to switch (Most people don't like change - They have all their favourites and apps and a setup that works for them by now). I still run a phone with Windows since it's by far my favourite, so I'm not just hating on the platform, I'm a huge fan of it. I just think the above are more likely reasons that the design of the phones. I had a 1020, 930 and now a 950 but some people got stuck in between a number of those handsets - Because the 1020 was so slow the 930 seems like a nice big upgrade in the performance area for me, but some who had a 930 had nothing to upgrade from, those with 920 and the 1080 probably held off hoping for a successor to the 930.

I was replying to the original comment on the design aspect only but I totally agree that lack of choice and lack of availability had a major effect too.

Well to be fair this is 6XX series which more meant to be on low/mid-range class (gosh even Microsoft still can't decide the range of these series either). So it doesn't have to have a flair of a flagship (which 950, a flagship device is also unexpectedly bland). Unless you're talking about the smartphones in general these days, there are some or many brands that have interesting front design. Thing is, there isn't really much you can do on the front really but also that doesn't mean indeed there's no option to make it unique or beautiful. I think yeah, the problem is they didn't try to make it more interesting than to majority of phones that shares almost exact looks, despite that the Lumia in the past manage to even make the front unique. Especially when we talk about on some X20 models, they usually have curve glass in a pillow-shaped design which is still quite uniquely Lumia. Other OEM like HTC One series are distinct in the smartphone marketplace, not just because of front-stereo speakers but the combination with bezel design they've used. Xperia series also been quite creative in front looks, only these days that its little looks more conservative right now. Heck, even Samsung with Galaxy S6 with those new curved screens make it more interesting. Even without it, they manage to make it look uniquely Samsung looks at the front, whether we like it or not. Microsoft is unfortunately let the Lumia design became stale, in a sense not because they overuse the design for too long, but the aesthetics is been slightly less appealing and more generic around late Lumia X40 series. Well to be fair, front looks of the phone isn't much something we can do much especially if the trend is having lesser bezels. This leaves the distinct designs on the sides and especially the back of the phone. If the back is generic, then essentially the whole phone design is generic unless the sides nor the front have something interesting aesthetics.

Totally agree with your first point - They definitely don't seem to be able to decide on a range at the moment - I thought they'd nailed it when it was going around that they would release a budget phone, a mid range (in XL and regular sizes) and a Flagship (in XL and regular sizes) each year. It would make a lot of sense to pare down the number of devices into distinct categories. Personally I am a fan of the 950 design. I got one in White after trying one in person and getting a feel for the phone (I actually didn't think it would be that great from the pictures I'd seen, but it has a great feel in the hand to me, and the design is simple rather than bland IMO - But you can make it more exciting with a new back, I understand why some people aren't happy with that though)

Feels like MS stuck to the same processor as in L550 for this phone so as to avoid having to optimize the OS for a different processor? I feel so because of how the Lumia brand might fade, and this being the last one for the year. They already did that for the L830, L730, L640 & L640XL. PS - it will be hard to change the Lumia name, they will probably need to keep it around for lower end hardware, or ARM devices in general - Surface being reserved for high end hardware, since it is what the brand represents. Possibly with an intel chipset

Small battery, large bezels, on screen buttons, 1GB ram, 8GB memory...
No wonder that Windows phone is losing market share with devices like this...

They were targeted on emerging market where purchase all phone on retail store instead carrier

Large bezels are horrible.

Seriously, the design of the phones is one of the smaller issues for people - On-Screen buttons...I thought I'd dislike them on the 950, but once you have them I think that if anything, they are an improvement - Really expected to hate them. We need to see what the price of the phone is before saying the specs are poor - You won't get 950 specs in a phone that costs £100

I expect to cheaper than the 640?

I feel like I rather get the 640.

Yes all said and done,how long does the SD400 Running in the 640 have to give,that's why they selling so cheap. It's a good phone excellent in fact, but the facts surrounding the SD400 & W10 aren't being made clear.

I'm still curious, will be watching for comparsion reviews.

Forget the 650. Go 'old' school with a 640xl!

Or older school with a 930 :)

they need a 5.5 inch phone, i kind of feel 5inch small right now xd

Performance of the chip is higher on the OS.Beside,it is not a flagship

Damn why 8 gigs of main memory people will pay for 16 gigs. This smart phone might be dead on arrival or maybe it's for low income nations. Most USA Windows smart phone fans wont buy it except as a backup smart phone. at least it has i gig of ram the minimum needed to run good windows phone store.

Even so, if the Lumia 640 is available at any market, it's better to buy it than the L650, in my opinion. Lumia 640 pros:
- Bigger Battery, even more efficient on WP8.1 than on WM10 (From my experience on Lumias 620 and 520)
- probabbly better processor (1.2Ghz vs 1.1Ghz)
- OS WP8.1 still better and smoother than any Windows Mobile 10 build
- You can go from WP 8.1-->WM 10 ("official" or insider build), but not WM 10--->WP 8.1 It looks like Lumia 650 is just a little "weaker" on the paper than Lumia 640/640XL, and with time it should be even cheaper than L640, because Bluetooth 4.1 in L650 is just not enough of a reason for it to be more expensive than Lumia 640 :-)

Bezels are just toooooo big on the 640. Otherwise a very nice phone.

Seems like a a model that belongs in the 5 series range.

Yeah, with those specs its kinda it is like 550 with metal frame. Seriously this basically similar class to 5XX series/low-end Lumia, not a mid-ranger. Since they discontinued 850, the X50 line-up now lacks proper mid-range device leaving another dead gap just like the X40 line-up without flagship. No wonder Lumia brand is failing because of them...

Look at the Outlook mail tile! Does Microsoft promote Gmail? )))))

Before you set it up it lists a number of services "We speak Gmail" is one of them, and I think "We speak Yahoo" is another. One is Outlook.com of course. It's a good thing, they are ramming their services down your throat too much - They are a software company focussed on productivity and you're going to be most productive with the services you find best really.

Outlook.com, supports push for email :).

The 830 looks and sounds much better! No joke.

Price makes all the difference. I wonder if AT&T could offer a GoPhone version.... Though I suspect it will be of contract and only by MS in the similar breath of the 550...

don't talk about the design, there are too much of similar spec. and feature phones but eventually none of its can compete with most of the same price range of android phone. The design cost already saved them a lot, don't know where the costing come from? I'm doubt that Microsoft did any survey or study on the trend of other competitor and the demand of consumer. I wish to support but it's frustrating and keep disappointing me.

As for the hardware, this is the same phone as two years old Lumia 640 but with smaller battery? Thanks again, Microsoft. Are you really wondering, why Windows Mobile is such a disaster? You shouldn't be. People are saying it all around: Give us one decent phone for Christ sake. Something around 5" fullhd, snapdragon 6xx, 2 GB RAM, 16 GB storage, PureView camera, battery closer to 3000 rather than 2000 mAh, price it 250-280 dollars (in EU so 170-200 in the US), give it a decent design (Lumia 850 -likeish) and customers will rip your hand off. No, you still have to repeat the same mistake over and over. Why would you introduce a phone, that is the SAME (actually worse) as the previous model?

A new 5" small bezel phone with a distinctive and elegant design is required as all these recent phones look the same.

It is dumb, but its the same thing Nokia was doing with the confusing numbering of phones and phone with no front facing camera, etc. Both companies have flaws, but for Mr intelligent Satya to allow this and cancel the surface mini/850/Mclaren because they weren't anything special is beyond me!

Who said that the 640 is two years old? It's close to one year old, not two...

Well first off. The L640 was released about 11 months ago not 2 years ago so calm your horses a bit.. Secondly, MS will never create a perfect phone, that's not their stupidity it's just common sense.. They will only create phones for their fans.. Something that's great but not at the cost of their profit per unit. And they will create phones that don't have any bells or whistles but neither do they have any unacceptable flaw.. The rest is left for the OEMs to fill in.. Want a better phone? Look for the OEMs.. The Acer Jade Primo is pretty nice.. If that doesn't fit your budget look forward for the upcoming Mi5. If availabilty is a problem for that then try shipping it or look towards the other OEMs which imo are gradually increasing.. But why wouldn't MS just create a "perfect" phone you might ask. Well that's because if they do that would force the OEMs into either A) making ridiculosly better phones that would sell insanely, but at a HUGE loss.. or B) Abandoning Windows phone all together. which do you think you'd do if you were the CEO of this particular OEM? Also your phone request... Please show me which phone have you ever seen which had specs like that for below 200 USD and was made company as big as MS.. Lastly I wouldn't call it worse than the 640. It sure is a similar, but not worse. The renders look pretty nice. It hasn't even been launched yet, so hold your horses at least till the launch event..

I like how all of a sudden everyone is now claiming everything Microsoft does with their phone business is because they are so concerned about "the fans" and the OEMs, I guess they didn't matter before......

No they don't care about anyone. They are the scum of the earth. They want to devour the earth and the entire human race with their terrible decisions at underwhelming phones.. And oh by the way they're funding The Al Qaeda, The Cartel and The Kardashians.

That picture is not a very good pose!

Well, it did take its cover off O_O

No need to even bother considering this phone with these crap specs, when a phone from Alcatel has more thought put into its spec sheet you know Microsoft is just pi$$ing around with their phone business.

You make a good point - Most people here will say to just buy a 640 instead....Nobody is considering the other OEMS yet. It may take time for people to start recommending and considering them, but ideally people need to look at the other manufacturers instead of relying on the Lumia lines....For Microsoft's sake at least. People might miss out on decent alternatives if they only consider Microsoft branded phones.

So the next smartphone after this one would be Surface Phone amirite?

L640 easily beats this new L650.

Not really... But may be close

Great! & it will be Windows 10!... as expectations...

Plz increase ram size and screen size too....

Why not just Lumia 830 instead of this? Both are hugh quality designs and that has a snap dragon 400 instead. It certainly isn't the quickest phone on the WP10 OS either.

Less battery and less processing power than previous phone? That's sad.

MS have to convince people with the price..

Lumia 730/735 was the best mid range so far. Not impressed at all by Lumia 650

8GB internal and SD210 is just 2014 kinda stuff
But if they are pricing it similar to 550.. Makes sense.. Otherwise ...overpriced

It looks to display it's own weird take on what time it is.

Not feeling this budget phone too much. I usually am inclined to buy a budget phone but I think i'll stick with my 640 for now. Just my opinion though.

It all comes down to the processor used in this phone.

Does anyone know when the wp10 update is coming out for Lumia 640? I heard its this month

You are right depending on the carrier you are in..

I once shat a brick more beautiful than this thing.

If you're producing metal-accented turds, you should cut down on the amount of iron-containing foods you eat ;)

I'll keep that in mind, thanks. :D

Those specs are awful for a midrange in 2016. If Microsoft wants a successful mid-range for 2016 it needs at least: 1) Snapdragon 615 2) 16GB of storage 3) 13 Megapixel camera with dual led flash 4) Notification led 5) 1080p display 6) Metal body 7) Compass Anything below these is a starter phone and you can already get that with the Lumia 550 Just my 2 cents.

8) 5 MP FFC
9) Fingerprint scanner
10)price it below 300 USD USD
( and I don't want MS to release such a device.. Huawei should release one.. MS needs a Nexus Line of device.. )

Why is everyone focusing on specs? The 950 and 950XL are designed to be powerful, high-spec machines for fans to get excited about the processor, screens and feature set. The 550 is designed to be the cheap phone for owners on a low budget or those that need a simple phone to take calls and text. The 650 is designed to be a classy-looking phone targeted at business users. These are not the users that will sit at their computer screens drooling over a octa-core 810 processor with liquid cooling, nor will they be the users ranting to anyone passing by that their specs are slightly below a model made by what was a different company at the time. They just want a nice looking phone that works - and the 650 will do that.

I guess all of these require ATT and not Verizon?

My 640, is more of a business phone....

Honestly it's going to be a flop if it's shipped with a snapdragon 210/212 chipset which is downgrade for 6xx Lumia series :3
Windows Central Newsletter
Get the best of Windows Central in in your inbox, every day!
Thank you for signing up to Windows Central. You will receive a verification email shortly.
There was a problem. Please refresh the page and try again.