Lumia 650 listed at UK retailer ahead of official announcement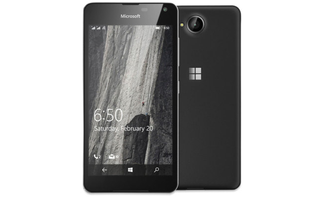 The unannounced Lumia 650, a business-orientated Windows 10 Mobile-powered smartphone, has just been spotted on the website of UK retailer Mobile Fun. What makes this interesting is how the specifications have been listed in full, while Microsoft has yet to make an official announcement.
There's also the option to pre-order for £199, which comfortably follows a previous report on European pricing. This is an unlocked listing, so combining the price and specifications, the Lumia 650 is certainly looking to be a capable mid-range smartphone. Here are the specifications of this Lumia 650 listing:
Weighs 150g
5-inch display (720 x 1280 pixels, ~294 ppi pixel density)
8GB internal storage (expandable up to 128GB)
1GB RAM
Quad-core 1.1GHz processor
Wi-Fi, Bluetooth 4.1 with A2DP, Micro USB, GPS
8MP main shooter
Li-Ion 2000mAh battery
You're free to pre-order the unannounced smartphone from Mobile Fun, but do note that this is an early listing. We anticipate official details to be released by Microsoft regarding this mobile device in due course.
Source: Mobile Fun, via: WinBeta
Rich Edmonds is Senior Editor of PC hardware at Windows Central, covering everything related to PC components and NAS. He's been involved in technology for more than a decade and knows a thing or two about the magic inside a PC chassis. You can follow him over on Twitter at @RichEdmonds.
transparent on screen buttons?

What about snapdragon processor details??????

Rich Edmonds forgot to add "SD210" with "Quad core1.1GHz processor" while listing the specifications ;) ahem..

I'm pretty sure it is 212. But then again, the Processor name is not given in the pre-order page.

Even if it's 212.. We are gonna miss a real Midrange device here... There is a big gap between L650 and L950... I'm hoping for some good news from MWC..

I won't be able to buy phones above 200 GBP. I was really exited for the 650, But it seems that it will be the worst upgrade to any great phone (I mean the 640). But yeah. I don't think the 750 is cancelled. I hope they release it in MWC or something.

212 at 1.3 GHz but gpu is still a 304

Yeah.. Nadella better have a decent range of other OEMs phones lined up. Don't pull back before you have a killer flagship ready for all markets and you are sure other OEMs will actually step up. Posted via the Windows Central App for Android

Transparent on screen buttons!! Haven't seen one before.. But this pic is not the official one.. Just a design by @PhoneDesigner.. So don't hold your breath yet..

Actually, on screen buttons have been transparent on lock screen since WP8.1.

Sorry then... My bad.. Never noticed...

The current on screen buttons on win10m build is transparent. o.O nothing new there

:) they are like that on any lockscreen with W10M

they already are like that, only on the lockscreen though

For phone with sd210??? No.

If it had 3 or 4GB of RAM memory and 128GB, 20 megapixel back cam and 8 in the front...but you would be wise to spend your money a Lumia 1520 unlocked and new at that price.

L1520 is out of stock i guess

No you can find them on amazon, eBay, best buy, Newegg, overstock and even Microsoft Store.

Why would it need so much Ram??? Were talking Windows 10 here, not Android!!!! And the other specs you mentioned, I think you'd better go for a 950....

Yup... We don't need that much RAM..Agreed.. Then MS should price it less for that specs.. But they tend to price everything comparable to other High-end android devices even though they only provide a bit lower specs...

Why not, that's like saying I want less money instead of more...more RAM is always better.

Okay so more money is always better. But more RAM could mean spending more money, which is not good

1.5GB Ram would be perfect,& 16GB Internal Storage, Micro SD card, SD 412 Quad core, would be decent for a md range phone.

Just let me know where and how much!

Cause more RAM is better to run large apps and multiple apps at the same time.

If you followed this site a bit, you'd know he posts random things just to pi*s people off :)

Comparing the performance of a Nexus 6P and a Lumia 950, I think it's safe to say that if an OS needs more RAM currently, that OS is Windows Phone 10, NOT Android.

Show me an android phone with 512 MB RAM and dual cores running the latest OS at acceptable smoothness. My 3 year old Lumia does. Is that proof enough for you?

Well, just check how Windows 10 Mobile performs in multitasking compared to Android and iOS devices. Unfortunately W10M needs heaps of ram compared to the competition. https://youtu.be/-wne8m9qCFs?t=111

Get Marshmallow on one of those phones.
Also, I call bullsh*t on your claims. I have a 830 running WP10 and the thing lags as hell. Posted via the Windows Central App for Android

Please don't troll here if you don't like windows on phones.

Boohoo...."mommy, there's an evil man bothering me with reality over here...make him go away...". Sorry pal, just because you have reality, it ain't changing for you, no matter what you call people describing it.

Heh heh..... Sarcasm.... Well I don't need to prove anything to you anyway. Yes W10M still needs a bit more optimization to be perfect. But I stand by my claims on my device. Frankly I'm surprised MS are even giving this update to older phones. No other OEM gives OS support for phones over 3 to 4 years old anyways. And the fact that it is living upto my daily usage enthrals me. The fact that MS has putup a beta OS for download is the only reason people like you are crying. I'm prepared to live with that as are other MS aficionados.

Windows phone can run pretty well @ 1GB ram.. 20mp rear & 8mp front seems too much at this price point

3GB or 4GB works better for large games and apps.

@Garry Williams, Yes and No, depends how much memory is allocated for use :P.

Seems like a 640 in a different shell.

Which would have been a good thing... But the processor though... I don't mind paying extra bucks for a SD4XX processor.. But for the listed price SD212 will be decent enough... A real mid range W10M device is needed from either MS or other OEMs...

Moly x1 1080p 410 5.5 at 299.99$

Yeah! I hope WC buys one of these and does a review of it, as it's a good looking phone.

Its more advanced than the 640 it only carries a SD 400, the 212 is a little better.

650 has much smaller battery !

Can anyone convey the information regarding availability of Snapdragon 600 , 615 , 617 , 618 ,420 , 430 etc... to Microsoft
Why are they sticking only to 200 series

To make some money out of the phones, 5 and 6 series are low end (4 is super low end :D) , 7 and 8 series are mid range, 9 and possibly 10 series are high end.

I think because Windows 10 mobile is still 32-bit. Those higher snapdragon processors are aimed at 64-bit phones. The SD 210 is for 32-bit devices.

"Why are they sticking only to 200 series" Because it's cheaper and the Mobile division already loses Microsoft way too much money for their liking. There. The honest answer.

Sd210 @ this price point is too irritating!

Is not just App Gap , now it's time for Hardware Gap , next is O.S gap , then "What's Windowsphone...?"

Seriously.. If it had 410 then i would've bought thing blindly.. Ms should use 1gb with 210/212 for low ends.. 2gb ram with 4** for budget.. 2gb ram with 6** for mid range..

I heard its 212 soc and some people said 212 and 400 are very similar...lets see...thou I think we need more low end windows phone for some market share

Yeah its mainly 212.. And wats the advantage of being similar to 400.. L640 has 400. L650 should've got better than that plus look at the pricing total crap..

Hmm, 1.1 GHz quad-core seems to be Snapdragon 210. But only 2000 mAh battery? 550 has 2100 mAh and 640 2500 mAh. Otherwise pretty decent phone for its price.

Give 32GB of storage and charge $25 more, even $50 more, until external storage problems are resolved.

Microsoft please release a phone with lumia 730 design with 2gb ram and 16 gb internal memory and snapdragon 617, it would make a perfect mid range phone

Tell them to release win 10 tooo

Rename it 750 maybe, good specs though!

It would cost as much as an 830 unfortunately.

Would be better buying a 750 with these specs over underpowered 830 at the same price

The price should be around for what 735 was launched

Yes Mohit I really want like that window phone but Microsoft make very highest or lowest price phone

Continuum has been marketed as business phone feature. I suppose Nadella's business phone has that feature?

Yes, my sources tell me that his iPhone Pro runs continuum pretty well. :)

You just shamelessly lifted that joke from maktaba's comment in another article. Funny. Wa ha ha ha.

A) dude chill. Its WC. And it was just a ******* joke.
B) i'm not amy schumer. I dont steal jokes. And i barely ever read comments. Sorry to burst your bubble.

Sshhhh... Mastermind knows what he is doing. Just ask Jason. ;) Posted via the Windows Central App for Android

Soooooooo.... All those specs are either lower or en par with the Lumia 640 and 640XL or am I missing something here?

You are right. It's not really an upgrade from 640/640 XL.

The front camera gets bigger , but not many people care

No processor info plus the phone will be pricey.. :/

I think the problem with release is the SD 400 & power use that's doing it.

Why yet another 8GB, 1GB, 8 megapixel phone??? No wonder people walk past the MS devices in store. They all 'appear' to be the 'same' for a casual buyer. What is there to really differentiate between the 650 and 550, apart from being .3 inch bigger screen. Don't think of things from our, in the know, viewpoint, think as a first time smart phone buyer? What about the sales reps in store. Faced with the question of "what is difference between the 550 and 650?" Now, does he blind them with science or recommend something he is more familiar with, and another WP buyer gets blinded by the latest bejazzled Samsung junk.
I will stand up for the Carphone Warehouse guys in the UK. They know their onions when it comes to WP. Trouble is, MS phones are'nt worth much to other operators, contract wise, considering an iBone 6 comes in at £48.00 per month, approx $60+ US per month.

That Thomas Dolby melody is a perfect match of what is going on in MS' head, offering the 650 for double the price of a 550.

"Now, does he blind them with science or recommend something he is more familiar with, and another WP buyer gets blinded by the latest bejazzled Samsung junk." To be fair, for less than 199$ you get the Samsung J5 which is in a completely other league than the Lumia 650.

Yes but Samsung runs on crapdroid and not too well I heard

That battery is horrible!!!!

This phone just doesn't have to exist.

Been thinking I'd get this but nope. I've decided to take the plunge and join the Insiders program soon and just get W10 on my 640. Maybe I'll change my mind about the 650 in a few months but it just seems like it's nothing to get excited about.

Battery capacity is lower than L640.

But the power use is a lot lower, & it runs W10 heavy power use compared to W8.1,

Why Microsoft is sticking on outdated configuration?

Again with the joke mid-range moniker.

If you are going to go for a 'mid' range Lumia, the 640 is a cracking bit of kit, especially when on W10M preview!! Better still, go XL!! The XL can be picked up in the UK for anything between £100-150! That's a bargain for an xl!! Plus it has a great battery and a better shooter on the back!

Won't buy another phone with only 8GB internal storage. My new minimum is at least 16GB!!!

So we have a new phone with lower specs than 640/640XL/730/1520 and more expensive...

They always use the screen time to identify the phone model but is the date an indication of a release date?

Nokia used screen time to indicate release date. MSFT now just indicate model number. Posted via the Windows Central App for Android

No. The clock always pointed to the model number for Lumias.

Such a wasted opportunity to a decent mid-range contender..

Lol, such riping. You really have to be clueless to buy such thing for it's specs. Only thing good it this phone at that price is design, it looks awesome and wonderful. Maybe display, too. But that little battery and awful processor with such buggy and resource-hog W10M...No, big NO. You'll be much better with any decent Android phone, even older ones.. Posted via the Windows Central App for Android

Lol, such riping. You really have to be clueless to buy such thing for it's specs. Only thing good it this phone at that price is design, it looks awesome and wonderful. Maybe display, too. But that little battery and awful processor with such buggy and resource-hog W10M...No, big NO. You'll be much better with any decent Android phone, even older ones.. Posted via the Windows Central App for Android

A five inch display with only 2000 mah a weaker processor? This things a joke better off with the 640

They need to stop using SD 2xx and 8 GB of internal memory on phones at this price range. They are a major deterrent to the sales.

1gb ram in 2016?? MS is just ridiculous . Why not 1.5 or 2gb. What are they trying to do here? I dont think they are serious about windows phone.

Trust me , they will only sell 650 units of this crap.

I was really looking forward to getting this phone. Those specs is a turn off for me.

".....capable mid-range smartphone." Seriously? Another over priced low specifications smartphone, when is the affordable....., coming?

Sounds like Lumia 830-ish price for 640-ish specs? And the 830 was considered over priced already? I bet the price will drop £50 before it actually starts shipping.

Why someone would buy this one instead of 640? Only for design ? 640 is the best if somebody cares about battery life and the value

Why the massive decrease in battery mAh. Don't tell me for thinness? Posted via the Windows Central App for Android on my Lumia 950 XL

The announced price was 219€ , almost 20% lower . I suppose the 199 pounds is the prelaunch price . And it supposedly had wireless charging which could explain the smaller battery compared to the 640 . A good phone I think but not if like myself , you already got a 640 and don't really care about front camera . Heard the C2 high end Nokia that will be announced in Q4 2016 will have a WM10 version , besides the crapdroid one, but just rumors . If so that will be my next phone .

The battery's pretty small for 150g of weight. Guess, all that metal is heavy lol Still, 2000 mAh is not good enough

hy has no one mentioned thysica buttonson the side of the phone. I have a Nokia dn the most frustrating feature is the sticky out buttons on the side. I constantly keep bumping these and inadvertantly adjusting the volume or setting off the camera. Is it too much to ask for a design with recssed buttons?
Windows Central Newsletter
Get the best of Windows Central in in your inbox, every day!
Thank you for signing up to Windows Central. You will receive a verification email shortly.
There was a problem. Please refresh the page and try again.