Microsoft needs to embrace Alexa and Google Assistant now that Cortana is 'dead'
Microsoft ecosystem users have been left with little alternative in the voice assistant space.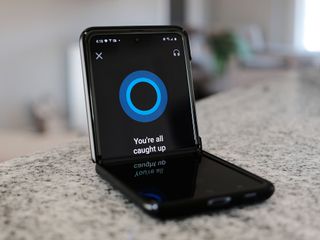 (Image credit: Daniel Rubino/Windows Central)
Earlier this week, Microsoft struck the final nail in the coffin for Cortana as a "traditional" digital assistant. Starting in early 2021, people will no longer be able to use Cortana for the usual things you'd want to use a digital assistant for on iOS, Android, Surface Headphones, and the dedicated Harman Kardon Invoke speaker. Cortana, in the eyes of most people, is dead.
That's not what Microsoft will tell you, however. Microsoft's stance on the matter is that it's repositioning Cortana as a virtual assistant that can help you inside of Microsoft 365 services like Outlook and Teams, but this isn't what I or many others consider to be a "traditional" digital assistant. Cortana can't turn on your lights or play your music library anymore, or have the convenience of being "always available" without having to open an app first.
On mobile, Cortana is no longer its own entity. It's not something you'll be able to go and download and use as a replacement for Google Assistant or Siri. The only time you'll interact with Cortana is when doing a productivity-based task inside a Microsoft 365 app or service. On the way to work and need to check your email? You can use Cortana inside Outlook to read and reply to your latest email as you drive.
It's those kinds of experiences that Microsoft is focused on with Cortana going forward, which means that Microsoft no longer has a digital assistant for consumers to interface with. I used to use Cortana all the time for adding things to my To Do, creating events in my Microsoft Account calendar, and setting reminders. With Cortana's entity going away on mobile, these experiences are no longer possible.
Goodbye Cortana, Hello Alexa?
Because of this, Microsoft now needs to embrace the likes of Alexa and Google Assistant more than ever. Right now, I'm unable to use my voice to add things to my To Do using Alexa or Google Assistant. Trust me, I've checked. There's no skill or built-in service for Microsoft To Do on either platform, meaning it's impossible.
Typing "Microsoft" into the skills database in the Alexa app will yield one result; Xbox. Don't get me wrong, I'm happy to see the Xbox skill in here, but that's all there is from Microsoft. There's no To Do, or Microsoft News, for example. Admittedly, Alexa does have built-in support for your Microsoft Account email and calendar, which works well and is great to see.
It also has Skype integration, which allows me to make a call using my Skype account with just my voice. But the lack of To Do integration is a big miss for me. I'd like any lists or reminders that I set to sync to my To Do app on Windows and Android, but it just isn't possible with Alexa. And the Google Assistant is in an even worse place. As far as I can tell, there's no way to get Google's Assistant to sync with my Outlook or Skype. It only has the Xbox skill.
This is a problem for Microsoft's upcoming Surface Duo, which will likely be using the Google Assistant as the default assistant on device. Surface Duo is a productivity device, and if it's unable to check my email or add something to my To Do using the digital assistant, that's not a great start. Microsoft has all these services that cannot be interfaced with via voice now that Cortana has been repurposed. For this reason, it needs to embrace Alexa and Google Assistant much more than it is currently.
Do you agree? Let us know in the comments.
Get the Windows Central Newsletter
All the latest news, reviews, and guides for Windows and Xbox diehards.