Microsoft News Roundup – 20 Win8 tablets coming, MS has a new keyboard & Windows Phone at 4%?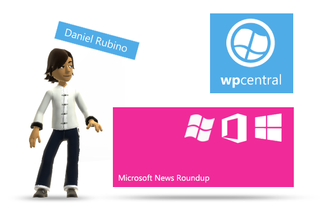 Yet another day, yet another roundup of somewhat exciting news involving Microsoft. We'll summarize the stories for you to keep you abreast of what's going on in the world of Redmond. Today's stories we found interesting:
Intel CEO remarks that 20 Windows 8 Tablets are coming this fall
Microsoft is back with a new keyboard dubbed 'the Wedge' (and mouse)
Windows Phone will grab 4% market share in the US in 2012?
Head on past the break to get all the info…
Prepare for the Windows 8 flood of tablets
According to Intel chief executive Paul Otellini, various OEMs have big plans for Windows 8 this fall and while Microsoft's Surface is getting a lot of attention it looks like Microsoft's partners are not sitting this one out.
Intel's Otellini revealed that 20 tablets featuring their processor will be hitting shelves later this year featuring the new Windows 8 OS. We guess this puts to the rest all the handwringing that Microsoft was kicking its OEMs in the face by doing the Surface, eh? Pundits—they'll make a controversy out of anything but the reality is often quite different.
Our only concern now is how will we make a choice? With 20 tablets comes 20 different choices (and we're not sure if that 20 includes Surface). While Microsoft's tablet has stolen the limelight we're hoping the OEMs can innovate, innovate, innovate to really wow us both in terms of price and features.
What say you? Are you going Surface no matter what? Source: Venture Beat
Not the same Wedge from Star Wars
Microsoft has a Wedge headed your way (now with more Mouse)
While many folks don't think of Microsoft as a hardware company, they make some killer webcams and keyboards. Heck, their ergonomic keyboard is one of our favorites—sure the learning curve and adjustment period may deter some but once you adapt, you don't go back.
So we're glad to see Microsoft has another keyboard headed our way dubbed 'Wedge'. From the leaked images, we're looking at a—dare we say—Apple-esque design with smooth contours and a relatively thin, svelte design. The keyboard is reportedly for "mobile use" which makes it seem like it's another Tablet keyboard—perhaps something for those other 20 mentioned above?
The device appears to connect via Bluetooth and has some type of cover for travel (looks like a neoprene case). Overall it looks quite slick though and we're always glad to see options. Expect it to ship this fall along with Windows 8. Source: Winmag; via electronista
The Microsoft Wedge Mouse
Update: And now pics of the Wedge Mouse have leaked out too. Price is said to be $60 (according to BestBuy) and the device looks certainly more radical than anything we've seen before. Source: WinFuture; via the Verge
More accurate/not-accurate data about Smartphone sales in the US
More Windows Phone marketshare news or un-news, we're not sure
Call us crazy (and forgive the rant) but we're getting just a tad tired of reporting on marketshare woes for Windows Phone. One survey says it's bad, another terrible, another says it's going pretty well; some are for this quarter, some are for sales, some are for overall phone users, etc. etc.
You know what they all have in common? Lack of actual data from Microsoft or their OEM partners. Which makes them hard to digest especially when they contradict each other. Don't get us wrong—Windows Phone is still just a tiny blip for marketshare, we know that part—but we can't help but wonder what the real answer may be.
So with that preemptive complaint, Strategy Analytics is reporting that Windows Phone will grab 4% of the marketshare this year in the US which is up from 3% last year in 2011. That translates into 5 million phones versus just 3.5 million last year.
Strategy Analytics senior analyst Scott Bicheno chimed in with the big duh statement yesterday:
Shocking, no? It's a good thing we have these analysts around.
We don't know if 4% is correct for the US but it does feel kind of right—we know Windows Phone is not flying off the shelves but it's clear it's doing better than 2011 and getting some decent press, especially with Nokia and their gusto for advertising.
But 4% won't get us very far and reinforces the notion that Windows Phone 8 and some un-announced "game changer" is really needed to break the current trend of slow growth.
The big question is 'Do you think Nokia will reveal any concrete sales numbers when they do their earnings call?' They haven't so far and we're not expect them to which will only add fuel to the "they're underperforming" fire. Source: Strategy Analytics; via Cnet
Daniel Rubino is the Editor-in-chief of Windows Central, head reviewer, podcast co-host, and analyst. He has been here covering Microsoft since 2007 when this site was called WMExperts (and later Windows Phone Central). His interests include Windows, Microsoft Surface, laptops, next-gen computing, and for some reason, watches. Before all this tech stuff, he worked on a Ph.D. in linguistics and ran the projectors at movie theaters, which has done absolutely nothing for his career.
Nokia, it's a good time to design and release a tablet!

A Nokia tablet. That would be cool.

YES YES YES YES YES YES YES YES YES YES YES YES YES YES YES YES YES YES YES YES YES YES YES YES YES YES YES YES YES YES YES YES YES YES YES YES YES YES YES YES YES YES YES YES YES YES YES YES YES YES YES YES YES YES YES YES YES YES YES YES YES YES YES YES YES YES YES YES YES YES YES YES YES YES YES YES YES YES YES YES YES YES YES YES!

I think the whole point about MS doing the Surface tablets was to show OEM's how to build a quality tablet, not a shot about the quantity. We all know OEM's like to do the very least on design and build and shove it out the door in large numbers without a thought beyond the initial sale, Surface says to them and consumers there is a choice if you want a well designed, quality tablet. If all these multitude of tablets are cheap plastic crap that wont go over well, they need to step up to the plate in every department.

Agreed. I always figured it was a shot across the bow, kinda "if you're going to do it, do it RIGHT".

Glad to see I'm not alone.

So does this mean you guys don't expect to see cheap knock off attempts at Windows 8 tablets, much like one can find in the Android tablet market? There are a lot of very cheaply made tablets running Android, will Windows 8 specifications be too high for similar devices or will they still be produced in the new year?

I think we all seen what happens when Microsoft states that their wp7 will have quality over quantity, and look where did we end up? Im sure that there gonna end up somewhere in the middle where quantity is within the same ratio of quality. Besides were talking pretty much about computers more than just a tablet only OS, and I sure seen pretty cheaply built computers.

20? Wow that's going to make the decision agonising! More than likely each retailer will only stock half a dozen models. At the end of the day, more competition should be better for consumers

I hear you, looking at 20 windows 8 tablets will make you drool and confuse but for me Surface Windows 8 Pro is my first choice and second will be Asus Taichi.

No it won't,it will put more into consumers hands. This works great for Android phones already.

Just like how all windows phone 7 phones weren't available region to region, we won't see the all 20 tablets.

I don't think the decision will be that agonizing. Surface Pro will probably be priced higher to designate it as a premium product with all the bells and whistles to take advantage of Windows 8. Others will probably be special order busines units, only available through Dell, Toshiba, etc. Everything else will essentially come down to the usual choices of, say, picking a laptop... screen size, battery life, cost and -- maybe in the tablet scenario -- accessories.

20 tablets using Intel CPUs means Win8 "full" tablets :D
And what about arm ones ? Any numbers....?

I hope the Surface is a nice wakeup call to these OEMs. Hopefully the days of the cheap plastic slate being touted as high-end hardware are over. Lets get some design on folks - we only want the best for Win8!

Hey Daniel, this question is pretty loaded, but I think it should be asked in every reader's behalf. With the expansion of devices coming out and shared NT kernel coming to WP8, is WP Central going to eventually transform/evolve to something new, like the tipb metamorphized to iMore? I think it would be an important and smart move to stay current and be forward thinking. Just my 2%.

We're toying with it but iMore has one phone where we have to cover like 10-12 plus carrier variants which puts a lot of stress. Rene has it easy with basically "one release once a year" where we have a lot more to do--throw in software reviews, editorials, tutorials, videos, industry news and we have to be careful to over-step too much. These wrap-up/digest posts are a step in that direction to see how people react ;-)

You guys need one up them!!! For microsofties everywhere!! Lol, I see what you mean, it can be monumental. Hopefully a hybrid of sorts, maybe even just this post will be enough, we'll see. I thoroughly enjoy reading this site and would love what comes next.

The wrap up posts are great. It seems to me we are still receiving great news and if we need more, we can then Bing the topic. My two pennies would be to say that if you have to, you can also provide, say, a Nokia wrap up, an HTC wrap up,etc.. as needed. Making the content windows phone/tablet centered would be nice if you can afford it. You guys are the best news source bar none.

Glad you like it. We'll be experimenting with different formats and regular colums to see what works with you folks. Trying to keep everyone happy ;-)

Notice it's Intel based tablets, not ARM tablets. and no, these tablets don't include the surface.
The Surface RT will be released with Win8, so that's October. The Surface Pro, the Intel based version, will be released three months later, so that's January 2013. That's probably not because it won't be ready, it's probably to allow OEMs a window to sell their devices without competing with Microsoft directly.
The target audience for ARM vs Intel based tablets is a little different. Business and advanced users will probably want the intel based tablets. others might prefer the lighter, longer battery life of ARM tablets. (I know I would prefer the Intel so I can install dev software or music authoring software on it, my mom doesn't need that, she needs web and office)

What about AMD based tablets? Intel is a brand name of x86 processors and not the architecture name. AMD is known for their price/performance offerings.

The 20 tablets were announced from Intel, That their OWeM Partners are using for their tables. Not sure if AMD chips have been chosen for any OEM tablets. Don't for get the ARM processors. OEMs that will be releasing tables, with Samsung, Qualicom, and Nvidia chips in them. As the launch dates get closer, we probably will hear more details from all the OEMs big and small.

I have to think the Surface product will also be BLOATWARE free. That and building hardware around the needs of the OS should put Microsoft in the boss chair.

That new keyboard looks cool. Unortunately I already have the Arc and the BT 6000, and I don't know how to justify buying a third one.

That's the main reason I want the RT version of Surface, bloatware free!

Daniel is windows phone central gonna change its symbol to a wpc 8 symbole with a circle around windows 8 symbol instead of the old one

We have a whole site redesign nearing completion and we will get a new logo. Using MS's actual TM for Windows/Windows Phone is a bit risky so we'll most likely come up with something similar but also unique.

That's cool cant wait to see it wpcentral still number one on my home screen :D

I think the more important question is what percentage of new smartphone sales will WP get. If AT&T gets a flagship and continues to push and if Verizon also gets a flagship and pushes it hard like they have suggested the will then WP could do quite well.
I'll be interested to see all the devices but at this point I'm strongly leading towards a x86 Surface and I'm hoping that Nokia will come out with a RT device compelling enough to make me spring for one of them also but I would like to support a different manufacturer with my RT perchance.


Hey Daniel! The wedge mouse looks great but I don't see the third buttons. Does it have it?

"You know what they all have in common? Lack of actual data from Microsoft or their OEM partners."
That in itself is the answer you seek.

Microsoft is officially saying that W8 will be available October 26!

MS just announced Windows 8 out October 26th.

RT to follow?

HTC please make one x WP! Looks better lumia 900

To each their own but you've got to be kidding.

That mouse looks so fail. Make it all blocky, for your inconvenience.

Maybe it isn't a mouse, computing is moving away from the mouse-keyboard paradigm.

The Surface is cool, but from a functional design standpoint, nothing beats Asus and its Transformer line. I love my Android tablet and will gladly trade it in for the Windows 8 version they've promised (with keyboard of course!)

My friend has an Asus Transformer with keyboard but the tablet itself I can use it as a boat achor. I think Asus Taichi is good it's my second choice after Surface Pro.

I will get the surface, IF, it is priced competitively. Also, wp8 needs some cool commercials by MS. I think of spoofs making fun of the trendy iPhones and crappy commercials that make me uncomfortable, "siri you are so great". If i was in marketing for me i would aim my commercials calling them out, and the hipsters. The commercials i liked was apples PC vs apple. That still designates today with people as apple is "cool" and PC is not.

Looking forward to a Surface RT. Daniel, are you guys releasing a WPCentral Windows 8 preview App? I'm actually surprised you haven't already.

We'll most likely have something...Jay is quite busy now but I know he has stuff in the works.

That's great news, look forward to it.

Nokia tablet would be awesome, but has to challenge surface rt. would be a hard fight about my pocket money ;-)

It's nice to see news of Windows 8 launch date and the 20 tablets, announced from Intel. So it looks like we will have alot of them to choose from. Remember that this does not include the 5 or ARM processor ones, that will be running Windows RT. I believe Asus, Lenovo, Acer, and Samsung, are slated to release a n ARM tablet too, be sides Microsoft Surface RT.On another subject, My wife and I love our Lumia 900s.
Windows Central Newsletter