Microsoft now lets you customize the buttons on Surface Pen with any apps you want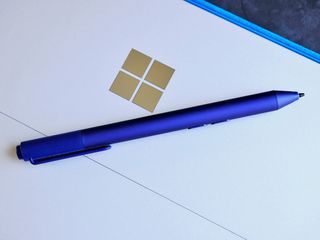 Looks like a small but massively significant update has gone out for the Surface app. Version 10.0.342 is now live in the store and it is going to make a lot of folks happy.
The Surface app, which comes pre-installed on all new Surfaces, finally now lets you customize the rear 3-way button on the new Surface pen for Surface Book and Surface Pro 4 (it also works with Surface 3 and Pro 3).
Heading into the app you can find sub-sections for Button Customization including options for single-click, double-click, and press and hold. Here are the new choices:
Single-click: OneNote (default), Disabled, Launch a store app, Launch a desktop app
Double-click: Screenshot (default), Disabled, Launch a store app, Launch a desktop app
Press and hold: Cortana (default), Disabled, Launch a store app, Launch a desktop app
When choosing Launch a store app a sub-menu pops up letting you choose any install app on your system. Same for a desktop app.
In the past, Microsoft let users choose between OneNote (Store app) and OneNote (desktop), but that was it. Even that feature was removed with the Surface Book and Surface Pro 4.
Now, however, the company is making a nice comeback by giving users the ability to make those buttons do whatever they want, which is very important for artists and engineers who would prefer to launch a specific professional app.
Update: As others have noted, this app appears to let users only modify the settings on the new Surface pen and not the old one that comes with the Surface 3 and Surface Pro 3. However, those users can buy and use this newer pen on their devices and benefit from all the new features.
Update 2: Some readers are confirming even with a new pen that this does not work on older Surfaces hinting that this is a Surface Book and Surface Pro 4 feature for now.
Download Surface for Windows 10 (opens in new tab)
Thanks, Rick V., for the tip!
Daniel Rubino is the Executive Editor of Windows Central, head reviewer, podcast co-host, and analyst. He has been covering Microsoft here since 2007, back when this site was called WMExperts (and later Windows Phone Central). His interests include Windows, Microsoft Surface, laptops, next-gen computing, and arguing with people on the internet.
I need to get me that fancy pen!

It's certainly a slick pen. Feels good and has that familiar"quality weight" you get on luxury pens.

In the past, Microsoft let *users... :)

And there's this... "choose any install app on your system" ...

AWESOME. This is going to be great with my new S3. I still wish touch-friendly OneNote for store had some more features for pen use, but I'll keep using Outlook 2016 for now, and this will make it easier!

Sweet! Opening OneNote is nice but I definitely prefer to open my most used applications with the pen.

Microsoft is on a roll lately.. Love what they are doing

Agree, lots of updates and all going in the right direction.

I got excited because I requested this feature in feedback. I had requested to be able to click the top of the pen to take a picture from the camera app. Looks like you can open the camera app but not actually take the picture. Oh well, maybe in a future update.

Cool mow maybe they could include a small microphone that allows us to speak to Cortana through the pen more affectively

Then we have to recharge the pen like the apple pencil...

I always thought the Asus Padphone had a clever idea http://www.engadget.com/2012/06/12/asus-padfone-review/ of using the pen to answer phone calls when the phone was docked to the tablet screen. That was innovative. even thought it has been done before - MS could improve on it. perhaps the so called surface phone will consider using continuum to dock (wirelessly?) into a tablet sized screen and a pen that can be used to make phone calls.

I need something for middle mouse click!! i came from a thinkpad and i miss it sooo much!!! opening and closing tabs is a pain in the ***!

Ditto the pain in the *** for opening and closing tabs. The edge browser is a huge step back for touch. I like the added features, but the missing touchability from 8.1 browser is sorely missed.

Hallelujah, it's raining apps!!! Amen!

Hurrah! Sort of obvious thing that should have been there from day 1 but better late then never. This reminds me...I was supposed to have bought the blue version of the pen ages ago...

Update: but of course, Microsoft would have to find a way to f*ck us in someway and had to prevent SP3 users from getting the features. Even though I bet there's zero technical reasons for that.

You need the new pen and it will work with the sp3. The old pen didn't support multiple/hold clicks

I wondered why this could not be applied to the Surface Pro 3 pen. Now I know it can't, may look at getting the new pen.

Comment at the end states the update WILL work with the SP3 Pen..... See Guzzler3 comment below for full instructions :)

In your infinite wisdom, please do tell us why it is not possible on older hardware. You must know everything about the hardware to know specifically, know better than the microsoft engineers why it is not possible. With all you knowledge, I would think that wou would be able to create your own pen that can look years into the future and know exactly what will be possible, and implement it now. With your intellectual abilities, you should be a billionaire since you can predict the future and pre-engineer all those features that should be available 1, 2, 5 years down the road.

No doubt that is exactly what Microsoft's strategy was with this new feature. On the surface, it looks like they are improving the functions of their latest products, but in reality, they are really just trying to screw folks over. Not everyone can see their devious nature. You, my friend, are eyes wide open. Bravo. geeeze. lol

The app updated but I have no pen config on SP3 ...... strange

You aren't the only one. I've even unpaired and repaired my new pen with my SP3. No extra settngs

You have the SP4 pen? Does not work on the SP3 pen due to restrictions, according to comments above.

Yes, I have the SP4 pen. I pre-ordered it when it was first announced. Love the pen and interchangable nibs over the original pen.

Noticed that you solved it for the SP3 and SP4 pen below - thanks for that info.

Would be nice if the Surface app actually worked, it still says it can't connect to the pen device even after this update

I have a Surface Pro 3 and a Surface Pro 3 pen and updated to 10.0.342. I don't have the option to change the button behavior.

Even with the new pen connected to the SP3 I don't have the new options! :(

I can confirm this doesn't work - I bought the pen from the Microsoft Store and the reps tried to configure it until one tech came out and told us that the new pen customization features will not work with the Surface Pro 3. Also, not all apps on the Surface Pro 3 can use the Surface Pro 4 Pen's eraser. You can see this on MS Paint - the eraser on the Surface Pro 4 Pen will draw in MS Paint on the SP3, whereas the SP3 Pen eraser function will work properly. Considering it costs $100 CAD to buy and that the nib housing on the pen easily shreds off when swithcing nibs, I'd caution anyone buying this pen. But it does write amazingly well!

Big indeed ...I love OneNote but it is not my primary application.

I have a Surface Pro 3 and even with the update I have no pen button settings available to me - only pressure sensitivity :(

When would that pen support L950XL?

Never. The Lumia 950 has not the required technologies within its screen.

Wow the past few days have been insane for app updates

What other apps have been updated :S?

Uber, NetFlix, Pandora, NBC Breaking News, Accuweather, 1-800-flowers... I am sure there is a nice list somewhere but this is what I recall reading baout this week

Sweet, now I can use the pen to open up freestyler, not a huge thing, but a bit speedier.

Am trying to order the pen now, but it is out of stock for days now, my old Surface 3pen is not working good.

Finally... I don't even have one note installed.

Hopefully this is the beginning of the end of the terrible/no-good/horrible/horrendous/abysmal OneNote Modern app. They need to take that app to a shelter, and I don't mean the no-kill kind.

What's wrong with one note?

He means the modern version, which has far less functionality than the Office version.

Just set the pen to start the full office version instead. Problem solved.

Doesn't work well in Windows 10. Does in Win8.1.

Like others have already mentioned, this works great with the SP4 but not the SP3. Even when paired with the new Surface pen. I hope they fix this soon.

Not working on my SP3 either. Any suggestions?

No no no, artists want to be able to customize the SIDE button!

Yeah! They should continue working together with Wacom, not N-trig. Now I'm torn apart between SP4 & Cintiq Companion 2.

ok. got the update on my SP3 but no button customization!! WTF? Still only have the pressure sensitivity.

Me too. I have the new pen and Surface 3 but no button adjustment.

I purchased my pen in Late August 2015 for my Surface 3. How do I tell if I have the Surface Pro 4 era pan, or the Surface Pro 3 era pen?

The 3rd Gen pen has two buttons on the side. The 4th Gen pen has only one side button.

Even simpler, the 3 pen has a purple end.

OH, poo. :-) And thanks for the reply

Personally, I think OneNote is the ideal app to open with one click. Even screenshot and Cortana seem to be the best options. I won't be changing mine, but I do like having the option.

True, but if you want more features and options, the desktop app is the better of the two. The Metro app is superb for light note taking, but anything else (choice of pens/shortcuts etc.) the desktop app is the only solution.

When the windows phone/mobile apps will show on the Windows Store?

If I knew the SP4 pen worked on my SP3 I would have bought one long ago!! I thought it only worked with the fancy 1024 points of pressure screen!

It'll work just fine with SP3. As far as I'm aware, however, it will only have the 256 levels of pressure, even though the pen can sense 1024. This is due to the circuitry inside the SP3 only sending 256 no matter what. Posted via the Windows Central App for Android

Microsoft seem to be doing the whole "holding back features on slightly older hardware" more and more. If there's a technical reason I'm not aware of then fine, but there's a few Band changes as well as this that should be working on previous gen hardware. Not a massive deal but an annoyance none the less. Are we able to (with the SP3 Pen) at least launch desktop OneNote now like we could in Windows 8.1? Been waiting for that to come back for a while.

Oh thank the Lord. I love Drawboard which came preinstalled on the SP4. That's where my shortcut is going.

A user of the Surface Pen 3 complained about the Pen 4 that you can't configure the single side button as an eraser, which he is used to with two side buttons. He states it's faster to erase when taking notes in classes.

Faster than flipping it 180? I find the side button fiddly, especially if it's not under your thumb when you want it. I don't use it at all; when all it offers is a right click, just press and hold. But if I can reconfigure it for another purpose I would.

Nah. Its easier to erase by flipping than by having to simultaneously hold a small side button while trying to make a precision stroke on the screen to erase a bit of text.

YES!! I so badly needed the click to OneNote 2016 desktop app.

The update does not fix the infamous "The surface app could not connect to the pen device... etc"-problem. So, I will have to wait for a fix before being ablae to test these new features. And on the request list, I'd love to be able to program the button for "next slide" in Powerpoint.

It's troubling that MS is going the Apple way and disabling certain feature updates on older devices (previous generation!!). The ability to remap buttons on a Bluetooth accessory is surely not that complex - why did the SP3 and the 3rd Gen Pen not get this update? The same with the Band 1, I really want music controls on it but bafflingly nothing from MS. Both these products are a year old! The concern is that the current SP4 and Band 2 owners will be left in the cold once the next gen comes out. If this is their new policy, then it will clearly deter me from buying any hardware from them in the future. The Band 1's lack of music controls rankles..

So sad, your are lucks have those

I want a pen that could writte it self by only thinking something

Who told you this app can customize new pen buttons on Surface 3 and Pro 3? I have Surface 3 and the new pen, the app is the same version as in this article, but i still have no section to customize buttons. After reading this article someone could really buy the new pen to know nothing changet only afterwards

Same thing here - new version of app, new pen, and surface 3 but no new options.

Daniel might want to change the picture of the pen - it shows the older SP3 pen and not the newer SP4 pen... don't understand why it couldn't support ALL the pens unless they are trying to get people to buy more hardware (unlikely).

Well, the other point that should be made clear is that this only applies to Windows 10. And I'm not about to ruin my Surface Pro 3 by putting Windows 10 on. I've been just fine without customizing my pen on the SP3.

DON'T update. Pen support is terrible in Win10, not to mention a better touch interface in 8.1. I regret putting 10 on my Surface 3.

A sign that microsoft listens to insider feedback. Sent that feedback a while ago. Cool! It would be cool if microsoft would also allow for more refined control of apps. For example with the camera app: long press opens the app, one press takes a picture, two presses starts/stops a video. Or with powerpoint: longpress opens the app. one press next slide, two presses previous slide, Or Windows 10 system: longpress: shut down computer, one press opens app, two presses opens task switcher and switches to the next app and opens that app. Or with video apps: long press once opens app. Second long press is the play button. press once first time fast forward 2x. press once second time while the app is open fasforward 8x. prress twice frist time rewind 2x, press twice rewind 8x. Or photos app. Long press once opens the photos app. long press twice starts slide show of the photos at default speed. Long press thrid time pauzes the slide show. one press next photo. press twice previous photo.

I have a Surface Pro 3 i5 with Win10 and a Surface Pro 4 pen and updated to 10.0.342. I don't have the Button Customization. Does this actually apply to SP3?

Oh well. Not buying a new pen for that.

Surface 3 with new pen. Got the new Surface app. Button Customization is AWOL.

How do I configure the pen to open OneNote 16? I do not have an option for it, even though it is installed? I have a Surface Pro 4 by the way. Thanks in advance.

You have to select "Launch a desktop app" on the single click option. Then for the program location enter "C:\Program Files (x86)\Microsoft Office\root\Office16\ONENOTE.EXE" (with the quotaion marks).

I just purchased a new Surface Pro 4. Looking at the app store it doesnt offer any updates to my surface app, and the customizable pen option is not in the app that is installed. Do I need to run a windows update on firmware? Is there something I am missing here?

WOOO HOOOO!!!! I got it work on my Surface Pro 3!!!! With the NEW SP4 PEN First, you have un-pair your pen in the Bluetooth settings. Then you have to uninstall the pen drivers (Device Manager: Right click: Uninstall and remove files the following entries: "HID-compliant pen" & "Surface Pen Settings"). Then you have to download the Surface Pro 4 drivers (https://www.microsoft.com/en-us/download/details.aspx?id=49498) SurfacePro4_Win10_151203_0.zip. Extract the ZIP file, navigate down to \Drivers\Pen and install the following:
SurfacePen
SurfacePenPairing
SurfacePenSettingsDriver By going into each directory and right clicking the .INF file and select "Install" Restart your SP3 Then re-pair your pen in Settings, Devices, Bluetooth. Then you can open the Surface App and you will see the additional pen settings.

I forgot to add.... Once you update the drivers, the old SP3 Pen also works, and you can use the additional features!!!!

So? You unpair the pen, uninstall all the old drivers (HID-compliant pen & Surface Pen Settings) install the new surface pro 4 drivers and you get the additional features on the SP3+SP3pen??

Soo i tried, did the exact same steps as you did. But now the Surface Pen Settings is sort of corrupt... I had it working until i added onenote 16 to the one-click. Then blue screen happend, and i'm not able to reinstall/unistall surface pen settings driver. Or even force to reinstall all orginal drivers.. Now the surface app isn't working anymore and i am out of ideas :( Do you guys have any options?

Try uninstalling the Surface App first. Maybe try removing the drivers again, make sure you reboot before trying the newer drivers.

Do not know what happend, deleted the surface app, rebooted, installed newest version of wintab, installed the surface app again. And now everything is back as it originally was. I'm going to wait for the official version now :p Anyway thanks for your help Guzzler3

Works perfectly on my SP3, old Pen. Many thanks !!!

I have a Surface Pro 3 i5 with Win10 and a SP3 & SP4 pens and updated to 10.0.342. Now after following Guzzler3 instructions... Actually it's...Then you have to uninstall the pen drivers (Device Manager>"Human Interface Devices" Right click: Uninstall and remove files the following entries: "HID-compliant pen" & "Surface Pen Settings"). Now both pens work after pairing each one back under Bluetooth settings except the 'press & hold' on the SP3 pen defaults to a single click which is the equivalent to opening OneNote or whatever app you've chosen as a default. Thanx, Guzzler3

This worked for my wife's surface 3, non pro. Thank you

Thank you for figuring this out. I just came home from buying new SP4 pen and was at a loss. This worked on my SP3 and was easy to do.

Worked perfectly, thank you so much!!!

Thanks for the instructions. I'm puzzled by the fact that I don't find an install option when right clicking the inf file. Is there something i'm doing wrong? Update: found it! I was clicking inside the zip file instead of the extracted folder.

Excellent, works perfectly.

Thanks for the update Guzzler. QQ did you figure out how to make the double click place the screenshot on the OneNote 2016? I changed the default app for the single click to OneNote 2016 ... but when I double click the pen butten it opens the Store OneNote

"Update: As others have noted, this app appears to let users only modify the settings on the new Surface pen and not the old one that comes with the Surface 3 and Surface Pro 3. However, those users can buy and use this newer pen on their devices and benefit from all the new features. Update 2: Some readers are confirming even with a new pen that this does not work on older Surfaces hinting that this is a Surface Book and Surface Pro 4 feature for now." Awesome! So, now I have the new app (robo-updated). No way to go back to the old app, and no way to manage my pen. ENOUGH! MICROSOFT. GET YOUR &#17!! TOGETHER.. It's one step forward and two steps back. At this rate, by this time next year, we'll all be running Windows '95.

I followed guzzler3s instructions and got the settings to appear for my wife's non pro surface 3 with stock pen

Nice! Hope they eventually add a Radial menu for the side button. I use that a LOT with my Surface Pro 2 via Wacom Feel drivers. They enable me to do a lot more than this meh shortcuts...including reading aloud my selected on-screen text via a TextAloud shortcut.

​Would be even more great if it was app dependent. E.g in PowerPoint presentation: click to go to the next slide, double,click to go back.

Found no problem, only OneNote 2016 can't be found in the app list. ​

While not directly related to the issue, why is the OneNote desktop version the SP4 pen default rather than the App version. I have OneNote 2016 and it is more feature-rich than the default desktop version. For example, 2016 has ink to text for a selected block of handwriting, but not the default version. Also, Are there different pens? My SP4 pen does not unscrew. Short of applying multigrips pliers to it, nothing I do will release it. Is there another method? How eill I replace the battery?

As a new Surface Pro 4 owner, I have to say that I am very pleasantly surprised at everything this pen can do! Starting to finally see the "power of the pen" that was talked about in the Microsoft Panos presentation back in October. Didn't initially care if the SP4 came with a pen and almost just left it in the box. Wow...what a mistake that would have been! Kudos to the Surface team for getting it included.

I am on the Surface Book, but I can't see any of those new customization option in the app. Anyone know why? I have uninstalled and reinstalled the app, so I believe I have the latest version.

Same thing happens with me as well. I beleive the latest app store update broke this functionality. I reached out to support to see if they could help. They could get it working either, so they are shipping me a new pen. Hopefully they release another patch soon. As I want to customize what the pen launches.
Windows Central Newsletter
Get the best of Windows Central in in your inbox, every day!
Thank you for signing up to Windows Central. You will receive a verification email shortly.
There was a problem. Please refresh the page and try again.