Hands-on with Microsoft's unannounced OneClip sharing app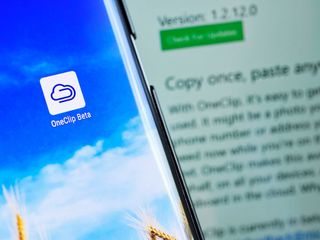 This morning, an unannounced app by Microsoft for Android, iOS, Windows Phone and Windows 10 was revealed. OneClip leverages OneDrive to easily copy and paste documents, photos, text, phone numbers and more to share between your devices. We go hands-on with the apps on Android, Windows 10, and Windows Phone. Watch our video.
Setup is easy. You synchronize devices by using temporary pairing codes. There is no limit to the number of devices you can pair. You can copy photos, screenshots, phone numbers, addresses, or other text from any of the devices and OneClip makes them available on all your paired devices.
We've installed OneClip on Android, Windows, and Windows Phone. The apps work surprisingly well. Items show up within seconds, but that may vary depending on your internet connection. iOS is also supported, be we didn't get a chance to install it yet.
What do you think of OneClip and the convenience of having your clipboard in the cloud? Let us know in the comments!
Get the Windows Central Newsletter
All the latest news, reviews, and guides for Windows and Xbox diehards.
Seems interesting and intuitive!

Ten years too late, cloud copy was missing from the world for too long and it was a lost opportunity for the cloud movement for many years. Kopy was okay, but it should have been in the OS credentials.....

It asks for Microsoft account. Can I use my hotmail id for getting invitation link?

No, you're not a Microsoft employee.

The workaround was to install on desktop first then generate a pairing code.

Can u please tell me how to activate it on my phone, in detail

if you go to the first WC post about OneClip, it links to a MEGA page with a disclaimer saying "be careful" since it's not an official source.

Keep in mind its for dev unlocked handsets

my handset is NOT a dev unlocked one. the app still works fine for me.

How did you deploy it? I keep getting the error "Error - End of Central Directory record could not be found." when deploying with the tool provided with Visual Studio. Dev unlocked phone, should work fine.

the app for WP is https://www.windowsphone.com/s?appId=834e9768-25ab-4044-a8b5-73fe6a61ede7 it was posted in the WC post...do you even try, bro?

Yes! You can use your Hotmail ID

Seems pretty well thought.

Gotta be an Ms employee it seems.

Install to desktop first, then pair to phone.

Can't find it in the window store in win 10

Daniel how to install it on win 10 PC pls tell me, I wanna try these two app revolve and oneclip

Is this not good enough, hence buying of wunderlist? ... But it does more? How many apps do we need? Lol

I guess if you are not into productivity and stuff, sure.

Can you use this app across users❓ That would be cool... For example,, Like a share grocery list.
They should add this feature in the future if it's not already there...

That's a different thing.
You can use OneNote for that.
In fact, many moons ago, somewhere around the launch of Windows Phone 7, there was an ad for it that showed exactly that.

No, no, no.. I'm not asking if you can use it for a grocery list... Lol... SMDH...

https://www.youtube.com/watch?v=dG6rINBbneY Rats, they call it "shopping list"... So close! :D

I think he got what you meant the first time, and that now you are confused and think he misunderstood your question when he actually didn't. He is saying that you can use OneNote to SHARE grocery lists. You can create OneNote "journals" (or whatever they're called) that are viewable and editable by multiple people. I already use it for keeping grocery shopping lists with my wife and in-laws, for example. There are lots of solutions already for creating shared content between devices and users within an app. That's a central concept of most cloud storage. What looks unique about OneClip is that it breaks the boundaries between different devices between apps and allows you to copy anything on any of your devices and paste it anywhere on any other device. So if you see an image of a coupon with a bar code for discounted canned beans on your PC web browser, you can copy that picture from your PC and then paste it onto your phone's shared family OneNote shopping list without having to make an effort of sending anything from the PC to the phone (such as opening up OneNote on PC). Very cool.

Right now you probably could. I didn't enter a Microsoft account so its been manually paired. Don't see why I couldn't have also paired my wife's phone

So, you're saying you can pair multiple devices at the same time❓ That's what I'm asking.

Is it LAN only or will it work across WAN? If it'll thow all my phone pictures back to my computer at home as I take them while out and about. That's some very useful shit.

MS had has an app but sadly they never added sharing http://www.windowsphone.com/s?appid=f681c513-15d8-df11-a844-00237de2db9e

Not asking for a shopping list app.. Lol... Really❓

What❓❓❓❓❓❓❓❓❓❓❓
........
Man, there's been so many times I wanted to copy&paste text from my PC to my Phone...
Of course, you can also use OneNote for this, but maybe this app will simplify the process... Also, might be more transparent for the average consumer...

What are you talking about..? jjust by using Ctrl+C i can share what im looking at with friends/family/coworker... Its amazing and brilient. I can imagine 100 stuff i could do with this app.

*seems rarely useful... If u are not into productivity and stuff

I wish I had this app everyday. I'm constantly taking screenshots on my PC and texting them. This tool would make that much easier.

It's great when you want it, but I copy stuff to the clipboard hundreds of times a day that I don't need copied to another device (or service). I just see managing what you want becoming too time intensive to make this actually end up saving time.

I think you're over thinking it, dude... Lol.

Available for Windows at the same time.... Simply amazing.... Times just might be changing.

But MS has been catching criticism in recent months for releasing apps on all platforms but Windows Phone (i.e. new version of Office, Sway, etc). That's what he's getting at.

Have you been in a coma❓ Lol.
Just joking.

For me: Bye bye pushbullet

Cool. Can't wait to try this out.

Is this available for Surface Rt?

Well looks like I will stop using gokopy once this comes out.

I'm already in love with this thing and have used it for a few minutes only. :D

How is it useful for normal people? But its cool...

Hoping Clippy will return here!

in my own my work not 535 Lumia

Seems kinda like pushbullet, a bit different, but similar.

This is actually one of the most useful things I can imagine. Right up there with the one note pen on SP3. Pretty amazing.

Can any one tell me how to activate it clearly.

Very awesome indeed!!!! I'm starting to feel like Microsoft is getting back on the saddle of being a leader and creator of REALLY COOL things! About time we (WP people) start getting the right to brag about our awesome platform!

Can I share accounts between people. Like a coworker, maybe by adding their email address and device? That would be cool for collaboration.

Once this out a little longer I'll be interested to see how it compares to Pushbullet.

AVG keeps quarantining the oneclip.exe from Mega's OneClip_Windows_Release_1_2_12_0 installation.
Anyone else having this problem?

way more than "Kopy" super !

It would be cool if one share option added it directly to the sharee's Oneclip.

Does desktop version work on xp?

love it so far.... now if I had a mac client too i would be setup at home and work (windows phone and SP2 at home, crapple iMac at work)

Hi Mark, Could you do an editorial on the advantages of the oneclip feature over say the standard of saving to onedrive and/or onenote? Thanks.

This functions very similar to One Note, but the Surface Pro handles the app better. Double click with the pen and adding to One Note, giving availability across all devices. Adding content from the phone is better with One Clip than with One Note. Less steps. However, One Note for the Surface is a better option.

Do you have to have Oneclip open to copy?I noticed the camera feature from Oneclip, so presumably if I take a photo from the default camera app you have to copy it before it's copied to OneClip? ​Are these things stored on OneDrive then? ​ ​ ​ ​ ​ ​ ​

Sexy logo! Posted via the Windows Central App for Android

Crap. I was working on a very similar app. Guess Microsoft beat me to the punch.

USELESS.
I have already the program called "kopy",,great for that

So, you do use an useless feature... I'm using kopy also, but this one is way better.

I can see myself using this a lot!

Seems a lot like Kopy at first glance. Guess I'll have to dig in and see what it's about.

But text which i copy on my phone are not showing in oneclip

Clipboard in the Cloud... why didn't I think of that?

I use an app called Clipboard Fusion to do something similar to this with text. Has apps for Windows and most other devices.

Love the idea of this ... I will use this so much not only between L1020 / Desktop / Laptop / Tablet but also my iPAD (which I really only use for web now) will be great to copy between all devices instead of having to carry one to the other. Can't wait

The desktop app is crashing for me as soon as I try and get a pairing code. Running Windows 7.

I guess it only runs on Windows 10 PC, right? I'm using W8.1 and the desktop app crashes every time :/

I think this might come in handy. May try this out when its fully released. Could be a bit of a timesaver.

looks like MS killed this app now? yesterday it was working fine, i was paired to my lumia and pc, today, cant connect, and then i noticed the pairings have been wiped, and it wont generate a new code - anyone else?

Yep, aint working at all and it crashed on the pc :(

That's one neat app. Nice work, Microsoft. I'm not sure how it will work in-device but I hope it will be able to integrate with the native clipboard to help users copy paste multiple texts, pictures, video/audio clips simultaneously instead of moving back and forth copy-pasting one at a time.

A day later, MS would block it :D

How fun. As a student i've just had a Project where I was building an app to push text from pc to phone :p (java/android...) thought about making a Windows version. Now ms is releasing one! :D

i'm outlooking... :P https://a.disquscdn.com/uploads/mediaupload/tmp/fc48cb938d4d53a4a3a4c150...

Hello, Check out the Pasteasy app (paste-easy) which is the FASTEST way to share text and photos between devices, since it does not use the cloud and works over the local WiFi network. Available for Windows, Mac, iPhone, iPad and Android devices. Pasteasy is now FREE. You don't need to create any account to use it. Just copy and paste! http://www.pasteasy.com https://www.youtube.com/watch?v=ChNsoKzODVk

I was working on Snapcopy when I saw this I went crazy and I finished it :)
Snapcopy - copy from one computer paste on another!
https://goo.gl/uvbV07

Where is the download link?