Microsoft readies app folders in Start, new gestures, and more for Insiders on Windows 11
Prepare for new features.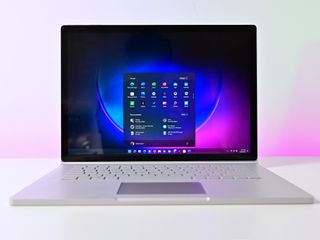 (Image credit: Daniel Rubino / Windows Central)
What you need to know
New features are on the horizon for Insiders in the Dev Channel.
Features include app folders in Start, new gestures, a new snapping UX, and more.
These new features are expected to show up in the next number of weeks.
Microsoft is gearing up to release a handful of new features for Insiders in the Dev Channel on Windows 11, many of which will re-introduce functionality that was missing in the original shipping build of the OS. It's been two weeks since the last Dev Channel build was released, which got me wondering if anything is going on internally to warrant this pause in build releases.
After asking some contacts, I'm told that Microsoft spent the last week or so adding in a bunch of new features and changes to the public preview branch of Windows 11 (known as rs_prerelease.) This could explain the lack of Dev Channel builds, but there was also a big jump in build numbers (up to 250xx) to mark the beginning of a new development semester, which may have also played into it.
Either way, new features are on the horizon. According to my sources, the big new changes coming to Insiders in the next handful of weeks include the ability to create app folders in the Start menu, support for file drag and drop on the Taskbar, new acrylic/blur effects in legacy title bars, a new snapping UX called "Snap Bar," and new gestures for opening Start and the Quick Settings panel using touch.
App folders in Start is a highly requested feature from Insiders that works just as you'd expect; dragging an app icon over another will create a folder that you can click into, allowing for better organization of your Start menu layout. There's also the new Snap Bar feature, which I'm told introduces yet another way of snapping multiple app windows to the built-in snapping grid system on Windows 11.
Right now, we have two on-screen ways of doing this, via the drop-down menu that appears when hovering over window controls, or via dragging an app window to the top or sides of your screen. The Snap Bar introduces a third UX for this, with a "bar" panel that drops down from the top of the screen whenever you grab and move a window around your display.
Elsewhere, new acrylic/blur effects in legacy title bars is a small UI change that will replace the white title bar design you find in most Win32 desktop apps today with something that looks more "Windows Aero" esq, albeit with a Fluent-inspired take, just like the rest of the blurred translucent interfaces on Windows 11. In fact, this was already briefly shown off in a Microsoft livestream, albeit in super low-quality.
A big improvement for tablet users is coming in the form of new gestures that will provide access to the Start menu and Quick Settings panel by swiping up from the bottom of the display. Swiping up from the System Tray will open Quick Settings, and swiping up anywhere else will pull up the Start menu, just like on Windows 10X.
Finally, the Taskbar is getting souped up with returning functionality that was missing in the original Windows 11 release. These include support for dragging and dropping files into open apps via their Taskbar icon, a better UI for overflowing app icons, and the automatic hiding of the Taskbar when using your device as a tablet.
Of course, there's likely to be more features that I've not yet heard about, so don't expect this to be everything. Here's all the things I'm told is planned to show up for Insiders in the Dev Channel over the next handful of weeks once builds resume from the rs_prerelease branch:
App folders in Start
Drag and drop on Taskbar
Quick Settings / Notification Center improvements
Pinned files in File Explorer
Acrylic title bars
Snap Bar snapping UX
Gestures for Start/Quick Settings using touch
New live captions feature
Many of these new features will be what shapes the next major release of Windows 11, codenamed "Sun Valley 2" and expected to ship in the second half of this year. I suspect some of these improvements, namely drag and drop support on the Taskbar, will make their way to the current release version of Windows 11 before then however.
As always, Microsoft may decide to cancel or postpone any of these new features before they are unveiled, so keep that in mind.
Get the Windows Central Newsletter
All the latest news, reviews, and guides for Windows and Xbox diehards.