Microsoft releases Halo Channel for Xbox One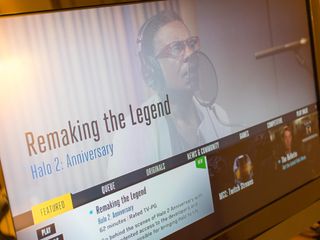 Microsoft has released the Halo Channel app for the Xbox One, just in time for HaloFest, as well as tomorrow's launch of Halo: The Master Chief Collection. The channel plugs you in to all things Halo, with different sections for different aspects of the Halo franchise. Halo Channel gives you access to original programming, gameplay, and behind the scenes videos.
The app is divided into a number of sections. The Featured section includes videos from behind the scenes of the Halo 2 Anniversary edition. The News & Community section gives you the latest in Halo news. You can queue videos to watch whenever you want, and the Originals area holds original Halo programming, such as the new Nightfall live-action series. Halo Channel also lets you launch Halo games that you have installed on your Xbox, and watch Twitch streams of Halo matches.
You can download the Halo Channel from the Xbox Store right now, either directly on your Xbox, or via the SmartGlass app on your mobile device.
What do you think of the Halo Channel? Leave your thoughts with us in the comments.
theyre just missing in action...

I've loved Halo since I first started playing it back in 02.

CORTANA REFUSES TO DIE!!! She's on Windows Phone! :-) Microsoft literally has MILLIONS of XBox halo fans chomping at the bit to relive this story. And thats what it is, a Story. All the great Video Games are. Kiki Wolkill, the person in charge of Halo, in a GREAT article earlier this year,stated "I want to transform how people experience 'Halo' in thier living rooms and on thier PC's. That's an INCREDIBLE commitent to the expansion of the Halo "story", experience, beyond the bounds of the game. Microsoft not only owns the Halo franchise and the story that Wolfkill would like to expand further into living and PC's, but they also own a Line of devices and a Mobile OS that they have cleverly integrated a key character, Cortana into. I think there is plenty of room to market tha angle toward the millions of Halo fans, to draw them futher into the MS ecosystem, by luring them to the phone by expanding the "story" of Cortana to the phone and not just the "name" and some clever Halo related quips. For instance what if MS actually told used a story to tie the fictional world of Halo to the "real" world of devices by linking HOW Cortana came to be on Windows phone. NOT the technical real life stuff, but a fctional tale that could be built upon, and maybe have some interesting game and multimedia tie in. (With the Halo episodes and the Show Time TV show next year there may be room to build some intersting in interactive tie ins) Here's how I envision Cortana "fictionally" coming to Windows Phone. cortanalives.wordpress.com

You should try it. It's a fantastic series.

I did try it myself but I didn't like halo. I may give it another go.

Same here. I tried Halo 3 in 2009 and wasn't feeling it (modern warfare already had me spoiled control wise). After playing over 100+ hours of destiny, I decided to preorder the MCC and experience it from the beginning.

Where on earth I can rewatch halo forward unto the down?

I got it back in halo waypoint day now its nowhere to be found.

It's on the Halo Channel.

Xbox video in the movie section

I hope Nightfall is good. The pilot got mediocre reviews. I hope it picks up in quality in the next episode.

Woot!
Viva La Halo!
Viva La Master Chief!
VIVA LA CORTANA!

Any word or indication of a Halo Channel app for WP?

That's what I was about to ask...

I have the same question.

Crap, everything in English. Videos without subtitle. I am not american, I am Brazilian. One more time Microsoft thinking local market.

Many places besides the US speak English by the way. Unfortunately a lot of media content is not available in a wide variety of languages, that's just the nature of the beast.

Impressive as your English is better than many people who post on here from America.

Hehe, thank you. That is because I worked for five years for a American Company and our conversation was using Messenger, no voice, so I have problem to understand people speaking fast.


Well, after Halo 3, Halo Reach, Halo 4 in Portuguese, they made an app in english and without subtitles in video. Smart move, a lot of games are in Portuguese now, BF4, CoD, Sunset, Ryse, everything is global today. If you spend millions to make a game, come on, how much to insert at least subtitles in videos? When I start to play a game and I can hear my language, man, that is awesome. I understand English a little bit, but I am not fluent. This Microsoft step turn me sad.

What I find strange is that your English is better than most Americans.

Thank you, I try to write better than I can, but I can't understand very well people speaking fast. Because of that I complained about the lack of subtitles.

Over here in the future (New Zealand) we've had Halo MCC for 7 hours by now ... ;-)

Lol!
Can I live at yours, please? :D
Windows Central Newsletter
Get the best of Windows Central in in your inbox, every day!
Thank you for signing up to Windows Central. You will receive a verification email shortly.
There was a problem. Please refresh the page and try again.