Microsoft releases Windows 10 preview patch to fix black login screen issue
Microsoft has published a new update for the Windows 10 Tehcnical Preview. This update (KB3055415) addresses an issue when the login screen would be a black screen, forcing the user to blindly sign into their account.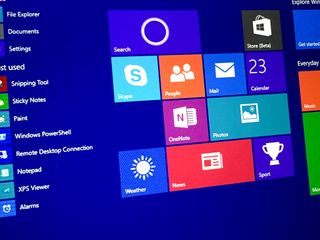 This bug was detailed in Microsoft's compiled list of problems with the Windows 10 preview, specifically build 10061. Microsoft's Gabriel Aul confirmed the fix release on Twitter.
According to the Windows Support website:
It's a handy fix that will be welcomed by those who have dealt with the issues already. Should you notice the black screen when attempting to log in before updating your Windows 10 installation, Microsoft has shared a few tricks to try and work around the issue temporarily. When hit with the blank login screen, hit the CTRL key once to focus on the password field and type your password as you would normally.
Source: Twitter (Gabriel Aul), Microsoft (opens in new tab)
Rich Edmonds is Senior Editor of PC hardware at Windows Central, covering everything related to PC components and NAS. He's been involved in technology for more than a decade and knows a thing or two about the magic inside a PC chassis. You can follow him over on Twitter at @RichEdmonds.
When my laptop loads, all I get is desktop, no icons, taskbar with a couple icons with no functionality and an invisible clock. Can't do anything to fix it.

maybe tablet mode is enabled. go to settings from start menu or search "settings" after pressing windows+S.
then find tablet mode and disable it.

I cannot start any apps, can't even view photos or anything. Refreshing/repairing, reverting to other builds or even system restore, all broken.

Well you need to reset or fresh install from iso

Ah, sounds corrupted would definitely install again from an iso

My Surface pro 3 does this sometimes, press ctrl shift esc and in the task manager, file, new, type explorer, hit enter. Shell comes back, icons and such.

I had that problem it was tablet mode & removed previous versions of windows with disk cleaner restart & it was ok touch wood.

I hope this also fixes the extreme puzzle like glitching in the pic password.

After the reboot, it looked good to go.... But then I locked the PC, clicked the lock screen to revile the picture password and it was a garbled mess. Had to switch back and forth between regular and picture password several times before it shoed up properly (as usual).

Yah. This is an issue with the new lock screen that I get too. Another thing that I don't like I the fact that the new lock screen picture password does not allows two clicks really fast. You have to wait between them.

My main issue is that this has been a huge awful bug for the last few builds. I get it that it's a preview and all, but when they take the exact same feature that's been around for ages and then screw it up and don't fix it, it just seems odd. I would have understood just fine if they fixed it after the first build where it was messed up. But how many more builds are they just going to let it slide? Regardless, I hope they lock down the features and just start squashing bugs soon. I'm pretty happy overall with W10, I just want the bugs to be gone now.

Does it fix the issue of desktop apps not opening from start menu as well???

My desktop apps launch fine from the start menu :)

Think so too. They're working way too slow to get it finished by summer

We need a fix for opening Start and Search pretty badly. Once that's released, it will be ready for slow ring I think

I think you're confusing your (single?) installation of a Technical Preview with a release version across many devices. My network connected drivers work fine.

The strangest bug I have encountered is NO password box on log on screen. After letting it go to sleep several times with no better luck, I had to hard reboot it. Gotta love these early builds! ;D

Getting closer to say goodbye to windows...

Herendra just got to warn you that mac os x is not much better. I have a macbook pro 2011. And it had nothing but trouble for the previous two operating systems. Mountain Lion and Mavericks. It booted up very slowly. Took ages to load apps and if you wanted to use itunes. Forget it. I ended up testing Yosemite beta. It finally allowed my £1000 machine to function as a laptop. Bit by then I had come back to windows and even windows 8 was better than mac os x at the time. Go to apple forums and you will see that updates frequently break functions on their machines. And remember Apple make all their own hardware so they should be compatible with the software. Sometimes the grass os NOT greener on the other side. I am now keeping the machine for when my daughter goes to college to do graphic art in a year or so where she will need to use a mac for her work. I have moved back to windows. Ditched the iphone and macbook for a Lumia and custom building a desktop.

They need to issue a fix for this NOW! Can't open any non-desktop apps, notification center, start menu,... I've tried rerunning explorer, doesn't do anything. It also removed all of my windows 10 apped that were pinned to the taskbar. This is really a mess,and the worst part is I can't even open the settings app, so I'll just wait...

Sounds familiar. Same issues here too.

The work around i used was click on the other sign-in option then click back to picture password and it would go back to normal ...glad to see they sorted this out.

Thought it was just MS being progressive...

i have the black screen of death, i can push cntrl and type password and i can see my desktop and my action but when i click on a program or app it wont let me see like on screen. i can only see the icon of the program on the action bar. what shall i do?

i have the black screen of death, i can push cntrl and type password and i can see my desktop and my action but when i click on a program or app it wont let me see like on screen. i can only see the icon of the program on the action bar. what shall i do?

Here is the page that I found where you can get Microsoft to call you back in just a few minutes, https://partner.support.services.microsoft.com/en-us/contact/callback/30/
Windows Central Newsletter
Thank you for signing up to Windows Central. You will receive a verification email shortly.
There was a problem. Please refresh the page and try again.