Microsoft is right not to include Windows 10 Pro with Surface Pro – here's why
Stop making me subsidize Windows 10 Pro users whenever I buy a new PC.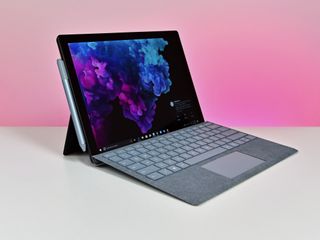 (Image credit: Daniel Rubino/Windows Central)
One of the recent changes to the new Surface Pro 6 and Surface Laptop 2 is one that I applauded in my review, but is causing some puzzlement: why is Microsoft shipping it with Windows 10 Home instead of Windows 10 Pro?
The joke practically writes itself conflating the "Pro" in the Surface with the OS that shares the same name. But the change is the right one, and I wish more companies would do the same for their consumer PCs and laptops. Here's why.
Windows 10 Pro should be called Windows 10 IT
Part of the confusion is what exactly Windows 10 Pro can do over Windows 10 Home. And some legitimate differences affect people like developers directly.
Here is a list of things (opens in new tab) that Windows 10 Pro has versus Windows 10 Home:
BitLocker to encrypt external drives.
Remote Desktop to access your PC while away from home or the office.
Hyper-V for running virtual machines.
Join Azure Active Directory to connect your school or business network to the cloud.
Join a Domain to connect your PC to a private business network.
There's more too like Assigned Access, Dynamic Provisioning, Shared PC configuration, Windows Update for Business, Enterprise Mode Internet Explorer (EMIE), but you get the point.
Of the other Pro features Hyper-V sticks out for developers who often need it for testing on other systems with virtual machines. Remote Desktop is something that some so-called power users may use, but due to the complexities of home networking and management, usually beyond what most regular folks are interested in attempting.
Windows 10 Home has drive encryption
BitLocker here causes the most confusion as many people think that it means that Windows 10 Home does not encrypt your drive, which is a huge security vulnerability were you to lose your laptop or Surface. It's just not true.
Since Windows 8.1 Microsoft includes BitLocker Drive Encryption (or just Windows Drive Encryption) for the primary internal drive. That means for Surface Go, Surface Pro 6, and Surface Laptop 2 the system encrypts the main drive automatically. The feature requires TPM 2.0 (Trusted Platform Module ) and InstantGo, both of which are found on modern Surfaces.
The catch? You need to sign in with your Microsoft Account, which is something Windows 10 prompts you to do during the out-of-box-experience. That lets the encryption recovery key to sync to your Microsoft account so that you can decrypt it if you ever need to (or the system is locked).
Consumers also get Windows Information Protection, Windows Hello support, Trusted Boot, and the Windows Device Health Attestation service (opens in new tab).
BitLocker in Windows 10 Pro is disk encryption but much more including letting companies configure which encryption algorithm to use and most importantly Remote Server Administration so that departments can manage PCs and security.
The takeaway is this: regular consumers rarely need "Pro" features, and they still get disk encryption and lots of security options. Developers and people who need Remote Desktop do need Windows 10 Pro, but they are also a small group of users by comparison.
You're paying for Pro (one way or another)
Another area of confusion I hear is that Microsoft should include Windows 10 Pro anyway. After all, it wouldn't cost Microsoft much – if anything at all – so what's the big deal? Just put it on the Surface Pro 6 and call it a day.
The reality is Windows 10 Pro – whether for Microsoft, Lenovo, Dell, or whomever – does costs more to license per PC than Windows 10 Home. Every time you buy a new PC or laptop you are paying for a license for the operating system. That price is baked into the final cost.
That is why the new Surface Pro 6 and Surface Laptop 2 were $100 cheaper compared to the same versions last year (it's also because there is no Iris Plus in the Core i7 models, which is more expensive).
Surface Pro pricing changes: 2017 to 2018
Swipe to scroll horizontally
| Device | 2017 | 2018 | Price difference |
| --- | --- | --- | --- |
| Core i5 128GB/8GB | $999 | $899 | -$100 |
| Core i5 256GB/8GB | $1,299 | $1,199 | -$100 |
| Core i7 256GB/8GB | $1,599 | $1,499 | -$100 |
| Core i7 512GB/16GB | $2,199 | $1,899 | -$200 |
| Core i7 1TB/16GB | $2,699 | $2,299 | -$400 |
Switching between Home and Pro licenses is one way to hide costs. For example, The HP Envy x2 with ARM was $150 cheaper than the HP Envy x2 with Intel. But there was more to it as the cost difference is more like $250 because the ARM version technically shipped with Windows 10 Pro while the Intel one only had Windows 10 Home.
If you have ever configured a laptop from a vendor that gives you a choice between Windows 10 Home or Pro, you see this charge right up front.
Whenever you buy a laptop or desktop PC with Windows 10 Pro it means you paid an extra $30 to $100 for it whether you make use of those "pro" features or not. When you configure a PC online you often get a choice. When you buy from Amazon or Best Buy you do not.
For most consumers, this adds up to be a tax for an OS version many will not even need or use.
As for Microsoft believe it or not, they cannot just give Surfaces a free Pro license or absorb the costs. Think of the business and legal implications if you were HP or Dell and you found out Microsoft gives itself the OS for free but charges everyone else to use it. That means each Windows license that Microsoft puts into a Surface is sold, bought, and accounted for internally. Yup, Microsoft must sell themselves Windows 10 too.
If you want Windows 10 Pro then buy it
All this prelude brings us to the obvious conclusion: if you need Windows 10 Pro then pay the $99 license fee in the Microsoft Store. It's one-click, and the OS will download the necessary files and unlock to a Pro license, which gets tied to your Microsoft Account and that PC's hardware.
Some of you do need Hyper-V or Remote Desktop, which is why you can without fuss update to Windows 10 Pro. What I don't get is why as a consumer I should subsidize an entire product line for the minority of users.
And before you raise your finger in disagreement to tell me "What about schools and businesses?" I'd point out that Microsoft already has the Surface for Business (opens in new tab) and Microsoft Surface for Education (opens in new tab) programs that sell directly to both groups who need Surfaces. So instead of Surface Pro 6 starting at $899 with Windows 10 Home, it's $999 with Windows 10 Pro (opens in new tab).
Everyone is happy. Businesses and schools get Windows 10 Pro. Developers and power users can upgrade with a click for $99. And consumers get the Core i5 Surface Pro 6 with 8GB of RAM for $899 instead of $999 (plus, there's no longer a 4GB Core m3 with Windows 10 Pro, which is weird).
Microsoft probably should rename Windows 10 Pro to something like Windows 10 IT or Windows 10 Developer edition to weed out the faux "Pro users," but they already have enough naming problems.
The bigger lesson here is Windows 10 Home is what most consumers need and should be paying for – and for those who want Windows 10 Pro, well, you're not paying any more than you did last year, so nothing has changed.
Windows Central Newsletter
Get the best of Windows Central in in your inbox, every day!
Daniel Rubino is the Editor-in-chief of Windows Central, head reviewer, podcast co-host, and analyst. He has been covering Microsoft since 2007 when this site was called WMExperts (and later Windows Phone Central). His interests include Windows, laptops, next-gen computing, and for some reason, watches. Before all this tech stuff, he worked on a Ph.D. in linguistics, watched people sleep (for medical purposes!), and ran the projectors at movie theaters because it was fun.
If that's your /ms logic then they might as well give you an option with a trial license.
After all that's what they've been doing with office.
Or better yet no software.

"If that's your /ms logic then they might as well give you an option with a trial license."

So, you want to go back to an OS for consumers that expires. You want to go back to

that

model, which will benefit who anyway - a tiny subset of consumers who are unsure if they need Hyper-V? That makes no sense. If you need Windows 10 Pro you

know

you need it. If you're unsure, you don't. It's that simple.

Well yeah. The reality is nothing lasts forever, not even Microsoft. One day you may not be able to activate Windows because the server won't be there. Trying to hide behind half OS or slim down is just confusing.
If you tell a customer buy a PC and choose a license he'll understand.

"Trying to hide behind half OS or slim down is just confusing."

If you think Windows 10 Pro is "half OS" then you're the exact person who shouldn't be talking about differences between Home and Pro, because that's absurd.

"If you tell a customer buy a PC and choose a license he'll understand."

You've clearly never worked retail. I'm also confident 99% of regular consumers can't tell you what Hyper-V or Azure Active Directory are, but sure, go and tell me why a consumer would need those things anyway. I'll wait.

True, i don't know what hyperV is, but I've had instances where i wanted to connect to my corporate network and some or other features wasn't there in home edition. Like active directory support. The customer doesn't need to know what they are, that's why he's paying them to sort it out. The OS features needs to work when it needs to.

"The customer doesn't need to know what they are, that's why he's paying them to sort it out. "

But if that affects like 5% of users vs the $100 savings for 95% why are we giving the 5% users preference?

You know, because moneys $$$ ...

If your corporate IT allowed you to connect to their corporate network with a machine they didn't control they'd be nuts. They are thrilled you have Home. If they wanted you to buy your own machine and connect it to the network, they'd find a way to let you expense the $100. You'd also see, 'some settings are controlled by your administrator', much more often.

As a administrator for a corporate network I can tell you there is no way in .... I'd let you connect your PC to our domain if you had W10pro. Furthemore I would not even let you connect your PC to an ethernet port or WiFi tied to our internal network. If you need access to internal resources from your private computer, we have solutions for that that works regardles of OS version. But, only after a automated prerequisite check of your system. There is no reason for an regular user to have W10Pro, and everyone advanced enough to need Pro knows that they do, or they are managed by someone else who do. Let those people upgrade. We do not use eiteher, only Ent and Edu. And we can deploy that license on top of any OS, including home. So, even as a big corp. we could save money buying clients licensed with W10Home.

Sounds like you have a problem with me connecting my devices to my networks. Or you just have a problem with confidence.

Windows Home vs. the Pro version https://cdn.ndtv.com/tech/images/gadgets/windows_10_pro_vs_windows_10_ho...

Reunite Desktop is useful for supporting family members who live far away. Microsoft screwed this by putting this only in Pro. It wasn't always that way. Being able to encrypt external drives with Bitlocker should not be a Pro feature. I thought we were over he notion that Pivacy Security is only for Pros. Consumers will never know much if they aren't educating. Saying most don't know something is oetty bad argument. They don't know because they people in retail do a HORRIBLE job at educating then. Great job.

Trying out Hyper-V on your local PC is very much a thing I can say. Docker for Windows is much used in development and newer versions require Hyper-V, but if you're unsure if it will actually work on your machine you would be stuck with a $99 purchase up front with no guarantees. Hyper-V is one of those things you're not quite sure it works on your (perhaps originally consumer) hardware. I agree the upgrade is a simple process, but I would have liked a trial.

You'd think after nearly 40 years Microsoft would've mastered networking. Nothing actually works the way it should. 9 out of 10 times you connect to a network and it says unidentified

How is this related to this post, or the anything else on this page? Regardless, the statement that network connections in W10 is unstable and fails 9 ou of 10 times is jus BS. If you experience that you're either having issues with your network, or you have a faulty network adapter, or drivers written by a drunk monkey. I manage thosands and thosands of clients, and have few to none issues regarding connectivity and networking due to problemes with the OS.

Read and read. If your intention is to bring new information, rather post as a new comment.

@Hiswona. Networking especially WiFi has not been great since W7. Sometimes it would say "No internet connection", opening up a browser then navigating to a random page causes a manual refresh to show the correct state.

If computers shipps with Home, I see no problems with MS giving a 30 day trail from a licensing only view. If a user desides he needs to test Pro, he og she is allready an more advanced user than 98% of the user base, and would perhaps actually need Pro. The biggest concern with this is users testing Pro features and then desides not to use Pro and roll back to Home. What happens to the Pro features used. What happens if the user encrypts and external drive? There could be several issues with aborting such a trail, and all the users would blame MS.

The upgrade also requires a Microsoft account if done from your PC. Buying it preloaded is much easier. No everything with a Windows PC wants Microsoft's "service bloatware" along with it And with Home you have no way to stop those "update grenades." The writers here are really drinking he koolaid.

The author failed to mention that Windows 10 Pro also includes Client Side Caching (Offline Files Sync). I find this to be a much better solution than OneDrive when it comes to syncing media between our home's computers and across multiple MS accounts. We've got well over a Terabyte of music that is synced across our network. The syncing is massively helpful if and when our homeserver goes down. Basically I call it our "low flying cloud". Between this and Remote Desktop to manage our computers, I find Pro a necessity. Android is even compatible with Remote Desktop which comes in handy for managing and updating multiple computers.

True, and this is why you would upgrade to Pro. Now, if you said this to random people on the street thay would all be a big ?

"The bigger lesson here is Windows 10 Home is what most consumers need and should be paying for" The biggest lesson here, once again, is that you are the most dedicated Microsoft shop. You always where. For instance, Windows Phone was brilliant, absolutely amazing, until they stopped shipping because no one was using it. Typical salesman attitude. "So, you want to go back to an OS for consumers that expires. " What? FUD? The idea that whatever MS does is a matter of destiny or fatalism so we might as well understand it and take it is ludicrous. If you position a machine has a Pro machine with Pro prices, put a Pro OS on it, period!!!!!! Otherwise something is fishy in the marketing. It may be the case that none of the Surface Pro's are Pro machines. They should be called Surface Home's ... Anyway, this article is still a bit more palatable than all the Surface Go mambo jambo you wrote a month ago or so. That one, you were obsvisously joking over your readers as so far out it was from actual machine performance. This is my opinion of course. And yes I don't like the way you see things and should I say journalistic ethics? Instead of applauding you should be asking why the Pro licence fluctuates from $30 to $100. I guess that the licence is more included in the price than others right? Keep them confused .... So ... "Whenever you buy a laptop or desktop PC with Windows 10 Pro it means you paid an extra $30 to $100 for it whether you make use of those "pro" features or not. " No, it does not necessarily mean that. It may mean that MS it is rising OSs prices. In a market where most OS's are free.

Windows is not open source, you pay money for it. This is how it is. This might change, if people buy stuff in the store for example, but this is another discussion. If you don't like it, buy an Android slate or a barebone computer and install some Linux. Now, back the the discussion at hand. Regardless of what you feel is right, there is a price difference between W10 home and pro. Final. That's it. Furthermore, it is also true that most people do NOT use any of the extra features in W10 pro. So, you just feeling better having a OS with a pro sticker on it when you buy a computer with the same sticker does not make it the best solution. The reason for this is simple, the Pro in Software is not in any way related to the Pro in Hardware. W10Pro can be installed on pretty much any crappy computer, and you would still get a full feature set. The HW does not relate to functionality at all. There is no reason what so ever for you to buy Pro labeled hardware because you need some Pro OS features. Pro if HW are often used to diferenciate two different levels of hardware within the same product range, or HW features commonly geared towards the profecional market not commonly fond on home computers. It can also be used to defferenciate between architecture within the same product range. There is no rule. Apple made a big iPad and labeled it pro. Sure, this is marketing. But this does not change anything. Pretty much everything Danile wrote is still true. MS had Surface running ARM and Surface Pro running x86. Then they had Surface running Atom and Surface Pro running Core iX. Now they have a smaller Surface Go running Pentium and a Surface Pro running Core iX(M). This is in no way related to the OS functionality level MS choose to ship with them. MS could make another version, the Surfae Home, identical to the Surface Pro only with W10Home. Then they would need to do everything double. Logistics would double. And, people would buy the Home because the salesman should tell them they do not need the Pro. Only a few power users and people who think they are power users would buy the Pro. The sales would plummit, and the availability of the Pro would be limited. And, then comes the fun part. People buying the Surface Home that desices they need W10 Pro would upgrade the OS. So, they would then run Surface Home with Windows 10 Pro. It's just stupid. MS can't do stupid **** just because some people gets hung up on a sticker on some hardware.

Open source or not has nothing to do with my point. There rest is just downhill off the mark. "Pretty much everything Danile wrote is still true." Daniel not only shared facts but also his opinion on those facts. I have not argued against the facts you see. I've argued against Daniel opinion about the facts and other pseudo facts he pointed such as: "So, you want to go back to an OS for consumers that expires. " "The HW does not relate to functionality at all. " Well, actually it does, in practice. But let's not get side tracked here. "W10Pro can be installed on pretty much any crappy computer" Much like most OS's. What is your point? "There is no rule. Apple made a big iPad and labeled it pro." Yes. And?

"What? FUD? The idea that whatever MS does is a matter of destiny or fatalism so we might as well understand it and take it is ludicrous." You do know this is Windows Central right? Sometimes I question if they are a subsidiary of Microsoft.

This is the first Microsoft name change suggestion that I can get behind.

I agree, but it never ends with Microsoft and poor naming. I seem to remember years ago, they were going to create a group within Microsoft that would focus exclusively on what to name products and services. I guess that never happened.

Ah, no. It's not the reason for the price drop. It costs nothing for MS to put their OS on their own machines, Home or Pro. Moreover, there's zero reason to even have these two versions. Windows should be Windows, not 100 versions like it is today. Having said that, I agree that the surface line is not aimed for IT but to students and such, so I assume most users are not using the Pro features. Many are not using Access, WordPad or even Microsoft PDF printer. There's a hidden cost to these too, no ?

"It costs nothing for MS to put their OS on their own machines"

False. I adress that specifically in the article.

Please add source. You wrote about it without providing proof. Even so, your claim is wrong, as it's their product and they can do what ever they wish. I'm sure they're using their access to the code to make it work better for them, to fix things faster and to gain advantage.

Daniel is right. MS must pay for their licenses which is partially due to GAAP rules and how you account for revenue and legal rules governing business practices. Each division in MS would essentially have there own Income and Balance Sheets to run their business. One entity dealing with another must legally account for the sale even that entity is owned and operated by the same parent company. So when Surface wants a new license it must pay the OS group for it. All this income and expense gets eliminated with consolidation but it is a sale and gets accounted for as a cost in production.

Not really... What if they're selling both copies for $2 ? Do we have an actual source that shows how much MS pays itself for Home and for Pro ?

Reaching aren't you? They LEGALLY cannot sell it to themselves at a rate that would create a competitive advantage.

OK, but it's still a game. You can't compare MS buying from MS to Dell buying from MS.

As noted above Microsoft cannot give or sell themselves Windows 10 licenses at a cheaper rate than their competitors, otherwise it's an unfair advantage akin to what Microsoft got in trouble in Europe for "blocking its competitors out of the market through anti-competitive practices". This isn't some hidden secret. All companies have to do this. You won't find anyone in this business who will dispute it. But I'll humor you: What is the motivation for dropping Pro then? If a Surface Pro with Windows 10 Pro costs $999 last year, and a Surface Pro with Windows 10 Pro costs $999 with Windows 10 Pro this year...what's the advantage/difference? Microsoft is still getting $999 for a Surface Pro with Windows 10 Pro. The one difference is Surface Pro 6 is at least $100 cheaper across the board compared to last year. That's a good thing?

Like I wrote above, it's still a game. Money is going from one pocket to another. As for the reason, maybe they're testing to see what the reaction will be so they could up sale ? Maybe next year it'll be $50 more expensive but still with "Home" ? Maybe they rather people not being able to pause updates ? Maybe they're about to change SKU again sometime soon. I don't know for sure yet you're so sure that the new price is because of Home, but not providing any concrete proof to it.

Good luck in running your own multi-billion $, international business then, as you'll just ignore the law and just ensure you screw the competition. That is until one of them file a law suit and put you out of business. But you go ahead and run your multi-billion $, international company just the way you want to... OK hun?

Daniel it's just people who hate MS arguing with you. They have to find something bad in everything MS do. Luckily Surface and MS are performing incredibly well. Both in revenue and the tablet/ 2in1 market. Something noone saw coming in 2010 when Apple had the tablet market all to itself.

Richard, really ? So it's either 100% agree with everything that Daniel says or you're automatically a "Microsoft Hater" ? How old are you, 5 ? It's ok to disagree on things.

No. It's when every single company has to by law do as Daniel pointed. Yet these people somehow think it's only MS doing something wrong. The status a back up what Daniel is saying, if you read the article. It's like arguing the world is still flat.

Which we have proof for, unlike the opinion Daniel expressed in this article.

You're right it is ok to disagree on things, but in this case you are doing the same thing as you claim Daniel is doing. You said he was wrong and then went on to say.. "Even so, your claim is wrong, as it's their product and they can do what ever they wish. I'm sure they're using their access to the code to make it work better for them, to fix things faster and to gain advantage." Where is the proof there? Then when people start pointing out the laws, your response is that it's "still a game" and "money is going from one pocket to another." If you think there is a loophole in the law then do the research and also present the proof as you want Daniel to do.

Well, the original disagreement was not about laws and practices, but about the reason for the price reduction, which Daniel is 100% sure is because of the Pro/Home. He based an entire article on that assumption, without actually providing some source for the claim. People here started to take it to the "this is the law" because of my "$2 cost" comment, and Daniel too. Was it so hard to ask someone at MS the reason for the reduction ? I don't get the point of this article at all. There are dozen and dozens of things we don't use in Windows. What will Daniel ask next ? a $150 reduction for Surface with bare bones OS without apps ? As for my claim and proof, this is part a guess and part experience with past products. It's just like they tailored RT to their devices, or added functions for the Surface book screen. Also, remember that there's a difference between a comment and an article of a leading tech site. I don't think there's a loophole, and I don't need to provide a proof, because it's not my article. It just felt like a kids version of investigating journalism, without any proper backup.

I disagree with Dan a lot (even if i am a MS fan), but in this case it's just cold law.

The motivation for dropping Pro is that by having less and less consumers running Pro, you have more and more consumers who are all updated and secured. I don't think this has anything to do with saving themselves money, I think it has everything to do with having the ability to delay updates be available to as few people as possible. This is also the only thing I don't like about this move. Give Home users the ability to delay updating and this move is fine. The state of Windows update is embarrassing to say the least for a "Software Company" and the option to delay or not update should be offered in Windows Home if that's what they are pushing on consumers.

The first thing I do when I get any new PC is dump the OS 'shipped' and install LTSB. Dan, your agressive tone with readers sounds more like a MS fanboy than anything else. If you care about your readers then tell then how to get a decent OS, not just a watered-down version of an intrusive hunk of bloatware that is built more for the profit margin of MS and hardly at all for the users. I don't think there's anyone out there, from an intelligent point of view, that can any longer defend Win 10. It's just a mess, always edging toward its next disaster.. Can't wait to see what goes wrong later this year. Meanwhile, quibbling between pro and home is like arguing over the merits of different fatty foods. Either way, you're doomed.

LTSB is as far as I know only available for W10 Enterprise licensed users. It's not even called LTSB any more. And for most users, LTSC would be limiting, it would not get any feature updates, and I see no point what so ever for any user to actually install a LTSB licensed version of W10. Unless you are a pretend power user that just wants other people to think you are smart. Good luck upgrading your harware... Yes LTSC does not support new silicone. Calling W10 a watered down version with bloatware built only to increase the profit margins of MS is just dumb. Sure, just like with every other Windows version MS wants to make money, but W10 is still by far the best user OS they have made. True, they need to iron out some edges, as have they done as well, but it's no disaster, not even close. I do not see Dan being aggressive at all, not agreeing is not being aggressive. You can't talk about LTSB and then tell Dan to write about how to get a decent OS. It's just dumb. Or, perhaps you were talking about something none Windows? In that case, welcome to WINDOWS Central.

That's not how it works. I work for a company that buys material from our parent company. We get the best pricing available, but it's still market pricing.

With prices fluctuating from $30 to $100, the OS division could very well sell licences for $1 to the Surface division. I think GAAP rules does say anything about this. So it, may not cost nothing, but that was not really the point it was being made?

When I buy Windows licenses for thousands of users, I pay less than you would going to the store buying a single OEM license. Perhaps OEM's like HP etc. have some deal with MS. I don't know. That said, where did you find the 30$ upgrade? In any case, MS can't just sell W10 internally at $1. It's illegal, and they also need to keep their OEM's happy as they're competing with OEM's that are crucial for MS survival.

Where is it written that it's illegal? How much would it make it legal? Didn't they offer free upgrades to Surface users from Windows 10 S? Was the PRO already included in the price in those instances or were they just taking the user for a ride? Everyone know that MS is built on leverages, like most big companies. For instance, if it was not the brand, the Surface line would not have passed ever v2. Surface Go would be a forgettable product. Indeed the entire Surface line is built to make a point with Windows, another division. Beware of sophisms. Cheers.

In the end, it technically doesn't since Microsoft is selling the license to themselves. However, I do understand what you're saying, the price of the license is reflected in the hardware price. Microsoft can always eat that cost if they wanted to, but I know that's not feasible since it would affect Surface margins.

I don't see that they're producing these devices to purely make money. It's more about being there and setting a bar and an example. They're not even priced to sell [a lot], to be honest. While I'm sure all of them would be happy it they will be a market OEM leader, it doesn't look like they're expecting to be.

MS should keep Windows skus simple and down to two. Have Windows 10 (for everyone) and Windows 10 Enterprise/IT (for their business licenses). While I agree Pro features mostly business related features, just remove the Pro option from the consumer brand.

I disagree. | have a Pro licence and I'm not a business user. I do make use of the pro features too. * Pro licence obtained free as I upgraded from Windows 7 Ultimate retail version, I would probably have upgraded to Pro Windows 10 had I got a Home licence upgrade initially

I disagree as well. I have a machine or two running pro for the Hyper V (testing different OSs and apps on those OSs) as well as the Linux subsystem. There are certainly those that take advantage of the 'Pro' features that are not Enterprise/IT, but what would be considered consumers. Independent software developers immediately come to mind.
P.S. I tapped report by mistake. Fat fingers, small touch screen. Seems there's no taking that back, sorry.

Hey Daniel. Do you know for a fact that MS is paying itself internally for a Windows license, or you just assumed that? Because that changes everything you have based your article on.

It's a fact. All companies have to do this. It's Generally Accepted Accounting Principles on how this all should be accounted for.

GAAP does not specify this. To disprove it, simply consider the scenario where the two divisions are one. There would be no one to charge. And, in this case, there is no material cost for the product, nor is there necessarily any share of development or other expenses. GAAP provides specifics for handling transfer of assets or charging of expenses across accounts when certain scenarios occur, but this is not necessarily one of them, is my point.

But it is. The surface group and the OS group are two separate divisions that would be set as two different entities to take advantage of certain tax breaks. These are essentially two different entities with assets legally needing to be transferred.

yeap, BUT this doesn't affect cash flow

Wow! Those are huge discounts over last years model! A better device for less money?🤔 When does that ever happen? I'd be pissed if I bought a 17.

I bought a Surface Pro (2017) i7/16/512 the day they came out. I have gotten plenty of use out of it and am not at all mad that this year's model is cheaper for better hardware (software notwithstanding, as I would need to upgrade to Pro) -- It means that when I do upgrade in a couple more years things should be even better.

Interesting take and fair points. I'm curious about Windows Update are there any significant differences between Home and Pro in the settings app for Windows Update now? In 10 pro, after the second last upgrade (if I recall correctly) we finally have been able to stop Windows Update from downloading drivers. This has been the biggest issue for me with home, without any ability to stop updates so we can't prevent buggy drivers from install and wreaking havoc. Which also means any home user cannot stop buggy cumulative updates.... There are a few way around this however they are all time consuming one, a) you have to install updated drivers by constantly checking for new drivers or b)create a "updated and signed" driver which is really an old one but that is "repackaged". The easiest one is to set up an admin account and a standard account, then prevent the standard account from installing updates. But that leaves that PC vulnerable so you need to update manually. BUT given how the update list is populated you can't remove the buggy cumulative updates BEFORE they install - which is another massive headache. In 10 pro I have it set to notify to download and notify to install, so I can use the "troubleshooter" to remove drivers or buggy cumulative updates from the WU download list before they install. (To others who wish to suggest about the group policy editor and reg editor - I'll save you the time - I'm well aware about the group policy editor and reg tweaks on Pro lol and some words are in caps as some just don't read at all lol.).

"Interesting take and fair points. I'm curious about Windows Update are there any significant differences between Home and Pro in the settings app for Windows Update now?"

IIRC business and pro licenses get more options to defer updates, or at the very least more control. I need to compare them a bit more though to see the nitty gritty on deferring drivers etc. At least in theory (a big assumption) deferring drivers shouldn't be necessary on Surface, but there are obviously exceptions.

Thanks Daniel, it would be most appreciated.

You forgot to mention that Home edition excludes Group Policy Editor. I use it a lot and hate working on computers with Home edition because of it.

Don't you suppose that is because not signing into AD precludes you being assigned to a group to define which policies to apply? Who assigns policies, which are typically designed to restrict, to themselves anyway.

I dont do agree, that just means i need to upgrade to Pro another $150 after buy it just for get bitlocker and Hyper-V etc, i dont hurt get stuff i dont need to use frome the Pro, but its hurt the cosumers alot more get to little and need to pay another time for a licens just for get some stuff they want, rater just dont use it.

It's $99 not $150 to upgrade to Pro. It takes 5 minutes to upgrade through the Store and the cost is exactly the same for Surface Pro with Windows 10 Pro as last year, so nothing has changed just a lower starting point. But sure, we can go down the past of why even have a Home and Pro editions, or why charge $99 so devs can have Hyper-V. Different argument, but there's some points there about how this stuff can/should be divided up.

Well said. Besides the big gaming studios there are very few devs left targeting the MS platform these days anyway. For the 1 or 2 hundred non-gaming Windows devs left out there... let them pay the $100 extra bucks. They can just make it back when they sell their apps on the MS Store anyway.

You won't get the advanced exchange with the consumer models anymore. At least in Europe.

Daniel I ❤️ this article and you.

I can't believe you wrote this with a straight face: "Another area of confusion I hear is that Microsoft should include Windows 10 Pro anyway. After all, it wouldn't cost Microsoft much – if anything at all – so what's the big deal? Just put it on the Surface Pro 6 and call it a day. The reality is Windows 10 Pro – whether for Microsoft, Lenovo, Dell, or whomever – does costs more to license per PC than Windows 10 Home. Every time you buy a new PC or laptop you are paying for a license for the operating system. That price is baked into the final cost." That's purely Microsoft's call, and their own bottom line they are protecting. For the longest times ALL OF THE BITS were in the same OS image - all you were really doing is "unlocking" the upgrade. Frankly, that is a farce. Microsoft, like the Apple it wants to be, now makes everything an add on (never saw the price drop $99 when they left out the Pen - they got brave once Apple sold its iPad Pro with the Pencil as an upcharge add-on); have always charged for the keyboard, without which even the Surface Pro is worthless; and now we get to pay for the "Pro" version of the OS for our "Pro" device. MS is laughing all the way to the bank, just like Apple...

Most regular consumers don't use anything that comes with pro
so why should they be paying for pro.
And there's no price difference if you want pro than it pretty much the same price it was last year.

You think a hardware competitor like HP wouldn't care if Windows charged nothing for the OS on Microsoft hardware? You must be wanting Microsoft to get more "monopoly" scrutiny. And yeah, Apple has nothing to do with the decision. Or almost nothing. Just like their corporate market share.

I hear what you're saying, but I'd like to add a developer's perspective at a more macro level. I'm a full-stack developer, and over the past 7 or 8 years the software development scene has shifted almost entirely to Apple. My last 3 jobs have issued me Macbook Pros and I don't do iOS development. Two of these companies were very large Fortune <20 corporations. When you go to virtually any conference related to software development (web, backend, mobile, etc), you'll see nothing but Macbook Pros. A big part of this is being *nix based, but also most everything is developed and deployed with Docker now-a-days. That requires Hyper-V on Windows, but just works out of the box on MacOS. It's already a tough job to sell a Windows machine to a developer. You're now adding an additional hurdle in that you're telling them they can't do proper software development out of the box. I like the new Microsoft. I want to see them do well, but if they lose developers(you could argue they already have), they lose the apps. Eventually this will kill the platform. Nobody wants to use a platform that doesn't have any apps.

But you're one of the minority, like myself. I'd happily pay to upgrade to Pro if the machine was $100 cheaper. What's the big deal? Plus if you are earning a living from developing on a Windows machine, submit the upgrade as a business expense and write it off in your tax return! If your company is providing the hardware, then it's down to them to give you the right tools for the job. My wife has a Surface Pro, she has no need whatsoever for Pro features. I'd have preferred that money back in my wallet, or use it to offset the cost of the keyboard...

I generally agree with your comments. However, Quote: "Plus if you are earning a living from developing on a Windows machine, submit the upgrade as a business expense and write it off in your tax return!" Of course, make this s business expense if you can. This is not the great deal that you imply. Business expenses are deducted from your taxable income, not your taxes due. If you combined federal/state/city tax rate is 50%, you $100 expense will reduce your takes by $50, not $100. If you file personal taxes and do not itemize deductions, you can not deduct business expenses, so yiuy save $0.

I agree that they should change the naming convention, but it would probably have an impact on revenue. I know I am compelled to buy Windows 10 Pro even though I don't need it. I don't think Windows 10 IT would have the same effect. Also, with all the ads and data collection they have been adding to Windows 10, the license pricing should come way down or even be removed. Either way, their flagship Windows machine should have their flagship Windows version. Especially since the machine is called "Pro". It is almost false advertising selling the Surface "Pro" with Windows "Home" even if it doesn't matter as Dan has shown.

It's an interesting theory, but what if it's the other way round us Pro users are subsidizing Home users? I think this article shows a lack of understanding of the software industry, where you generally charge as much as you can get away with, I once wrote a single line of code, that meant a customer had to buy the latest version of the product when going from 16bit to 32bit, the value 3 million pounds, because we knew the customer would pay and basically had no choice anyway. But if some suppliers charge $30 more for pro vs home, what does this cover, where does the $100 come from? One thing is for sure, no hardware supplier can afford to give money away so I suspect the reality is you'd save $10-20 at best, some of that $30 is costs of dealing with a non-standard configuration, MS probably charge $99 on the store, because HP have made them charge that, as it's the amount they charge for the difference, even if it actually costs them a lot less. mike

Pro users aren't subsidizing Home users. The cost of the Pro license is factored in to the cost of the device. You're paying for a Pro license regardless if you need it or not. The fact the new devices are on Home and are $100 less proves this.

Windows Central is defending these shenanigans? Wow, oh well.

Shenanigans? Where? MS gives every user a lower entry point. Most users do not need Pro. Those who do pay the same as last years model with Pro if they do a upgrade. And this is a bad idea, why?

What little control you have over updates goes right out the Windows with Home. Given how awful the rollouts an bugs have been, I would never settle for that.

Wow! Such a pathetic attempt to carry water for Microsoft. There is no conceivable reason that MS would need to charge itself $100 for Windows Pro on its own hardware. This would be like Apple charging a licensing fee to its manufacturing partners for iOS. It's preposterous and you know it to be true. Not to mention that MS distributed licensing for free for Windows 10 to its manufacturing partners for smaller devices. This is not a material good. It's bits. MS can price things however they like including charging nothing as they are for continuing updates to Windows. 10 You assert that there is a cost. Please cite actual documents or statements from MS to this effect. The fact is MS can set any cost it likes including no cost.

"This would be like Apple charging a licensing fee to its manufacturing partners for iOS." You couldn't have chosen a worse example. Apple? Seriously? The only hardware maker to produce devices with Apple's iOS and macOS is - wait for it - Apple, there are no 3rd party OEMs involved here; they're, thus, not at all comparable.

MS sells their OS to OEM partners. MS makes their own HW, competing with said partners. Now, imagine MS could sell their HW without the W10 license cost. Then they could sell at a 100$ lower entry point, at least. For similar products that is. Now, imagine you being the head of HP, noticing MS eating more and more of the market share due to the lower price tag. What would you do? I would go to IBM/Lenovo, Dell, Asus, Samsung and whatever, get them on board and then demand a meeting with MS demanding either MS to increase the price tag on their systems or decrease the license cost for the OEMs. If not, I would sure as hell start pushing Chrome Books and Linux distros. Then, add THE LAW!!! MS won't and can't give themselves W10 for free. And the Windows for free below 9" changes nothing as it's the same for everyone, both MS and OEM's. There are many reasons for the death of WP/W10m, but look what happened there. MS/Nokia took 99% of a small market. Samsung and a few OEM's did try releasing WP devices, but did not sell any. Perhaps, just perhaps, things could have been somewhat different today if Samsung had that market share instead.

I knows this was gonna come down to this
but I wanna defer updates. That why you need pro really?
Go ahead and pay to upgrade to pro then.

I've weighed this decision few months ago and went with Home and didn't pay the upgrade charge to Pro. Sometimes you can find cheaper upgrade keys for half if you find you need or want Pro. Home mostly works for me, not worth it to buy Pro for the upgrade defer option.

Anyone running Home is a MS QA tester, for free.
It wasn't pro users or business that got hit with the file deletion problem, it was users who are forced to update because they have no choice of channel.

> BitLocker here causes the most confusion as many people think that it means that Windows 10 Home does not encrypt your drive, which is a huge security vulnerability were you to lose your laptop or Surface. It's just not true. Can you, by any chance, elaborate on the basis for this claim? To quote Microsoft product comparison page: "[Windows10 Pro has] All of the features of Windows 10 Home, plus: *Get built-in protection from security threats at no extra cost* with BitLocker, Windows Defender Antivirus and more..." (emphasis is mine).

Yeah AFAIK native drive encryption is possible only on Pro and above.

Don't know why this is so hard. If you have a Home device, even running in S mode, open Settings>Update and Security. At the bottom is Device encryption. It is either on or off. There is also a link to Bitlocker settings on that page, which takes you to where you can back up your key. Might not give you all the options of Bitlocker on a Pro machine, like encrypting removable drives, but your highly portable Windows 10 tablet or 2-1 running Home, can have an encrypted drive.

> open Settings>Update and Security. At the bottom is Device encryption. Well... on two Home machines, I have immediate access to, "Device encryption" is not there. One of them is 1803, one is 1809. ISTR that the only "S mode", shipped to date, was the Pro one, maybe that's why you do see that menu. @Daniel: would you, please, substantiate your claim? Ability to encrypt the drive on the portable device is the serious argument in the Home vs. Pro discussion.

You need an recovery partition to use W10Home Device Encryption.

Hm...
Disk 0 is now the selected disk. DISKPART> list part Partition ### Type Size Offset
------------- ---------------- ------- -------
Partition 1 System 100 MB 1024 KB
Partition 2 Primary 106 GB 101 MB
Partition 3 Recovery 850 MB 106 GB DISKPART> Anything else I should have?

Actually I have a Surface Go, Windows 10 Home in S mode. Still on 1803.

Wouldn't choose it just for the slightly more flexibility in controlling upgrades in "Pro". For myself the basic OS is all I need, everything else is third party solutions so as long as they run on Home edition its all I need.

Bravo. Finally someone gets it. I swear to god I don't know how many times I've answered that question in the past two weeks. People, generally, just don't get the business.

Nope, Pro sounds good to me. IT / Developer Edition sounds too complicated and a handful of features doesn't make much difference imo unless Msft adds lots of new Pro features to really differentiate it with Home.

People, think about this for a sec: if you would like to upgrade to Pro "while configuring your PC" you pay a lot less (refers to the pic in the article). Why is that? You need one license for one computer. Here, you pay for the Home license and then pay another $99 to use Pro. Now, please do not still tell me Microsoft pays itself 99 dollars more to go for Pro. Based on your logic, I would like to have an option to buy Surface Pro with FreeDos installed and then install whatever version of W10 I want. Would that be $100 cheaper to buy?

Having a multiple tiers for an operating system beyond server grade seems antiquated. I think the *right* argument that should be made here is that microsoft should abolish home, and pro into one flat tier, have the server OS and then a switch like chromebook development mode for the "S" mode if you want restricted applications to a curated windows store.

I like having the Pro option in system config, but truth be told I bought a 10 Home PC earlier this year and got a legit Pro license for ~$30 online from SCDKey. If you're paying full price for Pro you're doing it wrong.

Yeah, cause piracy and stealing is so smart. They may be real keys, but it's very much on the shady side of legal, and definitely unethical.

Stop making me subsidize Windows 10 Pro users whenever I buy a new PC.
WTF? My $339 HP x360 came with Windows 10 pro 64-bit. HP paid how much for that license? Wouldn't M$ sell more units with W10 pro?

The sad reality is that most people don't really need the features in pro. Which is why RT was a really good concept albeit poor implementation in terms desktop UX and was also let down by the lack of touch optimised office. RT+UWP+LTE is really pretty much what the average joe needs. How many people do you know use the control panel on a regular basis? Personally, I can't live without the control panel as the settings app is nowhere near in terms of functionality and control.

Hold on. Why are consumers buying a "Surface Pro" anyway? Why not change the name of Surface Pro to Surface IT and promote them to busnesses? Because they want to sell the "Surface Pro" to consumers? Ok, take the same surface, slap W10 Home on it, and call it something different. Problem solved. If people buy a "Pro" product, they expect a "Pro" product. HyperV and all.

OK, so MS would make two versions Surface Home and Surface Pro. Identical HW, different OS. Then MS would have to increase logistics to manufacture and ship both home and pro versions, and so on, increasing the cost. If the sales reps at stores did their work, 95% would save $99 buying the home version. Now, there is little demand for the pro version, and the availability is limited due to lower sales. And now the fun part. People buying the home version later discovering they need pro features decides to upgrade to pro. My company can deploy Enterprise licenses on both home and pro machines and would also by the home. Then, due to limited availability, people wanting the Pro decides to by the home and upgrade as it's easy and the cost would pretty much be the same.
End result, lots of Surface Home devices running W10Home. And, probably just as many, or over time, more Surface Home devices running W10Pro, Ent or EDU than Surface Pro devices.
Speculations, sure, but what's the point? There is no tie between the Pro label on HW and Pro label on Software.

An artist might need the "pro" hardware but not the "pro" OS. A programmer will want both.

a good impact on pro is that a easy way to block or delay Windows update, ah.

Wait...Really? Are we supposed to believe that Microsoft pays full license cost for Windows to...Microsoft? Please. There really only need to be two versions of windows. Server and Client. THAT would make IT happy. Not this pro/home/Enterprise Edition BS. When I get the Surface or whatever we're buying that day, I'm immediately going to erase whatever is on it anyway and put my already licensed, de-crappified Enterprise Edition image on it. But notice how there isn't (as far as I know) a "No Windows" option? I wonder why that is...Hmmmm...Gotta prop up those Windows sales numbers somehow.

Why would Microsoft make and ship a Surface without Windows? We deploy Ent and Edu to our machines, but our license is based on us buying OEM systems with either home or pro, and thus lower than if we wanted to deploy on bare bone systems. IT have no problems with licensing, I manage thousands of W10 computers. Neither do ordinary people, they just buy a computer they can afford, regardless of W10 version. The different versions is also smart from a marketing point. MS can offer their OS in cheaper OEM bundles competing in the consumer market, while offering extended functionality at a higher price range where the money is. What you choose to do with your new system is up to you. Most people do not have access to a legit Enterprise key anyways, so how is this in any way relevant for this discussion?

There should just be one version of windows and it should include the whole Hypervisor VM thing, Remote desktops for FREE. Having multiple versions is confusing at best. And at worst it makes people feel like they're missing out on something if they don't have it. There's only one version of Chrome OS. Same OS for consumers, enterprise, and classrooms. And those guys seems to be killing it these days. https://betanews.com/2018/10/22/nz-chromebook-linux-kiwi-edu/ I fear we will see this story played out over and over and over in the coming decade. Educators like the simplicity of Chrome so that they can focus on what's truly important... TEACHING! Why can't MS seem to understand that normal people are sick and tired of fiddling around with their OS for hours on end?

First of, Chrome OS is only really big in the US. And, the main reason Chrome OS is chosen is cost. And this is also the main reason for MS to have different W10 versions with different price tags, to compete against lighter cheap OS'es, like Chrome OS, iOS, Android and so on. The simplicity you're calling for in licensing would prevent MS from competing with the simpler OS'es. Unless they lowered the overall price tag on Windows. Multiple versions is not confusing, really. Most people just buy a system and don't need to care. And if you need to run Hyper-V you know what you need to do so as well.

Righttt, Windows Central tells everybody "we should just accept the fact that there are different types of windows versions and not have it all in one without confusing our customers and then having to pay monthly for security updates (on Windows 7) How absolutely ******* absurd

The fact that I have to sign up to comment on such a poorly thought out article just goes to show that there are journalist wannabes that think they know everything by the book and people should follow.

This right here might be the worst informed opinion I've seen for quite some time.
Windows 10 Home can't join a domain.
That single sentence overrules every ignorant opinion in this article.

There's one problem wit your logic. It costs Microsoft virtually NOTHING to give you ANY version of windows. ZERO. The cost of one version over another is almost as close to zero as possible. The marginal cost of producing another copy of windows is virtually zero. And the cost difference between them is nonexistannonexistant as well because its all the same code.

If you're just making a copy, sure, this is true. But you need to calculate the cost of development as well. MS need to develop lots of functionality most people does not need, and this is expensive. Now, MS could choose to release all this as Windows 10 as a fixed price, just to make it simple. Or, MS could let most people have what they need at a lower price, and let companies and professional users pay extra for the functionality they need. Why should you pay for the development of functionality you do not need? I really do not see the logic. The cost of making the DVD or ISO is irrelevant here.

By MICHAEL MICHALSKI's logic, Microsoft should just fire all of their software engineers, since they are costing the company billions of dollars per year, but their work adds nothing to the company's revenues!

All this talk about windows 10 Pro vs Home and yet you dont bring up the fact that Windows 10 Home lack Group policy editor. That is a make it or break it feature of Pro for me at least.

Nope. I absolutely don't agree. A $300 Acer that is used for casual web surfing should come with Windows Home by default. When you are buying a premium device at a premium price it absolutely should come with Pro. It just makes MS look cheap for one thing . Also, if you are spending the extra money for a device like the Surface Pro, you are doing some sort of important work 95% of the time. These people need the abillity to defer updates until they can be sure that they are safe to install.. Until Windows Update stops destroying everything in its path, Pro is a necessity for anyone who doesn't have time to deal with its BS.

If it "makes MS look cheap" to lower the price by $100 while offering a $99 upgrade path I'm perfectly happy with that.

And we wonder why Microsoft was not able to get Windows 10 to work correctly on a phone. Seems right that if they can get the desktop right, which they have failed miserably at updating this year, they could have gotten it right on mobile. I'm not talking about sales or market share or any of those other numbers I'm just referring to getting Windows 10 Mobile to work as intended on all devices that were intended to run it. Something that Android and iOS seem to get correct every time. This sounds right but I am not 100% sure on it. But that is most articles on Windows Central; not knowing enough to intelligently refute it, not having access to the information, etc and not caring enough to denigrate the author over it. We all know that Windows Central distills information about Windows and Microsoft that they have which we do not have, as most pro Microsoft blogs/websites/publications do, so why get into the he said, she said. I just have to take their word for it. But given the reputation that Microsoft has built over the years, especially since they went mobile/cloud/windows as a service I can see the reasoning behind the comments and the distrust.

Something you overlooked that has a major impact for most users, especially those that use oneDrive. Microsoft recently released two different updates that deleted files, they where limited in scope so not all users had problems, but anyone who has been using one drive for awhile may have completely lost files. The reason pro can protect users from this is that anyone running Windows 10 Home gets the updates forced to them, you need to upgrade to Pro to be able to delay updates (feature by up to 365 and security by up to 30) as well as choose which channel you are in.

In Windows 7 Home Basic would max out at 8 GB RAM (Home Premium at 16GB) even on 64-bit systems. -- The current limit for Windows 10 is 128GB of RAM, 512GB for Pro. I actually had to upgrade my Windows version to Pro back in the day when I put 24GB of RAM in a system. It's another reason one may need/want to upgrade to Pro, through not practical with current motherboards.

Hey Dan, Hey Dan, Hey Dan. Then tell me why Surface Laptop Core i-5 8GB RAM 256GB cost $1299 at launch. (https://www.windowscentral.com/surface-laptop-1) and now, SHOCKING, Surface Laptop 2 core i-5, 8GB RAM 256GB costs WHAT????? $1299 as configured on Microsoft Store. Same goes for core i-7, 16GB RAM 512BG. Laptop 1: $2199 as per your own reporting. Laptop 2 right now I'm looking at it on the Microsoft Store $2199 Bro, where's my $100 discount? As we all know, the original Laptop shipped with S Mode with a free, free, free, free What??? free udpate to Pro. And here come Laptop 2. Ships with Home. Hey Dan, where's my Pro tax? Hey Dan, do you think Panos Panay got spanked for handing out all those Pro License for free? Oh Dan, all those hardware partners revolted when MS offered free PRO upgrade on its own hardware, right? EU brought them up on anti-trust charges, right? Noncompetitive practices, yes? Surface Laptop was the bestest ever selling laptop because that $100 value, right? You're ridiculous. MS can charge whatever it likes. It can do whatever it likes with hardware and pricing and it did.

I'm fine paying for it. My complaint is that if I buy from Lenovo, it's $30 for the upgrade, and I can order it that way direct from Lenovo. HP is $70. If I by a Surface, it's $100 to upgrade it, and I have to either upgrade after I buy it, or get it somewhere other than direct if I want it pre-installed. That's a major price discrepancy, and a hassle. I just checked what the prices are for W10 Home and Pro, both retail, and OEM. Neither of them are a $100 price difference. Neither one was $70 either. From the Microsoft store the difference in price for the retail versions is $60 to get Pro over Home. So, my question is what makes me so special that I get to pay $100 and do the upgrade myself on a Surface when I can get a competing product and upgrade it for significantly less direct from a different manufacturer?

I can understand where you're coming from and for me the majority of those features are not necessary (the only one would be remote desktop but I could just use Teamviewer instead anyway) however given Microsoft's positioning for the surface to be a business oriented tool, wouldn't there be a large number of use cases for the last two options on your list, Azure and Domain? Also, while it does cost money for other manufacturers to put Windows in their machines it doesn't cost Microsoft any money to put the OS on their own product, they aren't paying themselves a fee to do that. So the only reason why the machine would cost more is because Microsoft want more profits, and it would be pure profit.
Windows Central Newsletter
Thank you for signing up to Windows Central. You will receive a verification email shortly.
There was a problem. Please refresh the page and try again.