Why it would be truly awesome if Microsoft acquired Playground Games
Recently, a seemingly credible rumor began to circulate that Microsoft might be in the process of acquiring Playground Games, makers of Forza Horizon 3.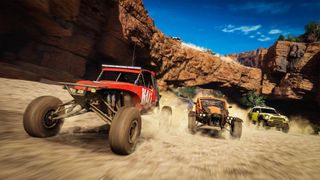 Forza Horizon 3 is easily Microsoft's most highly acclaimed Xbox One console exclusive this generation, built by independent UK studio Playground Games. As stewards of the arcade Forza Horizon franchise, Playground Games has grown exponentially, employing hundreds of incredibly skilled workers, and being named a "best place to work" in the UK by GamesIndustry.biz.
Playground recently opened a second studio in the UK to sit alongside the Forza Horizon team, announcing that the new group would be working on an open-world action RPG, which is now widely expected to be an entry in Microsoft's dormant Fable franchise.
Recently, internet sleuths discovered a strange directorial change at Playground Games that could hint at a big acquisition by Microsoft. If true, that could signify the second big recent salvo in a renewed focus on first-party game development at Xbox, which you could say has been lacking as of late.
The rumor
A rodneybouch on Resetera recently uncovered documents that reveal a new directorial change at Playground Games. Keith Ranger Dolliver is a Microsoft vice president who focuses on corporate development and has been involved in previous Xbox acquisitions including Rare, Lionhead, and LinkedIn.
There's a chance that this appointment or deal could be equity related, a stake in exchange for a place on the directorial board to prevent a potentially damaging acquisition from a rival company, but I bet Microsoft has acquired Playground. If Amazon or Tencent were to encroach on Playground first, it would have put a huge dent in Microsoft's first-party efforts, at a time when Microsoft is struggling in this area. Considering how strong Forza Horizon has become, it doesn't feel like Microsoft could afford to let Playground slip away.
Playground would be an awesome acquisition
Playground Games is leading the pack when it comes to exclusive development on Microsoft's platforms. Save for Minecraft, Forza has probably supplanted Halo itself this generation, as the annualized franchise continues to appear on sales charts month after month, while 343i keeps Halo under wraps for its next big entry, spending resources in its attempts to fix the Halo Master Chief Collection.
Forza Horizon 3 has a score of 91/100 on Metacritic, making it Xbox's highest-rated platform exclusive so far, and it continues to engage players with its in-game purchases built on near-monopolistic licensing support for real-world car brands.
Through Horizon 3, Playground has proven itself to be incredibly skilled in the construction of open world games, which is an area where Microsoft is historically weak. Many of the first-party games Microsoft has put out in recent years have taken place in more linear formats, with State of Decay 2 and Sea of Thieves being notable exceptions. However, while awesome in their own rights, both of those game worlds lack the depth and fidelity of those found in Forza Horizon 3, which faithfully portrays the Australian outback in painstaking detail.
If Microsoft really is considering a new entry in the sleeping Fable universe, in a world where all action RPGs seemingly have to be open world, Playground Games is an obvious choice, and it looks like they have been hiring the right talent to achieve it.
Late last year, Playground expanded to a second studio, according to GamesIndustry.biz), bringing its overall size to around 400 staff. Playground was absorbing talent from teams that worked on Metal Gear Solid, Hellblade, and Grand Theft Auto V, including Sean Eyestone, who worked on EA's Battlefront franchise at DICE.
Playground is bristling with leading talent, and through Horizon 3, it has clearly proven its capabilities. The possibilities for Fable, or frankly, whatever game the studio might be working on, are certainly exciting.
The beginning of a new gaming era at Microsoft?
If true (and it's a big if, until we get official word), this acquisition could signify the beginning of a new era for gaming at Xbox. Microsoft has been pivoting and restructuring for a future in the cloud, Xbox will fit into that intelligent edge well. If cloud streaming to any device is truly the future for Xbox, exclusive games will become extremely important, since otherwise, why not just subscribe to a competing platform when the hardware no longer matters as much?
Microsoft is also rumored to be building a new studio in Santa Monica, possibly led by Darrell Gallagher of Crystal Dynamics fame, which would only further the commitment to gaming quality on the Xbox platform.
Of course, all of this potential will take time to bear fruit, but E3 2018 could mark the start of a renewed focus on quality, first-party games at Microsoft. Let's hope so.
Windows Central Newsletter
Get the best of Windows Central in in your inbox, every day!
Jez Corden a Managing Editor at Windows Central, focusing primarily on all things Xbox and gaming. Jez is known for breaking exclusive news and analysis as relates to the Microsoft ecosystem while being powered by caffeine. Follow on Twitter @JezCorden and listen to his Xbox Two podcast, all about, you guessed it, Xbox!
Yeah, it's high time MSFT entered into entertainment along with Hw business. We are in a time where we see AT&T buying Time Warner.

Odd post on the day Crackdown 3 (originally slated for August 2017) has reportedly slipped to 2019

not odd. the report was made days ago. also the Kotaku report about crackdown 3 being delayed to 2019... same folks that said the game was cancelled and pulled the article short after. they are not always wrong but wait for something more official this time.

Knowing MS's record with buying, managing studios and game development I don't know if this would be awesome.
I keep hearing this is a new era and MS are changing their ways but people have been telling me this for years now. Right now, I'm just in a wait and see with MS. Personally I wish they just make their own studios.

This could be bad news. Looked how RARE turned out.

What about rare? Sea of thieves is awesome in my opinion.

The PlayGround team will get sick of making the same game over and over, most will leave and all that will be left is Microsoft holding the IP which they then hand to another team and a once amazing series will never hit the same heights ever again. Sound familiar?

The developer is already exclusive, there is no reason for Microsoft to buy them. Just let the company do its thing without hassles.

MS needs to buy it before someone else does.

Sony isn't really in the habit of buying up developers, and Nintendo isn't either. In fact maybe part of why Microsoft doesn't have an influx of third party exclusives any more is their history of screwing over the Developers in those situations.

The article mentions that both Amazon and Tencent as possible candidates for purchasing independent studios. This could be part of a defensive strategy.

As long as they don't turn it into more proprietary Windoze OS X UWP proprietary trash, that would be OK. I really despise UWP filth. It is ruining things. They need to release things on Steam, Origin and Uplay if they want my respect. If it requires Windoze 10 and XBOX app, to hell with that I idea.

I guess they will keep "your respect" in mind at the time of purchase :)

@Mr_Fox. You may not like it but UWP is the way to go. Also they can still release it on Steam and make it a UWP Xbox play anywhere title.
Windows Central Newsletter
Thank you for signing up to Windows Central. You will receive a verification email shortly.
There was a problem. Please refresh the page and try again.