Microsoft Screen Sharing for Lumia Phones, the HD-10, launched in India for INR 5,999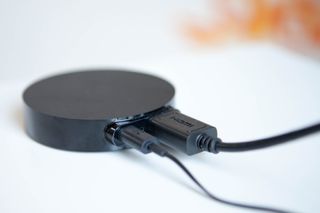 Amongst a slew of Lumia announcements in India, Microsoft also sneaked in a useful companion to use with your Lumia Windows Phones. The company launched the Microsoft Screen Sharing HD-10 accessory, a Miracast receiver with NFC support, which allows users to share their phone's content with other people through any HDMI display.
Launched at the IFA 2014 in Berlin last month, the HD-10 offers a seamless way to showcase your phone's screen in full HD on a big screen wirelessly. The possibilities are endless - from watching movies, playing games, flicking through photos, listening to music, or sharing PowerPoint presentations at the office.
While Microsoft Screen Sharing is connected to your screen via the HDMI cable and powered by Micro USB, it actually connects wirelessly to your Lumia. All you need to do is to simply tap your Windows Phone device to the HD-10 thanks to a removable NFC disc, easily mirroring everything on your phone to your big screen. You can pass the NFC disc around to allow anyone to share their content.
The HD-10 looks almost like a hockey puck. It measures 80mm in diameter, 21mm thick, and weighs 115 grams. Check out the hands-on we did at the IFA 2014.
Any Lumia with screen projection capabilities, essentially the ones with the Lumia Denim update, and other Miracast products can use the HD-10. While the HD-10 was announced with a price tag of US$ 79, in India, it is launched for ₹5,999 and available in black and white colors. While no exact date was announced, the device is expected to be available for sale around Diwali, the big Indian festival later this month.
Are you interested in beaming content from your smartphones to your TV and will you be considering picking one up to go with your Lumia? Tell us in the comments!
Windows Central Newsletter
Get the best of Windows Central in in your inbox, every day!
Honestly who names these things. I'm sure they can do better than this

Is threre still not a way as good as Apple's Air Play for sending your Windows phone or PC content to your TV?

How does Apples' Air Play work? And why is that better than a device based on Miracast? Just curious here...

I brought up some points on the comment below, but one nice thing is that you don't have to have physical contact with anything to start it, it's over wifi. Another is that with Air Play you can lets say send music from your phone to your Apple TV, which can be hooked up to a stereo, and stil do things on your phone. So you could throw a video to your TV and be watching it, while stil be playing a game on your phone and the video playing seperatly on your TV. So you have to option to have your phone content mirrored or just your media content.
As I said, there no reason the Xbox One couldn't work as well the same way but for some reason doesn't have that ability.

Physical contact is just to connet it easily. As i know it can connect with out any physically contact.

While i agree the AppleTV way has some advantages, the advantages of miracast are: it works with many tvs without any other device needed, the tv just supports miracast it works with android and windows devices it uses wifi direct, so it doesn't go through your router. This has numerous advantages such as not overwhelming your router if you are downloading or using it for other heavy tasks, better connection if your tv doesnt have a perfect connection to your router etc the miracast dongle is portable - you can put it in your pocket an then use it on any tv the miracast dongle only needs power from a usb port all windows pc's support it ....

How is this not as good? All you have to do is tap your phone on the disc and everything you see on your phone is now on your TV.

I think he means that Miracast is laggy compared to AirPlay

I have an iPhone and Apple TV hooked up to my stereo as well where you can be anywhre in the house and play and control your music on your phone without having to be next to your tv. So you can be listening to music throgh your headphones, get home and throw it out to your stereo without having to be in the same room to initialize it. I guess if you're just using it to watch stuff on your TV right in front of you it would be different, but I haven't yet found a Windows alternative that works quite as seemlessly for both audio and video. Oh yeah and the TV doesn't even have to be on.
Like why can't my Xbox One do the exact same thing?

While the option of being able to multitask of Apple's solution is quite a plus I believe the device is limited to those with Apple products, I may be way off base but that was my understanding. Google also created an alternative in Chromecast, however, their solution requires everything to be run through an app. Microsoft's solution(s) use a standard of sorts called Miracast and because of this anyone with a Miracast device can send their screen to another. The upside is it is not locked into the Microsoft ecosystem but instead can be used by a plethora of devices including those with later versions of the Android OS. The "need" to tap to connect isn't so much a need as it is a quick setup for the device. Like any play-to solution you are able to manually search for the device, this just cuts out the extra step. The other pro and con of Miracast is that it does not require a WiFi signal to work. The obvious upside is a presentation being possible where there is no/limited/locked WiFi and the downside being that it is often too laggy for any game that requires speed. Personally I am looking forward to AIRTAME's solution but will probably purchase this or the simplified version for those times I give presentations in dungeonesque settings where WiFi is not an option. Hope that helps to clarify.

With Miracast you do not have to be in the same room. The puck is just a friendlier way to pair, however there is an action center button ;) For my home I use the Plex and XBMC Remote apps. Look into DLNA for everything else.

Nokia play to, Linada, media hub, take a pic

You don't have to use Nfc Miracast is wireless

I thought you did to initialize it.

there is an action centre button.

No you don't. But even if you do want to use NFC to connect faster you could take the NFC disk into an other room and use it there. It's completly independent from the actual reciever. If you just wan't to stream music or videos you don't use Miracast, you use DLNA. There are many different DLNA Recievers. You could use a small box and connect it to your stereo or you could use a stereo wich has DLNA already build in. You could even use a PC to recieve music or video. Wether you could "throw" your music to your stereo without entering the room it is in depends just on how you turn it on. If everything is activ you don't need physical contact to start streaming. But I think that's the same with Apple TV since you still need a stereo and still need to turn it on.

DLNA. You can control content on the server from the phone. Additionally, you can send content from your phone to the server to be played. There are far more DLNA certified devices than Airplay ones. It is a matter of finding an app that suits your preferences. I have an htpc, airplay support is a bit flakey on Windows. Can buy or setup DLNA renderers to control all your multimedia sources ;)

Denim? I thought screen sharing was already supported in Cyan.

This is a device, not a feature.

Does anyone know a Miracast device without NFC?

Microsoft just announced another Miracast adapted without NFC for $59 I believe.

Do not need NFC, just another way to shake hands. There is an action centre button

Where can I get it? US....

Why would I but this when I could just buy NFC stickers and the new Microsoft Miracast dongle?? FYI it's been announced a long time ago

I have a doubt, does this stream through wifi or Bluetooth? If Bluetooth, will this be good enough for movies and gaming? Without lag? Does this support Dolby digital? Can we use this with laptop?

I think Miracast uses a direct WiFi connection. Should be faster as it doesn't need to go through a router.

Yup. I've used Miracast alot. I'm 99% certain Miracast is Wifi. But it is direct connection from the phone (or PC, or Android, or tablet) to the TV (or projector, etc.). It doesn't go through the wifi router, again, its direct connect, a nice feature, me thinks.

Miracast is implemented over Wi-Fi direct, which is why the Lumia 82x/92x has the hardware. Shame Microsoft does not add Miracast for the 925

Does this work for tablets or just smartphone ?

It works for any Miracast device.

Can I get it through the internet, because I don't think we will get this here in Saudi Arabia

Of course you can lol. You probably use a forwarding service like the one available from Aramex?

What about a transmitter device that connects to the phones USB and send it to the miracast reciver connected in the Hdmi from phones that only can screen project trough USB?? example lumia 1020

What's confusing is that the article makes it seem like any Lumia device with the Denim update could project wirelessly. I doubt that's true though. SADLY, I don't think any 1st Gen WP8 Lumias like my 920 have ANY Miracast capabilities. So which ones do? Is it just the 1520, 930/Icon, 830, 730/735, 630/635? I think the HTC One M8 can project wirelessly also.

Nokia said the 82x/92x would get Miracast. Microsoft changed that....

May pickup an actiontec screenbeam instead

Phones with Lumia denim update? I dont even have cyan yet?

Very disappointed in Microsoft as Nokia intended for the 82x/92x to have Miracast. Where is Miracast for the 925? We all know it is not a hardware limitation, and Miracast is supported on even the 635 .. If I want Miracast I'll buy an android..

I have been using the Netgear PTV3000 with my surface pro. Works good for video & audio etc. I may also get the Actiontec. My 920 doesn't have maracast, but my son's 930 does.

Does it need smart TV or any TV with HDMI will do?

Only problem with mircast is that it screw's up if you try and convert the signal to VGA... Something that is a very common concern in education.

Will it support Lumia 525?

is miracast laggy to be played on devices?

I wish they bring new wireless charging..

Apart from my Lumia 925 Would it work with my iPadMiniRD too..??

Looking forward to see it in Ireland
Windows Central Newsletter
Thank you for signing up to Windows Central. You will receive a verification email shortly.
There was a problem. Please refresh the page and try again.